The Untold Truth Of Bob Barker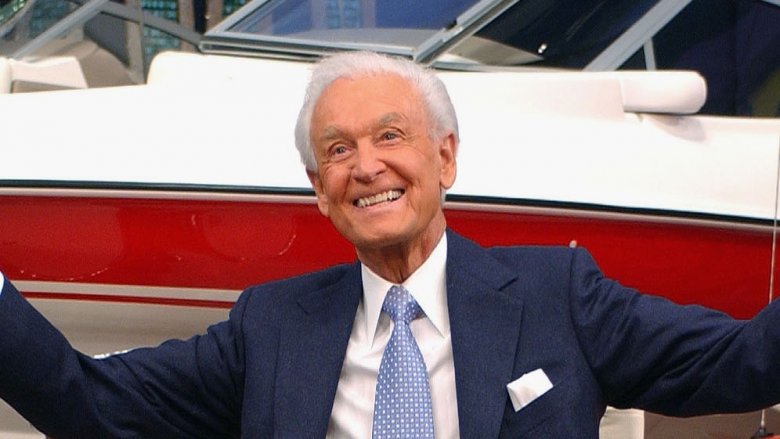 Getty Images
Until his retirement in 2007, Bob Barker seemed like the Energizer Bunny of game shows. The man has seemingly been around for several forevers, boasting a hosting career that dates back to 1956, when he began making contestants wear ridiculous costumes and perform odd tasks for the show "Truth or Consequences." In the process, he became the first person to prerecord a show in order to broadcast it in every time zone.
Barker made television history again as host of "The Price Is Right," which holds the distinctions of being the first-ever hour-long game show, the longest-running daytime game show ever, and one of the few places where you can enjoy watching a fake yodeler fall from a fake mountain to his doom. In addition to giving fancy stuff to really good guessers, Barker has been a passionate animal rights activist for decades and even has an organization dedicated to spaying and neutering pets. But as with all public figures, there's more to him than meets the eye. He had a fascinating and sometimes heartbreaking life defined by loss, love, and allegedly monstrous behavior. Barker lived to be 99 years old, passing away of natural causes in his home on August 26, 2023.
Bob Barker got karate lessons from Chuck freaking Norris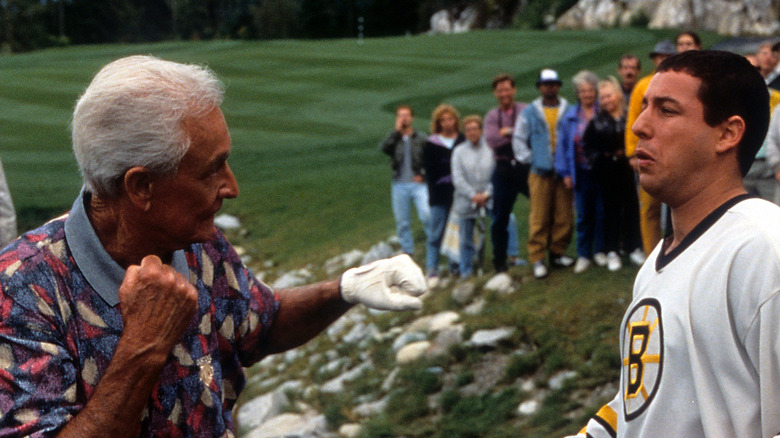 Archive Photos/Getty Images
Most of the film "Happy Gilmore" is goofily unrealistic, but Adam Sandler losing to Bob Barker in a golf course brawl captured reality to a tee. It might sound absurd that a game show host who looks like your grandfather's grandfather could force-feed a year's supply of knuckle sandwiches to a guy less than half his age, especially when that guy's supposed to be an ex-hockey player. But in real life, Barker wouldn't have broken his hip trying to throw a rickety jab. He probably could have snapped most young whippersnappers in half.
As the Sun-Sentinel explained, Barker, who was in his 70s when he filmed "Happy Gilmore," received karate lessons from Chuck Norris for eight years. According to The Washington Post, he attained a red belt in Tang Soo Do karate training. So unless Sandler was trained by Bruce Lee as a child, he probably would have been clubbed like a golf ball in an actual fight with a disciple of Walker, Texas Ranger.
He lived in poverty on an Indian reservation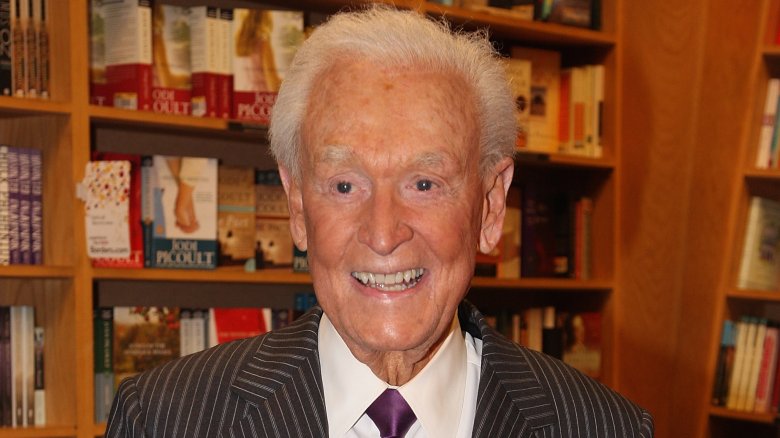 Getty Images
Bob Barker came on down through the birth canal on December 12, 1923. The Roaring Twenties were in full swing, but depressing times lay ahead. As Barker described in the book, "Priceless Memories," his father, Byron, died in 1929, which you might also recognize as the year the Great Depression started. Byron worked as a powerline foreman, a job that required the family to travel to various states, but he suffered a fall that crushed his hip and led to a fatal illness.
Shortly after losing his father, Barker and his mother moved to the Rosebud Indian Reservation in Mission, South Dakota, where he lived and attended school from second to eighth grade. He didn't understand how dire their situation was at the time, but he later described their hardships as "extraordinary." The state was dying of thirst from a hellacious drought, which coincided with dust storms and a grasshopper plague. To make matters worse, in Mission, "there was no municipal government, no water system, no sewage system, no electricity, and most of the time no doctor," Barker recalled.
Despite the incredibly harsh conditions, Barker had fond memories of his days in South Dakota. His mom worked as a teacher at a tiny schoolhouse, where Barker forged close friendships. He also played for the local basketball team, the Mission Midgets.
He blamed nudity for his recurring skin cancer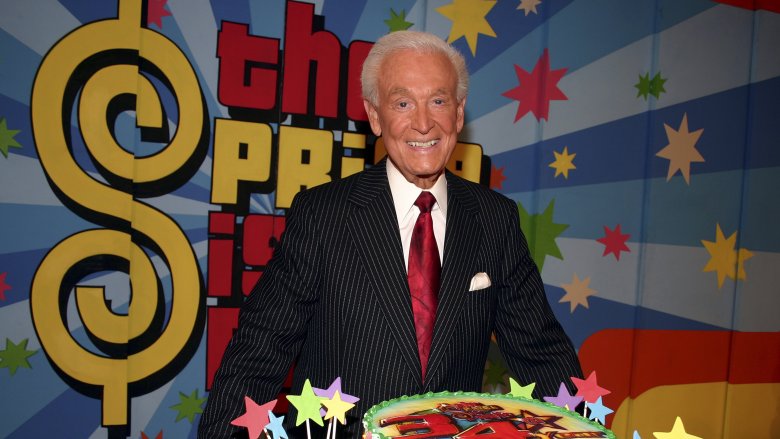 Getty Images
The last thing you probably want to think about is Bob Barker without clothes on. It's easier to just pretend that he was born wearing a snazzy two-piece suit and never changed. Unfortunately for your imagination, Barker used to spend a lot of time in a zero-piece birthday suit. Granted, this happened when he was young, but it's still hard to shake. Either way, when Barker was a boy in South Dakota, he did lots of skinny dipping. In 2007, he told Esquire he would go swimming "five or six times a day."
Barker has speculated that his youthful nudism came at a high price. "I get skin cancers from my misspent life," he said. "I go in every three months to get precancerous things removed. But it was all worth it." In 2005, Barker underwent treatment for skin cancer and remained cancer-free for the rest of his life. 
Fighter pilot training helped him land his first broadcasting job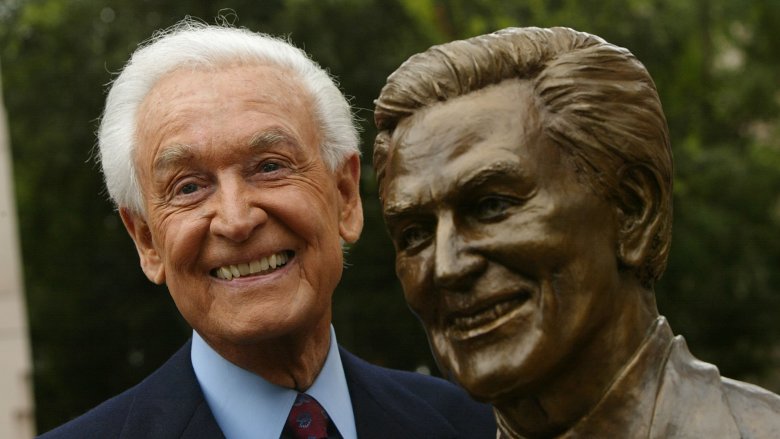 Getty Images
Bob Barker got to see things that many of us only view vicariously through History programs. Barker was in his 50s when the Vietnam War ended, and Pearl Harbor happened five days before his 18th birthday. When the U.S. entered into the havoc of World War II, he enlisted in the Navy and trained as a pilot.
According to the Deland Naval Air Station Museum, Barker trained with eight different planes at eight separate facilities and became versed in formation flying, night flying, and aerial combat. However, the war ended before he got the chance to spay or neuter the enemy in a dogfight. Barker considered putting his skills to use as a flight instructor, per The New York Times, but a radio station job caught his eye. The manager was into planes, so Barker used his pilot training to land the job. "I put on my naval officer's uniform and my wings of gold," he recalled, "and went in and talked about airplanes for about 30 or 45 minutes."
Though initially employed as a news writer, Barker also did sportscasts. This led to him filling in for a DJ and then for the host of an audience-participation show, and he soon developed a taste for entertainment.
Bob Barker owed much of his success to his late wife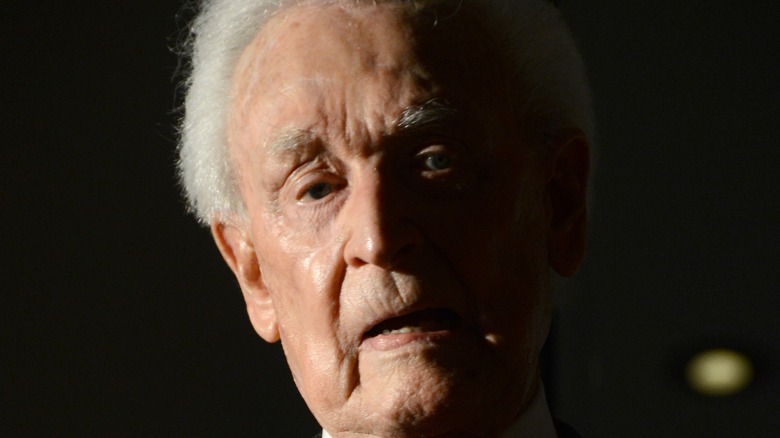 Getty Images
It's been said that behind every great man is a great woman. Whether Bob Barker counts as a great man is debatable, but there was certainly a great woman behind his success. That woman was Dorothy Jo, his high school sweetheart, and wife of 36 years. Their first date took place on November 17, 1939, Barker recalled in "Priceless Memories." They attended an Ella Fitzgerald concert and would spend four decades making sweet music together.
Sometimes that music came in the form of commercial jingles, which Barker and his wife performed in a series of radio talent shows in the 1950s, per the Television Academy. At this point, Barker was on a mission to host a national show, which wouldn't have happened without Dorothy Jo. That quest started when she heard Barker serve as the stand-in host for an audience-participation show and said, "That's what you should do. You do that better than you've done anything else."
After giving her husband a dream to pursue, Dorothy Jo helped make it come true. "We set out from that moment forward to get a national show for me," Barker told The New York Times. "She produced my shows, she helped me write them, she edited them, she did everything and anything to help me get a national show. And I've been doing a show for 62 years." Sadly, Dorothy Jo died of lung cancer in 1981. 
He got sued by an animal welfare organization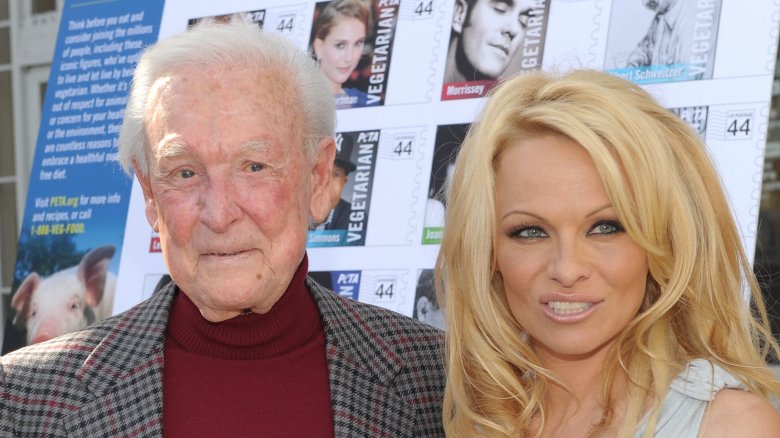 Getty Images
Bob Barker loved animals since childhood, but his passion for animal rights started with his late wife, Dorothy Jo. "She stopped wearing fur coats before anyone was stopping," he explained to ABC. "She became a vegetarian before people were becoming vegetarian. And I gradually did the same thing with her." Because of her, Barker also put an end to giving out fur coats as prizes on "The Price Is Right." He grew so opposed to wearing animals, per the LA Times, that he threatened to quit hosting the Miss USA Pageant in 1987 because swimsuit contestants were draped in fur coats. (Fake furs were eventually used, although they make for terrible swimwear.)
Around the same time that Barker argued objectifying women should be cruelty-free, he severed ties with the American Humane Association, a group tasked with preventing animal cruelty in the entertainment industry. As People detailed, he was barking mad about rumors that chimps used in the film, "Project X" had been maltreated and accused the AHA of turning a blind eye to animal abuse. In 1989, he alleged that the organization let the makers of a John Travolta movie force muzzled canines to viciously attack each other.
The AHA in turn accused Barker and other critics of defamation, sued them for $10 million, and eventually settled for $315,000. Barker openly bashed the group again in 2015, but the AHA didn't take him on this time.
He gave $5 million to an accused eco-terrorist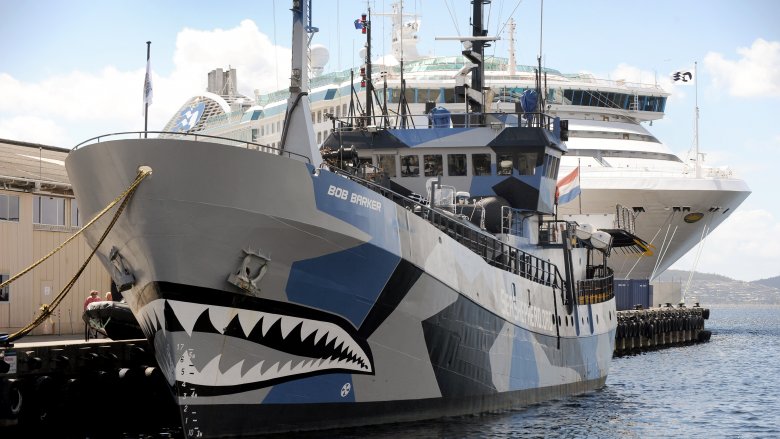 Getty Images
When it comes to animal rights, Bob Barker put his money where his mouth was. He also put his money where Paul Watson's mouth is. Watson founded the Sea Shepherd Conservation Society, which you may recognize from the Animal Planet show, "Whale Wars." The group basically hunts Japanese whaling ships and physically blocks them from killing whales. Watson asked Barker for $5 million to "put the Japanese whaling fleet out of business," per the Los Angeles Times, to which Barker replied, literally, "Let's get it on." ... But not in the Marvin Gaye way.
Barker's hefty donation was used to purchase a 1,200-ton anti-whaling vessel capable of cutting through ice. To show their appreciation, Sea Shepherd christened the ship the Bob Barker. Peter Hammarstedt, the ship's captain, has prevented whaling vessels from refueling, allegedly rammed them, and performed a citizen's arrest. Director Paul Watson, meanwhile, has attacked ships with butyric acid, which Hammarstedt described as foul-smelling "rotten butter" that's less caustic than Coca-Cola.
It's worth noting that the National Institute for Occupational Safety and Health recommends avoiding all contact with butyric acid because it can cause pain, blisters, skin burns, and respiratory problems that include "labored breathing" and a "burning sensation." Perhaps that's why Watson has been branded an eco-terrorist and banned from getting within 500 yards of Japanese whaling ships.
He wasn't a big fan of 'The Price Is Right'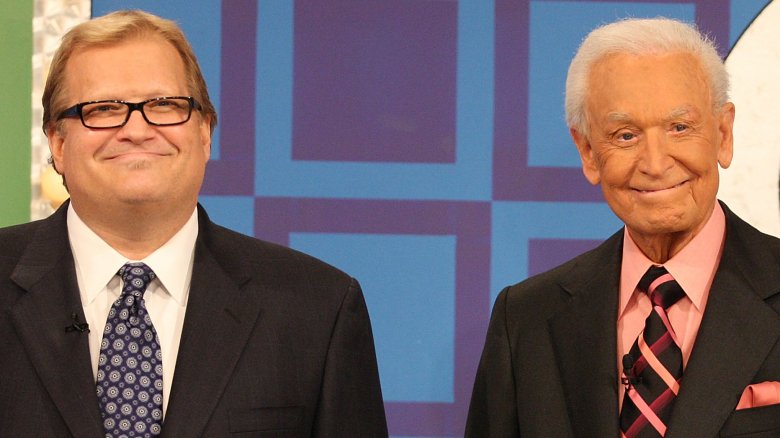 Getty Images
You might think it takes deep love and devotion to do something for three and a half decades. Heck, before millennials came along, most parents sent their kids packing after 18 years. So it stands to reason that since Bob Barker hosted "The Price Is Right" for 35 years, he loves that show plenty. Not so, according to Barker.
In 2009, Barker revealed to Good Morning America that he actually didn't wasn't a big fan of the show. "I sometimes turn it on for a game or two," he explained. "But I don't watch it. I'm not a loyal viewer." Of course, that might have something to do with the new host, Drew Carey. Speaking with TMZ, Barker seemed to throw shade on Carey, saying his replacement "does the show differently than I did. ... I tried to make the show really exciting, and he doesn't do that. He just plays the games."
The media seized on those comments, obviously hoping Barker and Carey would have a violent showcase showdown. However, Barker quickly dismissed the suggestion that he badmouthed his successor, explaining, "I have a sizable royalty that I am paid every year this show is on, and it's going on for years. I would be an absolute fool." Even if he sort of called Carrey unexciting, he meant it in the nicest, least-expensive way possible.
He was accused of grotesque abuses and a devious cover-up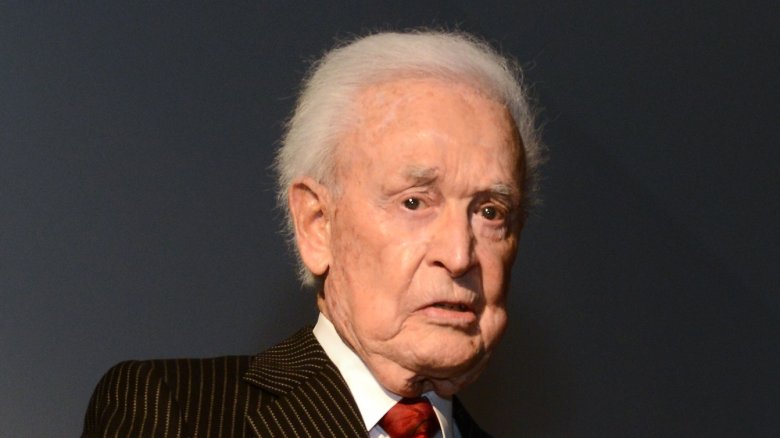 Getty Images
Before 1994, Bob Barker seemed like a harmless silver-haired charmer. That affable persona came into question when a former employee sued him for $8 million, alleging sexual assault and harassment. As detailed by the Associated Press, Dian Parkinson, who worked as a model for "The Price Is Right" for 18 years, claimed Barker used various forms of coercion, including force, to make her perform oral acts on him every week for three and a half years. She further alleged that she slept with him for fear of losing her job and that since quitting the show in 1993, she received $1,000 monthly to keep quiet. (A producer for the show insisted the money was severance pay).
Barker claimed he and Parkinson had a consensual arrangement, telling People he had a "sexual revolution," courtesy of his accuser. Supposedly, Parkinson "volunteered" to add "some hanky-panky" to his life. Several female "The Price Is Right" employees painted Parkinson as overly flirtatious and practically incapable of keeping her hands off her 70-year-old boss. However, not everyone on the show's payroll corroborated his story. Model Holly Hallstrom would later claim Barker unsuccessfully urged her to smear Parkinson as a liar in prearranged interviews and then fired her for refusing.
In the end, Parkinson dropped her lawsuit, citing health problems. Afterward, Parkinson and two of her attorneys were fined $2,100 for refusing to comply with court information requests they considered invasive.
The ugly side of being a Barker Beauty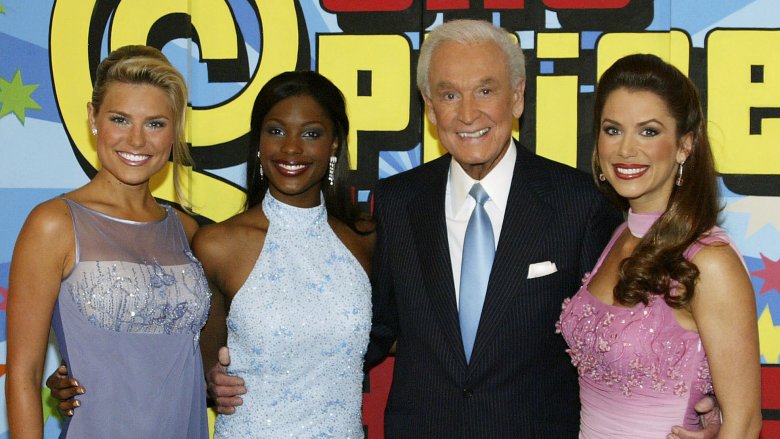 Getty Images
Longtime fans of "The Price Is Right" probably know that Barker's Beauties were the exclusively female models who silently presented items on the show during the Bob Barker era. ("The Price Is Right didn't have its first male model until 2012.) At first blush, it seems like an easy gig, but appearances can be deceiving.
After the lawsuit from Dian Parkinson was filed in 1994, Holly Hallstrom came out in the 1990s, a Barker's Beauty for 19 years, sued for age and gender discrimination the following year. According to Hallstrom, Barker used her weight as a pretext to fire her because she refused to discredit Parkinson to the press and lie about the firing of a director. After a lot of legal wrangling, the court ruled in Hallstrom's favor in 2005. She was living out of her car and had gone bankrupt in the meantime, but in the end, she was awarded a settlement.
Janice Pennington had several ugly experiences in her 29 years as a Barker's Beauty as well. After an out-of-control camera knocked her off stage, she needed multiple surgeries that shortened one of her shoulders. Then, in 2000, she and model Kathleen Bradley were abruptly fired. Pennington told the LA Times that Barker didn't even say goodbye. Bradley speculated that the firings were payback for contradicting Barker's testimony during the Hallstrom lawsuit. Barker said the various charges leveled against him were all in the models' heads.
Bob Barker has been painted as a vengeful workplace tyrant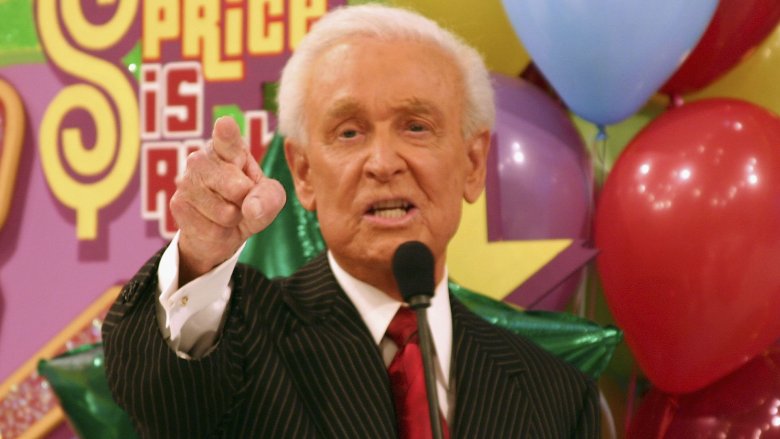 Getty Images
The wonderful and terrible thing about television is that it creates a sense of control and reliability in an uncertain world. You can reside in whatever bubble you want, and no matter how artificial it is, it starts to feel like home after a while. As a game show host, it was Bob Barker's job to seem warm and authentic, but he left numerous employees with a bitter taste in their mouths.
One of those people was Deborah Curling, who used to screen contestants for "The Price Is Right." According to the lawsuit Curling filed in 2007, once Barker assumed the role of executive producer in 1990, he "made it his life mission to destroy the livelihood of every person who contradicted him or did not do what Barker ordered him/her to do, whether it was legal or not." Curling claimed she was added to that enemies list once she testified on behalf of Holly Hallstrom.
After corroborating claims that Barker fired Hallstrom over her weight, Curling was allegedly subjected to hostile working conditions and racial slurs. Such allegations are incredibly hard to prove, however, so a judge tossed the case in 2009. We'll likely never know the whole truth, but multiple women who've crossed Bob Barker lost their jobs. Some even lost their homes. That's a high price, and it doesn't seem right.
His animal rights campaigning went beyond spaying and neutering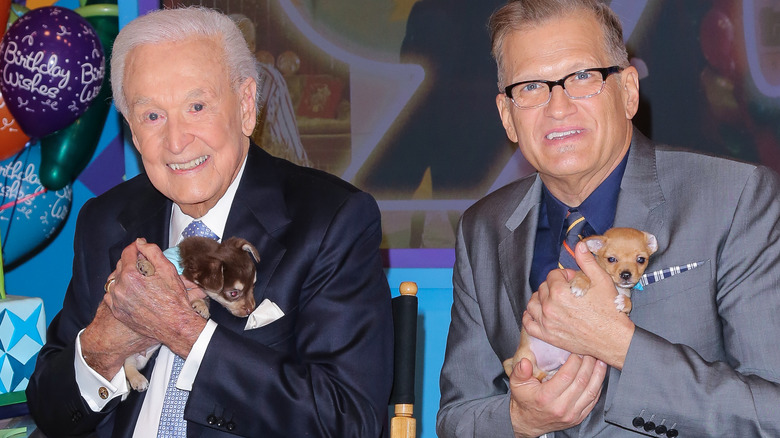 Paul Archuleta/Getty Images
It was his catchphrase for years, delivered at the end of each episode of "The Price is Right." "Help control the pet population. Have your pets spayed or neutered." But Bob Barker's interest in animal welfare went beyond a signature line. Throughout his life and career, he put time and money into various endeavors related to that broad cause. In 2004, he donated $1 million to Columbia Law School to research animal rights issues. In retirement, he worked with Animal Defenders International and kept involved with his own group, the DJ&T Foundation.
Barker also challenged animal rights groups that he felt failed to live up to their mission. In 2015, he publicly went after the American Humane Association (AHA) for supporting Foster Farms, a large poultry company on the West Coast that was found to treat its birds cruelly. Barker had supported the AHA in the past, but he turned against them over the connection. He provided narration for a covert video showing the slaughter of chickens in a Foster Farms plant.