The Greatest Sports Bloopers Of 2018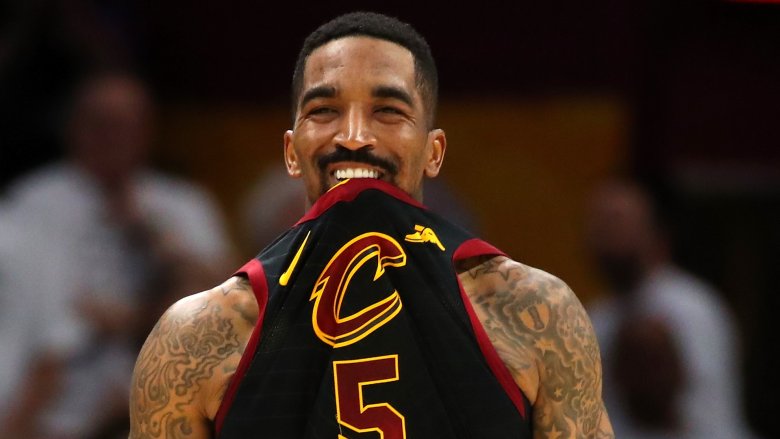 Getty Images
No matter how gifted you are, at some point you will make a mistake, and that's okay, except for the mistake part. The weird thing about it is that the more gifted you are, the worse your mistakes appear because they're so out of place. In this sense, calling something a blooper is an acknowledgment of skill because an error should only be embarrassing if you're at a level where it's unexpected. That's certainly true for the athletes on this list. Their glaring errors only stand out because those athletes earned the opportunity to compete at a high level in the first place.
A lot of mistakes can take place over the course of a year. And when those missteps are spectacular or insanely inopportune, they can be great for a chuckle or simply for reminding us that even super athletes are human. Here are some of 2018's greatest sports bloopers. 
A rocky effort by Colorado leaves Cincinnati red-faced
Behold: a perfectly flawed baseball play that makes the Bad News Bears look like the Good News Grizzlies. In the eighth inning of a clash between the Colorado Rockies and Cincinnati Reds, Rockies player Carlos Gonzalez batted a fly ball to right-center field. Reds outfielder Billy Hamilton seemed all-but destined to catch it, but the ball slipped past his outstretched glove. Hamilton and fellow outfielder Scott Schebler chased the fleeing ball and took turns hesitating to grab it. After about seven years of indecision Hamilton flung the ball to second baseman Scooter Gennett, who did an excellent job of dropping it.
Meanwhile, Carlos Gonzalez rounded second base, changed his mind, and fell/slid to an invisible base between second and third. Fortunately for him, the second baseman had bungled his throw, allowing Gonzalez to scramble back to second. Colorado went on to score a 6-3 victory, but for a brief, harmonious moment the Reds and the Rockies failed beautifully together.
The World Cup overflows with laughter
The World Cup puts educated feet to the ultimate test, but Michy Batshuayi gave a masterclass in slapstick. The Belgian player provided much-needed comedic relief in a Group G match against England that both teams seemed eager to lose. As USA Today's Nick Schwarz pointed out, winning would mean having to face World Cup juggernaut Brazil in the next round, whereas losing would mean competing against Colombia, which had an injured player. Plus, the loser would get an extra day of rest.
In a rare scenario where athletes could actually win for losing, Belgium and England benched their best scorers and proceeded to have an anti-contest. Players accumulated yellow cards (having the most yellow cards would count as a loss in the event of a tie) and pretended to forget that the goal of shooting was actual goals. Fifty-one minutes into the match Belgium's Adnan Januzaj finally put a score on the board. Michy Batshuayi celebrated his teammate's goal by kicking the ball into the net. As if rewarding the crowd for its patience, the ball bounced off the goalpost and beaned Batshuayi in the face, creating a blooper the whole world (including Batshuayi) could enjoy. 
A New Orleans Saint performs a miracle for the wrong team
The 2017-18 NFL postseason will mostly be remembered for the Philadelphia Eagles' stunning upset victory over the New England Patriots in the Super Bowl. But the lead-up to the big game also defied belief when a New Orleans Saint performed a miracle for the opposing team. In fairness it was a literal rookie mistake by rookie safety Marcus Williams, who had an otherwise stellar first year.  Unfortunately, he ended his season along with his team's dream of reaching the Super Bowl by making one of the most face-palm-worthy blunders ever witnessed in the playoffs.
That now-infamous misstep took place when the Saints squared off against the Minnesota Vikings to advance to the NFC championship game. For most of the game Williams played well, snagging his first ever playoff interception in addition to racking up five tackles and two pass deflections. With seconds left in the game and the Saints up by just 1 point, Williams had a chance to put a big fat cherry atop his NFL sundae by tackling Vikings receiver Stefon Diggs. Instead he missed by a country mile and also took out one of his own teammates, allowing Diggs to make a game-winning 61-yard touchdown for the Vikings.
The hockey Kings of comedy
Hockey is obviously its own awesome sport, but it looks like what would happen if a mad scientist created a Franken-sport from chunks of ice skating, football, soccer, and a stick for some reason. And like Frankenstein's monster, hockey can be intense and intimidating like the Mary Shelly version or lighthearted and hilarious like the Mel Brooks version. In a February game against the Arizona Coyotes the LA Kings went the Young Frankenstein route.
L.A. King Tanner Pearson didn't mean to be funny when he collided with his teammate Drew Doughty in the first period. He also didn't mean to flip heels-over-head onto his backside, lose a skate blade, and shuffle awkwardly on one knee before being towed to the bench like he illegally parked on the ice. But all those things happened in quick succession, and it was glorious because nobody got hurt, except for Pearson's left skate. The incident also didn't hurt the Kings' chances of winning, as they beat the Coyotes.
A Cleveland Cavalier beats his team instead of the buzzer
A negative number of people expected the Cleveland Cavaliers to win the 2018 NBA Finals, but thanks to a heroic 51-point performance by LeBron James the Cavs had a chance to steal Game 1 from the Golden State Warriors. But what at first smelled like an upset ultimately reeked of a brain fart by J.R. Smith.
Near the end of the fourth quarter George Hill had a chance to give Cleveland the lead at the free throw line but missed his second attempt. Oblivious to the score, which was tied, Smith snatched the rebound and dribbled the ball away from the basket. As the crucial final seconds ticked away, a visibly ticked-off LeBron James tried in vain to steer his teammate in the right direction. The Warriors ultimately won in overtime, and James mourned his wasted efforts by punching a whiteboard and injuring his hand after the game.
Smith put a positive spin on the downward spiral: "I told somebody right after the game that I'm glad it happened to me as opposed to anybody else on my team." But considering his long history of poor decisions, which include attacking an assistant coach with a bowl of soup and untying an opponent's shoelaces, maybe he's the only guy this could happen to. 
The Greatest Royal Stumble
The WWE's 10-year contract with Saudi Arabia appears to be the gift that keeps on giving reasons to regret it. As of this writing the company's most recent Saudi-related controversy is the decision to forge ahead with the 2018 Crown Jewel event despite the Saudi government's involvement in the slaying of journalist Jamal Khashoggi. Before that the Greatest Royal Rumble raised people's eyebrows -– and not in the Dwayne Johnson way.
Held in April, the Greatest Royal Rumble drew scorn for a Saudi-imposed ban on female wrestlers and for airing propaganda that depicted the oppressive nation as a beacon of positive change. The six-hour show featured a main event so bloated that even Beano couldn't fix it: a 50-man battle royale. However, there was one diamond in the vast expanse of rough: Titus O'Neil.
Titus was the 39th entrant in the battle royale. As he ran to the ring, announcers bragged about him rubbing elbows with important Saudi figures. Then out of nowhere, he started rubbing elbows and other body parts with the floor as he tripped, fell, and slid under the ring. The internet lovingly dubbed the moment Titus World Slide, an allusion the wrestler's "Worldwide" gimmick. 
A freshman kicker pulls a reverse Charlie Brown
Roughly 100 billion people in human history have said it doesn't matter how you start; it's how you finish that counts. Unfortunately, every single one of them forgot to mention that a terrible start can make a bad finish seem even worse. Take Wake Forest's freshman kicker Nick Sciba, for instance. In what would be a disastrous showing for the Demon Deacons, Sciba not only missed his first field goal attempt; he almost didn't attend it. 
It happened during Wake Forest's 56-27 blowout loss to Notre Dame in September. With the score tied at zero and seven minutes left in the first quarter the Demon Deacons set up for a 37-yard field goal. Correction: They mostly set up. Nick Sciba continued practicing, and the clock kept ticking down.
In a reverse Charlie Brown moment Wake Forest's holder looked back and discovered nobody was there to kick the football. After what felt like eight eternities Sciba scrambled onto the field, hurriedly booted the ball into the air, and watched it bounce off the upright in the wrong direction.
Not your run-of-the-mill walk-off
Athletes habitually break the laws of physics, but sometimes those laws conspire against athletes. Exhibits A-Z: the end of this contest between the Houston Astros and Oakland A's. Houston's Alex Bregman referred to it as "a circus," which is fitting since he made the A's look like clowns. At the bottom of the 11th, Oakland had a one-run lead and needed two more outs to put the game away. With runners on first and second, Bregman unleashed a mighty swing to create what he later described as "the softest ball anyone's ever hit."
Bregman barely made contact, and the ball landed a few feet from home plate. Oakland catcher Jonathan Lucroy tried to tag the batter out but missed wildly thanks to Bregman's cat-like dodge. The ball suddenly pried itself from Lucroy's hand and bounced off the umpire's chest. Bregman raced toward first base, and Lucroy zipped the ball toward the first baseman. Once more the orb refused to cooperate and ricocheted off Bregman's helmet and into foul territory, allowing the Astros to take a 6-5 lead and the win.
Argentina gets a case of the Willy
Argentina's odds of winning the 2018 World Cup were never high. As Deadspin put it, the team needed "a superhero" to overcome the weaknesses of its aging roster. Forward Lionel Messi made for a convincing Superman, but the team's kryptonite was its own goalkeeper, Willy Caballero.
On the heels of a discouraging 1-1 tie with Iceland, Caballero shot his teammates in the feet when they faced Croatia. In the 53rd minute he kicked the ball upward in the direction of Croatia's winger, Ante Rebic. Rather than look a gift horse in the mouth, Rebic made Caballero look like a horse's behind by pounding the ball into the net. Croatia went on to win 3-0.
Technically, it wasn't Argentina's final match in the World Cup, but everybody knew it was game over. Caballero got replaced for the remaining matches, but the team was deemed lacking. 1978 World Cup winner Ossie Ardiles called it "the worst national team in Argentina history."
When your skate blades turn into banana peels
A hockey player losing their balance on ice feels about as unnatural as a bird that hates flying. Of course, just as nature has birds that can't fly, like penguins, the NHL has a Pittsburgh Penguin who got tripped up by ice. That flightless ice victim is backup goaltender Tristan Jarry. Jarry did a laudable job during the 2017-18 season and achieved the most wins by a rookie goalie. But one March matchup got off to a horrendous start.
In the first 71 seconds of a game against the New York Islanders, Jarry committed what Trib Live described as "a goaltending gaffe for the ages." Just as Islander Brandon Davidson entered the attacking zone Jarry did his best impression of a man trying to run across cartoon banana peels. His skate hit an ice rut, causing him to slip. Attempting and failing to regain his balance, Jarry flailed his arms before falling onto the ice and giving Davidson one of the easiest goals of anyone's life.
Luckily for Jarry, his fellow Penguins didn't roast him like a turkey. Much to his relief, he "saw 90 percent of the guys laughing." Jarry had the last laugh as he went on to make 25 saves and the Penguins seized victory in overtime. 
A cross-country skier crosses the wrong country
While there's no such thing as a sure bet in sports, Austrian cross-country skier Teresa Stadlober had a legitimate shot at winning the silver medal in the 30-kilometer (18.6 mile) race at the Winter Olympics. With 7 kilometers to go and a healthy distance between herself and third place, all she had to do was turn left at a fork in the trail and not stop to make snow angels. But she didn't have a snowball's chance in hell after she turned right at the fork and realized her mistake way too late. Stadlober finished in eighth place.
After the race Stadlober explained that she "had a blackout," which is surprising, considering she was surrounded by bright white snow and daylight. The director of the Austrian sports team was equally befuddled, remarking, "For us, it's unbelievable." Her mistake was also somewhat understandable. Stadlober raced on one of two adjacent tracks for separate competitions, and in her opinion the courses weren't clearly marked. Even so, she owned her mistake, acknowledging, "You have to know the course."
A runner takes herself out of the running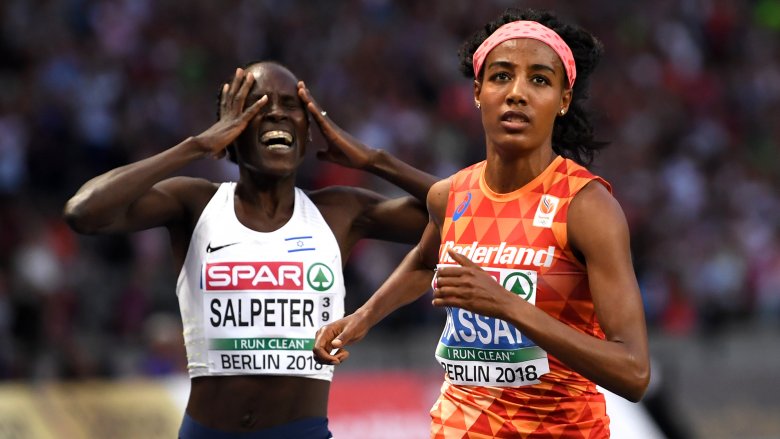 Getty Images
The tale of the tortoise and the hare supposedly teaches us that slow and steady wins the race, but that's ironically a harebrained takeaway. The hare's mistake wasn't that he failed to be slow and steady; it's that he stopped when he was ahead. He learned that lesson the hard way, as did Israeli runner Lonah Chemtai Salpeter (left).
Salpeter's fascinating backstory could double as a real-life fable. A native of Kenya, she became romantically involved with a track coach while working as a nanny in Israel. The pair married in Kenya and eventually moved to Israel. Salpeter repeatedly applied for citizenship but got rejected for about five years. The government finally naturalized her when she qualified to compete in the 2016 Rio Games. Things went awry in Rio, but in 2018 Salpeter made history as the first Israeli woman to win gold at the European Championships. She almost won a second medal there but unwittingly removed herself from the running.
While competing in the 5,000-meter race Salpeter underestimated how many laps she had left and stopped early. While celebrating the silver medal she thought she won, she discovered she wasn't done. She would finish fourth but got disqualified for crossing the running lanes too early. Salpeter treated her blooper as a lesson for future races. Winners aren't people who never fail. They're people who persevere and learn from their mistakes.