Adrienne Salinas: The Unsolved 2013 Death Of An Arizona College Student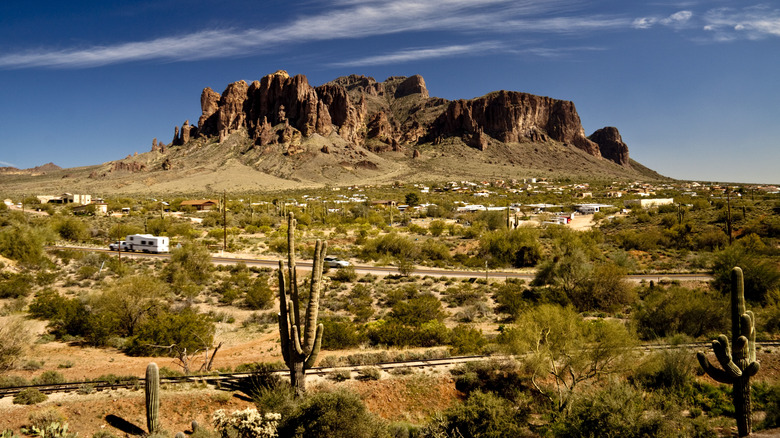 Nwinter/Getty Images
In June 2013, 19-year-old college student Adrienna Celeste Salinas disappeared one night in a heartbreaking case that a decade later is still unresolved. After a difficult evening involving a feud with her boyfriend and a car accident, the teen vanished for good in the early hours of the morning.
Months later Salinas' partial remains were found deposited over 30 miles away in a wash in the Apache Junction Desert. According to the Phoenix New Times, despite the peculiar circumstances surrounding her disappearance, police do not have concrete proof her death was a homicide. On the other hand, officers have said that the location her body was found is a cause for concern and they are treating the case as if it were a murder.
Salinas' body was found in an advanced state of decomposition, having been exposed to flood damage and possibly wild animals as well, leaving police unable to say how she died. Investigators have not yet established what might have happened to Salinas that night but the FBI has offered a $20,000 reward for information about her death.
Fighting with her boyfriend
Adrienne Salinas had a difficult evening shortly before she disappeared and she seems to have been considerably agitated by the events that unfolded that night. That day, June 14th, Salinas and her roommates had helped to throw a birthday for their friend, however, Salinas wound up leaving the party early after getting into an argument with her boyfriend, Francisco Arteaga, around 2:30 a.m.
According to People magazine, Salinas had gotten angry with her partner for talking to another woman so the pair drove to Arteaga's apartment. NBC News reported Arteaga dropped Salinas back at the party again around 3:30 a.m. Unable to use her own room, which still had guests in it, Salinas left the party for a second time by herself at 4 a.m., after speaking with her roommates. Salinas headed back toward her boyfriend's apartment but never arrived.
On the way there Salinas was seen driving dangerously, and the teen was involved in a crash after cutting off another driver. She hit a median at the side of the road but did not hang around to speak to the driver she'd cut off. Instead, she abandoned her car which had blown two tires. According to the FBI, the young woman appears to have returned unnoticed to her apartment a final time to change and then called a cab. The cab driver waited for her at a nearby gas station but she never showed up.
Suspects and dead ends
It has still never been established what exactly happened to Arienne Salinas in her final hours. According to NBC News, between 4 and 5 a.m. Salinas called her boyfriend 32 times. Francisco Arteaga did not pick up and Salinas sent one last text around 5 a.m. to say she was coming over (via the FBI). By 5:07 however, her phone had been switched off or had run out of charge. Surveillance tapes from the surrounding area have not revealed any footage of Salinas around this time, although they have confirmed that the cab driver waited for Salinas at the nearby gas station and that she never arrived. Police do not believe Arteaga or the cab driver were involved in the young woman's disappearance.
The following day, Father's Day, nobody could get in contact with Salinas, and her phone went straight to voicemail. Her concerned father eventually found her abandoned car, a white Mercury Sable, left by the side of the road several blocks from where she crashed. Salinas' body was not found until August, in the Apache Junction Desert.
According to the Phoenix New Times, the redacted police report appears to suggest her head may have been missing. The Times, as well as certain online sleuths, have tentatively linked the case to known murderer Bryan Patrick Miller from the Phoenix area. Miller was arrested for killing two women and decapitating one of them in 2015, although there is no official link between the case and Salinas, and nothing has been confirmed by police. Miller pleaded insanity but was nonetheless sentenced to death in 2023.