Why King Charles' Wedding To Princess Diana Was A Wake-Up Call For Prince Andrew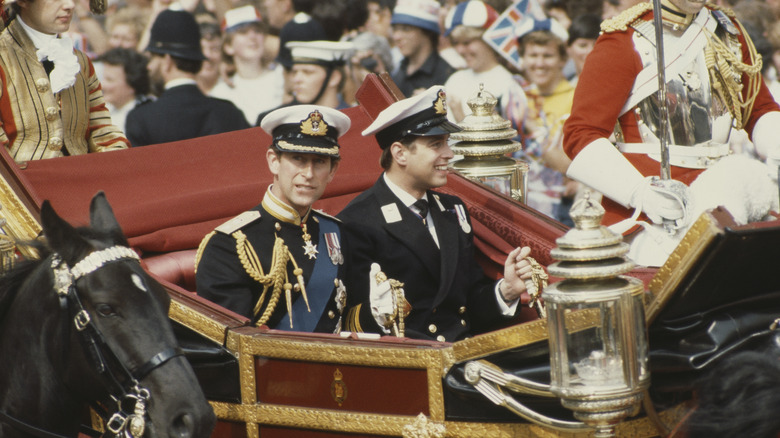 Princess Diana Archive/Getty Images
The story of disgraced financier Jeffrey Epstein — who in 2019 died by suicide in jail while awaiting trial for sex trafficking charges — is one of the most shocking pieces of news in recent years. Epstein, a hugely influential and well-connected individual in his day, had previously served 13 months of an 18-month prison sentence in 2008 for soliciting sex from an underage girl. Tellingly, though, his legal troubles at the time received little fanfare in the press. However, the slow revelation of Epstein's close association with several high-profile men eventually made his crimes and demise headline fodder.
One of these men is Prince Andrew, whose reputation at the time of writing is at an all-time low. Andrew formerly enjoyed adulation as a war hero and a charismatic socialite, with the peak of his popular appeal arguably coming in 1986 when he married Sarah Ferguson. But following the revelation that Andrew had a long and intimate friendship with Epstein and allegations that he had sexual encounters with young women Epstein had trafficked, his gradual downfall began. Things got worse for Andrew after a disastrous interview with the BBC's flagship current affairs program "Newsnight," in which the prince failed to give a convincing justification for his association with Epstein. The general reaction to the interview in the press was that Andrew had seemingly never faced any resistance to his desires — nor any repercussions for his actions — throughout his privileged life. The two-part A&E documentary "Secrets of Prince Andrew" suggests that Andrew's role of "spare" was central to his unraveling, with his brother Charles' marriage to Princess Diana pushing Andrew further from the throne.
A spoiled upbringing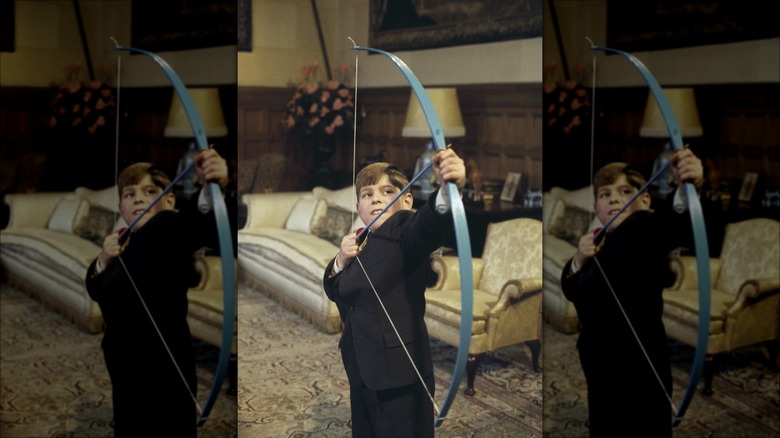 Fox Photos/Getty Images
According to "Secrets of Prince Andrew," Queen Elizabeth II's second son was especially doted upon throughout his childhood, enjoying freedoms that his elder siblings, Charles and Anne, weren't afforded. Some royal watchers put this down to the fact that the elder two were born before Elizabeth's sudden ascension to the throne following the unexpected death of her father in 1952. As such, the queen was often a hands-off mother to them as she learned to adapt to the demands of wearing the British crown.
In contrast, Andrew, who was born 10 years after Anne in 1960, reportedly received a far greater share of his mother's attention and affection than his elder siblings as she grew used to the role. "Secrets of Prince Andrew" shows that the prince was somewhat spoiled and received luxury gifts, including a child-size James Bond car that was specially made for him. He was also loud and boisterous and had a penchant for playing pranks on the royal staff, which would have been unthinkable for Charles and Anne. But while not being the direct heir seemingly gives royals greater license to be themselves and enjoy greater freedom in their personal lives, the experience of being a "spare" — whose connection to the crown gradually diminishes — has been described as being potentially mentally damaging.
The recession of lineage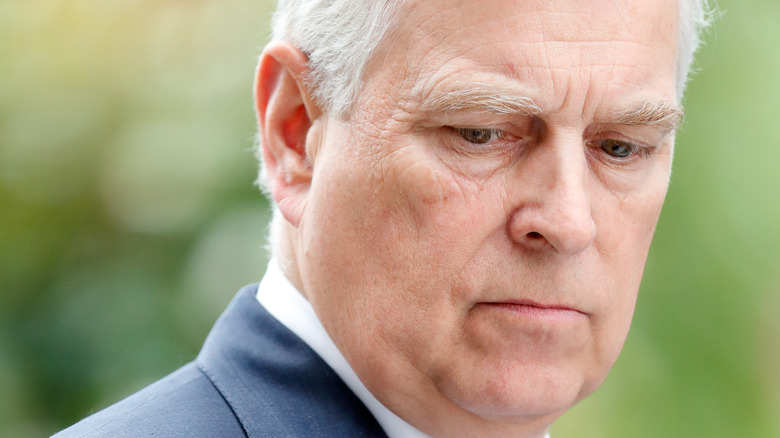 Max Mumby/indigo/Getty Images
In 2023, Prince Harry, a royal of the next generation to Prince Andrew, topped bestseller lists on both sides of the Atlantic with his memoir "Spare" — a reference to the subordinate position a second-born son traditionally holds in the British royal family.
At the time of his birth, Andrew, as the second male child of Queen Elizabeth II, was second in line to the throne behind his elder brother, Charles. But once Charles and Diana married, it became obvious that Charles would soon have children of his own, and per the British crown's rules of succession, they would become the next in line after him, with Andrew dropping away. As of 2023, he is eighth in line to the throne, behind Prince William and Prince Harry and the five children between them. Andrew's true feelings about this falling away — which began with Charles' marriage, at which Andrew was just 21 years old — have remained unclear. But experts have claimed that the psychological fallout may have fed into his later behavior, as he realized his increasing subordination to his brother Charles and his offspring.
While speculation of the disgraced Prince Andrew's inner world has been rife in recent years, he has personally given little insight into his psychological experiences throughout his royal life. That may soon change — several news outlets reported that Andrew is working on an autobiography. Per The Independent, one insider said the prince hopes it will "set the record straight."
If you or anyone you know has been a victim of sexual assault, help is available. Visit the Rape, Abuse & Incest National Network website or contact RAINN's National Helpline at 1-800-656-HOPE (4673).