Friends Of Prince Andrew Come To His Defense In New Documentary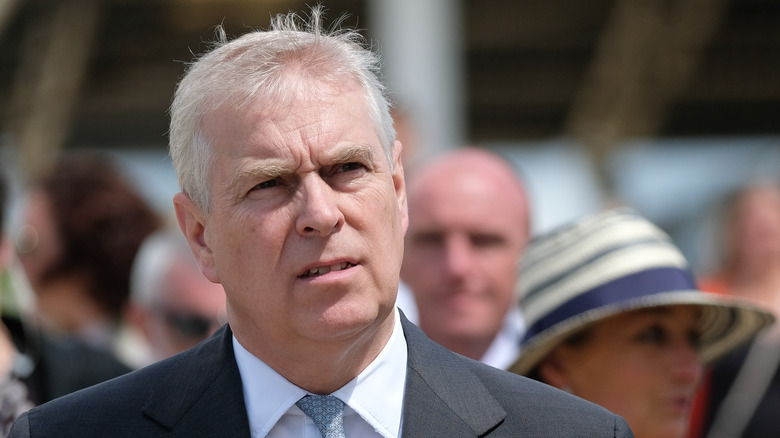 Ian Forsyth/Getty Images
The A&E documentary "Secrets of Prince Andrew" delves deep into the life story and ultimate downfall of a major royal whose public life has been utterly destroyed by one of the most newsworthy scandals of recent years: The uncovering of accused sex trafficker Jeffrey Epstein.
Australian-American Virginia Giuffre claims she was trafficked by Epstein and forced to have sex with Andrew multiple times when she was 17 years old. According to the Daily Mirror, Andrew's mother, Queen Elizabeth II, helped him cover the costs of his legal settlement with Giuffre. Yet the queen made no public show of support for her embattled son during her final years, and many of Andrew's former friends and allies abandoned him or distanced themselves from the prince following the allegations — even King Charles III and Prince William and his family. But as "Secrets of Prince Andrew" makes clear, the disgraced prince still has some friends he can count on. In fact, a number of them appear in the documentary, coming to his defense and suggesting that he is the victim of a media witchhunt and has done little wrong.
The ex-girlfriend who says that Andrew's been stitched up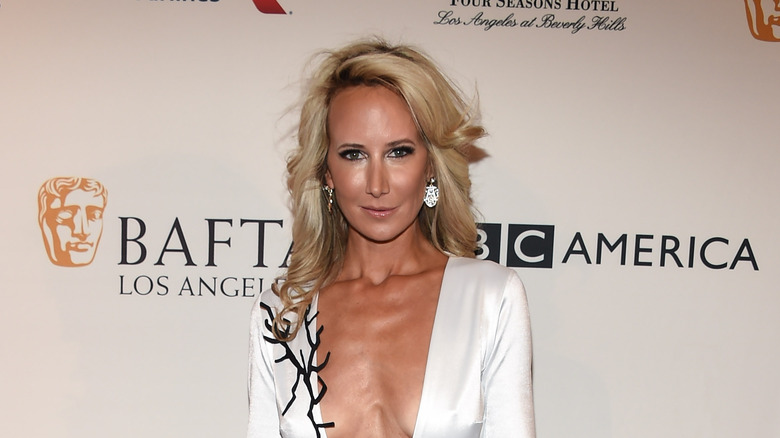 DFree/Shutterstock
One of Prince Andrew's old friends is model and socialite Lady Victoria Hervey, who appears in "Secrets of Prince Andrew" and recounts getting to know him on the London nightlife scene. The first daughter of the 6th Marquess of Bristol, Hervey rose to fame when she dated Andrew in 1999 and became friends with both Jeffrey Epstein and Ghislane Maxwell. She recalls that Andrew was a very desirable bachelor in those days and says it's only natural that a newly-divorced prince would want to have fun on the town with young women.
Though Hervey admits that Andrew's "Newsnight" interview was a "disaster," she remains adamant that the prince is innocent of any crime relating to Virginia Giuffre and claims that journalist Emily Maitlis was "trying to put things in his mouth" to paint him in a certain light. More explosively, Hervey echos Prince Andrew's defense in suggesting that a photograph of him and Giuffre had been faked. Hervey says that the shape of Andrew's hand — which is around the teenage Giuffre's hip — doesn't look natural. However, Maitlis tells "Secrets of Prince Andrew" that the BBC news team had the photo analyzed by numerous experts, none of whom could find any flaws suggesting forgery.
As reported by the Independent, Hervey also appeared on "Good Morning Britain" in April 2023 and argued that the poor impression Andrew made on the viewing public in his "Newsnight" interview was due to his lack of media training.
The men who have remained loyal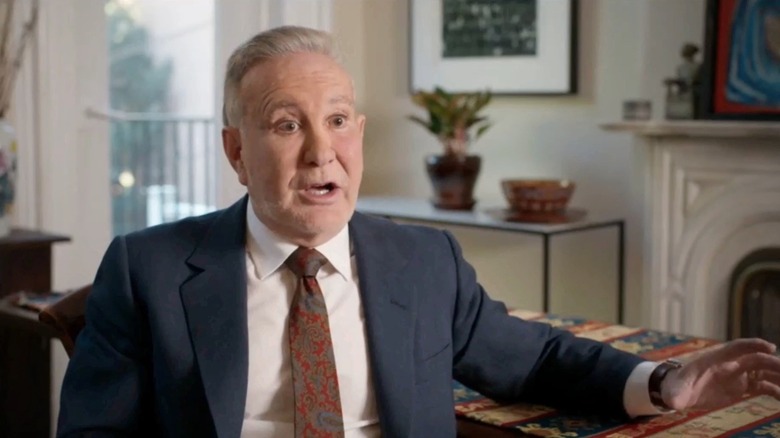 A&E
Allan Starkie, billed as the "former business partner" of Andrew's ex-wife, Sarah Ferguson, cuts an exasperated figure in "Secrets of Prince Andrew," deploring the treatment Andrew has received. "He's a war hero, for God's sake," he says in an interview, claiming that there has been little solid evidence of Andrew's wrongdoing. "The poor man is being crucified,"  Starkie adds, admitting that he can "see the attraction" of being friends with such a wealthy figure as Jeffrey Epstein.
Starkie also says he has wrestled Andrew and backs up the fact that the prince doesn't sweat. The inability to sweat — which Andrew claims is the result of an overdose of adrenaline during the Falklands War — was one of the defenses the he put forward in the "Newsnight" interview. Specifically, the prince denies Virginia Giuffre's claim that she had danced with a heavily perspiring Prince Andrew in London's Tramp nightclub before having sex with him while she was 17.
The prince's former London nightlife partner-in-crime Michael Wynne-Parker also leaps to Andrew's defense. On "Newsnight," Andrew argued that he had no idea that Epstein was involved in sex trafficking, even when he was a guest in Epstein's house in New York. In "Secrets of Prince Andrew," Wynne-Parker agrees that such activity would be difficult to detect in such a vast property, suggesting that he accepts Andrew's innocence. Regarding Andrew staying with Epstein after he had been to prison for child sex offenses, Wynne-Parker calls the decision a "diplomatic move" by which to make a decisive break with his friend of many years.
The media lawyer who says Andrew was naive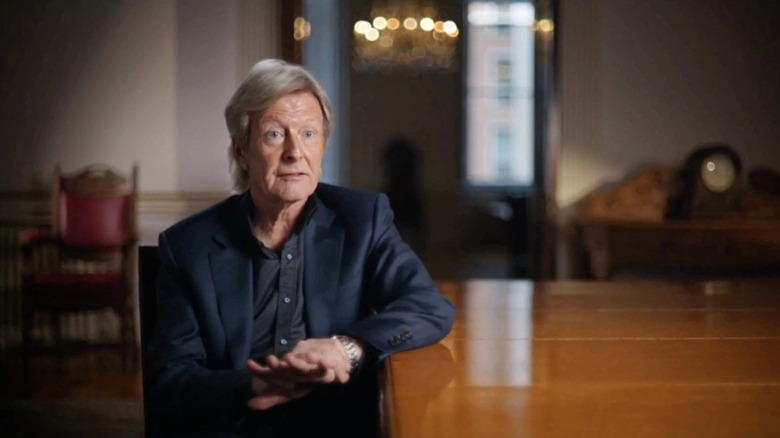 A&E
Another insider interviewed for "Secrets of Prince Andrew" is Paul Tweed, a media lawyer who has worked for the prince and describes himself as a "friend of the family." Tweed claims that he is being interviewed for the documentary with the royals' blessing, but he also makes clear that he has been given carte blanche to speak as freely as he likes about the scandal that has engulfed the British monarchy. According to Tweed, he just wants to give "balance ... from a human perspective."
One of the recurring questions in "Secrets of Prince Andrew" is how exactly Andrew was allowed to give an interview to BBC's "Newsnight," during which he was grilled by one of Britain's most incisive political interviewers. Tweed claims that Andrew would have been "trusting" in the run-up to the interview — and entirely unprepared for the havoc it was to unleash on his public profile. The prince, says Tweed, believes himself to be innocent but was "naive" in going ahead with the interview against Tweed's advice. The result, as Tweed had foreseen, was a trainwreck.
If you or anyone you know has been a victim of sexual assault, help is available. Visit the Rape, Abuse & Incest National Network website or contact RAINN's National Helpline at 1-800-656-HOPE (4673).