Why The Jeffrey Epstein Conspiracy Theories Haven't Gone Away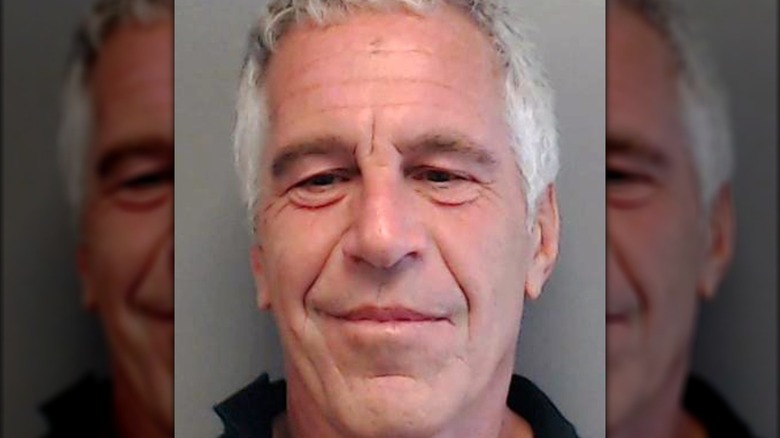 Handout/Getty Images
Jeffrey Epstein, the financier who died by suicide while awaiting trial for sexual abuse allegations, has been the subject of countless conspiracy theories. Accusations against him first came up in 2005 when the parents of a 14-year-old girl told authorities that the businessman had molested their daughter. According to The Guardian, Epstein allegedly paid the young girl a few hundred dollars to strip and massage him. An investigation ensued, and authorities discovered photos of young women in his Palm Beach, Florida, home. More girls came forward, and Epstein was charged with molestation and unlawful sexual activity with a minor.
Despite his guilty plea, Epstein evaded federal charges through a plea deal, which gave him a lighter sentence. He received 18 months in prison but was under a work-release program that allowed him to leave prison to go to work for half a day, six days a week (via BBC). In just a little over a year, Epstein was released from prison on probation. More women filed lawsuits against Epstein alleging they were molested, and the financier was again arrested in 2019 for sex trafficking. Also involved in the scandal was Epstein's ex-girlfriend, Ghislaine Maxwell, who was convicted in 2021 on several charges of sexual exploitation of minors. In August 2019, Epstein was found dead in his jail cell of an apparent suicide, as reported by The New York Times. Several conspiracy theories about his life, relationships, and crimes have made the rounds since then, and even years after Epstein's death, the public still forms speculations about him.
Conspiracy theories about Epstein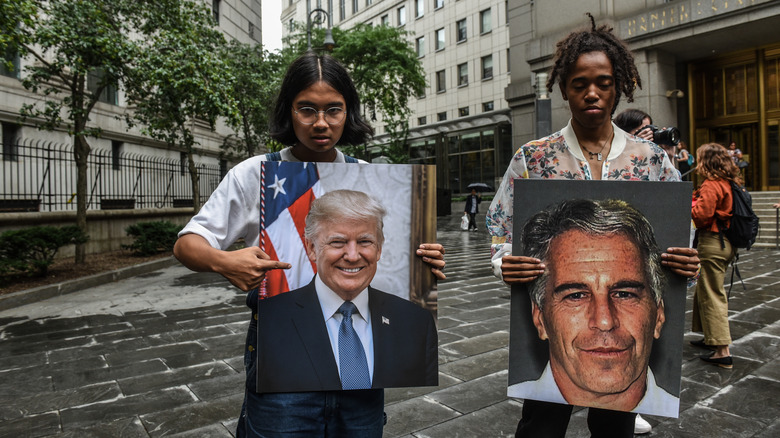 Stephanie Keith/Getty Images
As a wealthy businessman and financier, Jeffrey Epstein had some high-profile personal and professional connections. Billionaire and Bath & Body Works founder Les Wexner was Epstein's client, he was once close friends with Donald Trump, and he was seen on a few occasions with Bill Clinton as well as Prince Andrew (via Insider). When Epstein died and his death was declared a suicide, theories immediately began making rounds online stating that one of his connections had him killed because he allegedly had some incriminating information about them that may come out during his trial. Some believe that Epstein faked his death and escaped prison.
The conspiracy theories were mostly fueled by Epstein's association with Clinton and Trump, who were also both accused by women of sexual misconduct in the past, as reported by Vox. Even politicians from opposing sides, as well as journalists and reporters, offered their opinions on the matter via Twitter. Some of those who openly spoke about it include Bill de Blasio, Rudy Giuliani, and Joe Scarborough, (per Politico). The involvement of wealth, politics, and power also helped fuel theories about Epstein. Despite the official ruling of his death as suicide, political leaders continued to push for further investigation into how he died, as reported by NPR in 2019. Epstein has been dead for a few years but still, conspiracy theories about him keep popping up online, and it has somewhat become a political issue because of the mention of Trump and Clinton in the theories.
The conspiracy theories are still talked about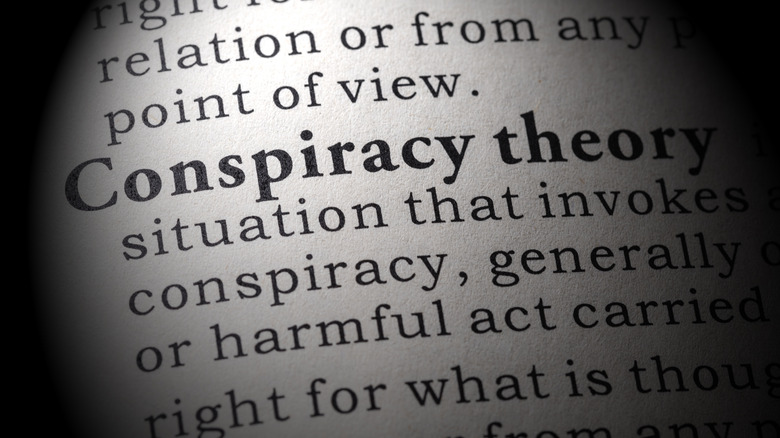 Feng Yu/Shutterstock
The conspiracy theories about Jeffrey Epstein are still around, and perhaps they are here to stay. One of the reasons why the public isn't too keen on believing official statements, such as the cause of Epstein's death, is because of the lack of trust in what is being reported. In the past few years, fake news has been rampant online and filtering what's real from what's not can be difficult, especially with the quick spread of information through several social media channels. As reported by Financial Times, the American public's trust in the government and mainstream media has diminished, and many end up making their own conclusions about certain issues whenever new information comes to light.
Political scientist Joseph Uscinski, who has written a book about conspiracy theories, said conspiracy theorists typically use information to support their own beliefs rather than to challenge them. "Every conspiracy theory has 'evidence.' Even the really crazy stuff," he stated. NPR also reported that because those involved in the conspiracy theories about Epstein are wealthy and powerful individuals (Donald Trump, Prince Andrew, Bill Clinton, and Bill Gates, just to name a few), the public is more interested and some create their own narratives based on facts that come out. Additionally, Uscinski noted that people's beliefs are often in parallel with what their political leaders say. Political scientist Emily Thorson also noted that conspiracy theories are lasting because of a psychological effect known as "belief echoes," which is described as an "obsessive, emotional response to information that can linger even after we know it's false," (via National Geographic), which may explain why conspiracy theorists still stand by their beliefs despite being presented with factual information.