This Is Where Michael Jackson's Chimp, Bubbles, Ended Up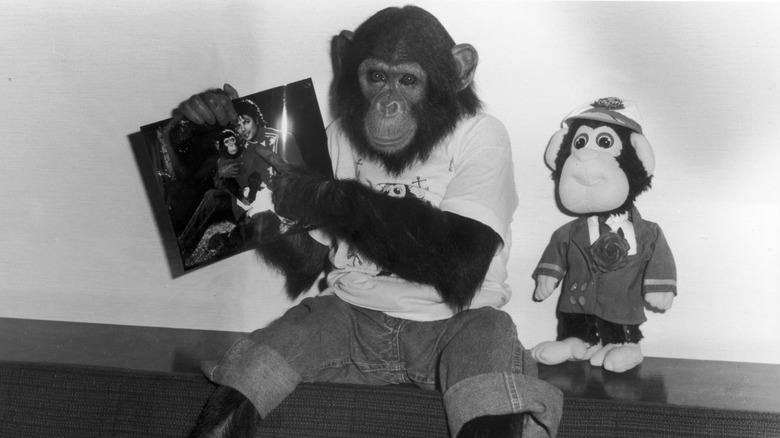 Hulton Archive/Getty Images
In the mid-1980s, Michael Jackson — who was enjoying some of the greatest critical acclaim and commercial success of his career to date — made moves to adopt a unique pet: an infant chimpanzee. Its origin story varies, but it appears to have been in the hands of a medical laboratory before finding its way to Hollywood animal trainer Bob Dunn, who gave it to Jackson. Unsurprisingly, with Jackson having become one of the most famous and recognizable people in the world, his unusual new companion became a celebrity in its own right. The chimp, which Jackson named Bubbles, was a constant presence in the tabloid papers of the day, thanks to various cameos in Jackson's music videos and serving as his mascot during the lucrative "Bad World Tour" in 1987.
According to Randy Taraborrelli's 1991 biography of Jackson, "The Magic and the Madness," stories in the tabloid press suggested Jackson was "obsessed" with his new pet and had donated a fortune to fund research into developing communication systems between humans and animals. However, these stories were exaggerated or — as was the case with the story that Jackson slept in a hyperbaric chamber — pure inventions by Jackson's manager, Frank Dileo. Dileo was keen to have the press portray Jackson as an eccentric, which to many music fans goes hand in hand with genius. 
The poster ape of the 1980s didn't stay in the public eye for long, with Jackson giving up his beloved pet for safety reasons. However, you may be surprised to learn that Bubbles is still alive and well and — like many former celebrities — enjoying its retirement in Florida.
When Bubbles became too big
Bubbles continued to generate headlines for Michael Jackson, notably drinking tea with the mayor of Osaka on the Japanese leg of the "Bad World Tour" in 1987. Not that such bizarre encounters were enough for the press, which continued to fabricate stories, including the rumor that Bubbles would act as the ringbearer at the wedding of Jackson's close friend Elizabeth Taylor in 1991. But the King of Pop's ownership of Bubbles wasn't all plain sailing. As recorded in "The Magic and the Madness," in one incident the pet reportedly hid under Jackson's bed and refused to budge until Jackson himself began to imitate an ape, monkeying around and making animal noises in front of his staff. It was a sign of things to come.
Bubbles reached the point of maturity around the time that Jackson was looking to start a human family of his own. Adult chimpanzees are dangerous and unpredictable around small children. It was therefore decided that Jackson and Bubbles must part, with the pet initially being returned to animal trainer Bob Dunn before being taken to the Center for Great Apes in Wachula, Florida, in 2005.
Bubbles' life in captivity
Chimpanzees are social animals, and though Bubbles went into captivity for the good of Michael Jackson's infant son Prince Michael II, the separation was reportedly stressful, especially for the chimp. According to trainer Bob Dunn — who said he was Bubbles' primary caregiver even when Jackson owned it — told the News of the World newspaper in 2009 (via The Telegraph): "Bubbles definitely missed him when they parted and will miss him now. Chimpanzees are intelligent. They remember people." He added that Bubbles recognized Jackson on his last visit to the chimp's new home and that the ape pined for him in captivity.
How often Jackson made efforts to visit his former traveling buddy is difficult to ascertain, though as recently as 2010 La Toya Jackson made a trip to visit Bubbles and inform the King of Pop's erstwhile companion that its former master had died.
Jackson's other apes and Bubbles' retirement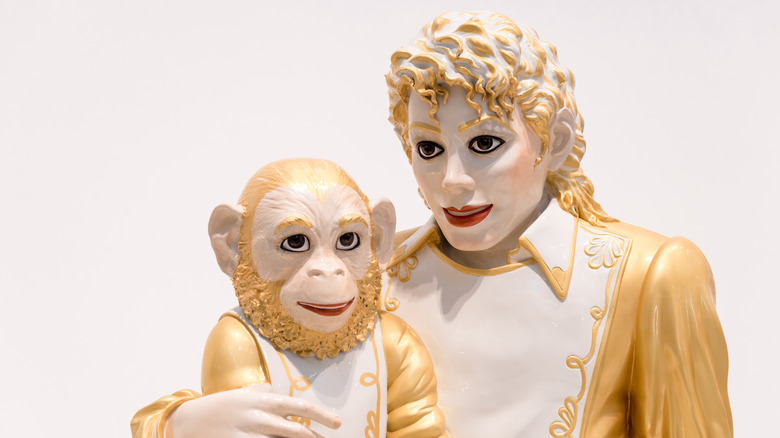 Hayk_Shalunts/Shutterstock
Although Michael Jackson reportedly missed Bubbles and was hurt that he was unable to remain in close contact with the chimp once it reached maturity, the singer made steps to ensure he still enjoyed primate company.
After Bubbles, Jackson purchased another chimpanzee named Bubbles, as well as two others he named Max and Action. Jackson was photographed often with his new pets, though it was not made clear to fans at the time that neither of his new apes was Bubbles, the Daily Mirror reported. The exact number of chimpanzees Jackson owned as part of his menagerie — which also included other dangerous wild animals such as tigers — is unclear. 
As for Bubbles, who celebrated his 40th birthday in April 2023, it still resides at Florida's Center for Great Apes. The chimp is reportedly camera shy but fond of playing tricks on strangers, such as spitting water at them, and has four ape friends to play with. According to the sanctuary's website, the center still receives funding from the Michael Jackson estate to ensure that Bubbles enjoys the retirement it deserves.