Who Is Zarrius Hildabrand, The US Soldier Accused Of Killing His Wife?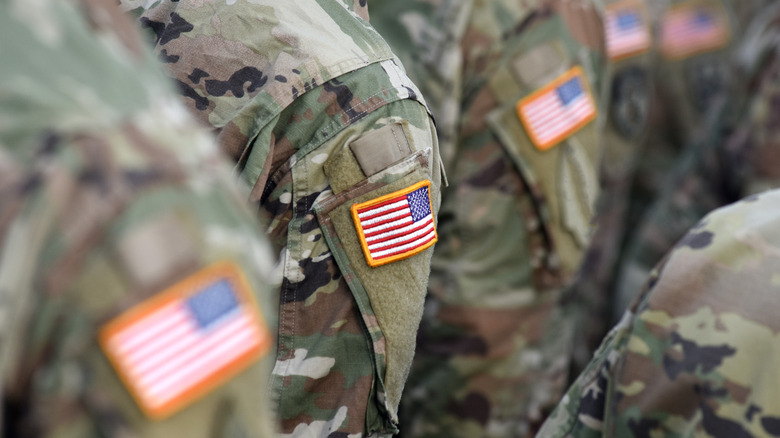 Bumble Dee/Shutterstock
Army specialist Zarrius Hildabrand reported his wife Saria missing in Anchorage, Alaska on Monday, August 7, 2023, CBS News reported. The couple were newlyweds, with Hildabrand, originally from Kentucky, assigned to Joint Base Elmendorf-Richardson in Anchorage in March 2022 due to his role with the 2nd Infantry Brigade Combat Team (Airborne) 11th Airborne Division, per Military.com. According to a GoFundMe for Saria's family, she'd moved from Utah to join her husband in Alaska in early 2023.
Hildabrand told Anchorage police that he'd last seen his wife at around 10 a.m. on August 6. At that time, he said they were hungover from celebrating his 21st birthday with friends the night before, and Saria left for work on foot — and forgot her phone. According to Hildabrand, when he arrived to pick her up that evening, she never showed up. So why didn't he immediately report his wife missing? He was hoping for a "misunderstanding," he told police, saying he searched the streets of Anchorage before contacting the authorities (per CBS News). Hildabrand claimed to have contacted friends and family and checked the local jail and multiple hospitals.
Saria's remains were found in a drain pipe in Anchorage on August 10. She was killed by a gunshot to the head. On August 11, Hildabrand was arrested and charged with his wife's murder, according to Anchorage police. With her son-in-law in custody, Saria's mother, Meredith Barney, said (via Alaska Public Media), "[Zarrius] walked around with me for hours searching for my daughter knowing that she was dead. He lied to me multiple times and tried to play it off like he was a concerned husband."
Zarrius' story unravels
According to Zarrius Hildabrand, in the early morning hours of August 6, the couple returned home to their apartment around 2 a.m. A neighbor reported a gunshot about 45 minutes later. Police responded to the call but found nothing, Military.com reported. After claiming Saria forgot her cell phone at home the next morning, Hildabrand failed to explain how her coworkers received a text from her phone at 10:45 a.m. — 45 minutes after he said she left home — letting them know she wouldn't be at work that day.
Other inconsistencies emerged in Hildabrands' version of events. He told the police he had only one handgun at home, but they discovered two. And once Anchorage police were inside the Hildabrands' apartment, they found the bed covered in a mattress pad and a fitted sheet — but nothing else. Authorities spotted a brand-new package of sheets, but Hildabrand said Saria bought them. He refused to let the police see under the mattress, claiming there were "embarrassing" items used for sex (per CBS News).
It was later confirmed that Hildabrand had not only purchased the sheets but also cleaning supplies and a large trash can on wheels from area retailers the Sunday his wife disappeared. His alibi for that day also changed — purportedly unaware his wife had vanished, he at first said he spent the day at home but later admitted he ran errands. While this was unfolding, Hildabrand posted a flier on his Facebook page on August 9 asking for help finding his missing wife. 
A mattress soaked in blood and a missing bullet
As holes emerged in Zarrius Hildabrand's accounting of the day his wife vanished, the mattress he declined to let the police see underneath would prove a crucial piece of evidence contributing to his arrest. On Wednesday, August 9 — the same day he posted the missing flier urging people to "PLEASE SHARE AND REPOST!!!!!!", police returned to the apartment with a search warrant. Hildabrand had no choice but to let the authorities see the mattress, and they found it soaked in human blood. "There was so much blood on the mattress that the blood soaked through onto the carpet and into the wood frame," charging documents said (via Alaska Public Media).
Meanwhile, they found blood in other areas of the Hildabrands' apartment, and one of the accused man's pistols was missing a bullet. Once arrested, Hildabrand's bail was set for $500,000. As of this report, Hildabrand had yet to enter a plea, and there was no known motive for the apparent murder, according to police documents. When asked if she saw signs of trouble in her daughter's relationship, Saria's mother, Meredith Barney, added (via Alaska's News Source), "I didn't, not anything that wasn't abnormal for like newlywed people trying to figure out living together." 
Per Hildabrand's Facebook page, he joined the Army in September 2021, and according to KSLTV, he and Saria, whose maiden name was Barney, married in December 2022. Saria had been working in a restaurant and was in the Alaska National Guard when she was killed.