NBA Fights That Went Too Far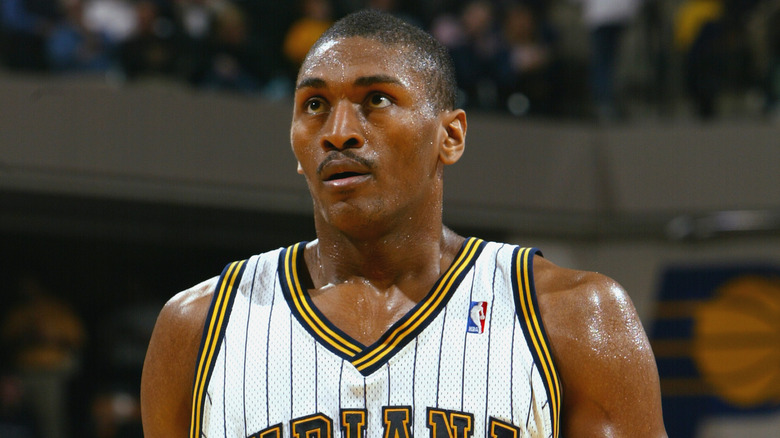 Andy Lyons/Getty Images
Whether the fans, players, coaches, or executives like it or not, fighting will always be a part of professional sports. There are many times when the play can get a little too rough for comfort, leading to one player losing their temper with another and matters ramping up in short order as both players' teammates either try to restore order — or get involved in the fight themselves. That's certainly true in the NBA, which has seen more than its share of bench-clearing brawls since its inception in the 1940s. But which of these fights can be considered the nastiest of all time?
While they've certainly been involved in the worst fights in league history, it's not just the NBA's dirtiest players who have thrown down — and gotten punished accordingly — in these conflicts. Even otherwise mild-mannered individuals, after all, can get suspended for so much as leaving the bench during a fight. These historically ugly fights can also occur during practice, and sometimes, it could be teammates — and not players from opposing teams — taking their beef with each other beyond reasonable boundaries.
That all said, here are some NBA fights that fit the category of going too far for their own good.
March 16, 1996: Dennis Rodman vs. referee Ted Bernhardt
Dennis Rodman had a pro wrestling career that, while memorable to late '90s WCW fans, wasn't nearly as successful as his NBA run, and just like heel wrestlers often do to the referees when they're caught cheating, "The Worm" got physically abusive with an NBA official during an otherwise nondescript Chicago Bulls vs. New Jersey Nets game in the 1995-96 regular season. The oftentimes colorful and controversial Rodman was irate over being ejected in the first quarter, and the Bulls forward let referee Ted Bernhardt have it. After arguing with and, most notably, head-butting Bernhardt, Rodman continued his temper tantrum by knocking over a water cooler and removing his jersey as he angrily stormed toward the Bulls' locker room.
Explaining the league's decision to suspend him for six games and fine him $20,000, NBA vice president Rod Thorn said that Rodman received such a punishment not only for the head-butt but also for his unacceptable behavior in general after being thrown out. This incident further stood out because it happened just as the Bulls were seriously gunning for the 1971-72 Los Angeles Lakers' then-record 69 regular-season wins. But fortunately, even with their talented yet hot-tempered power forward suspended, Chicago broke the record and won 72 games, which stood as the all-time best for two decades until the Golden State Warriors broke it by going 73-9 in 2015-16.
December 21, 2009: Gilbert Arenas vs. Javaris Crittenton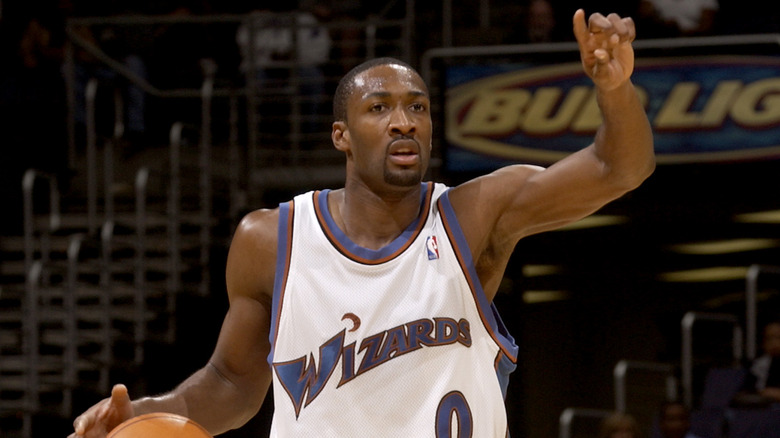 G Fiume/Getty Images
This is quite likely the only instance of an NBA fight where the two feuding parties threatened each other with guns, as opposed to settling their differences by punching, pushing, or shoving the other guy(s).
As recalled by former NBA star Caron Butler in his autobiography, "Tuff Juice: My Journey From the Streets to the NBA," the Washington Wizards were on their way home from Phoenix when two of Butler's teammates, Gilbert Arenas (pictured above) and Javaris Crittenton, were arguing during an intense card game. The fight turned physical for a few moments, and despite Butler's best efforts to broker a truce, Arenas and Crittenton kept sniping at each other after the WIzards' plane had landed. The next day, as the WIzards prepared for practice at Washington, D.C.'s Verizon Center (now the Capital One Arena), the team was shocked to see Arenas asking Crittenton to choose from one of the four guns he brought with him ... and the latter pointing his own gun at the former. 
Thankfully, Butler was able to de-escalate things before anybody got hurt, and then-NBA Commissioner David Stern suspended Arenas and Crittenton for the rest of the 2009-10 season. But was it really a fight over gambling debts? Speaking to The Action Network in 2022, Arenas challenged this widely accepted narrative — as he claims, it was all about feeling disrespected by Crittenton as Washington's numero uno trash talker. "It was about the s***-talking while I was losing. It was like someone scoring on you every time down," the former Wizards guard explained.
December 16, 2006: Nuggets vs. Knicks
In December 2006, the New York Knicks hosted the Denver Nuggets, and things were not going as planned for the home team. It was all over except for the final score, and with 1:15 to play, the Knicks' Mardy Collins committed a hard foul on Nuggets guard J.R. Smith. The ensuing fight prompted Nuggets star forward Carmelo Anthony and Knicks guard Nate Robinson to defend their respective teammates, and pretty soon, it was a free-for-all involving both teams.
Speaking to reporters after the game (via ESPN), Robinson explained that the Knicks were extra chippy because they felt the Nuggets were adding salt to the wounds by leaving their starters on the court toward the end of a blowout win. "It was a slap in the face to us," the diminutive guard said. "As a team, as a franchise, we weren't going to let that happen."
As Anthony had committed the worst offense by punching Collins, he got the longest suspension, sitting out a total of 15 games. Six other players also served suspensions for taking part in the brawl, and each team was fined $500,000. 
December 1, 1997: Latrell Sprewell vs. PJ Carlesimo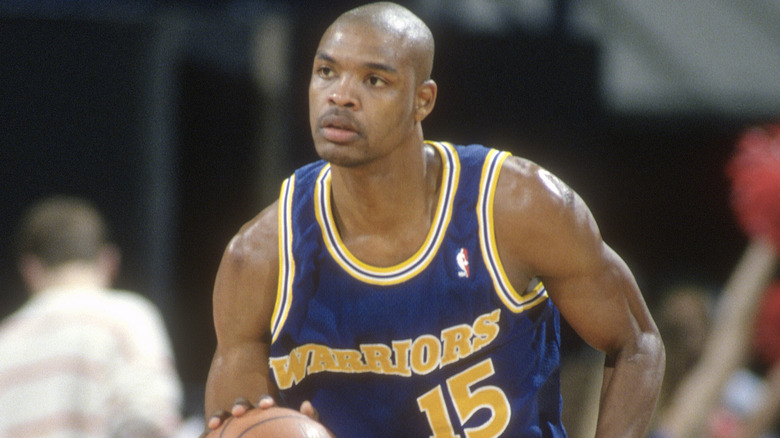 Focus On Sport/Getty Images
Not all of the worst fights in NBA history took place with television cameras or even photographers assigned to the game; this one happened during a Golden State Warriors practice, and it was one of the comparatively rare physical confrontations between a player and their coach in major-league sports.
Early in the 1997-98 NBA season, Latrell Sprewell was living up to his billing as one of the NBA's brightest young stars, averaging over 21 points in 14 games at that point for the Warriors. During the practice in question, Golden State head coach P.J. Carlesimo allegedly shouted at Sprewell, asking him to improve his sloppy passing. Sprewell angrily told his coach off and asked him to stay away from him. When Carlesimo approached Sprewell to confront him, the guard-forward reportedly choked his coach for a good 10 to 15 seconds before leaving. Not satisfied by this violent act of disrespect, Sprewell returned 20 minutes later just to punch Carlesimo, and his Warriors teammates once again had to intervene and keep him away from the coach.
Initially suspended by Golden State for 10 games, Sprewell almost instantly got a much harsher punishment from his team — 82 games (later reduced to 68) and the rest of his contract voided.
May 14, 1997: PJ Brown vs. Charlie Ward
For much of the late '90s, the New York Knicks and Miami Heat had a fierce rivalry in the NBA's Eastern Conference. While it produced some memorable fights such as the one involving former Charlotte Hornets teammates Larry Johnson (then with the Knicks) and Alonzo Mourning (then with the Heat), that donnybrook isn't quite as notorious as the one where Heat power forward P.J. Brown did to Knicks point guard Charlie Ward what your average bad-guy wrestler would do to a hapless jobber.
The stage was set with under two minutes remaining in Game 5 of the 1997 Eastern Conference semifinals. With the Heat's Tim Hardaway attempting a free throw, Brown and Ward were jockeying for rebound position when, almost out of nowhere, the much larger Brown flipped the former Heisman Trophy winner overhead and into a group of sideline photographers. Knicks forward John Wallace then charged at Brown in retaliation, triggering a minute-long brawl between players from both teams.
Interestingly, Wallace wasn't suspended, but Brown was the only player to sit out two games — and rightfully so as he was the instigator of the Game 5 chaos. However, several Knicks, namely key players Ward, Johnson, Patrick Ewing, John Starks, and Allan Houston, were suspended one game each, and the fact they sat out either Game 6 or Game 7 helped the Heat come back from a 3-1 deficit to win the series.
December 9, 1977: Kermit Washington vs. Rudy Tomjanovich (aka The Punch)
None of the other fights here resulted in life-threatening consequences for one or more parties involved, but sadly, this one did. Early in the third quarter of a game between the Los Angeles Lakers and Houston Rockets, the Lakers' Kermit Washington and the Rockets' Kevin Kunnert got tangled up in a rebound play, with Kunnert later claiming that Washington grabbed his shorts just as he secured the board. Both men then exchanged blows, and as Lakers icon Kareem Abdul-Jabbar tried to play peacemaker, Houston forward Rudy Tomjanovich ran in to do the same. Seeing Tomjanovich moving quickly toward the commotion, Washington sucker-punched the Rockets star, who ended up in the hospital with injuries that included a fractured skull, a broken nose, and a cerebral concussion.
"I saw something from the corner of my eye — it was Rudy running at me 100 miles an hour," Washington recalled to ABC News. "And I swung and that was a mistake that I made in judgment."
Washington received a $10,000 fine and a 60-day suspension for what was eventually known in NBA lore as "The Punch" — for many of his peers, though, it seemed like a slap on the wrist. And while Tomjanovich's injuries nearly proved fatal, he made a successful recovery, played a few more seasons, and went on to coach the Rockets to two NBA championships in the 1990s.
November 10, 1995: Pacers vs. Kings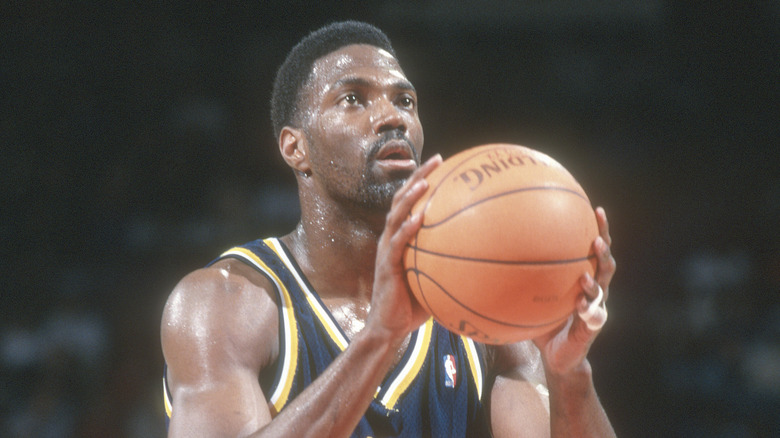 Focus On Sport/Getty Images
This brawl tends to be less remembered than many other instances of NBA fisticuffs from the '90s. Perhaps it's because one of the teams involved, the Sacramento Kings, had such a rich tradition of losing at the time the incident happened. But it's definitely nothing to sniff at when eight players on each of the two teams were suspended early in the 1994-95 season following a game between the Kings and the Indiana Pacers.
The fracas broke out late in the third quarter of what turned out to be a 119-95 road win for the Kings in Indianapolis when Sacramento's Michael Smith stepped in to defend his teammate Bobby Hurley, who was fouled hard by the Pacers' Dale Davis (pictured). After Davis retaliated against Smith, both benches cleared in a five-minute brawl that saw three distinct shoving matches between Pacers and Kings players.
The league-record 16 players suspended for taking part in the brawl were all forced to sit out at least one game, with Davis and Smith — who were both ejected — receiving two-game bans. Since NBA teams are required to have at least eight players in uniform for any given game, the suspensions were staggered in alphabetical order.
November 19, 2004: Pacers vs. Pistons (aka the Malice at the Palace)
This is still probably the most infamous brawl in modern NBA history. With the Indiana Pacers comfortably leading the host Detroit Pistons, 97-82, at the Palace in Auburn Hills, Michigan, the fracas started innocently enough (in a very relative sense) when Pacers wingman Ron Artest (later Metta World Peace and Metta Sandiford-Artest) hit Pistons big man Ben Wallace from behind with a hard foul. After Wallace reacted by punching Artest, the fight escalated into utter mayhem as other players joined in. However, Artest soon walked away from the skirmish and lay down on the scorer's table – an unlikely prelude to much worse things to come.
When a spectator hit the lounging Artest with his drink, the Pacers star jumped into the stands and started brawling with the fans; two teammates, including Stephen Jackson, soon backed him up. Artest, this time seconded by forward-center Jermaine O'Neal, would also attack another Pistons fan who had confronted him in the thick of the melee. Things had become so chaotic that even Pistons radio analyst Rick Mahorn — best known for his time with Detroit's late-'80s "Bad Boys" teams — was among the cooler heads trying to get everyone to settle down. When someone like Mahorn is trying to keep the peace, you know you've got one heck of a donnybrook.
Several players received suspensions for their respective roles in the "Malice at the Palace," but Artest (an NBA-record 86 games), Jackson (30 games), and O'Neal (25 games, later appealed down to 15) got the harshest punishments by far.
February 6, 1995: Vernon Maxwell vs. heckler
Regardless of the professional sport, there's sure to be a heckler or two who really has it in for one of the players. As such, it would behoove pro athletes to keep their cool and avoid teaching the verbally abusive fan a much-needed etiquette lesson with their fists. But that's oftentimes easier said than done, as seen when Houston Rockets guard Vernon Maxwell punched a Portland Trail Blazers fan named Steve George in the middle of a game between the two teams.
According to a syndicated Associated Press report (via Deseret News), George was making "racist and defamatory" remarks toward Maxwell; it isn't clear what exactly the Blazers fan said, but a Houston Chronicle retrospective on the incident noted that George was specifically heckling Maxwell about the latter's wife's miscarriage. George would later deny the accusations and claim that he was poking fun at the Rockets guard for his poor play during the Blazers game. But in any case, Maxwell made his way through the stands to seek out the heckler, punching him in the face as teammates tried to restrain him.
For his actions toward George, Maxwell received a 10-game suspension and a $20,000 fine; both figures may seem like small potatoes now, but at the time of the incident, the suspension was the second longest in NBA history and the fine was tied for the all-time most expensive.
May 23, 1987: Bill Laimbeer vs. Larry Bird
For the most part, Game 3 of the 1987 Eastern Conference Finals was going swimmingly for the Detroit Pistons, who were down 2-0 against the Boston Celtics and looking forward to a dominating home win. With 10 minutes to go in the fourth quarter, Celtics superstar Larry Bird was attempting a shot under the basket while facing stiff opposition from the Pistons' Dennis Rodman. As the shot clock expired, Rodman bumped into his teammate Bill Laimbeer, and while it seemed he too had lost his balance, the bruising center grabbed Bird with a headlock and bodyslammed him pro-wrestling-style.
It was an on-brand move from one of the NBA's preeminent "heels" of his era, and after Bird's attempts to punch Laimbeer proved futile as he was being held back, the future Hall of Fame forward threw the ball at the big man as both players were ejected from the game. Laimbeer, who was hit in the neck by the ball, later maintained his innocence, as quoted by The Washington Post. "I was going down and grabbed a hold of Larry to break my fall," he said. "But I didn't do anything wrong. He came up swinging. I think my reputation victimized me. But I know I didn't do anything to deserve being kicked out of the game."
Bird's response? "Yeah, and I threw the ball at the official, and Laimbeer just happened to walk by." Very well said, Larry Legend.
April 24, 1983: Tree Rollins vs. Danny Ainge
"Tree Bites Man." You can't make up headlines like that, as that's how the Boston Herald started its report on the deciding third game of the Atlanta Hawks and Boston Celtics' first-round playoff battle in 1983. More than a decade before Mike Tyson made a meal out of Evander Holyfield's ear in the boxing ring, Hawks center Wayne "Tree" Rollins had a craving for someone's right middle finger, with that someone being Celtics guard Danny Ainge.
For much of the do-or-die playoff game, Rollins and Ainge had been jawing at each other, but the on-court animosity seriously intensified in the third quarter. After scoring a bucket, Rollins celebrated the successful two-point conversion by elbowing Ainge as he made his way to the opposite side of the court. Ainge reacted by tackling Rollins, and as both men wrestled each other on the floor, other Celtics and Hawks players got involved. Amid this increasing confusion, Rollins bit Ainge's finger after the latter apparently poked him in the eye. That got him suspended five games at the start of the 1983-84 regular season.
"Danny came at me (later) and all hell broke loose. In the pile, somebody stuck their finger in my eye and I didn't know it was Danny but I bit his finger," Rollins admitted to the Atlanta Journal-Constitution in 2016. As for Ainge, he told the Boston Herald that he doesn't remember the eye poke, and while he added that Rollins never apologized to him, he said he understood why the whole thing took place. "Listen, I just think that those are things that happen in the heat of the battle," the Celtics-player-turned-executive explained.