Who Was Jerry Buss And How Much Did He Really Pay For The Lakers?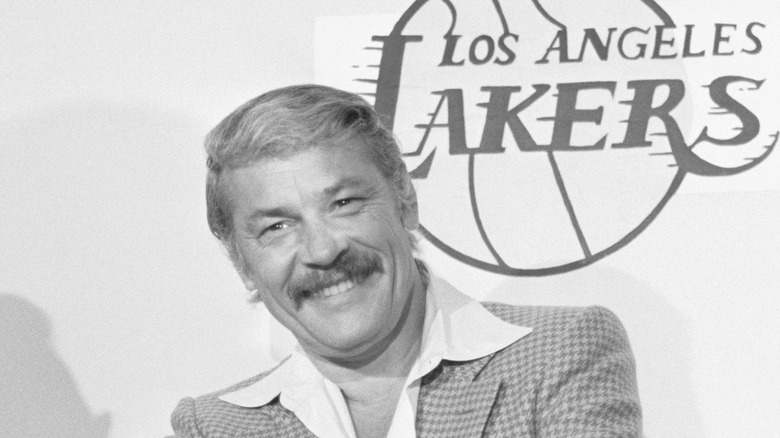 Bettmann/Getty Images
Few non-players have had so transformative an effect on a sports team than Jerry Buss, the basketball-loving businessman who changed the fortunes of the NBA's Los Angeles Lakers to turn them into one of the planet's biggest basketball brands, which will forever be linked with some of the biggest legends of the game such as Kobe Bryant and Shaquille O'Neil.
Buss was also instrumental in establishing the career of Magic Johnson, whom the Lakers had drafted shortly before Buss' purchase of the team. Under Buss' guidance, Johnson went on to become one of the most successful NBA players of all time and one of the biggest names in American sports. After Buss' death in 2013 at the age of 80, Johnson paid tribute to the man he described as his mentor, stating: "Without Dr. Jerry Buss, there is no Magic." (via The LA Times)
With Johnson in tow, Buss guided the Lakers to 10 NBA titles under his stewardship in the years following his purchase of the team, cementing the franchise as one of the greatest in the world of basketball. Buss took control of the Lakers in 1979, as part of a deal worth $67.5 million, according to Bleacher Report, around $296 million today. That Buss, who came from a humble working-class background, could afford such an eye-watering sum is a testament to his brilliance as a businessman, though it is also worth noting that the deal in question handed him control of a number of other assets alongside his beloved Lakers.
The road to glory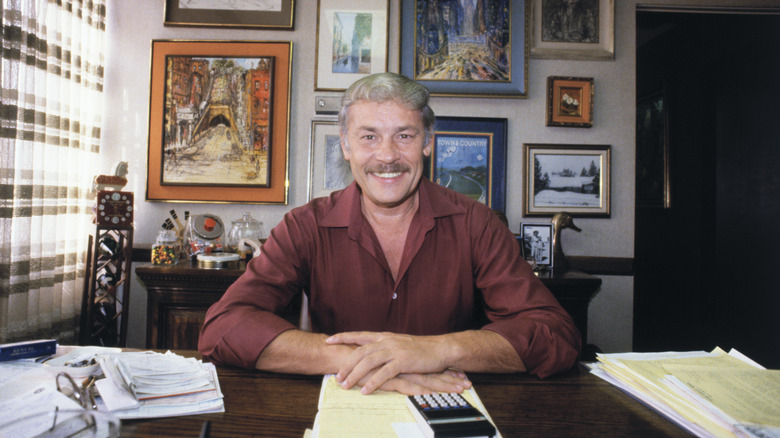 Bettmann/Getty Images
Many wealthy business owners today come from rich dynasties of inherited wealth. Jerry Buss' story was quite different. According to Yahoo Sports, Buss was a small child being raised by a single mother and the two of them struggled to eat and stay warm during the Great Depression. Eventually, his mother married a plumber named Cecil, who was something of an authoritarian. Cecil compelled Buss to work even as a child, instilling in him a work ethic that would shape the rest of his life. Thus Buss started out from humble beginnings to become one of the most loved figures in the NBA.
Buss' business acumen was also grounded in a glittering scientific career that occurred decades before he made his first steps into professional sports. The young Jerry showed himself to be an excellent student, with a stellar school record that propelled him through academia, through both a bachelor's and master's of science degree, and finally onto a Ph.D. in chemistry, which he achieved at the age of just 24, per the Los Angeles Daily News. 
Having left academia, Buss turned his intellect to the world of real estate, the industry in which he made his fortune. Bleacher Report claims that Buss was eventually worth somewhere in the region of $1 billion.
How Jerry Buss bought the LA Lakers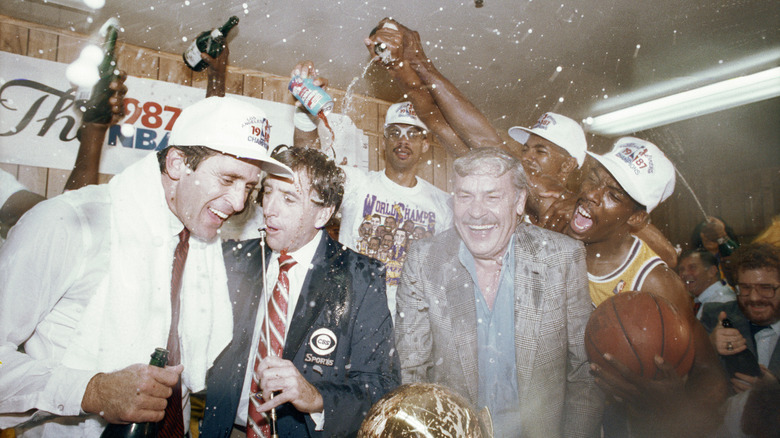 Bettmann/Getty Images
Jerry Buss' 1979 purchase of the LA Lakers was undoubtedly the defining business transaction of his long and successful career. It was also reportedly one of the most complicated. According to Yahoo Sports, Buss struck a deal with fellow businessman Jack Kent Cooke, which included the Lakers, the NHL team the Los Angeles Kings, as well as the Forum, the stadium at which both teams played, as well as a 13,000-acre ranch in Nevada. Of the reported $67.5 million that changed hands in the deal, Buss paid around $16 million for the Lakers alone — around $70 million today. Cooke also received several properties in Buss' real estate portfolio as part of the deal, and the lease to New York's famous Crysler Building.
He used his business acumen to turn the Lakers into a huge commercial success, with the team's famous "Showtime" high-octane style of play, as well as entertainment interludes including song and dance performances making attendance at a Lakers game a performance spectacular. Buss' approach remains a template for running a successful team in basketball and beyond. In 2010, Buss was inducted into the Naismith Memorial Basketball Hall of Fame.