TV Theme Songs That Became Huge Pop Hits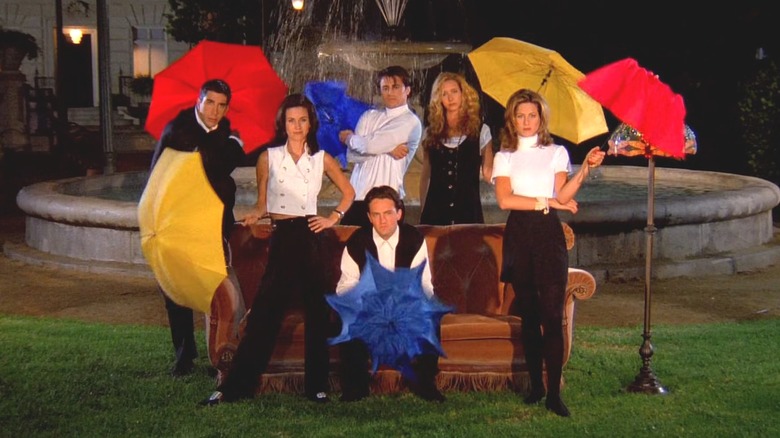 NBC
The television theme song has become something of a lost art. These days, it's not exactly necessary for a series to even have one, and more than a few themes are decidedly truncated affairs. In years past, though, a catchy theme — or lack thereof — could make or break a show's success. Back before media could be cherry-picked at will from any one of a dozen sources, you see, shows had to cultivate their followings, and a good theme could efficiently (and earworm-ily) settle existing viewers in for the latest installment, and get new ones up to speed on the series' premise.
During TV's classic age, more than a few theme songs burned their way into the public's collective brain; thinking of shows like "M*A*S*H*," "Bewitched," or "Gilligan's Island," for example, will instantly evoke musical accompaniment in the minds of fans. A handful of theme tunes, though, hooked viewers' ears almost too well — and rather than simply hearing them every week before the next episode of their favorite show, said viewers wanted to hear them on the radio and on their turntable platters (or 8-track decks) as well. Let's look at some TV theme songs that became huge pop hits — some that introduced beloved series, and some that were even more popular than the shows themselves.
Believe It or Not by Joey Scarbury
Running for three seasons between 1981 and 1983, "The Greatest American Hero" was a superhero series with a comedic twist: Gifted with an alien suit that granted him a wide array of marvelous powers, schoolteacher Ralph Hinkley attempts to use the suit to fight crime despite the fact that he is... well, terribly clumsy and awful at superhero-ing. Lead actor William Katt's deadpan comedic persona was perfect for the character, and the show was a moderate hit, garnering four Primetime Emmy nominations over its run — including one for its piano-driven theme song, which was co-written by legendary composer Mike Post and performed by journeyman musician Joey Scarbury.
Scarbury had spent the previous decade-plus struggling to launch a solo career and singing backup for the likes of Loretta Lynn before hooking up with Post, who tapped him to sing lead on "Believe It or Not," a tune about falling in love that handily doubled as a metaphor for becoming a superhero. The song was an unexpected smash, with the full-length version peaking at No. 2 on the Billboard chart in 1981 — and while Scarbury would never again sniff pop success, he did pen a No. 1 country hit, "No Matter How High," for the Oak RIdge Boys in 1990. In a 2014 interview, he shared that he's pretty happy with the residuals he still receives from his brush with pop stardom.
Welcome Back by John Sebastian
John Sebastian has had a career that would be the envy of any professional musician. As frontman for the band Lovin' Spoonful in the '60s, he co-wrote and sang an absolute truckload of Top 20 hits, including "Do You Believe in Magic," "Daydream," and "Summer in the City"; he played a brief, unscheduled set at Woodstock, turned down an invitation to join the folk group that would become Crosby, Stills & Nash, and is a Rock and Roll Hall of Famer with his former band. His solo career, though, was largely a non-starter — except for one tune, "Welcome Back," which was a No. 1 hit in 1976.
The song was written for an ABC comedy series tentatively titled "Kotter," which involved a teacher taking a job at his former high school to teach an unruly group of students. After trying and failing to write a song with that title, Sebastian began tinkering, coming up with lyrics that perfectly encapsulated the show's premise: "Well, the names have all changed since you hung around / But those dreams have remained and they've turned around / Who'd have thought they'd lead you / Back here where we need you." Sebastian presented the producers with the tune, which he titled "Welcome Back" — and they must have dug it, because the series was promptly retitled "Welcome Back, Kotter." The show made a star out of John Travolta and became a pop culture phenomenon — thanks in part to Sebastian's wistful, expertly-crafted tune.
Makin' It by David Naughton
Not many theme songs have actually been performed by the star of the show, and fewer still have been performed by werewolves. (More on that in a moment.) Even fewer had a cultural shelf life longer than that of the series they introduced — but here we have "Makin' It," the theme song from an extremely short-lived 1979 series of the same name. The disco-themed comedy was a transparent attempt to cash in on the success of the 1977 film "Saturday Night Fever" and its monster soundtrack album; it even sported Ellen Travolta, the sister of that movie's star, among its supporting cast. It starred a young man named David Naughton, who was something of a vocalist as well, and who earned an unlikely No. 5 pop hit with his performance of the theme song.
"Makin' It," the series, was a complete bomb; it debuted in February 1979 and was gone from the airwaves by late March. But the theme song, which debuted on the chart shortly after the final episode aired, took until July to reach its peak. Appearing on "American Bandstand" in 1979, Naughton told Dick Clark that he was keen to make some movies, plugging a project he was currently working on for Disney. That apparently fell through, but in 1981, he popped up as the star of a decidedly non-kid-friendly film: "An American Werewolf in London," which paved the way for a film career that continues to this day.
Happy Days by Pratt and McClain
The long-running series "Happy Days" is iconic in myriad ways; it gave us Henry Winkler's icon of cool Arthur "Fonzie" Fonzarelli, launched the grown-up career of former child star and future legendary film director Ron Howard, inspired the indelible phrase "jump the shark," and generated two comparably iconic spin-offs in "Laverne & Shirley" and "Mork and Mindy." It also sported a theme song that perfectly evoked the show's idyllic 1950s setting, expertly mimicked the pop hits of that era, and is probably playing in your head right now.
The song was written by the duo of Charles Fox and Norman Gimbel, who knew their way around a catchy tune; they're also responsible for the theme songs to "Love, American Style," "The Love Boat," and "Wonder Woman," to name a few, not to mention Roberta Flack's smash pop hit "Killing Me Softly." Struggling rock duo Truett Pratt and Jerry McClain, who had been paying the bills by singing commercial jingles, were tapped to sing the song under the wildly uninventive moniker Pratt and McClain. Despite the fact that nobody involved could be bothered to come up with a cool, '50s-themed band name for the duo, the tune soared all the way to No. 5 on the pop chart in 1976; it was, of course, their only taste of chart success. 
Making Our Dreams Come True by Cyndi Grecco
"Happy Days" spin-off "Laverne & Shirley" sported its own iconic, Charles Fox and Norman Gimbel-penned theme song: "Making Our Dreams Come True," which was also performed by a struggling, unknown vocalist. The No. 25 pop hit was performed by Cyndi Grecco, who related her humble beginnings in the music industry to Dick Clark after performing the song on "American Bandstand" in 1976. "The first job I had was in a pizza place," she said, clarifying that no, she hadn't been slinging pizzas, she had actually been singing. She then moved on to performing at theme parks, and while holding down a summer gig at Valencia, California's Magic Mountain, she was happened upon by Fox and Gimbel, who had a few ideas about her future career path.
The song became the title track to Grecco's debut album, which would unfortunately be her only one. Despite positive notices following performances on the LA club scene — one 1977 Billboard write-up described her as a "tiny sprite with a strong, room-filling voice that wrung emotional depths from both the uptempo rockers and moody ballads" — Grecco soon vanished from the spotlight.
Those Were the Days by Carroll O'Connor and Jean Stapleton
The long-running sitcom "All in the Family," which debuted in 1971, was a new breed of television series. Adapted by legendary TV producer Norman Lear from a popular British serial, the series starred veteran actors Carroll O'Connor and Jean Stapleton as Archie and Edith Bunker, the heads of a working-class Queens family. The show's satirical edge came from its examination of social issues through the lens of Archie's... er, old-fashioned worldview, the character being an irascible, essentially good-hearted curmudgeon with sizable bigoted and sexist streaks. The show won a whopping 22 Emmy awards on 55 nominations — and it very nearly produced a Top 40 pop hit with its theme song, "Those Were the Days," performed as a simple duet with piano accompaniment by its two leads.
O'Connor and Stapleton even co-wrote the song, which pines for the "simpler" times of their youths, and the extended version — which peaked at No. 43 on the pop chart, and No. 30 on the Adult Contemporary chart — featured extra lyrics in addition to the ones familiar to the show's fans, such as, "People seemed to be content / 50 dollars paid the rent / Freaks were in a circus tent." The song left an indelible enough cultural mark that it was parodied by "The Simpsons" not once, but twice, two decades apart.
TSOP (The Sound of Philadelphia) by MFSB
Founded in 1971 by songwriters Kenneth Gamble and Leon Huff, Philadelphia International Records was becoming a hitmaking powerhouse by the mid-'70s, thanks to hit records by the likes of the Ebonys, the O'Jays, and Harold Melvin and the Blue Notes. The "Philly Soul" sound laid down by the label's house band MFSB (an acronym for Mother, Father, Sister, Brother), was becoming iconic — but arranger Bobby Martin wanted just a bit more for recognition for the outfit, comprised of some 30 musicians. For author Tony Cummings' book "The Sound of Philadelphia," Martin explained that he and the band hatched a plan to put together an album showcasing their versatility. The album dropped on Philly International in 1973, but it failed to set the world on fire — for that, the band needed a little boost.
"It was the 'Soul Train' TV program which made things really happen," Martin remembered. "[Host and producer] Don Cornelius ... asked us to work out a theme tune for his show ... At first we were a little reluctant to put it out, but we did, and of course it was a stone smash." Indeed it was: "T.S.O.P. (The Sound of Philadelphia)," featuring vocal group Three Degrees, shot to No. 1 on the pop chart in 1974, becoming the first TV theme song to achieve the feat.
How Do You Talk to an Angel by The Heights
The late, legendary television producer Aaron Spelling was in the business for about 600 years (that's only a slight exaggeration). He's responsible for a slew of massive, iconic hit series, such as "Starsky & Hutch," "Charlie's Angels," "Fantasy Island," and "Dynasty," to name just a few — but with all of those hits, there were bound to be a few misses among his dozens of production credits. One of these was the very short-lived 1992 Fox series "The Heights," which centered on a fictional rock band of the same name struggling to hit the big time. With Spelling on board as producer and an extremely favorable Thursday primetime slot, big things were expected from the show — but it ended up only producing one big thing, and not the thing anyone expected.
The show's theme song, titled "How Do You Talk to an Angel" and performed by cast member Jamie Walters, surprised producers by racing up the charts at the very same time the series itself was tanking in the ratings. "It's very strange to have the record explode," Spelling told The Hollywood Reporter. "We went in with the other thing in mind. We thought the show might help the record." Unfortunately, despite the success of the tune — which shot straight to No. 1 on the pop chart — the series was canceled the moment the song fell out of the top spot.
Miami Vice Theme by Jan Hammer
The '80s were a strange and wonderful time for pop music. Thanks to the explosion of cable television in general and MTV in particular, it seemed like any weird thing could become culturally ubiquitous at any given moment. For example, hooky, synth-driven instrumental tunes featured in hit movies were, for some reason, massively popular — and one such tune, this one composed for a TV series that pretty much nailed the aesthetic of the entire decade, reached chart success even greater than those songs associated with Ferris Bueller and Axel Foley.
That tune: the succinctly titled "Miami Vice Theme," composed and performed by Czech synthesizer wizard Jan Hammer. After having previously collaborated with the likes of guitar icon Jeff Beck and Journey ax man Neal Schon, Hammer was busily putting out synth-based instrumental records and dabbling in film scores when he was tapped to compose the driving theme to the iconic cop series, which distilled the whole '80s into one action-packed, pastel-shirted, skinny-tied, five o' clock shadow-sporting package. The song could not have been better matched to the material, and it raced to No. 1 on the pop chart in 1985 at a time when the likes of Stevie Wonder, Tears for Fears, and Whitney Houston were jostling for position on said chart. Hammer never achieved another charting hit, but he never really tried; content with his '80s masterpiece, he just went back to making synth albums and scoring movies.
Bad Boys by Inner Circle
For those who were alive and conscious of their surroundings in the '90s, the phrase "bad boys" probably immediately conjures a thumping reggae beat, accompanied by images of shirtless men getting thrown into the back of police cars as blue and red lights splash across their faces. This is thanks to Jamaican outfit Inner Circle, who had some success in their home country in the '70s before enduring the deaths of their lead singer in 1980 and reggae's leading light Bob Marley in 1981. After taking a few years off to regroup, the band returned with a new album in 1986, and in '87, they dropped the LP "One Way" — which happened to feature a catchy little number titled "Bad Boys."
The band's label didn't have the funds to release any singles from that record, but over the next few years, the band couldn't shake the nagging feeling that they had a hit on their hands. They re-recorded it for their 1989 LP "Identified" — and that year, Fox came calling, needing a theme song for their soon-to-be hit reality series "Cops." The tune's appearance on the show blasted the band's fortunes into the stratosphere; they sagely included it on a third album, "Bad to the Bone," which was picked up by U.S.-based Big Beat Records and retitled (wait for it) "Bad Boys," becoming a platinum seller. Between 1993 and 1998, the band fielded four more Hot 100 hits — but none came close to reaching the success of "Bad Boys," which peaked at No. 8.
SWAT by Rhythm Heritage
In the early '70s, keyboardist and producer Michael Omartian, who is actually not an Irish alien, was having some success in the music biz as a session musician for the likes of Steely Dan and Loggins & Messina. Playing with such legends would give anyone a hankering for some solo success, but Omartian's 1975 solo album "White Horse" went nowhere, so he decided upon a different tack. Teaming up with fellow producer Steve Barri (who had worked with such major talents as the James Gang, Jim Croce, and Three Dog Night), Omartian formed the blandly named instrumental group Rhythm Heritage — and promptly, improbably, struck gold.
This came when ABC and good old Aaron Spelling came calling, needing a theme song for their cop series "S.W.A.T." The series would only run for two seasons, but Omartian and Barri's theme — a massive, horn-driven slice of butt-shaking funk — would become immortal. The song went screaming to No. 1 on the pop chart, and knowing a good gig when they saw one, Rhythm Heritage were able to partially replicate their success the following year with "Baretta's Theme," another theme song that cracked the Top 20. They then went ahead and stepped off the face of the planet — but their "Theme from S.W.A.T." has been sampled dozens of times, by the likes of LL Cool J, DJ Shadow, and Three 6 Mafia.
I'll Be There for You by The Rembrandts
The beloved '90s sitcom "Friends" came by its iconic theme song, "I'll Be There for You," when producer Kevin S. Bright tapped one of his current favorite bands, pop duo the Rembrandts, to sit in on a songwriting session for the new series. R.E.M.'s "It's the End of the World as We Know It" had served as a stand-in theme for the pilot before it aired, and the band hashed out something with a similar feel over the course of a few days and, as explained by the duo in a BuzzFeed News interview, more than a few beers. Just like that, the tune was complete — or was it?
Spoiler alert: It was not. As the show's popularity began to snowball, Nashville DJ Charlie Quinn got the bright idea to loop the 45-second track four times to create a radio-friendly three-minute version, which his phone lines promptly began blowing up with requests for. The Rembrandts had just finished their third album, the amazingly-titled "L.P." — but, sensing that they were sitting on a bottle full of lightning, their record company stopped the presses, brought the band in to record a full-length version, trashed the copies of the album that were awaiting shipment, and shoehorned in their surefire smash hit. The song peaked at No. 17 on the pop chart, held down the No. 1 spot on the Radio Airplay chart for eight weeks, and helped "L.P." go double platinum — and for fans of "Friends," it remains the ultimate earworm-y comfort song.