Jimmy Buffett, Legendary Music Icon, Dead At 76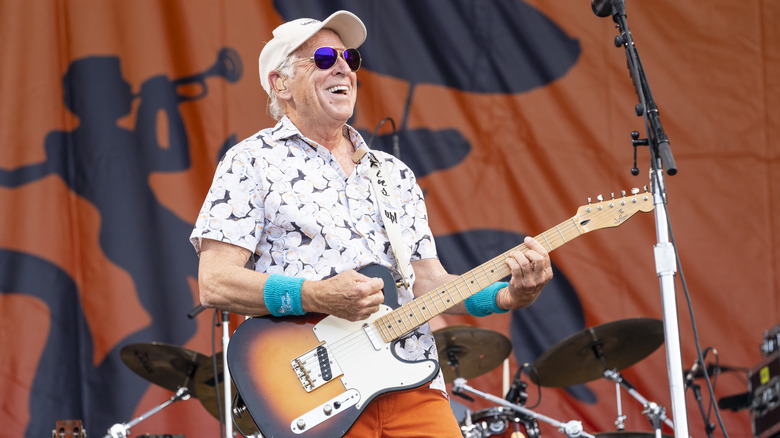 Erika Goldring/Getty Images
Jimmy Buffett, legendary musical icon and party man behind "Margaritaville" — and hero to legions of faithful fans called Parrot Heads — has sadly died at age 76 (via The New York Times). 
A statement on his website read, "Jimmy passed away peacefully on the night of September 1st surrounded by his family, friends, music and dogs. He lived his life like a song till the very last breath and he will be missed beyond measure by so many."
Buffett experienced health troubles earlier this year in May, according to CNN. He was briefly hospitalized while on tour, was forced to cancel some shows, and then released the following statement: "Two days ago, I was just back from a trip to the Bahamas, thawing out from the California 'winter tour,' and chomping at the bit to get to Charleston. I had to stop in Boston for a check-up but wound up back in the hospital to address some issues that needed immediate attention. Growing old is not for sissies, I promise you."
Jimmy Buffett died as a result of Merkel cell skin cancer (via People).
Jimmy Buffett had been a crowd pleaser for decades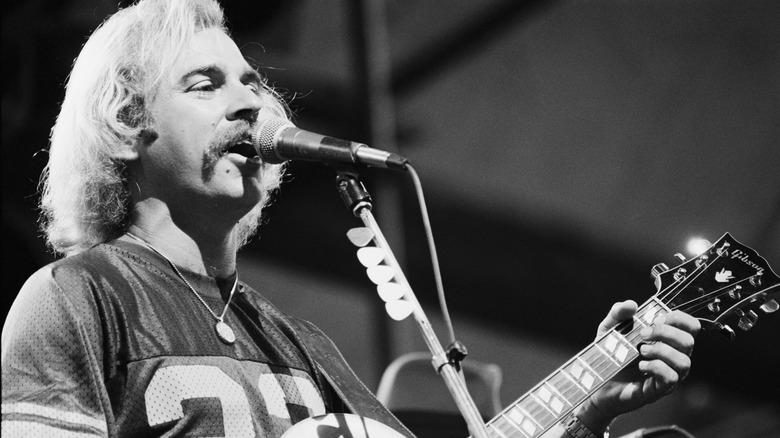 Michael Putland/Getty Images
Born in Mississippi, Jimmy Buffett entered this world on Christmas Day, 1946. He grew up in Alabama and attended Auburn University and the University of Southern Mississippi. His first foray into performing music was in the late '60s in a New Orleans cover band. He gradually fine-tuned his music and image over time, and released what was probably his best-known song in the late '70s — "Margaritaville."
He opened restaurants, toured often, and catered to his fans, who adopted his unique style and were affectionately known as Parrot Heads. He had a very brief cameo in "Jurassic World" (as a running tourist carrying two margaritas, of course) and there was even a Broadway show that centered around his music. He was also a published writer and earned the top spot on The New York Times' bestseller lists for both fiction and nonfiction (Via Billboard). 
Buffett is survived by his wife Jane, daughters Savannah and Sarah, and Cameron, a son.