A Look At Dave Grohl And Paul McCartney's Epic Friendship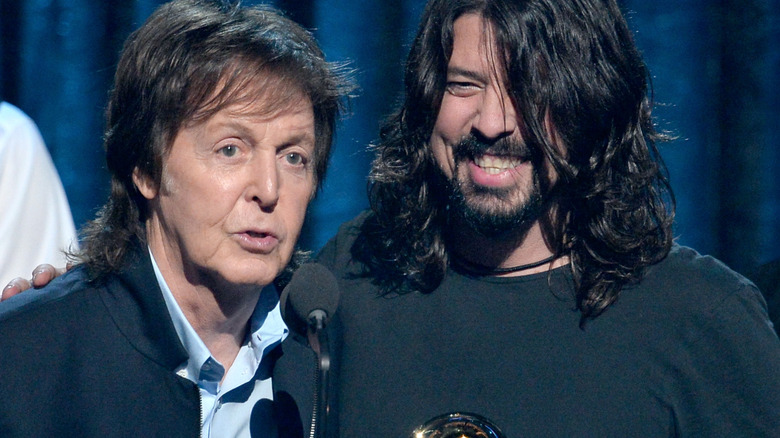 Kevin Winter/Getty Images
Dave Grohl and Paul McCartney need no introductions, and Grohl has spoken publicly — and enthusiastically — about how they've become really good friends after a meeting that had him feeling about as nervous as he'd ever felt in his entire life. That said, though, it's also worth noting that he doesn't give too much away.
He was on The Graham Norton Show when he said that he doesn't even have that many pictures of McCartney and his family. Why? Easy: "To me, I don't really want to do that. I just want to kinda be his friend." See? Wholesome already. 
Grohl's list of rock star buddies reads like a who's-who of music history, and he knows it. When he released his memoir, "The Storyteller," he admitted to the Associated Press that his friend list is a little ridiculous, saying, "I'm like the Labrador of rock 'n' roll." But he's explained that's for a very good reason: "Put two musicians in a room together and you'll find a fast friendship," he said. "You can sense the energy of a young kid calling in love with rock 'n' roll in front of their record player. I think that we all came from the same place — we fell in love with rock 'n' roll, and without any sort of real career aspiration devoted our lives to it because it's what filled our soul." So, while he doesn't say too much about his long-standing friendship with one of the biggest stars in music history, he has shared some heartwarming tales of how music brought them together.
It was love at first sight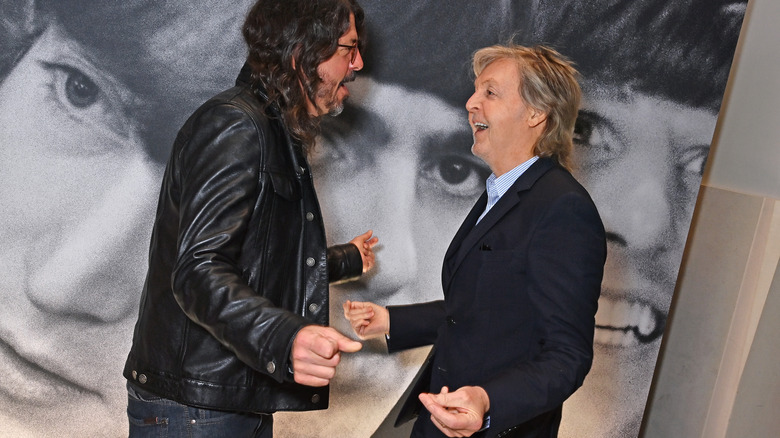 David M. Benett/Getty Images
Dave Grohl told the epic story of meeting Paul McCartney in his autobiography, "The Storyteller," and a Medium post titled "Entering Valhalla." It starts not with McCartney, but with the son of another Beatle. Grohl says that he was chilling backstage after a concert when a familiar-looking person was escorted in to meet him: Dhani Harrison, George Harrison's son. It was 2002, he was in the middle of organizing a tribute concert for his late father, and asked Grohl if he wanted tickets and after-party passes. He wrote, "I've never been to a party that I couldn't have missed. Except this one."
He wrote about hanging out, seeing old friends, and then? "I noticed Paul McCartney out of the corner of my eye, chatting away with friends, and I couldn't help but stare. There. He. Was. I don't know what it feels like to see a UFO. I don't know what it feels like to see a ghost. I don't know what it feels like to see Bigfoot, but I know what it feels like to see Paul McCartney, and if that's not a supernatural event, then I don't know what is."
Actually meeting McCartney came not long afterward, and Grohl says that he was so starstruck that he couldn't remember much about what was said, or even who introduced them. It was, however, the beginning of a long-running friendship, occasional partnership, and heartwarming story. 
Who says you should never meet your heroes?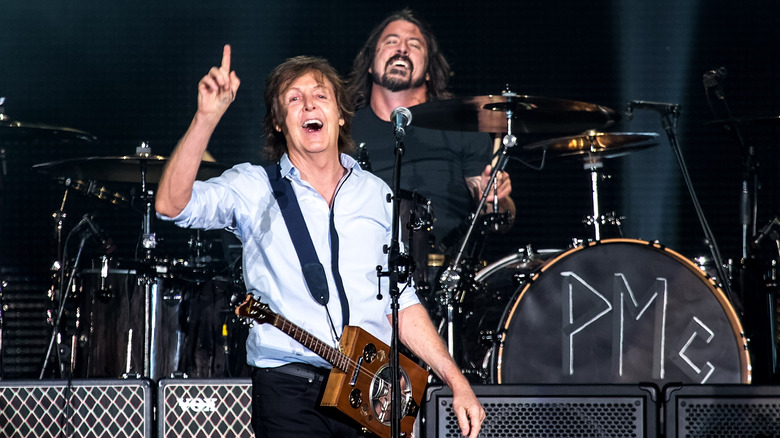 Suzi Pratt/Getty Images
For Dave Grohl, meeting Paul McCartney wasn't just a matter of meeting another famous musician, it meant meeting a hero — and the legend who set him on his own career path. Grohl has spoken (via Far Out Magazine) about hearing "Hey Jude" when he was barely school-age, saying "I don't think I'd ever listened to a rock and roll record. This was my introduction, and it's stuck with me ever since."
In 2012, he spoke with Access Hollywood to share a bit about what The Beatles meant to both him and Kurt Cobain, saying that while Cobain admired them for their ability to take something complicated to play and make it seem effortless, his obsession went back much farther. All the way, in fact, to the basics. Grohl said that growing up, The Beatles served as his music teacher, as he studied songbooks and dissected tunes to learn how everything came together.
It's understandable, then, that he chalked the meeting up to being one of the moments he would relive in his last moments on earth, and credited McCartney with being the one who really kick-started his interest in music. And afterwards? He called his mother to tell her, who "cried tears of joy, knowing that all my years of struggle and faith had led to this profound, life changing night," he wrote (via Medium). She, after all, had been the one to buy him his first Beatles songbook, age 11.
The 'most full-circle, crazy moment' of his life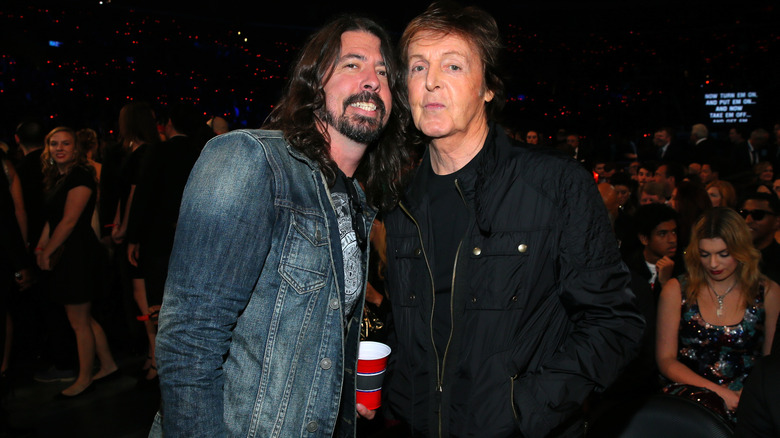 Mark Davis/Getty Images
Dave Grohl was on The Graham Norton Show when he talked about not only his friendship with Paul McCartney, but the moment he confirmed that his daughter, Harper Grohl, had definitely inherited his sense of humor. He explained that their wives had swapped phone numbers and made sure they stayed in touch, so it was just days after Dave's wife gave birth to their youngest daughter, McCartney and his wife stopped by for wine, pizza, and a visit. When the evening was winding down, he sat down at the piano and started playing "Lady Madonna." That, Dave says, was when Harper headed off, grabbed a cup, and put some change in it: "And puts it on top of the piano like it's a tip jar," he laughed. "And I thought, 'She's a Grohl!'"
McCartney apparently took it all in good-natured stride, not only teaching her how to play some chords but writing a song with her. That was the moment that resulted in what Dave says is the only time he'd taken a video or picture of McCartney, and it was a big deal to Harper, too. Dave said that he got up the next morning to find her playing the song they'd written together, only to have his hopes dashed — she caught him watching her and never played the piano again.
Still, it's one of those moments that's treasured for a lifetime. Grohl called it "the most full-circle, crazy moment of my entire life."
Taylor Swift saved him from some big-time embarrassment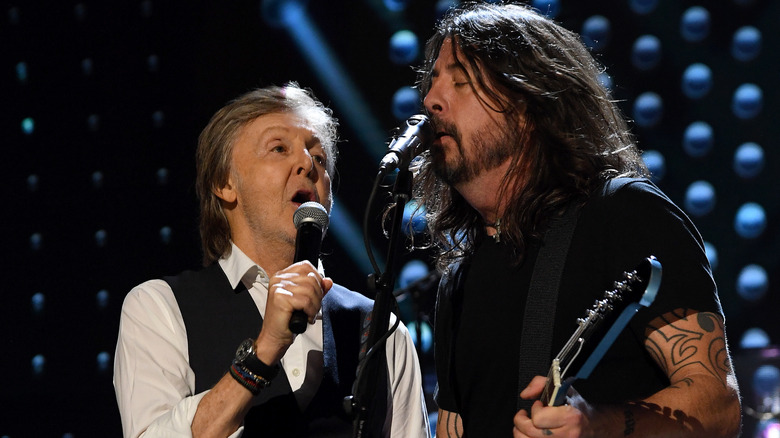 Kevin Mazur/Getty Images
Just because someone's a massive star, that doesn't mean they're immune to finding themselves in embarrassing situations — and that's exactly what Dave Grohl says happened to him at one of Paul McCartney's parties. Fortunately for him, someone was there to come to his rescue, and that was Taylor Swift.
Swift and McCartney sat down to talk to Rolling Stone in 2020, and among other things, Swift mentioned being at the party and hopping on the piano to play Foo Fighters' "Best of You." She said that Grohl didn't recognize the song until about halfway through. 
Grohl, on the other hand, remembered it very differently and told his version of the story at the Cannes Lions Festival of Creativity (via LouderSound). According to him, the real reason that he hadn't recognized the song wasn't because it was on the piano, but because "I'd maybe smoked a little pot — so I was already 'challenged.'" He also added a little back story: McCartney had just wow'd them with a new song, asked Grohl to step up and play something, and he realized the only instruments around were the piano (which he couldn't play) and left-handed guitars (which he also couldn't play). Thankfully, he says, he was spared embarrassment when Swift stepped in and offered to play instead, which he described as being "like Batman when you need him."
Sound City, and a very shy Dave Grohl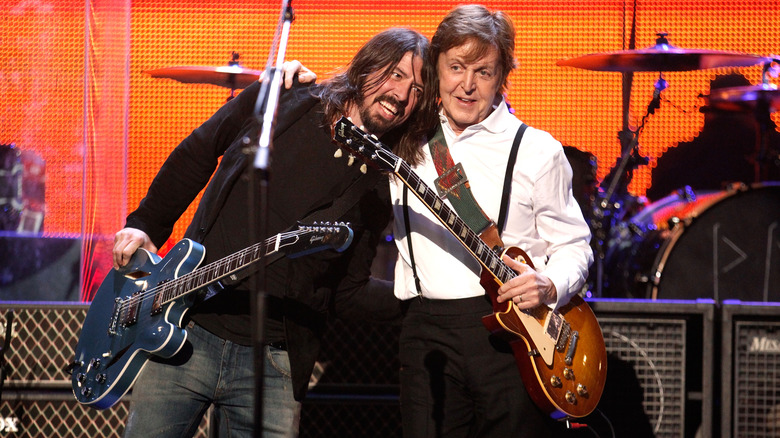 Christopher Polk/Getty Images
When Forbes took a look at the story behind Paul McCartney's contribution to Dave Grohl's "Sound City" project, they found that the former Nirvana drummer hadn't quite had the nerve to come right out and ask him — instead, he just sort of suggested it would be really cool if they all just happened to get together in the studio the next time McCartney was in Los Angeles. McCartney said yes, and Grohl invited along Pat Smear and Krist Novoselic, too ... and although he told McCartney ahead of time, the names apparently didn't ring a bell.
"It was magic for me, playing with these guys," McCartney said. "To tell you the truth, I didn't kind of know who they were ... then, during the session, I hear them talking: 'Wow, we haven't played that since Nirvana.' So I found myself in the middle of a Nirvana reunion, and I was very happy."
Grohl later said (via GuitarWorld) that the song "Cut Me Some Slack" came out of that jam session, and added that it was like recapturing some old-school magic. "You have to understand ... that generation of musicians, they cherish and respect and value the practice of just going into a room and coming up with something and jamming and making it a song," he explained. With that kind of chemistry, it's not entirely surprising that McCartney also appeared on the Foo Fighters album "Concrete and Gold," playing the drums and nailing his part in just two takes.
Paging Dr. McCartney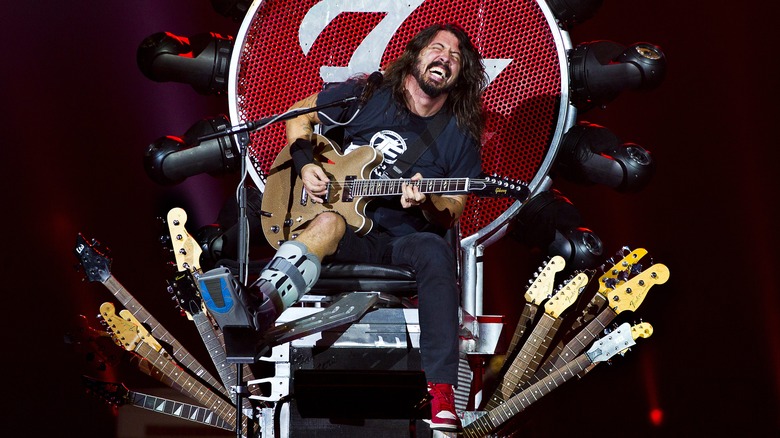 Paul Bergen/Getty Images
Real friends aren't just around for the good times, they're around when you need them the most, too. Dave Grohl found that out the hard way in 2015, when he broke his leg while he was on stage in Sweden. He told Entertainment Weekly that it had been a bizarre accident: "I looked at [my foot] and it was just hanging there, because it was dislocated and my leg was broken. But it didn't hurt. One by one, the guys in the band stopped playing and peered over the edge of the stage. I was just laughing."
It was during the second of 26 planned songs, and he famously not only finished the show but continued on with playing more shows while still in a cast. In between, there was Paul McCartney.
Grohl told the Herald Sun (via Billboard) that he'd needed to have surgery to fix the damage done to his leg, and he actually hadn't needed to do too much to get it done. "[Paul McCartney] and his family basically set up my entire surgery in London after I broke my leg," he said. "It still blows my mind." He said that while he credited McCartney and the Beatles for sparking his interest in music and leading him down a career path where he's able to play for a living, he added, "But I also would not be walking right now if it was not for Paul McCartney. He knows some good f******g doctors."
They appeared together for a milestone show
Harry Durrant/Getty Images
Dave Grohl has been through a lot of loss during his time as a musician, and that includes the March 2022 death of Foo Fighters' drummer Taylor Hawkins. Grohl was understandably devastated, once describing their friendship as something beyond friends (via NPR).
Understandably Grohl and the rest of the Foo Fighters took some time off from performing following Hawkins' death. But all it took was a special request from Paul McCartney to get Grohl on stage again. In June 2022, McCartney welcomed him onto the stage at Glastonbury: "This guy flew in specially to do this. We love you" (via the BBC). Grohl joined him in a version of "I Saw Her Standing There," his first public appearance since Hawkins had passed away. Also noteworthy? The set featured McCartney performing "Something" on a ukulele — a song that had special meaning to Grohl. McCartney had also played that — on a ukulele — on the night the two met at the George Harrison tribute concert. Grohl wrote about it in "The Storyteller," saying, "I closed my eyes and drowned in the vivid memory of learning that song as a child, sitting on my bedroom floor ... To me, it seemed that the circle was finally complete."
The Foo Fighters did return to the stage again as a group in September 2022 at a tribute concert for Hawkins at Wembley Stadium. The concert featured a slew of musicians, including McCartney, who was joined by Chrissy Hynde in a duet of "Oh, Darling!" and then, kept the show going with "Helter Skelter."