He Was The First American President To Hire A Female Staffer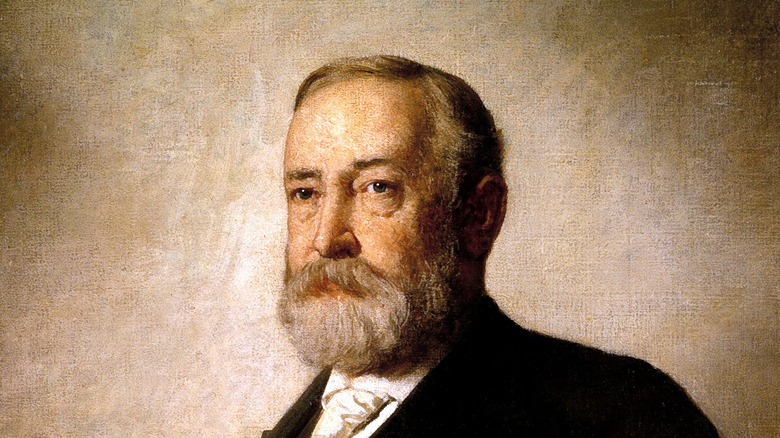 Fine Art/Getty Images
Benjamin Harrison is one of those presidents everyone always forgets. He is sometimes characterized as a slightly ineffectual president from the Gilded Age, who ended up achieving not much. Nor was he a civil rights hero, or a man of the people. However, he does have one small achievement to his name on that front — Harrison was the first sitting president to hire a female staffer at the White House.
Prior to Harrison's first term as president, aside from the first lady, the only women in the White House worked as domestic staff — serving as cooks and cleaners, and other similar roles, and this was pretty much the norm across the U.S., although things were changing. In the 19th century, women were still barred from many professions and were typically forced to take low-skill jobs such as working in factories, while more educated women would sometimes work as writers or teachers. During Harrison's presidency, however, the push for women's rights was reaching fever pitch. Hiring a woman staffer was a small but groundbreaking act that was more significant than it sounds.
Harrison and women's suffrage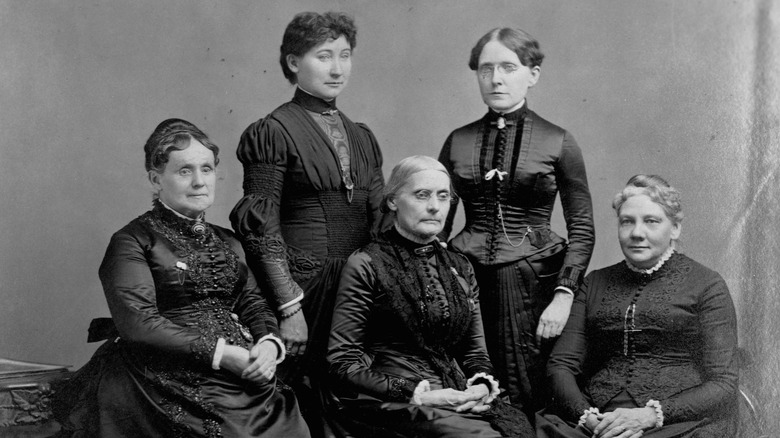 Library Of Congress/Getty Images
In the period immediately after the Civil War, the women's suffrage movement in the U.S. saw a significant groundswell. Many women felt they should have been granted voting rights along with African Americans following the end of the conflict, and campaigners agitated for greater social and economic equality.
Although America would not grant women the right to vote until 1920, by 1869, a bill supporting women's suffrage had already successfully passed in Wyoming with little to no objections; By the 1880s, some states had also begun to allow women property rights as well. By the Benjamin Harrison era, the cause of women's rights was very much at the forefront of the nation's consciousness, and Harrison's immediate successor, Theodore Roosevelt, would introduce a number of feminist policies.
Employment was a key area that women wanted to change — as for the most part women and girls were employed in low-skill, low-wage jobs. Although Harrison did not do anything particularly important or groundbreaking with regard to women's rights (or anything else for that matter), he scored an easy win by offering up a token position in the White House to a young woman — Alice Sanger.
Who was Alice Sanger?
Benjamin Harrison's idea to hire Alice Sanger was not entirely his own. How Harrison felt about Sanger or the women's rights movement is not known but his wife, Caroline Harrison was an energetic woman who supported many causes, and she seems to have had a hand in the hiring process. The first lady pushed her husband to make Sanger his stenographer, and he agreed.
Unfortunately, we know practically nothing about Sanger herself but we do know that she had previously worked for Harrison's law firm in Indianapolis and that she spent some time in Europe (via Homer Edward Socolofsky's "The Presidency of Benjamin Harrison"). Hailing from a fairly modest background, Sanger was a Connecticut native whose family moved to Indiana. She hoped to go to college but instead ended up at secretarial school after graduating high school at 15 to help her family after her father had grown ill. She was 24 when she went to work at The White House. 
Sanger's rise to the now modest-seeming position of secretary was at the time groundbreaking enough to warrant an interview with the young woman in a local paper. In 1890, the Fall River Daily Evening News noted that Miss Sanger was both "cultured and noble" and that her signature must have become the most famous lady's signature in the country, furnishing the bottom of many of the first lady's letters.