The Meaning Behind Elton John's Cold Heart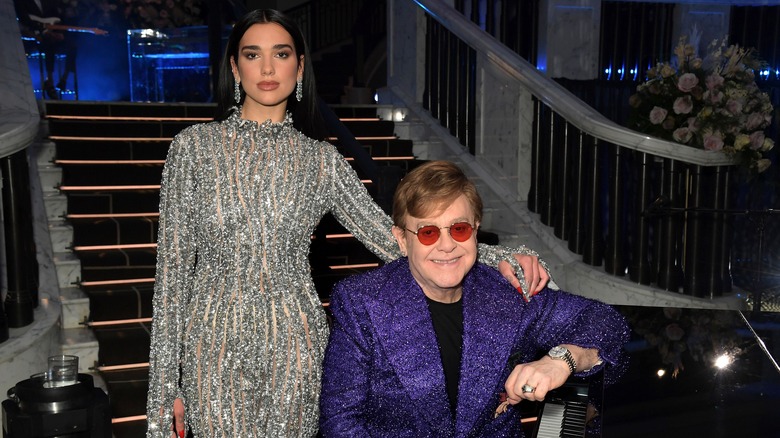 David M. Benett/Getty Images
If the COVID-19 pandemic had any silver linings, one of them might be the way its circumstances sparked unexpected bursts of creativity. Sir Elton John was in the middle of his "Farewell Yellow Brick Road" tour when restrictions ground things to a halt in March 2020. He entered lockdown with no major projects in the works to replace his curtailed tour. As the months rolled by, he became involved in collaborations with other artists, many of them well outside his typical sound. Some were recorded remotely, others in the studio under rigid safety precautions. "I realized there was something weirdly familiar about working like this," John said in a statement (via Billboard). "At the start of my career, in the late '60s, I worked as a session musician. Working with different artists during lockdown reminded me of that. ... [A]nd it was still a blast."
The result was "The Lockdown Sessions," released on October 22, 2021. The album's release was preceded by its lead single, "Cold Heart (Pnau Remix)," a collaboration between John and Dua Lipa and produced by the dance group Pnau. "Cold Heart" tells the story of a disintegrating relationship and the singer's hardened heart (per American Songwriter), expressed through a remix of "Rocket Man," "Sacrifice," "Kiss the Bride," and "Where's the Shoorah?" That rather somber narrative, assembled from recycled lyrics, topped charts the world over and drew a huge response from post-pandemic crowds for both John and Lipa.
The remix was made by John's longtime admirers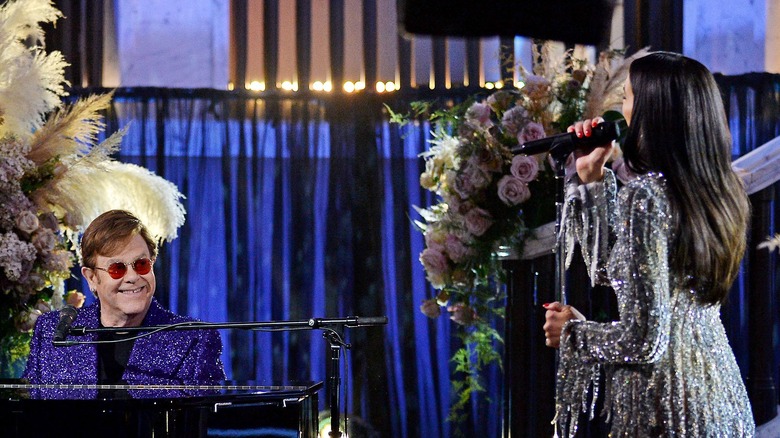 David M. Benett/Getty Images
"Cold Heart" wasn't Elton John's first collaboration with Pnau. Per Variety, member Peter Mayes said the two parties met in 2007 after John discovered them. They worked together on an album in 2012, deliberately making use of John's lesser-known material, but when John approached Pnau about doing something in the streaming era, they decided to go for the big hits. Much of the heavy lifting needed to combine songs like "Rocket Man" and Sacrifice" was done by Mayes and Nick Littlemore.
Dua Lipa was brought in to record additional vocals. A big fan of John's — and of "Rocket Man" in particular — Lipa performed for the 2021 Elton John AIDS Foundation Academy Awards viewing party, where she and John became fast friends. Not long after, Lipa told "The Late Show with Stephen Colbert" that she was relaxing in her pool when she received a video call from John, asking if she'd like to collaborate on "Cold Heart." She wanted to say "yes" before even hearing the sample track. "'Rocket Man' is my driving song, it's my shower song, it's my song that I sing along to myself," she said.
"Without her, it wouldn't have been the same thing ... She just lifts it to another dimension," John told SiriusXM. After the pandemic, Lipa and John sang "Cold Heart" at their respective concerts and came together to perform it on the last North American dates of his farewell tour.
He has long championed rising stars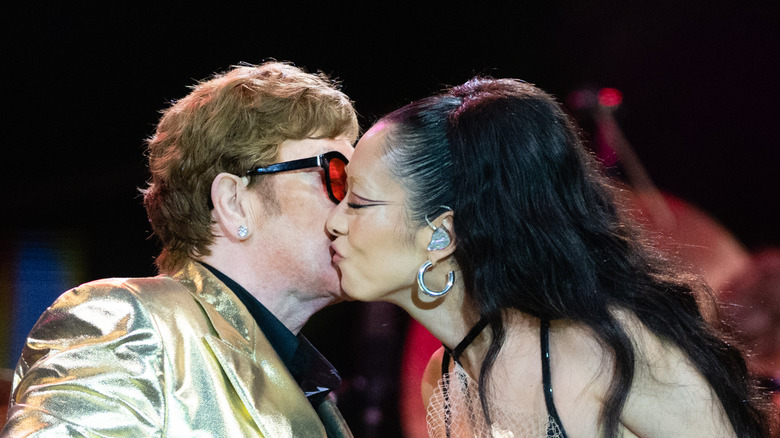 Samir Hussein/Getty Images
Besides Dua Lipa and Pnau, "The Lockdown Sessions" featured Elton John's collaborations with artists ranging from Lil Nas X to Stevie Wonder. John has developed a reputation throughout his career for working with and championing artists — the up-and-comers and the troubled veterans alike. The year after "Cold Heart's" release, John reworked his hit song "Tiny Dancer" into "Hold Me Closer" and recruited Britney Spears to contribute on the suggestion of his manager-husband David Furnish. "Why don't we ask Britney, because she needs to feel the love," said Furnish (via Variety). John's company Rocket Records also provided management for Ed Sheeran early in his career, helped revive Cliff Richard's fortunes, performed with Eminem at a time when the rapper was facing charges of homophobia, and was an early promoter of Rina Sawayama. Sawayama, Lipa, Pnau and others have all shared stories of John's thoughtful upkeep of connections away from work, with Sawayama comparing him to a fairy godmother.
"Cold Heart" gave a boost to artists outside of music as well. The music video was directed by animator Raman Djafari in a blend of hand-drawn animation and CGI rendered to look like claymation. While Djafari had made music videos before, he'd never tackled anything on the scale of "Cold Heart." He confessed to feeling intimidated, but he said on his Instagram (via It's Nice That), "Seeing how great it has been received was a wonderful feeling though."