20 Of The Most Sampled Songs Of All Time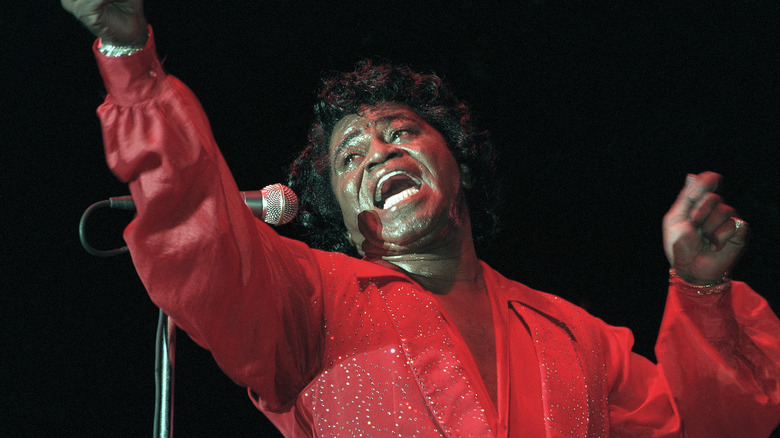 Rick Diamond/Getty Images
Popular music has always been built on a bedrock of the music that came before it, but in the late '70s, that sentiment started to become a lot more literal than ever before. Before rap was a recorded form, DJs spun break beats, the hottest rhythmic parts of records both popular and obscure, in parks and rec rooms while MCs rapped. The first rap records simply featured house bands recreating some of these popular breaks; the seminal "Rapper's Delight" by the Sugarhill Gang, for example, saw the label's house band laying down choice sections of Chic's hit record "Good Times" note-for-note. The rise of rap's commercial fortunes in the early '80s, however, happened to coincide with the advent of a spectacular new piece of hardware: the sampler, which allowed the user to record a snatch of audio and manipulate it in inventive ways.
Soon, producers such as Paul C and Marley Marl would be massively expanding rap's sonic template with a new generation of samplers, and by the end of the decade, sampling had evolved into a full-fledged art form, used to create masterpieces of sonic collage such as the Beastie Boys' "Paul's Boutique" and De La Soul's "3 Feet High and Rising." Along the way, a number of jazz, soul, R&B, and even rock recordings became foundational Hip-Hop documents, with many even finding their way into the mutating DNA of other genres. Here, then, is the musical motherlode — the most sampled songs of all time. 
More Bounce to the Ounce by Zapp
For a large subset of classic rap fans, the phrase "Relax your mind and let your conscience be free" quickly calls to mind an exhortation to get down to the sound of EPMD. This is thanks to that legendary duo's 1988 sophomore single, "You Gots to Chill," a towering slab of braggadocio backed by a bouncy, spaced-out funk track that sounded far different from anything their peers were putting out at the time. In a 2018 sit down with Rolling Stone, Erick "E Double E" Sermon and Parrish "PMD" Smith explained that they didn't have to dig in the crates for the sample; Smith's father was simply a huge fan of the Roger Troutman-led funk band Zapp, who had scored a No. 2 R&B hit just eight years prior with "More Bounce to the Ounce."
Combined with the pair's unique delivery, the sample helped to make the song a hit — and within a few years, its crashing drums and futuristic instrumentation showed up in classics such as "Ain't No Future in Yo' Frontin'" by MC Breed and DFC, "So Ruff" by Redman, and "Friday" by Ice Cube. Troutman and Zapp's other output was subsequently mined for even more funky grooves, and a few years after he passed away in 1999, luminaries such as Snoop Dogg, Xzibit, and Ice-T gathered to contribute tracks to the 2002 tribute album "Still More Bounce."
The Big Beat by Billy Squier
The '80s arena rock titan Billy Squier catapulted to stardom with the release of his 1981 sophomore LP, "Don't Say No," which scored monster singles in "The Stroke" and "My Kinda Lover," and went triple platinum. But his debut effort from the previous year, "Tale of the Tape," while not nearly as successful, had already made him a legend in the burgeoning rap community for one simple reason: its opening track "The Big Beat" which began with a volley of skull-bashing drums that more than lived up to the tune's name. DJs immediately latched onto the break; its use by the iconic crew Cold Crush Brothers at parties in the early '80s, for example, is well-documented. But the break's status was cemented by its appearance on a pair of early future classics: Run-DMC's single "Here We Go (Live at the Funhouse)" and UTFO's smash "Roxanne, Roxanne," which improbably provoked a massive deluge of answer records.
These two records opened the floodgates, and the break would go on to be featured on tracks by the likes of Eazy-E ("Radio"), King Tee ("Bass"), and Jay-Z ("99 Problems"), to name a few. In a 2005 interview with the Boston Globe (via Ultimate Classic Rock), Squier expressed just a bit of puzzlement over his contribution to the foundation of rap music. "People sometimes write that Billy is the king of hip-hop," he said. "I didn't even know what hip-hop was then."
God Made Me Funky by The Headhunters
The great jazz-fusion keyboardist and producer Herbie Hancock has a well-known place in the annals of Hip-Hop; his hit 1983 instrumental "Rockit," a staple of the early days of MTV, was one of the first commercial recordings to showcase scratching, employing the turntable skills of future legend Grandmixer D.ST. But long before that track was even a twinkle in his eye, he indirectly made what may have been an even bigger contribution: the lurching, swaying opening drum beat to "God Made Me Funky," the first track on the 1975 LP "Survival of the Fittest" by the crack funk outfit The Headhunters, which he had founded two years prior.
The by then Hancock-free edition of the band nevertheless bore his musical fingerprints, and that exceedingly funky drum loop provided the head-bobbing foundation for a bevy of classics from rap's Golden Age, including "Take It Off" by De La Soul, "Albee Square Mall" by Biz Markie, and "Underwater Rimes" by Digital Underground; plenty of R&B artists jumped on it as well, including Toni Braxton for her top 40 hit "How Many Ways" and girl group SWV for their No. 2 smash "Right Here." The Headhunters continue to funk it up in the 2020s, but they may never have gotten funkier than they did within the first few moments of that one aptly-titled tune — a funk so potent, it rubbed off on a generation of artists that followed.
N.T. by Kool & The Gang
The funky R&B outfit Kool & The Gang can lay claim to one of the most instantly recognizable, widely-used samples in the rap canon: their 1974 tune "Summer Madness" has been jacked up one side and down the other, most notably forming the basis for DJ Jazzy Jeff and the Fresh Prince's No. 4 pop hit "Summertime." But one of their songs has gotten even more mileage among rappers, and it's an unlikely one: "N.T.," an instrumental jam that appears on their little-heard 1971 live album "Live at PJ's." To say that the song isn't exactly a classic is an understatement — the band didn't even bother titling it ("N.T." stands for "No Title"). But near the end of the song, it breaks down into a jaw-droppingly dope drum beat that was destined to power dozens of rap tracks.
Most notably, the swaggering rhythm opens "New York State of Mind," the first track on Nas' legendary debut LP "Illmatic." Even prior to that, though, the loop had been thrown into the mix by the likes of Public Enemy ("B Side Wins Again"), Kool G Rap and DJ Polo ("Truly Yours"), Downtown Science ("This is a Visit"), and N.W.A. ("Gangsta Gangsta"). It's still getting thrown around today, in tracks like 2017's "Something Safe" by Corbin and 2019's "The Hit" by Diamond D — serving as a perfect example of how a little crate digging can go a long, long way.
The Assembly Line by Commodores
The funky bonafides of R&B outfit Commodores, which was led for much of its existence by the great Lionel Richie, cannot be questioned — they recorded "Brick House," for crying out loud, which would have made them legends had they literally never recorded anything else. But on their 1974 debut LP "Machine Gun," the band fired off (pun definitely intended) a drum salvo, with an odd, chant-like vocal hit on the downbeat, that would go on to immortality by serving as the basis of many a funky rap track, and more than a few pop tunes as well.
The song in question: "The Assembly Line," a fairly standard slice of funked-out jamming that, near its end, takes a hard left turn right into one of the most distinctive break beats of all time. Its ringing ride cymbal, thumping snare, and that weird vocal — which sounds a bit like a bunch of quarterbacks all preparing to hike a football — can be heard on classic tunes like Ice Cube's "The Bomb," Eric B. and Rakim's "Let the Rhythm Hit 'Em," and 3rd Bass' "Wordz of Wisdom, Pt. 2," not to mention more recent tunes like "Break the Rules" by Charli XCX and "Michelle" by Plan B. Commodores would go on to Grammy-winning, chart-busting success simply by being an awesome band, but their contribution to rap and pop, by virtue of that one singularly unique snatch of beat, cannot be overstated.
Nautilus by Bob James
It's now time to talk about Bob James, a legendary jazz fusion artist whose music became an unlikely goldmine for a ridiculous number of artists. Something about James' entire aesthetic appealed to the ears of many a rap producer; alongside James Brown, he is one of the most sampled artists in history, with tunes like "Westchester Lady," "Storm King," and "Sign of the Times" all seeing frequent usage. None of those songs, though, came close to having the impact of "Nautilus" — a spacey, jazzy track that has contributed many of its elements to rap's sonic palette.
The most well-used of these elements: a twinkling, vaguely ominous keyboard flourish that opens the song, and which has appeared in tracks by Jeru the Damaja ("My Mind Spray"), Pete Rock and C.L. Smooth ("Sun Won't Come Out"), and Organized Konfusion ("Stray Bullet"). Some of the track's more ethereal elements, all courtesy of James' keyboards, have popped up in tunes like "Beats to the Rhyme" by Run-D.M.C., "Follow the Leader" by Eric B. and Rakim, and "Take It Back" by Wu-Tang Clan, often serving to lend a woozy, surreal atmosphere to the sonic proceedings. "Nautilus" has been sampled literally hundreds of times — and yet, it's only the second-most sampled song in James' canon.
Take Me to the Mardi Gras by Bob James
Bob James was prone to conjuring up jazzy interpretations of pop tunes, and his version of Simon and Garfunkel's "Take Me to the Mardi Gras" is a work that stands solidly on its own. Its intro, a ringing drum beat backed by a simple sequence played on go-go bells, was first popularized as a breakbeat by the legendary Grandmaster Flash; it soon spread to his peers, and became widely known enough that when an MC wanted to rhyme over it, he would simply instruct his DJ to "Rock the Bells."
This, of course, is the name of a classic tune by LL Cool J that notably does not utilize the James sample. As Darryl "D.M.C." McDaniels explained to Complex, LL and Run-D.M.C. had the idea to sample the track on a record at roughly the same time — and Run-D.M.C. ended up beating LL to the punch. "LL, like a champ, had respect for Run-D.M.C. and had enough confidence within himself to not use the 'Mardi Gras' bells," McDaniels said — but after employing the break on "Peter Piper," the opening track to their monumental LP "Raising Hell," it once again spread like wildfire, this time among producers. From Eric B. and Rakim ("The Punisher") to TLC ("Ain't Too Proud to Beg") to Chino XL ("Jump Back"), "The Bells" have become ingrained in Hip-Hop lore — and many of the song's other elements, such as its sine wave-like keys and ba-dop-boom drum fills, have found their way into producers' arsenals, as well.
Sing a Simple Song by Sly and the Family Stone
As one of the funkiest funk outfits to ever funk it up, Sly and the Family Stone have seen an absolute funk-ton of their tunes sampled by dozens of producers in a wide array of styles over the years. Alongside prolific sample mines such as "You Can Make It If You Try," "Dance to the Music" and "If You Want Me to Stay," though, one song rose to the top of those producers' record crates: "Sing a Simple Song," released in 1969 on the band's fourth album, "Stand!" The song is... well, pretty simple, but several of its elements have woven themselves into the sonic backbone of popular music — most notably an eight-bar horn-woodwind riff that's been used in ways both exceedingly subtle (as in KRS-One's "Sound of Da Police" and Dr. Dre's "Deep Cover") and shamelessly overt (as in UTFO's "Rough and Rugged" and Eazy-E's "Eazy-Duz-It"). 
Among the song's other snatches of sample-tastic sounds: some emphatic vocal exhortations along the lines of "uh!" and "yeah!" and "let me hear you say..." that have popped up in tunes like "Fight the Power" and "Brothers Gonna Work It Out" by Public Enemy; and a wailing, descending "hey, yeah" female vocal that will be immediately familiar to fans of the Beastie Boys' "Shadrach." Sure, the song may be simple, but it's darned effective.
Ashley's Roachclip by the Soul Searchers
The Soul Searchers are far from a household name, but their bandleader Chuck Brown, who passed away in 2012, was a musical innovator known as the "Godfather of Go-Go." Before he helped to pioneer that subgenre, he and his band trafficked in funkified R&B with a... well, slightly druggy twist as exemplified by the tune "Ashley's Roachclip" from their 1974 LP "Salt of the Earth." (If you don't know what a roachclip is, ask your parents. Grandparents, even.) The Soul Searchers' records failed to make much of an impact on their own, but one brief drum break from that tune more than made up for that — a rollicking, hi-hat-driven beat with a face-slapping snare drum that first made a splash by powering the title track to Eric B. and Rakim's landmark 1987 album "Paid In Full."
Instrumental elements from the song have also found their way into productions across multiple genres, but that undeniable beat has turned up not just in rap songs, but in massive pop hits like "Unbelievable" by EMF, "Set Adrift On Memory Bliss" by P.M. Dawn, and not one, but two songs — "Girl You Know It's True" and "Baby Don't Forget My Number" — by the infamous Milli Vanilli. Whoever Ashley was may be lost to the mists of time, but their hankering for the green stuff sure did inspire a lot of popular tunes.
It's a New Day by Skull Snaps
Of all the artists on this list, none are as obscure — mysterious, even — as Skull Snaps. Originally founded in 1963 as The Diplomats, the group eventually changed its name and under the new moniker, it dropped a single, self-titled LP in 1973. While these days, we know the group was started by Ervin Waters and Samm Culley, at the time, the members and their origins were mysterious, especially considering they disbanded after this one album. They appeared to have simply stepped out of the ether, dropped their album, and stepped right back into the ether again — leaving behind a collection of pretty good tunes, and one absolutely slamming breakbeat.
That beat: the opening drum pattern to "It's a New Day," which sports a vibe more militant and intense than pretty much anything else labeled "funk" that has ever been recorded. Sure, it has been woven subtly into the mix; tunes like the Pharcyde's classic "Passin' Me By," Camp Lo's "Coolie High," and Big L's "Put It On" have all accomplished this nicely. But the break really works best when the producer just lets 'er rip, as examples like "Take It Personal" by Gang Starr, "Hippa to Da Hoppa" by Old Dirty Bastard, and "That's How I'm Livin'" by Ice-T illustrate quite well. Skull Snaps may be a mystery, but the skull-cracking power of their classic breakbeat most certainly is not.
Kool is Back by Funk, Inc.
Funk, Inc. enjoyed a run in the '70s of making cool, improvisational funk records that earned them a lot of respect from their peers, but not a lot of money from the record-buying public. Ever in search of a firm direction in which to steer, the band kept their eyes and ears tuned to some of the era's more commercial funk-inspired acts — most notably Kool & The Gang. Influenced by that band's tune "Kools Back Again," Funk, Inc. — despite the fact that they had no affiliation, and a dearth of guys named "Kool" in their band — put together a loose cover, which they titled "Kool is Back." The song was little heard until DJs and producers stumbled upon it — and you, yourself, have at least heard brief snippets of it many, many times.
Appearing just under 2 minutes into the song is a rolling, shuffling drum break that has anchored songs like Jeru the Damaja's classic "Come Clean," Public Enemy's "Welcome to the Terrordome," and Salt-N-Pepa's "Let's Talk About Sex." But perhaps its most recognizable element is the horn stab that introduces that break, which sounds like... well, it sounds like "BIERNT!" (Go ahead, listen to it.) The Beastie Boys scratched up that stab in "The New Style," Big Daddy Kane sampled it in "Get Into It" — it's even featured prominently in "Owner of a Lonely Heart," a No. 1 hit for Yes in 1984. It's one of the most recognizable sounds in music history — the aural equivalent of the Wilhelm Scream.
UFO by ESG
ESG was a bit of an outlier in music history: an all-girl funk band, four sisters, in fact, from the South Bronx who were ushered into the music business by their working-class mother. Frontwoman Renee Scroggins learned to play all of the instruments dear old Mom bought the siblings, teaching her sisters one by one — and before long, they had a pair of tunes, "Moody" and "You're No Good," that were good to go. Oh, and one more track — "UFO," a weird instrumental piece anchored by a sinister, screeching feedback loop from Scroggins' guitar. Speaking with the Chicago Tribune, she explained, "My mother used to come and listen to us play, and when she heard that sound effect on my guitar she'd say, 'Renee, can you find another note besides that one?' I had to explain that I had just seen 'Close Encounters of the Third Kind,' and this was the sound of a spaceship landing."
The trippy sound was seized upon by the rap community, appearing in works such as "Ain't No Half Steppin'" by Big Daddy Kane and "Do the Right Thing" by Redhead Kingpin — but its totally unique vibe helped it bleed into songs from other genres as well, like Mark Morrison's R&B smash "Return of the Mack" and Nine Inch Nails' "Metal." ESG carries on to this day — but the intro to "UFO," a throwaway track, is a huge if unlikely part of its legacy.
Apache by Incredible Bongo Band
The Incredible Bongo Band was one of those projects that only could have happened in the '70s. Michael Viner, an executive with MGM Records, somehow got it into his head to corral whatever session musicians would participate to come on down to the studio during unused time to lay down instrumental jams and covers of old pop tunes that were heavy on percussion, and especially so on bongos. He managed to get two songs onto the soundtrack of the notorious 1972 blaxploitation flick "The Thing With Two Heads," before, improbably, putting together and releasing an entire album — "Bongo Rock," which blazed up the charts to No. 197. That might have been the end of that weird story, if not for pioneering DJ Kool Herc and his peers — who took the record's bongoed-up cover of the Arrows' minor hit "Apache 65" and ran with it.
The track's up-tempo, galloping rhythm and driving horns were perfect for Herc's break-dancers, and later, for MCs such as the Sugarhill Gang, who cut a single titled "Apache" based on an interpolation of the break. When sampling came into play, producers went absolutely nuts; the break has appeared in tunes by MC Hammer ("Turn This Mutha Out"), Wu-Tang Clan ("Protect Ya Neck"), and Kool Moe Dee ("Way Way Back"), to name just a few, and has become an immortal component of Hip-Hop history. Not bad, for one of the most head-scratching musical projects ever conceived.
The Champ by The Mohawks
Now, here's an odd little item: in 1967, bluesman Lowell Fulson released "Tramp," a shuffling, funky number that spawned an unlikely number of imitations, covers, and answer records. One of those covers was an instrumental interpretation by unheralded band the Mohawks titled "The Champ," which was released the following year. Bizarrely, both the original and the cover would go on to achieve immortality through sampling.
The first use known use of "Tramp" was by producer DJ Muggs, who used its face-grabbing guitar stab and slinky bassline as the basis for "How I Could Just Kill a Man," which kicked in the door for his group, Cypress Hill. That loop would pop up again many times, notably in EPMD and LL Cool J's "Rampage" — but "The Champ" got looped up much earlier, and far more often, than its inspiration. The track's intro, with its lively drums and weird, chirping instrumentation, held down a metric ton of classics: "Eric B. is President" by Eric B. and Rakim, "Step Into a World" by KRS-One, and "Smooth Operator" by Big Daddy Kane, to name just a few. Say, remember that massive, grimy hit "Slam" by Onyx? That chant of "Duh-duuh duh! Duh-duuh duh!" in the chorus is a vocal approximation of the loop, the boys' way of paying homage to what was, when the song was released in 1993, already a well-known part of the Hip-Hop canon.
Impeach the President by the Honey Drippers
Roy "Roy C" Hammond was a self-made music impresario; while he never crossed over to mainstream audiences, he enjoyed success with soul audiences with a run of records on his own label, Alaga Records, in the early to mid-'70s. Hammond had a couple of musical proclivities; when he wasn't singing about singing about sexy times, he was exploring social issues — and as Hammond once explained to Vice, it was the latter tendency that he felt kept him from getting signed to a major label.
In 1973, fed up with the tenure of then-president Richard Nixon, Hammond penned a lively tune entitled "Impeach the President," and assigned it to one of his recent discoveries — an up-and-coming band of teenagers who had christened themselves the Honey Drippers. The song didn't get much attention at the time, but it did find its way into many a New York record crate, thanks to the authoritative, stomping drum beat that opens the track. Ironically, Hammond told Wax Poetics (via The New York Times) that the band's drummer wasn't so great, and that he'd had to work extensively with him on the beat — but the work paid off. The popular break was first put to use on a recording by producer Marley Marl for MC Shan's "The Bridge," and it went on to appear in tracks like "Smooth Operator" by Big Daddy Kane, "Rebirth of Slick (Cool Like Dat)" by Digable Planets, and "That's the Way Love Goes" by Janet Jackson.
Hot Pants (Bonus Beats) by Bobby Byrd
Godfather of Soul James Brown is one of the most sampled artists ever, but his backup vocalist and faithful right-hand man Bobby Byrd was a sample machine in his own right. Eric B. and Rakim mined the ever-loving heck out of his 1971 tune "I Know You Got Soul" for their landmark single of the same name, and a slew of his songs have been jacked by the likes of Jay-Z, Kwamé, and Public Enemy. But one of his tunes was sampled far more extensively than any of the others: "Hot Pants (Bonus Beats)," a 1972 ode to one of Brown's favorite topics.
The song's funky fresh drum intro and vocal exhortations were perhaps most famously utilized as the foundation for 1987's "Raw," the aural shotgun blast that announced the arrival of Big Daddy Kane. But it's also underpinned many a pop and rock tune; the Stone Roses ("Fool's Gold"), Madonna ("Frozen"), and Twenty One Pilots ("Lane Boy") have all sampled it, and it's even appeared in a No. 1 hit — "Good Vibrations" by Mark "Marky Mark" Wahlberg and his Funky Bunch.
Synthetic Substitution by Melvin Bliss
Melvin Bliss is perhaps the quintessential example of an artist who may have been long forgotten if not for his discovery by crate diggers. A soul artist, Bliss was struggling to get his music heard when he happened to hook up with producer Herb Rooney, who had had some success in the music biz as a singer and arranger for vocal group the Exciters. Rooney wrote and produced Bliss' first single: "Reward," which was backed by a tune titled "Synthetic Substitution" — and while the single did pretty well, Bliss' career went nowhere. A portion of that B-Side, though, sure went places.
That is to say that by the next decade, it was popping up literally everywhere, including massive hits songs like Naughty By Nature's No. 6 smash "O.P.P.," classics like Public Enemy's "Don't Believe the Hype," and "Bring Da Ruckus," the first track on the debut LP from the legendary Wu-Tang Clan. Bliss passed away in 2010, but not before sitting for a series of interviews for a documentary about his life which was released in 2011, and which bears the name of his iconic B-side.
Funky Drummer by James Brown
Let's get this straight: any discussion of the history of sampling in rap music must necessarily start with James Brown, whose body of work shaped the sound of the genre's early Golden Age. It would be far easier to list the Brown tunes that haven't been sampled to death than those that have, just as it would be much quicker to name all of the producers during rap's period of explosive creativity who didn't sample Brown than those that did. One tune, though, rose above all the rest, contributing one of the most widely-used, easily recognizable drum breaks of all time, thanks to the crack drumming of Brown's bandmate Clyde Stubblefield. It's a song that delivers on its title: "Funky Drummer." 
The song's drum solo by Stubblefield has been called the most important of all time, and it's easy to see what attracted producers to it — it's a viscerally exciting, midtempo chunk of slamming percussion over which Brown repeatedly inquires, "Ain't it funky?", vocal hits which have also been thrown into the mix countless times. To attempt to make even a short list of its most prominent appearances would be pointless — but literally anyone listening to the original break for the first time will be dumbfounded by just how many of their favorite songs have featured these drums. Stubblefield passed away in 2017, but his funky drums will live for as long as there is popular music.
Think (About It) by Lyn Collins
Lyn Collins was a backup vocalist for James Brown's touring band, taking over the lead spot vacated by Vicki Anderson in the early '70s. Brown was impressed enough with her talent to produce her as a solo artist, beginning with the single "Wheel of Life" in 1971; the following year, he sat behind the boards for Collins' first solo album, "Think (About It)." The title track was a minor success as a single, ascending to No. 9 on the Soul charts and cracking the Billboard Hot 100 — and while that would pretty much be Collins' career peak as a recording artist, the tune would soon take on an unrealistically robust life of its own.
Many of its elements have made their way into producers' sample arsenals, but its most recognizable is its thumping, shimmering drum beat, punctuated by a pair of vocal exclamations: "Yeah! Whoo!" If this isn't quite ringing a bell yet, there are three words that might help: "It Takes Two," as in the world-beating 1988 single by Rob Base and DJ E-Z Rock. That track also took its title from Collins' vocal line on "Think" — "It takes two to make a thing go right, it takes two make it out of sight" — and several more of the song's vocal hits, as well as its bassline and horn breaks, have served as vital components of rap and pop tracks. The tune has been sampled literally thousands of times — beating out even the most sampled tune by the Godfather himself.
Amen, Brother by The Winstons
There are heavily sampled songs, and then there is "Amen, Brother," the B-Side to a Grammy-winning single entitled "Color Him Father" by soul group The Winstons. It's not just that the song's four-bar drum solo, performed by drummer Gregory Coleman, has been sampled hundreds upon hundreds of times, virtually since sampling began and for all the years since. But the legendary "Amen Break" achieved one feat that no other sampled piece of music has — it has served as the basis for an entire subgenre of music.
As a break beat, the Amen Break is to a sampling producer's toolbox as bread is to a pantry. From Salt-N-Pepa ("I Desire," 1986) and N.W.A. ("Straight Outta Compton," 1988) to Skrillex ("I Know Who You Are," 2009) and 100 gecs ("gec 2 Ü," 2019), it is simply a touchstone of artists past, present, and certainly future. But, perhaps starting with its usage in Mantronix's "King of the Beats" in 1988, producers discovered that chopping the ringing, crashing beat into its tiny individual segments could produce a virtual drum kit ripe for rearrangement into all types of interesting layers, configurations and permutations. As such, the break became the foundation upon which jungle  — one of the most prominent subgenres of electronic dance music in the '90s — was built. It is the most sampled piece of music in history, an unimpeachable cornerstone of popular music — and this is only so because a mostly forgotten band from long ago gave the drummer the spotlight for a few golden seconds.