The Untold Truth Of Sofia Coppola's Priscilla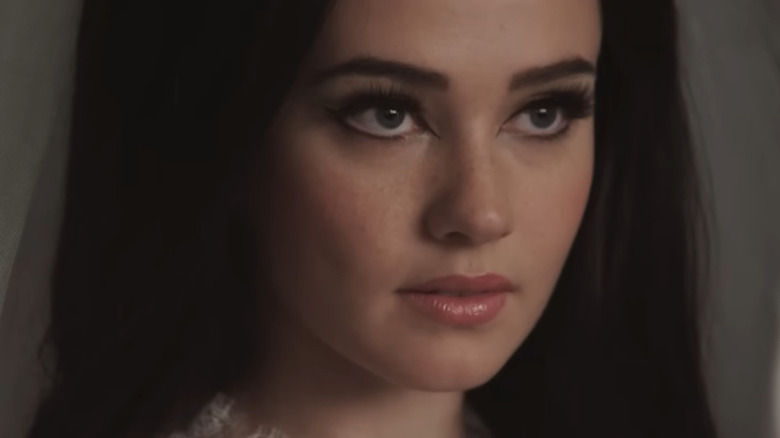 A24
Sofia Coppola is something of a contradiction. She's Hollywood royalty and an Oscar-winner to boot, but she's also a well-respected indie darling and a writer-director who works with modest budgets. She's also enough to make provocative statements about an often overlooked demographic: young women. Known for 1999's "The Virgin Suicides" and 2006's "Marie-Antoinette," Coppola admitted to Vanity Fair she was hesitant to take on her latest project, "Priscilla," because it felt "too similar" to her earlier work. "I'm always happy that I get to make what I want to make," she said.
"Priscilla" is its own contradiction. It's about two extraordinarily beautiful, famous people, made by more extraordinarily beautiful, famous people, and it covers a part of pop culture history that many fans — and even casual observers — already know about. But, with her take, Coppola attempts to paint an intimate and restrained yet unflinching and (most of all) human portrait of Priscilla and Elvis Presley as never seen before. 
How did Priscilla Presley come to be Coppola's latest muse? "Priscilla" came from an idea in Sofia Coppola's head to become one of the most anticipated films of the fall. From choosing the right cast to getting to know the movie's namesake, the behind-the-scenes of "Priscilla" are just as much of a story as the movie itself. 
Sofia Coppola was a long-time fan of Priscilla Presley's Memoir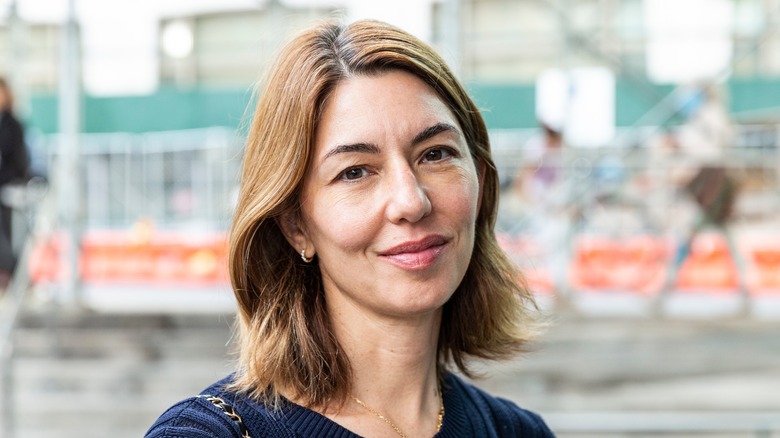 lev radin/Shutterstock
If a person's life is notable and compelling enough to become the subject matter for a feature film, there's a good chance it already exists in book form. So it is with "Priscilla." Sofia Coppola's latest movie is based on Priscilla Presley's own 1985 autobiography (co-written with Sandra Harmon), "Elvis and Me." The writer-director told Vogue and The Hollywood Reporter about her history with Presley's book and the process of adapting it for the screen. She'd read "Elvis and Me" years earlier, but when a friend brought it up in discussion, she revisited the text. Coppola thought it would be "a juicy, glamorous story" but one that viewers could relate too — at least she could relate to it, coming from a family of artists and one in which the husband and father enjoyed outsized fame. She found herself so affected by it, she set aside what had been her current project (an adaptation of Edith Wharton's "The Custom of the Country") in favor of a more narrowly focused biopic about Priscilla's relationship with Elvis and her time at Graceland.
"The hardest part of writing the script was just editing down so many incredible details from Priscilla's memoir," Coppola explained to Vogue. The source material covers Priscilla's life from the time she met the King of Rock 'n' Roll when she was in her mid-teens to the time of the couple's divorce when she was in her late twenties. Both "Elvis and Me" and "Priscilla" might not span an entire life, like many biopics attempt to do, but plenty happens during the tumultuous dozen or so years in question.
The 2023 movie is a chance to get the story right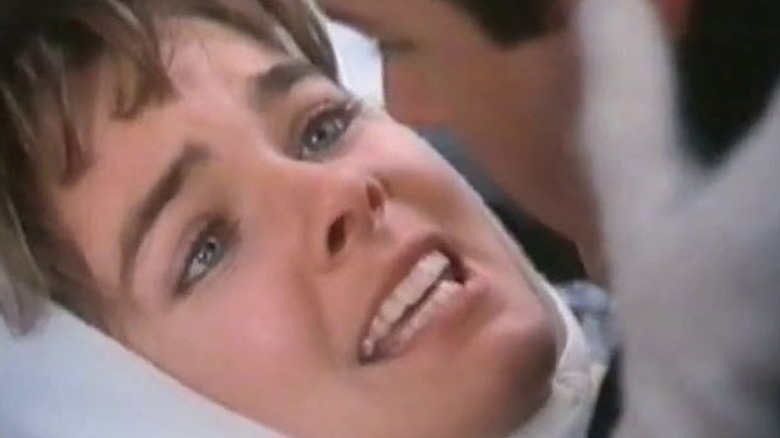 New World Video
"Priscilla" isn't the first time "Elvis and Me" has been adapted for the screen, but with her version, Sofia Coppola hopes to illustrate certain aspects of Priscilla Presley's memoir in a new light. A 1988 two-part TV movie with the same name (on which Priscilla Presley has a writing credit) tackled the tricky topic of the young couple's 10-year age difference and tumultuous love story. Because attitudes about issues like consent and agency in sexual relationships were different in the 1980s, "Elvis and Me" focused on the more salacious elements of the Presleys' life together. Modern audiences may not find it adequately sensitive to the fact that Priscilla was just 14 when she and Elvis Presley met in Germany. 
In other media, Priscilla has been treated with even less sympathy. A biography called "Child Bride: The Untold Story of Priscilla Beaulieu Presley," by Suzanne Finstad, made wild accusations about her motives. Priscilla sued one of Finstad's sources for defamation and won. Coppola's film takes Presley at her word that this is a love story, but it also holds Elvis accountable and it does so without placing blame on its teenage protagonist. Nevertheless, Coppola expressed at a press conference in Venice that she doesn't see "Priscilla" as a feminist film. "To me, it's a human story," she said, explaining that she wanted to show both sides: the romance and the illusion.
Fans will notice similarities to another fan favorite Coppola film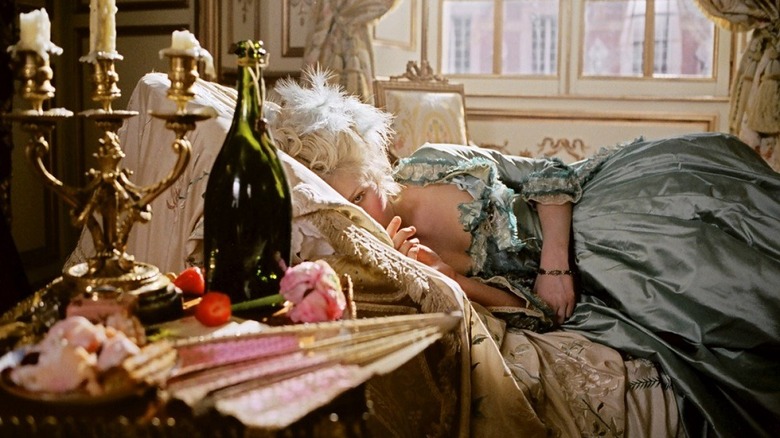 Sony Pictures Releasing
"Priscilla" is, at its core, a tale of a young woman who enters into a relationship with a man who is more famous and powerful than she is. Marrying into such a power imbalance of wealth and celebrity has its privileges, but whatever those often superficial benefits are, they come with enormous costs that inevitably take a toll on the well-being of the main character. Graceland becomes Priscilla Presley's gilded cage, and her romance with and eventual marriage to the King becomes a metaphorical golden prison of its own. If that sounds familiar to fans of Sofia Coppola, it's because the filmmaker who tells such fascinating stories about the inner lives of women (and teenage girls especially) has explored this territory before. 
"She was going through all the stages of young womanhood in such an amplified world," Coppola told Vogue. "Kinda similar to Marie Antoinette." Graceland isn't quite Versailles, and Elvis wasn't literally a king, but the concept is the same on an emotional and psychological level. Coppola dramatized the infamous 18th-century French queen's time in the palace married to Louis XVI in her 2006 film, "Marie Antoinette," starring Kirsten Dunst in the title role. That movie allows for Marie Antoinette to have ugly and beautiful experiences as she begins to understand herself and the world around her, with all its indulgences and limitations. The same can be said of the protagonists in other Coppola films such as "The Virgin Suicides" and "Somewhere." "I don't know why I keep coming back to it," Coppola said on the subject of girlhood at a press conference for "Priscilla" (via Vulture). "Hopefully, I'll grow up soon."
Priscilla Presley's an executive producer but wasn't too involved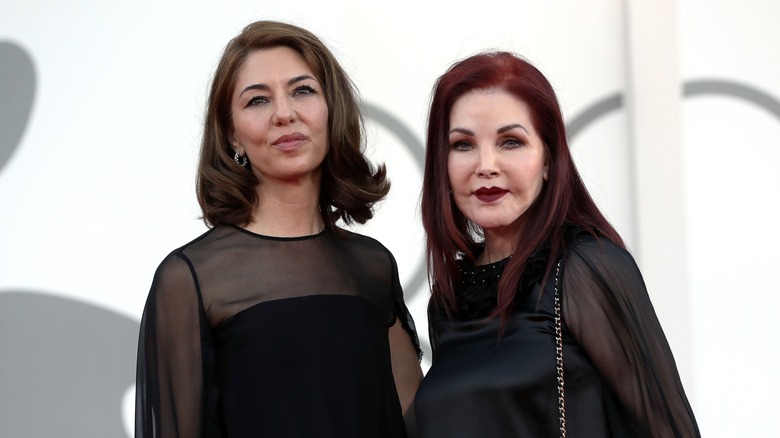 Elisabetta A. Villa/Getty Images
Since Sofia Coppola has directly cited "Elvis and Me" as inspiration and since Priscilla Presley has a writing credit on that adaptation of her memoir, audiences might wonder what role the real woman played in the making of "Priscilla." While Presley is an executive producer, both had limited contact before and during production. Coppola told Vogue that Presley was very open and forthcoming, was supportive of the actor who portrayed her, and patient about rehashing stories from her life whenever the director would ask her subject for more specifics, but she said that they only spoke together a handful of times.
For her part, Presley confirmed (in comments following the premiere of the film via Cosmopolitan) that she and Coppola hadn't really spent significant time together. The subject of the biopic wasn't a fixture on set or an overriding influence on the final product, but that might've been for the best. "It's very difficult to sit and watch a film about you and about your life and about your love," Presley said after the screening. Nevertheless, she approves. According to Presley, "Sofia did an amazing job, she did her homework." 
Sofia Coppola doesn't see Baz Luhrmann's Elvis movie as competition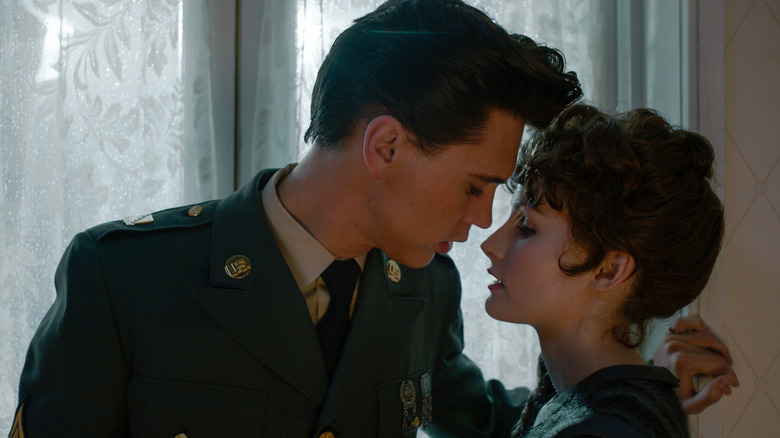 Warner Bros. Pictures
Multiple movies have been made about Elvis Presley since his death in 1977. Kurt Russell starred in one just two years later, in 1979's "Elvis." And, of course, the King of Rock 'n' Roll was also an actor with 31 screen credits to his name. But one of the most successful takes on Presley's life story came in 2022 in Baz Luhrmann's 2022 biopic, also called "Elvis." The film earned positive reviews from critics and audiences, as well as eight Academy Awards nominations, and it made more than $150 million at the domestic box office and nearly $300 million internationally. Austin Butler was singled out for his uncanny performance as the late rock 'n' roll icon. Because of Luhrmann's "Elvis," the King was back in the news, and in a big way. 
It was a bit of a surprise when, on the heels of Luhrmann's hit movie, news broke that Sofia Coppola was making a Presley biopic, too (she began development before she knew of Luhrmann's "Elvis"). But the director isn't worried about her film feeling like an afterthought. She has praised Luhrmann and his work, but she thinks that they've made two very distinct pieces of art. Coppola points to the fact that Priscilla is a minor presence in "Elvis" while Elvis is a more significant but still supporting character in "Priscilla." Not only is the focus different, so is the style. She describes Luhrmann's movie as more of a collage while hers is a deep dive (via Vogue). 
She couldn't get the rights to Elvis' music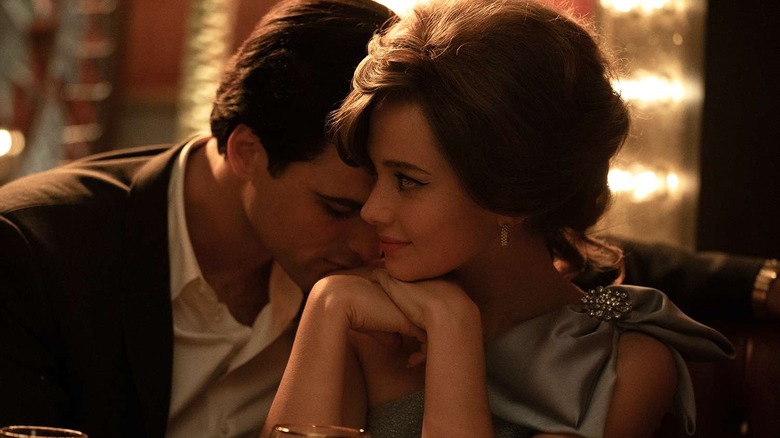 A24
Another key difference between 2022's "Elvis" and "Priscilla" is the way they sound. Baz Luhrmann's bigger budget, Elvis-centric film was able to secure the rights to the King's recognizable music. Sofia Coppola could not. She approached Elvis Presley Enterprises (ownership and control of Elvis' catalog is split between a company called Authentic Brands Group and the Presley family) about the idea but was rejected. She told The Hollywood Reporter that the Presley estate is hesitant to get involved with outside projects. Her modest budget likely didn't help matters, nor did the fact that Coppola's movie doesn't revolve around an entirely sympathetic Elvis. "But that made us be more creative," she argued. 
The reality that Elvis' music was off-limits also turned "Priscilla" into a family affair. Coppola's husband Thomas Mars happens to be the frontman of the French band Phoenix. Phoenix and frequent composer for Wes Anderson, Randall Poster, collaborated and served as music producers. They used a combination of period-appropriate covers and anachronistic needle drops (as Coppola deployed in "Marie Antoinette" as well) to give "Priscilla" its unique soundscape. 
The production design was an exciting challenge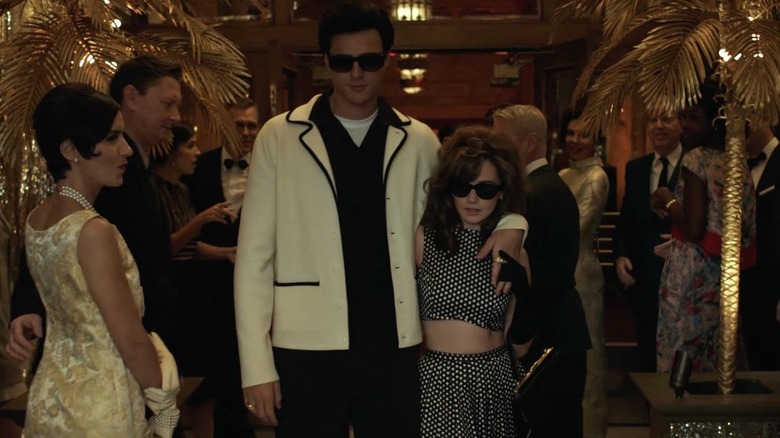 A24
In interviews, Sofia Coppola repeatedly mentions the unusual setting of Priscilla Presley's memoir as one of the reasons she was inspired to make her movie. She told Vogue that a physical set of Graceland was constructed for production, but added that because of the film's budget constraints, "Not everything can be quite as epic as it was in Priscilla's real life, so we have to recreate it in a crafty way."  
It was important to Coppola to get the period details correct and to nail the overall aesthetic in terms of the set decoration and props, as well as the costumes, hair, and makeup. Coppola was excited to be recreating the fashions of the 1960s, which she says she's "so in love with." She was drawn to the fact that people got more dressed up during that era. As for recreating Elvis Presley's palatial home, "We talked about Graceland looking like a wedding cake," she told The Hollywood Reporter. "When she goes to Vegas and Graceland, it's all very colorful and heightened, and exciting. It was almost like Oz when you first see the exterior of Graceland and the flowers are bright." 
Because Elvis and Priscilla were so famous and so frequently filmed and photographed, Coppola could pull from countless images for inspiration, as well as a few outfits that were archived, like Priscilla's wedding dress (a copy of which appears in the movie). 
Sofia Coppola's casting choices inspired debate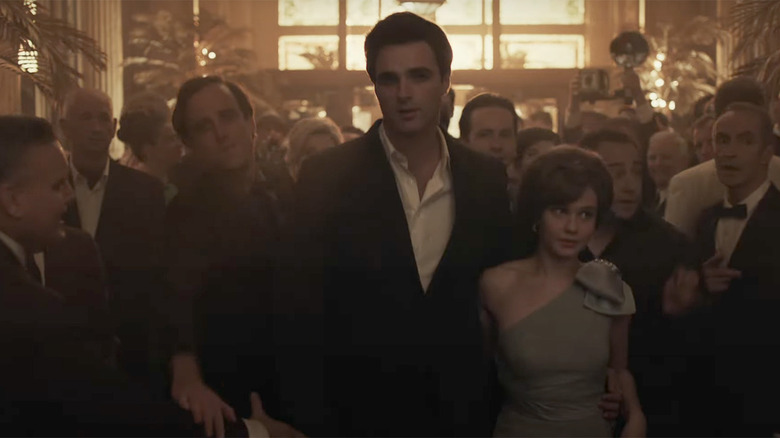 A24
Sofia Coppola joined Instagram in October 2022. Though the director said to Vogue that she prefers to be behind rather than in front of the camera and is averse to oversharing, she hoped to use the app to give her fans a glimpse into her creative process. On August 9, 2023, Coppola captioned a photograph of Jacob Elordi and Cailee Spaeny with the sentence, "First day of shooting Priscilla." The picture was a throwback. "Priscilla" had wrapped by December 2022.  Nevertheless, with the film long in the can, her post was flooded with comments complaining about her casting choices. 
Some Instagram users compared Elordi unfavorably to Austin Butler. Others suggested that Lana Del Rey should've won the role of Priscilla Presley. Elordi and Spaeny — of "Euphoria" and "Mare of Easttown" fame respectively — may not have been the general public's first choice for the roles of Elvis and Priscilla, but Coppola had confidence in her young actors and justifications for why she selected them. "I thought nobody was gonna look quite like Elvis, but Jacob has that same type of magnetism," the director explained. When she met with him at a coffee shop, she noticed he turned girls' heads the way she imagined a young Elvis would've. She clarified that Elordi is nothing like his character on "Euphoria" (she told Vogue she's only watched one episode and found it to be "a little too much"). 
For Priscilla, Coppola required an actor who could plausibly be Priscilla as a child and a woman. She met with Spaeny on friend Kirsten Dunst's recommendation and hired her because of her youthful appearance and strength as an actor. 
Priscilla received an interim strike agreement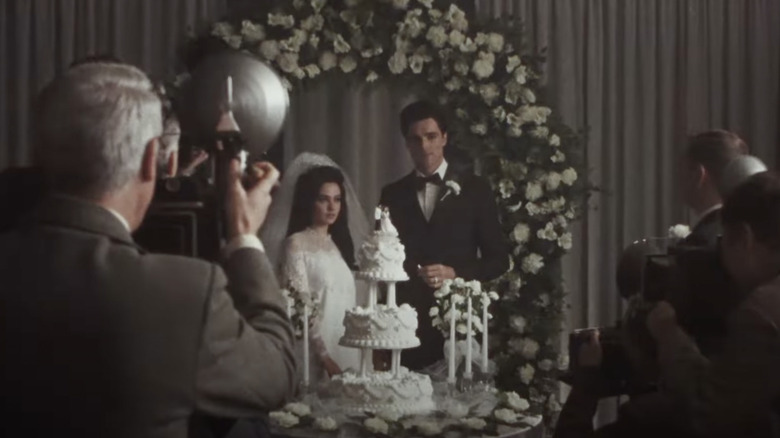 A24
"Priscilla" was slated for a fall 2023 release when the WGA and SAG-AFTRA strikes upended the film and television industries. As a result, most actors and writers have been unable to promote their work. However, because Sofia Coppola's film (which is being distributed by independent studio, A24) was shot in Toronto, Canada, it qualified for a clearance under an interim agreement with the unions, which allowed its writer-director and stars to appear on its behalf. 
The interim agreement meant that Jacob Elordi and Cailee Spaeny could attend the film's premiere at the 80th annual Venice Film Festival, but whether or not they would was an open question until they showed up on the red carpet on September 4, 2023. They joined Coppola and Priscilla Presley herself for photos before the curtain went up on the cinematic fruits of their labor.
The film was a hit at Venice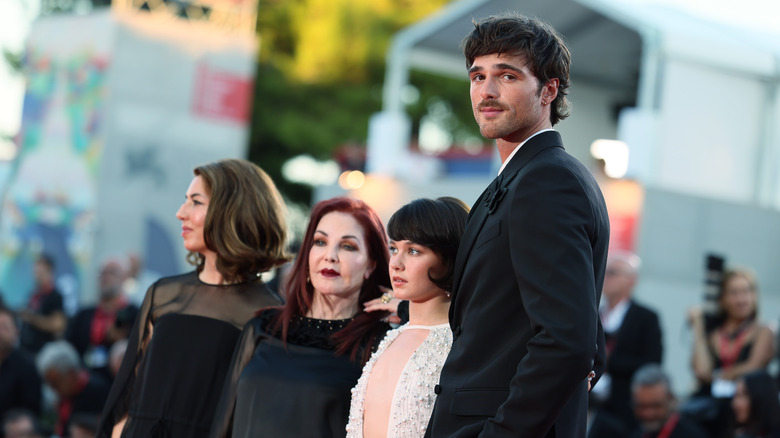 Ernesto Ruscio/Getty Images
"Priscilla" had its world premiere at the Venice Film Festival, where it was entered into competition. Venice is notorious for giving bad movies standing ovations and good movies extremely prolonged standing ovations. Still, the more than seven minutes of upright applause that the film earned, as well as the reported many hugs that the writer-director received, boded well for its chances come awards time. "Priscilla" didn't earn the top prize, the Golden Lion. That went to Yorgos Lanthimos' "Poor Things." But Cailee Spaedy was honored with the award for best actress. 
The Venice Film Festival is also known for spreading the wealth, so the fact that "Priscilla" didn't claim multiple prizes shouldn't be seen as an indication of its weakness in the Oscar race. Sofia Coppola's film has actually garnered some of the most positive reviews of the 2023 fall festival circuit. Critics have called it, "empathetic rather than judgy" (via Timeout) and "her finest film since 'Lost in Translation" (via Rolling Stone) and they've written glowingly about its stars, Spaedy and Jacob Elordi.