What BTK's Life In Prison Is Really Like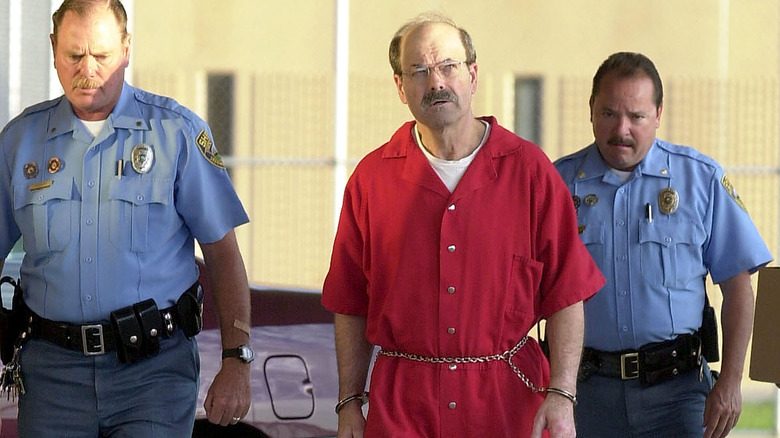 Pool/Getty Images
"Dennis Rader does not deserve to live. I want him to suffer as much as he made his victims suffer," the sister of one of the victims of the serial killer known as BTK said at the sentencing hearing. Another added: "No remorse, no compassion — he had no mercy. I think that's what he ought to receive." What he did receive was the longest sentence legally possible: 175 years without the chance of parole.
Even though BTK had started killing in the 1970s, it wasn't until 2005 that Dennis Rader was convicted and sentenced for the string of brutal murders that remain some of the worst in America's sordid serial killer history. As his trial wound down, prosecutors made it clear that they had in mind a sentence similar to that which his victims' families campaigned for (via NBC News).
For most, the trial was the end of the saga. For Kerri Rawson, though, it was just the beginning: Rader had lived a regular life with a perfectly ordinary family, before he was unmasked as BTK. As his daughter, Rawson has struggled to reconcile the fact that her father lived such a double life. She explained to Esquire, "I still love my father and I wish he had never done any of this, that I just had my dad. I worry about him being alone in prison at times, but at other times, I just can't, for my own sanity." So what, exactly, is prison life like for him?
BTK moved into his cell in 2005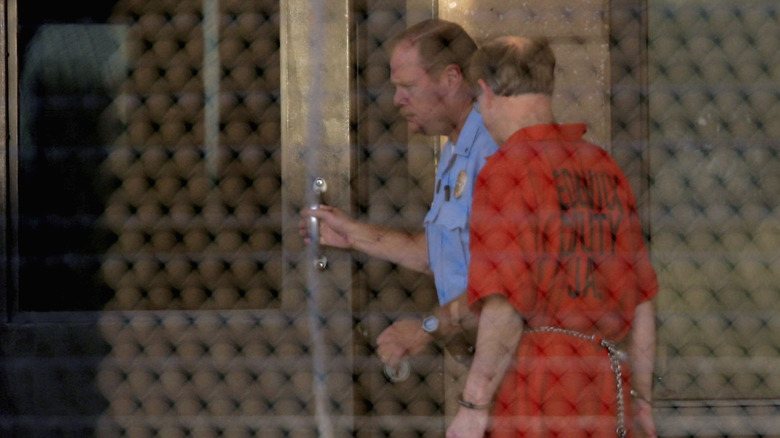 Larry W. Smith/Getty Images
Inmates in state and federal prisons being transferred to other facilities is pretty normal, and according to in-depth research from The Center for Public Integrity, prisoners can be moved for a variety of reasons, including to receive specialized medical treatment, compassionate reasons — usually, meaning a move closer to family — or inclusion in programs designed for special needs or inmates that are deemed a danger to themselves or others. Dennis Rader is actually a little bit unique, in that he walked into El Dorado Correctional Facility in 2005, and stayed there.
According to NBC's coverage of Rader's transfer into prison, the facility wasn't always guaranteed to be his last stop: On intake, he went through a screening process to determine whether or not El Dorado was the best place for him. According to Warden Ray Roberts, they had one concern: "Public safety is our primary mission."
When he was first transferred into prison, his day-to-day life was pretty straightforward. Rader was almost exclusively confined to an 8x10 cell — except for five one-hour periods that included time for showering and brief transfers to a much smaller cell outside — and wasn't allowed much contact with anyone. Even his meals were passed through the cell door, reading materials were highly restricted, and he wasn't allowed a television. The restrictions were put in place in part because of a warning from the prosecutors that Rader could potentially use access to media to sate the same urges that encouraged his killing sprees in the first place.
He had earned special privileges by the following year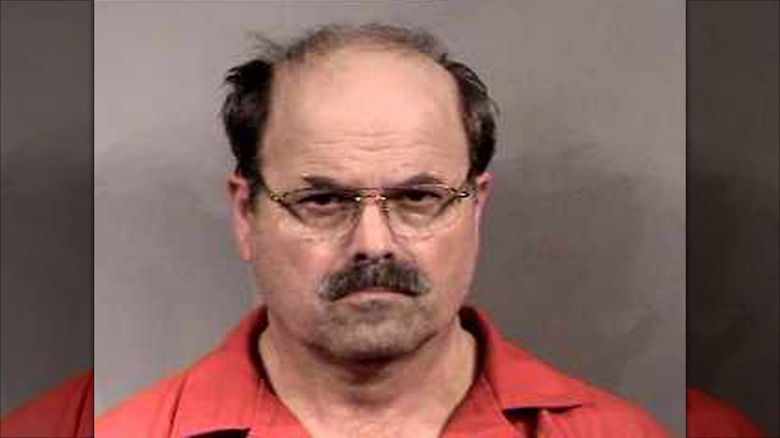 Getty Images/Getty Images
When Dennis Rader was initially sentenced, the judge took into account the prosecution's recommendations, which were particularly concerned about allowing him to relive fantasies — which he had apparently been doing, via photos of himself and the victims. The judge ruled that as part of his sentence, it was forbidden for him to "possess, receive, or create any visual images of human beings or animals, including drawings." Just a year into his sentence, though, CBS News reported that things had changed.
Rader, they said, had apparently been a model prisoner — so much so that initial restrictions were lifted in a major way. That included restrictions on drawing, and that became just one of the perks he was allowed from 2006 forward as a reward for good behavior. (In his year behind bars, he had one disciplinary mark for attempting to send a letter via a third party.)
Also on the list of perks? Rader was given permission to have a television and a radio in his cell, and given greater access to reading materials. The move was widely condemned by the prosecution team that had worked on the case, and the families of his victims. Rader's defense team suggested that allowing him these basic perks was simply a matter of humane treatment, adding that complete isolation could be more damaging in the long run.
He described his daily routine in 2012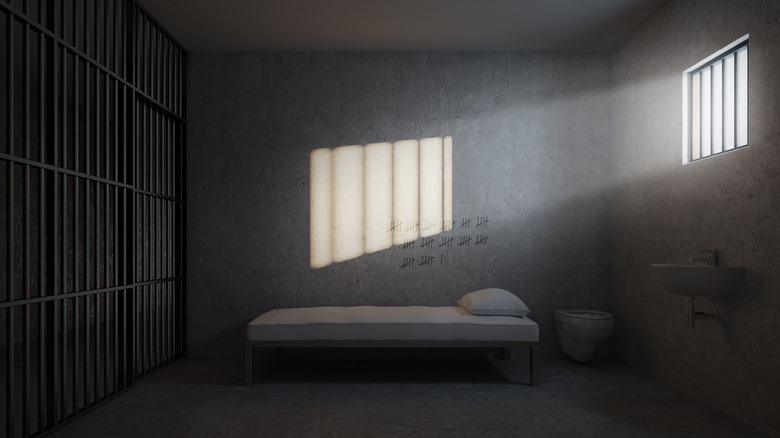 Ninoon/Getty Images
In a series of letters written in 2012 and obtained by TMZ, Dennis Rader outlined his daily routine, saying that his day started with a 5 a.m. breakfast followed by some cleaning. After that, he wrote that he would spend some time updating his "logs + journals," and revealed that he recorded things like sunrise and moonrise times, daily temperatures, and various other natural phenomena.
After a 9 a.m. break, he would go on to letter- and poetry-writing, then it was time for exercise. He wrote that he tried to get in at least 2,000 steps per day, along with 120 push-ups, a routine that led into reading or studying chess up until it was time for lunch. Then, he'd spend some time watching Spanish television in an attempt to learn the language, then nap, and the rest of the afternoon would be spent in much the same way that his morning was. Dinner was between 4:30 and 5, followed by watching the news on TV, updating his journals with anything that had happened during the day, and lights-out happened somewhere around midnight.
Then, Rader wrote, he "checks the heaven for stars, due to lights outside, only the very bright ones, mainly a blue-white one east, every night might be the main star of 'Pegasus," and naturally the moon phases." During it all, he said that he usually averaged about 5 or 6 cups of coffee a day.
He continued to write letters to his daughter
In letters written in 2012, Dennis Rader responded to earlier questions about what sort of thoughts occupied most of his time in prison. He wrote, "Probably my family, miss them dearly, not a minute goes by each day I not thinking of them."
Rader's daughter, Kerri Rawson, has said that she knows her father thinks of her regularly: She has letters from him that never stopped coming, from their initial back-and-forth to a period of years where he continued to write to her, even though she didn't respond for several years. She explained to ABC, "I wasn't corresponding with BTK. I'm never corresponding with BTK. I'm talking to my father." 
She told The Detroit News that it wasn't until 2012 that she read all the previously unread letters he had sent her, and clarified that although they're in touch, she hadn't given him her address. (Instead, he sent letters to her through a relative.) Content varies: In some, he apologized for ruining holidays for their family, in others, he asked her to publish a book of his artwork. With the 2019 release of her own memoir, Rawson told Esquire, "He still doesn't understand why my family hasn't visited or called, or why we aren't more just like the way we were. Early on, I felt like I would get to a point where I would be able to let him back more into my life, but it hasn't."
He's written about two particular hobbies and his choice in reading material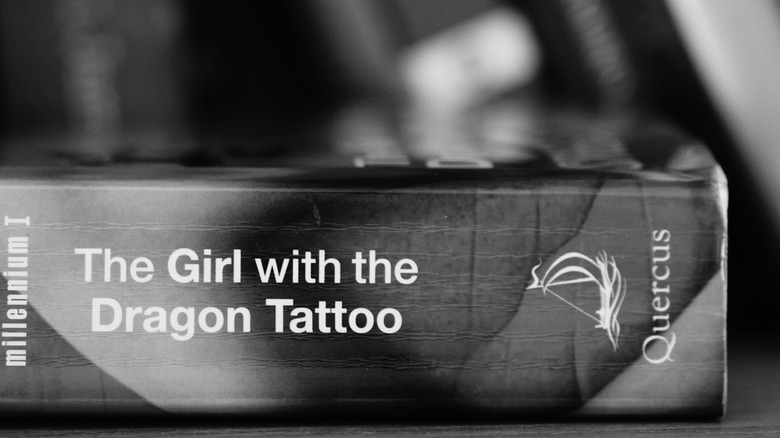 1000WordsPhotos/Shutterstock
By 2012, Dennis Rader had been in prison for seven of his 175-year sentence, and according to letters written that year, he'd settled into a regular routine. Along with journaling and recording everyday occurrences, he wrote that he also kept a daily record of what he called his "hobby 'Portfolio,'" in which he kept track of Wall Street stocks, as well as the prices of silver and gold. In addition, he also ran what he called "a Fantasy business... in to rentals, land management — etc." In his fictional business, he wrote that he had eight employees factored in, and that he kept track of values from the newspapers in his one-time home and hunting ground — Park City, Kansas — and used funds from his stock portfolio to run it.
Rader also talks about studying chess, and the fact that he had several chess-by-mail games going with people who were in regular correspondence with him. In one letter, he also wrote a bit about his taste in fiction, saying that he was in the middle of reading Stieg Larsson's "The Girl with the Dragon Tattoo." Interestingly, that's in spite of an addendum to the 2006 announcement that he had been awarded certain perks, in which a Department of Corrections spokesman clarified that his access would not extend to sexually explicit materials. For reference, The Huffington Post called the book "a smorgasbord of kinky sex and incredibly evil doings."
He cherishes the time he gets to spend outside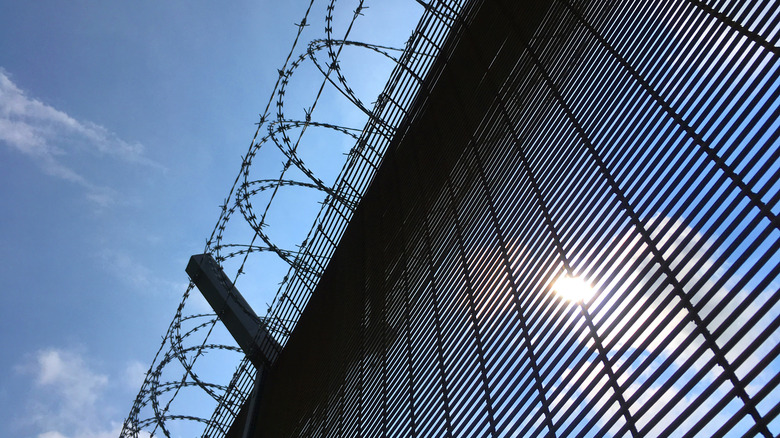 Mylittlestudioinsingapore/Getty Images
Rules and regulations governing the housing of prison inmates are still being argued: In 2023, Democrats in the House of Representatives introduced a bill they were calling the End Solitary Confinement Act, which sought to overhaul the way inmates were confirmed to cells and restricted access to the outside world. In 2012, Dennis Rader wrote a letter from behind the bars of a Kansas prison, saying that he'd gotten a rare trip outside on the way to visit the dentist. (Although, he said, the rarity was his own choice.)
He described it: "A kaleidoscope of colors, sky, fresh air, sun rays, sounds, birds, natures, flowers, inmates' garden, enjoy each minute, those that are out each day, take so much for granted." He went on to ask the recipient of the letter if they lived in an apartment and whether or not they had a place to do some gardening outside, asking, "If you live where you can grow outdoor plants, grow a 'sunflower' for me, our state flower, this fall the birds will love you for the seeds."
In another letter, he shared one of the things he missed the most — grilling steaks — and told the recipient that the summer solstice was coming up. He instructed them to pick a building and note the position of the sun, then return on the same day the next year to see if it was the same. "Make that your "Stonehenge," he wrote.
Secrets, codes, and a book about himself
In 2014, it was announced in the The Associated Press (via The New York Times)  that Dennis Rader was cooperating with Dr. Katherine Ramsland to write a book about his murders. Stressing that he wasn't going to profit, he added, "People like me, need to be understood, so the criminal professional field, can better understand, the criminal mind. That would be my way helping debt to society." That book was "Confession of a Serial Killer," and Ramsland later spoke with Rolling Stone to detail some of the things she'd learned — and how they had spent their six years of communication.
Ramsland said that although they spoke through letters and over the phone, it wasn't straightforward at all. She said he had created what he called a "codex," which was a 14-page packet of seemingly miscellaneous documents marked with a series of clues she had to decode. "This collection of writings and clippings offered a glimpse into Rader's mind. It was his way of retaining control, playing word games with curious guards and feeling as if he were still important enough to hide his secrets," she explained. Through the code, he revealed intimate details of what drove him to kill, and of his obsessions: With silos, with the slaughter of animals, and with books that described torture.
Interestingly, Rader's daughter, Kerri Rawson, told Esquire that when she told her father that she was working on a book about their family and his unmasking as BTK, he wanted to be involved in it. She told him no. 
The discovery of a mysterious Factor X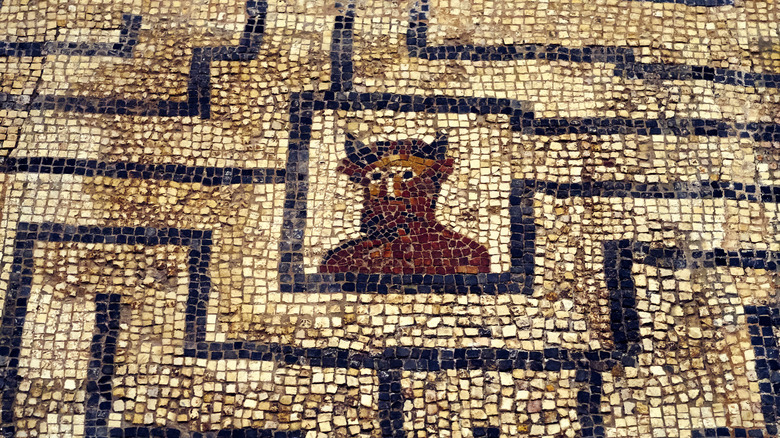 Derick D Miller/Shutterstock
Dennis Rader worked with forensic psychologist Dr. Katherine Ramsland over the course of six years, and around the publishing of her book, "Confession of a Serial Killer," she told Rolling Stone that something fascinating had been going on. Rader revealed that he had compartmentalized his sadistic urges away from his seemingly ordinary family life, and that he dubbed the dark side of himself "The Minotaur." She also said that during their work together, he told her that he wanted her to get to the bottom of exactly what it was that flipped the switch from normal family man to serial killer.
She wrote that "it wasn't that hard," and says that instead of having him answer questions about himself, she gave him the tools to both ask and answer questions. Perhaps somewhat bizarrely, that included doing a deep dive into the lives of other serial killers, even though she says that's where he initially found his role models. Ramsland said that by immersing himself in documentaries about other killers, it helped him to understand what she called "the trajectory toward violence."
Rader wrote about "Factor X" in a letter to The Daily Mail, saying, "I have now figured it out... I know why I do these dark deeds, it is no more a mystery to me. So, in a way yes, ... 'Factor X' did make me the way I was as I committed those terrible crimes."
Keeping up on current events
Life behind bars isn't as isolated from the outside as it might seem, and in a 2012 letter, Dennis Rader wrote about some of the current events that he'd been keeping up on and was impressed by. Like what? One of the things he commented on was Facebook stocks hitting Wall Street, along with a report from a Smithsonian article on the Occupy Wall Street movement.
Rader included notes on world events — including advancements in science and technology — in his daily journals, and wrote that a part of his daily schedule included watching shows like "Nightly Business Report" and "PBS World News." Rader's love of the news programs apparently continued, as he gave an update to The Daily Mail in 2019. He confirmed that he still kept up with current affairs, and when he was asked his opinion about the state of the world, he replied, "Impeach President Trump. That's all I will say about him. Believe the worst 'President ever!'"
The Cave Family and the Vipers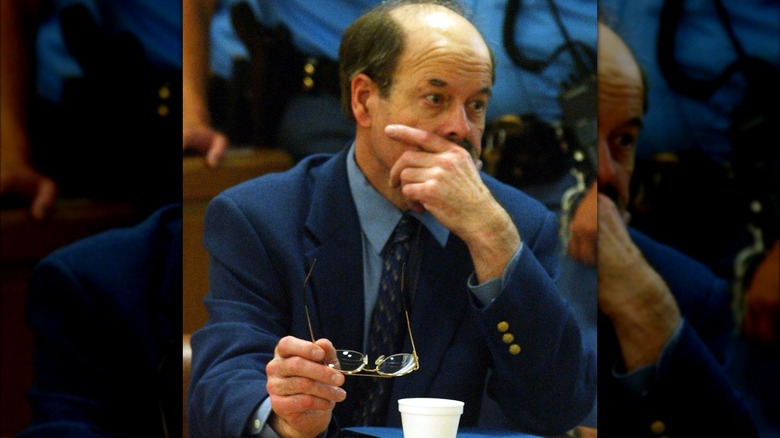 Pool/Getty Images
In 2019, Dennis Rader reached out to The Daily Mail in a 5-page letter that revealed some fascinating things about his life in the El Dorado Correctional Facility. He started out by saying that the colorful, half-circle drawing at the top of the letter — divided into sections and labeled, "El Caverna" — was a reference to his jail cell. (He also added the year, a note that said, "Est. 2005," and his initials.) He said he was "Very safe, I believe I'm the facility 'pet.'"
Rader said that he had people who kept in touch with him on a regular basis, and that he was particularly fond of the close friends who sent letters and bought him books. "I call them my 'Cave Family,'" he wrote, adding, "Been here 13 years and 190 days as I write, after a while you just get tired of the same thing day after day, but keeping busy helps, also changing one's routine."
Not all interaction with the outside was good, though, and Rader added that he also kept track of people he called "Vipers." These people, he wrote, were the ones who struck up a pseudo-friendship in hopes of getting memorabilia, which they'd then put up for sale. He wrote, "Vipers are people that make money off inmates getting their letters, art, poetry, and things they give to them. I have now about 42 of them listed. But as I age/downsize there will be more Viper activity, they couldn't wait until I pass away."
A sit-down interview with a sheriff raised major questions
In a 2019 letter to The Daily Mail, Dennis Rader claimed that if he hadn't been caught, he had one more kill planned. He called her a "retirement victim," and said that she would have been his eleventh. However, there's a theory that's not the case at all: According to Dr. Katherine Ramsland, her six-year correspondence with Rader left her thinking there was a precedent for him not telling the truth. 
Fast forward to 2023: On little more than a hunch and some curiosity that was kick-started by a true crime documentary and the realization that BTK's hunting ground wasn't far from his own territory, Oklahoma sheriff Eddie Virden arranged a 3-hour interview with Dennis Rader. One thing in particular stuck out, and that was Rader's admission that one of the fantasies he had never fulfilled was killing a girl he kidnapped from a laundromat. 
It was such a specific thing that Virden was able to tentatively link him to two more cold cases, including the disappearance and murder of a 16-year-old girl named Cynthia Kinney. Kinney disappeared from a laundromat, and the theory was deemed to have enough credibility that his property was searched again in hopes of turning up new evidence. Rader denied he was involved, and said (via KZRG) that although he "enjoyed" meeting with the officers, he wasn't thrilled that his cell was searched: "Everything that I had wrote on or kept was gone. Later that day, one box was returned with no reason why."
His daughter says health issues are taking their toll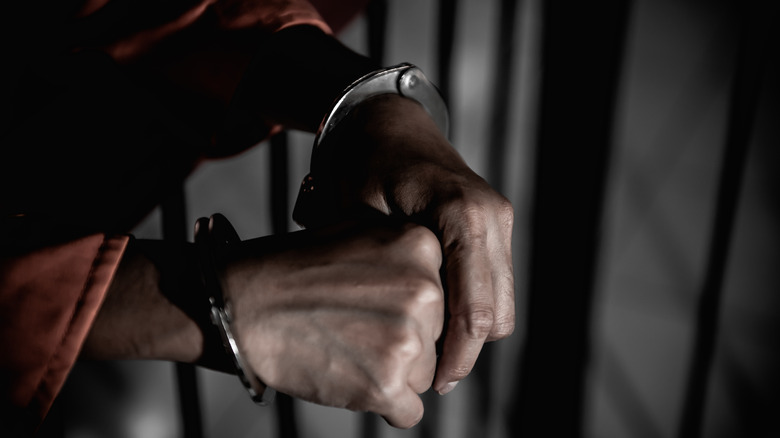 kittirat roekburi/Shutterstock
When the daughter of BTK Killer Dennis Rader spoke with The Detroit News in 2019, she was still trying to come to terms with how the man who had been her loving father was also one of the nation's most infamous serial killers. In one recent letter he'd sent her, Rader told her that he was pretty certain he'd had a stroke.
When he wrote to The Daily Mail that same year, he outlined a slew of health problems. "I have 'scoliosis' really bad, in the evening it tightens up and I can't get around, do exercise, mainly in the arms after bedrest, but can't stay on my feet very long," he wrote. He also wrote about changes in his handwriting and problems with his short-term memory, again referencing his belief that he'd had a stroke.
In 2023, Rawson went to see her father in prison. It was the first time she'd seen him in 18 years, and told NewsNation that it wasn't an easy meeting. She said he didn't recognize her at first, adding, "He's lost like seven inches, and he's in a wheelchair. He's pretty much rotting, like, to his core." Rawson's visit came around the new speculation that he had something to do with two more murders, and at the time, what was going to come of the investigations was unclear. Rawson said that her father didn't want a transfer, explaining he "wants to live his life out at the prison that he's at."