Tragic Details Revealed In Chester Bennington's Autopsy Report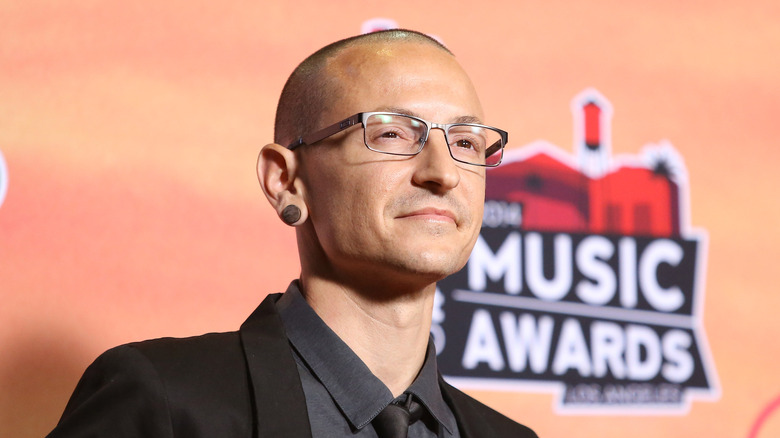 Michael Tran/Getty Images
The following article includes descriptions of suicide.
Linkin Park frontman Chester Bennington died by suicide in 2017. Although his history of mental health problems such as depression was well-known, his death still came as a shock to many, having appeared to be in good spirits in the days leading up to his suicide.
Just prior to his death, Bennington had been on vacation with his family when he returned home to shoot a commercial (via CNN). His wife Talinda said the night before he died "he was [at] his best." Nonetheless, Bennington had reason to be troubled. Just two months prior the singer had attended the funeral of his good friend, "Soundgarden" singer Chris Cornell. Bennington told Metal Hammer in 2017, "I don't know if you've ever had this experience, but sometimes you meet somebody and it's like you've known them forever. And that was really the case between our families." As reported by Rolling Stone, Bennington had also lived with depression for many years, a black cloud he referred to as "dark passenger."
Bennington was found dead in his California home on July 20. The autopsy report released by TMZ provides some heartbreaking details about the rockstar's final hours, indicating that he was using alcohol. 
There was alcohol in his system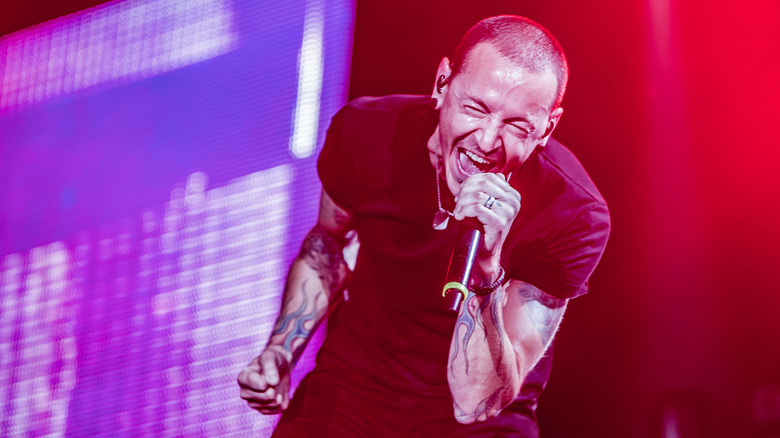 Sergione Infuso - Corbis/Getty Images
According to the autopsy report published in December 2017, Chester Bennington's housekeeper found him dead on July 20. The housekeeper was the last person to see Bennington alive, having left him alone at 10:30 p.m. the night before. She could not recall the singer behaving abnormally in any way before she left. 
Investigators found no note near the body, though they did find a "handwritten apparent biography." They also found pieces of Bennington's fingernails underneath his iPhone and on a table in the bedroom. According to Rolling Stone, his wife Talinda told authorities he had a habit of picking his fingernails when he was anxious. There was no evidence of foul play at the scene, but authorities did find evidence that Bennington had been drinking that night. The singer was found near an empty bottle of Stella Artois, a less than half-full pint glass of Corona, two bottle caps, and a bottle of prescription medication. The toxicology report also says there was a tiny trace of alcohol in his system. 
Although a blood test seemed to confirm that the Linkin Park singer had also taken MDMA, further testing indicated he was not on any drugs (per People). The autopsy report notes that Bennington had a history of alcohol misuse, suicidal ideation, and past suicide attempts. It says his wife Talinda told authorities he threatened to kill himself in 2006 while intoxicated, and TMZ says there was another 2016 attempt mentioned in the report before it was redacted.
Bennington's history of alcoholism and depression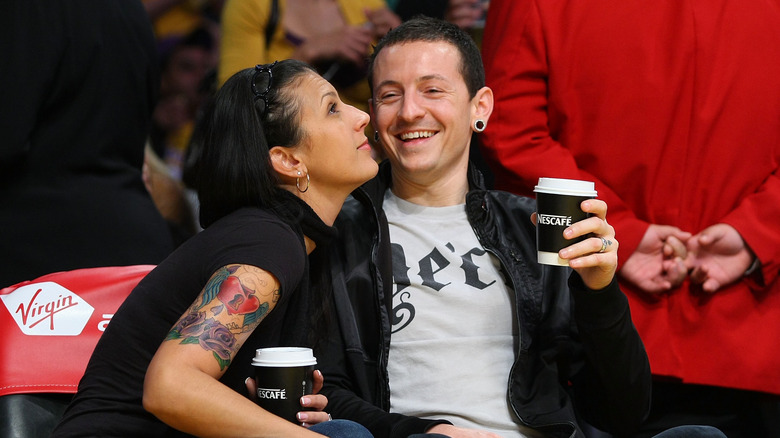 Noel Vasquez/Getty Images
Although the level of ethanol found in Chester Bennington's system was small, the report sheds some light on his alcohol use issues. Bennington was candid about his drinking and drug use in interviews, and he frequently attributed his addiction issues to the sexual abuse he experienced as a child. Much of his music was inspired by his life, and he once told Noise Creep that the Linkin Park hit "Crawling" was specifically about his substance use disorder. "[It's] probably the most literal song lyrically I'd ever written for Linkin Park and that's about feeling like I had no control over myself in terms of drugs and alcohol," he said.
By 2006, Bennington had checked himself into rehab out of necessity, a decision he discussed with Louder Sound. "In 2006, I had a choice between stopping drinking or dying," he said. Nonetheless, his alchohol use issues continued. According to Rolling Stone, although rehab did lead to a long period of sobriety for Bennington, his friends reported that he had relapsed in the 12 months prior to his death, blacking out after three days of heavy drinking in August 2016. The month before he died, his friend and fellow guitarist Ryan Shuck told reporters that Bennington had confided in him he was roughly six months sober but that he was still facing a "hour-by-hour battle."
If you or anyone you know needs help with addiction issues, help is available. Visit the Substance Abuse and Mental Health Services Administration website or contact SAMHSA's National Helpline at 1-800-662-HELP (4357).
If you or someone you know needs help with mental health, please contact the Crisis Text Line by texting HOME to 741741, call the National Alliance on Mental Illness helpline at 1-800-950-NAMI (6264), or visit the National Institute of Mental Health website.