What You Didn't Know About Jimmy Carter's Literary Career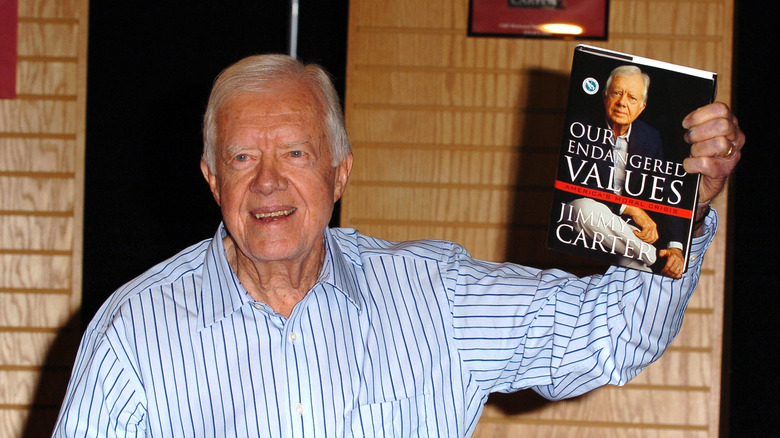 Steve Granitz/Getty Images
Though he is known today as an honorable ex-president who dedicated his life to serving the United States, Jimmy Carter was not particularly popular while in the Oval Office. In 1980, he suffered the ignominy of failing to secure a second presidential term, a fate suffered by just 10 presidents in the whole of American history. According to Robert A. Strong, professor of politics at Washington and Lee University, it is only with the benefit of hindsight that the many challenges Carter faced during his short presidency have become discernable (per the Miller Center). While Gallup data suggests more people disapproved of him than approved by the end of his term, a 2023 YouGov poll claims that he is now the second most popular living Democrat, behind Barack Obama but ahead of Bernie Sanders.
Approximately 94% of people claim to have heard of Carter, but while he is of course most famous for his political career and his philanthropy, what is less well-known is the former president's impressive writing career, in which he is both prolific and critically acclaimed.
A mountain of memoirs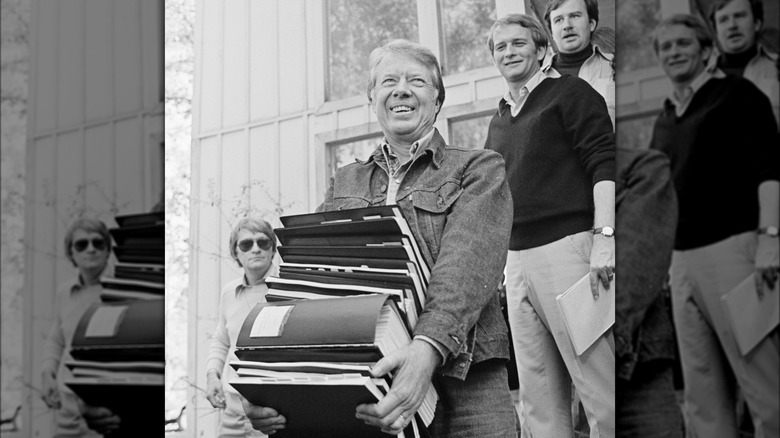 Bettmann/Getty Images
Jimmy Carter was born to a farming family in Plains, Georgia, on October 1, 1924, and as such his papers are held at the Hargrett Rare Book and Manuscript Library at the University of Georgia. The university has also inducted the former president into the Georgia Writers Hall of Fame, and its website details Carter's remarkable literary second life.
All American presidents, it seems, write books at one time or another. Barack Obama has several bestsellers to his name, while Donald Trump made himself a fortune with "The Art of the Deal," a business book published long before he had political aspirations. But Carter is something else. To date, he has put his name to more than 30 books, many of which are detailed memoirs of his early life, his presidential career, and the years since then. The latest, "A Full Life: Reflections at Ninety," was published in 2015. As well as memoirs, Carter has written on history, family, religion, conflict in the Middle East, and has even published a volume of poetry, a novel, and a children's book he wrote with his daughter Amy.
Carter's early literary life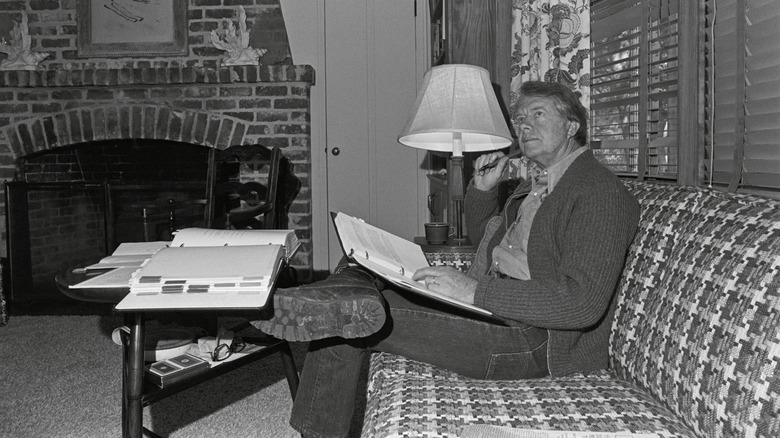 Bettmann/Getty Images
Jimmy Carter obviously has a passion for penning literature dealing with both political and personal themes. But more than that, he has a keen sense of how important books and literature are to individuals, communities, and society as a whole, which comes from his own love of reading.
"'I'll Never Lie to You': Jimmy Carter in His Own Words," a collection of quotes, was first published in 1976 when he was running for president, and it gives an insight into how close he was to the world of books even at the height of his career. He cites the photojournalistic work "Let Us Now Praise Famous Men" — which focuses on the lives of sharecroppers whose lives mirrored those of his own upbringing — as a key text. He also points to the work of Reinhold Niebuhr, a theologian and ethicist, and claims the Welshman Dylan Thomas is his favorite poet. More surprising, however, is Carter's love for folk rocker Bob Dylan, whom he calls a friend. Dylan won the Nobel Prize in literature in 2016, and Carter has his own — the Nobel Peace Prize, awarded for his work as a peace broker and a staunch advocate of democracy and human rights. Indeed, many of his books, such as "Palestine: Peace Not Apartheid" and "We Can Have Peace in the Holy Land," demonstrate the central purpose driving the many threads of his life's work.
And like Dylan, Carter is a multi-Grammy Award winner. He has won three in total, each for spoken word versions of his bestselling books.