This Was Bob Marley's Real Name
Charles Steiner/Getty Images
As the frontman and principal songwriter of The Wailers, Jamaican reggae artist Bob Marley propelled himself to worldwide fame. Before he became a music icon thanks to a string of international hits, he was already a legend on his home island, where he had written, recorded, and before for most of his adult life. His appeal in those years was in making music that spoke to his own people and that discussed life, identity, and politics in Jamaica.
Marley died tragically young, succumbing to cancer on May 11, 1981, at the age of just 36. Though he was a hero in Jamaica and beyond during his short lifetime, in death the man who brought reggae to the world and destigmatized the Christian belief system of Rastafari attained a mythic status, with the name "Bob Marley" becoming synonymous with the peace, love, and understanding that he had called for in his music during a particularly turbulent and violent time for his home country. But while everyone knows his name, what is less known is that the full name he went by in adulthood, Robert Nesta Marley, was an alteration of the name he had been given at birth: Nesta Robert Marley. But rather than the change being Marley's own decision for the sake of adopting a catchy stage name — Bob Marley rolls off the tongue the same way Bob Dylan does — it was actually the singer's mother who made the decision shortly after her baby was born.
How Bob Marley got his name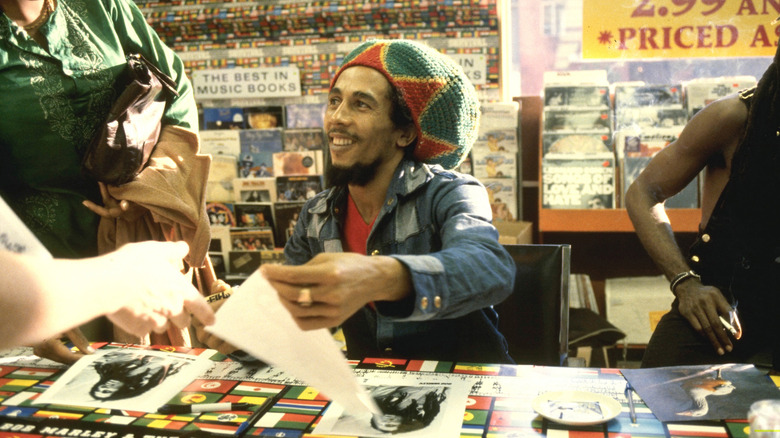 Chris Walter/Getty Images
Bob Marley came from a comparatively prosperous background compared to many of the ghettoized Jamaicans who were his most loyal listeners throughout his career. However, the circumstances of his birth were unorthodox.
According to "Bob Marley: The Biography" by Stephen Davis, which features direct quotes from Marley's family, the future star was born to Norval Sinclair Marley, also known as Captain Marley, a white British military man who at the age of 60 met 18-year-old Jamaican woman Cedella Malcolm. The two married, and the future Bob Marley was born at the farm of his maternal grandfather.
Norval was not present for the birth, nor throughout the majority of Marley's upbringing, though he did provide financial support to his young wife and child. On his first visit to the island to see his newborn son, Norval insisted on the name Nesta Robert Marley and was specific in terms of spelling. He left soon after. But Cedella, at the point of registering her son at the Jamaican passport office, was informed by an officer that the name Nesta sounded like the name of a baby girl. Worried that the name might affect him when traveling, she simply switched the order, so that her son became Robert Nesta Marley.
The meaning of Nesta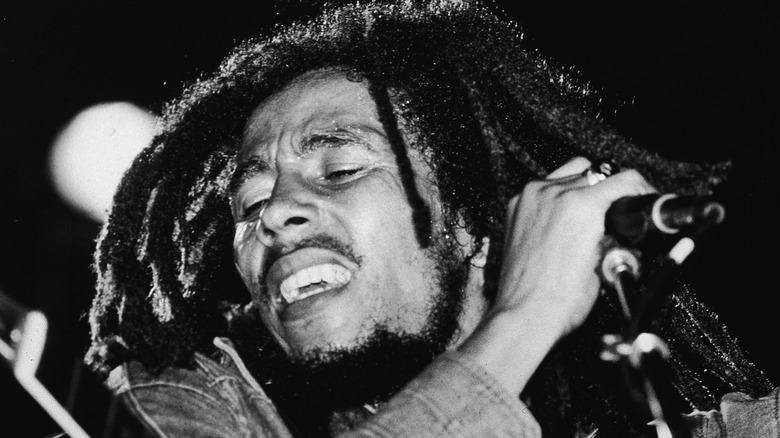 Express Newspapers/Getty Images
Biographer Stephen Davis claims that the name Robert was given to the young Bob Marley in honor of his paternal uncle (per "Bob Marley: The Biography"). However, Davis also says that although Norval Sinclair Marley was very specific in naming his son, he never explained the meaning of the name Nesta, nor its significance to him or Marley Jr. To this day, why he chose it is unknown.
According to the baby name database on The Bump, the version of Nesta closest to Norval's British background is found in Wales, where it reportedly means "pure." However, several sources including Chris Salewicz's "Bob Marley: The Untold Story" claim that the name Nesta has a more fitting meaning for Rastafari's greatest icon and peace advocate: "messenger." This aspect of his career, which includes calls to peace in his lyrics and his performance at anti-violence events such as the One Love Peace Concert in Kingston in 1978, has since become definitive of his legend. In 2011, The GRAMMY Museum opened an exhibition looking at Marley's life, titled "Bob Marley, Messenger."