Whatever Happened To The Old Spice Guy?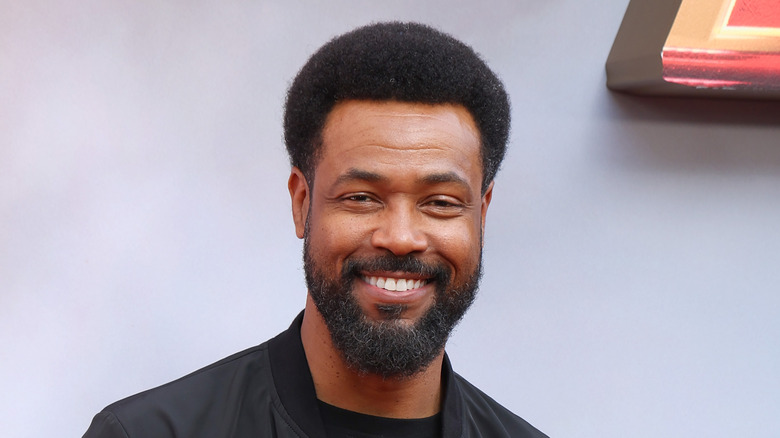 Leon Bennett/Getty Images
In 2010, handsome actor and former athlete Isaiah Mustafa debuted in the Old Spice deodorant ad "The Man Your Man Could Smell Like," and if there was ever a time for smell-o-vision, this would have been it. In the commercial, Mustafa not only looked like he smelled good, his deep baritone voice sounded like he smelled good, too. From there, he became known as the Old Spice guy, appearing — often shirtless — in a series of commercials for the brand. Since then, Mustafa has reprised the "Old Spice Guy" role on several occasions while maintaining a successful acting career beyond advertising.
Football fans might remember the Old Spice Guy from the 1997 Rose Bowl game, where he played wide receiver at Arizona State University alongside future NFL QB Jake Plummer. After college, Mustafa played pro ball in Europe and spent time on several NFL teams' practice squads. He tried his had in the restaurant industry in Los Angeles before he got into acting, and by any measure, Mustafa was on his way to an on-camera career when Old Spice came calling. Pre-Old Spice, he had parts on shows like "Ugly Betty," and "NCIS: Los Angeles," among other film and TV appearances.
Mustafa's profile, however, raised considerably once those Old Spice ads hit. I-80 Sports Blog asked Mustafa if he minded the Old Spice Guy label. "Before I was 'the Old Spice Guy,' I wasn't the Old Spice Guy and nobody was paying attention. So being the Old Spice Guy is fine by me!" he said.
The ad premieres
"The Man Your Man Could Smell Like" ad premiered on YouTube on February 4, 2010, and it hit broadcast TV four days later, the Monday after the ​​Super Bowl. With that TV exposure, online views more than quadrupled, and the spot went viral, the Los Angeles Times reported that year. Old Spice Guy ads are now seen as an early online marketing success. Referring to the attention, Mustafa told the outlet, "It got crazy, it was like 100,000 more every couple of hours. My daily thing was to go look in the morning and go, 'Whoa! No way!'" YouTube views had topped 60 million as of 2023.
To capitalize on all that attention, Old Spice launched new and innovative marketing tactics, with Mustafa as the Old Spice Guy included. Among other commercial appearances, Old Spice debuted the "responses" campaign. Viewers submitted questions via social media, and Mustafa answered them. Those responses were then posted on the internet. Referring to that groundbreaking approach, marketing expert Michael Fleischner told ABC News that year, "I think the Old Spice campaign is really breaking new ground here. Ads have always been a form of entertainment, but now when you add that viral effect it's really starting to escalate."
The next year, in 2011, the Old Spice Guy was featured alongside Fabio to determine the sexiest TV pitchman of all in a YouTube challenge called "Mano a Mano in el Baño." Based on viewer response, Mustafa won.
Old Spice Guy lives on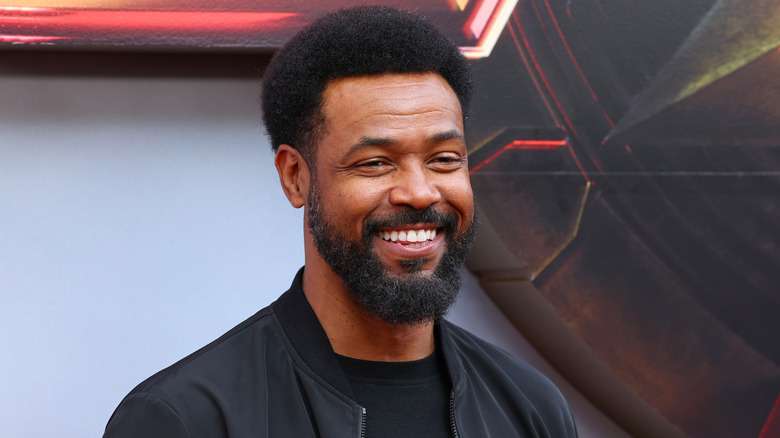 Leon Bennett/Getty Images
Following the 2011 Old Spice Guy and Fabio challenge, Isaiah Mustafa continued to play the Old Spice Guy, as well as act for film and TV. In 2015, he appeared with another Old Spice adman, football player Terry Crews, in a series of Old Spice spots. Then, in 2019, Mustafa played the Old Spice Guy in a Hulu ad. That year, Mustafa told Parade the part just kept going. "It's nice to know the fans enjoy the character so much that it still has legs," he said. Around that same time, Mustafa played a werewolf in the series "Shadowhunters."
In 2020, Mustafa reprised the Old Spice Guy role yet again. Rather than the Old Spice Guy, though, this time Mustafa was Old Spice Dad. In 2022 Old Spice Guy returned in an Arby's and Old Spice campaign to prevent "meat sweats." That same year, Mustafa appeared as Old Spice Guy alongside actor Idris Elba and Dos Equis' "Most Interesting Man in the World" Jonathan Goldsmith in a Booking.com commercial. Meanwhile, in 2022, Deadline reported he was cast in a recurring role on the Amazon series, "Cross."
In 2023, Mustafa, a long-time fan of comic books, shared on Instagram that he attended "The Flash." "'The Flash' is outstanding. Everything you could ever want in a comic book movie and even some things you didn't know you needed but did," he posted. In 2018, the actor married Lisa Mitchell. He has one daughter, Haley Mustafa, from another marriage.