Janet Jackson's Friendship With Tom Cruise Explained
In May 2023, Janet Jackson shared a picture of herself with Tom Cruise on Instagram taken backstage at her Charlotte, North Carolina "Together Again" tour stop. In the photo, Cruise is smiling widely with his arm around Jackson like an old friend. In her post, Jackson wrote, "T, it was so good seeing you and nice spending some time together," suggesting the two superstars were acquainted. It raised a series of questions: How did Cruise and Jackson meet, how long had they known one another, and how close was their friendship? 
Possibly explaining the apparent relationship, Jackson's 1986 album "Control" and the first "Top Gun" movie starring Cruise came out same year, and stars like that often move in the same social circles. He also shed some light on the matter at the 2023 "Mission: Impossible — Dead Reckoning Part One" movie premiere in Rome, when Entertainment Tonight asked the actor about the Jackson photo and the "T" nickname. Cruise told ET, "Yeah she calls me T. Look, she can call me whatever she wants. She's Janet Jackson! She's a goddess. She's amazing. I love her, I love her music. She's also just an extraordinary person."
Jackson and Cruise were photographed before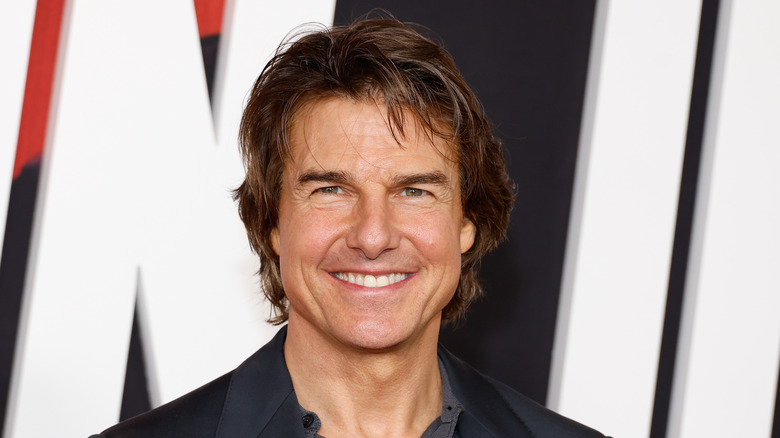 Mike Coppola/Getty Images
Besides Janet Jackson's Instagram caption and Tom Cruise's statement to Entertainment Tonight, there's little else known about the exact nature of their friendship beyond the fact they share warm feelings for one another. In March 2021, @thatkindofhappy tweeted video of Cruise and Jackson arriving separately at the 1993 Academy Awards ceremony — evidence they were in the same place at the same time that year. In 2022, the year before Jackson shared her Instagram pic from backstage in Charlotte, a Jackson fan page tweeted an old photo of Jackson with Cruise and his ex-wife, actress Nicole Kidman.
Cruise and Kidman divorced in 2001, so the photo was likely taken sometime before that. In the Twitter comments, the Jackson fan page also shared a photo of Kidman and Jackson at a 2003 Oscar party. Did Cruise meet Jackson through his ex-wife? There's no way to know for certain, but one thing 's clear: There's photo corroboration of the actor and singer's friendship that dates back at least a few decades.
After Cruise divorced Kidman, the "Risky Business " star married actress Katie Holmes in 2006, but they split six years later. With that in mind, another backstage photo from Jackson's "Together Again" tour offers some Cruise insight. Per Hello! magazine, Jackson snapped a pic with Holmes, too, backstage at her Madison Square Garden show.
Other Cruise photos emerged
As E! News reported in 2017, Tom Cruise is a famously private celebrity, and in 2022, The Washington Post wrote the same about Janet Jackson. For those reasons alone, the full extent of Cruise and Jackson's relationship may never be known. That said, it wasn't just Jackson who got to meet Cruise the night of her Charlotte tour stop at PNC Music Pavilion, Billboard writes. Several audiences members also shared video or snapped photos with the star on social media.
Speaking with Entertainment Tonight, Cruise said he went to Jackson's concert on a night off, and while there, he behaved just like a regular fan. Cruise told ET, "I'm right in there, yeah, come on! It's Janet, she's a legend." Jackson's "Together Again" tour kicked off April 2023 in Hollywood, Florida and concluded in June in Seattle, Washington. Besides Cruise and Katie Holmes, Jackson was pictured backstage with stars like Angela Bassett, Alicia Silverstone, and Questlove, among other celebrities.