Magic Johnson Once Made The Mistake Of Angering An Older Wilt Chamberlain In A Pickup Game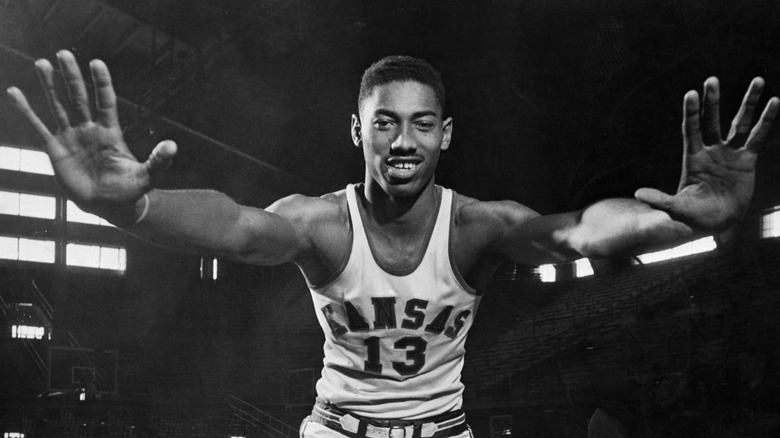 Bettmann/Getty Images
The NBA's Legends profile calls Wilt Chamberlain "the most awesome offensive force [basketball] has ever seen." He set numerous records throughout his career and was such a powerhouse that the league felt compelled to adjust the rules of the game. Team moves and trades saw him play with the Warriors, the 76ers, and finally the Los Angeles Lakers before he retired in 1973. But even after putting down his ball, Chamberlain remained in demand as a coach and possible backup player.
Chamberlain stepped down from the NBA just as Earvin "Magic" Johnson Jr. was developing his skills in high school. Johnson's nickname came from his school days, and after distinguishing himself in high school and Michigan State University, he was drafted by the Lakers in 1979. He was the first rookie player to win the NBA's Most Valuable Player (MVP) Award when he helped his team clench the championship in the 1979-80 season, and he led the Lakers to four more before retiring in 1991 due to HIV.
Johnson was recruited six years too late to play alongside Chamberlain on the Lakers. But the two had a chance to meet on the court in a pickup game at the UCLA Men's Gym in the 1980s. According to AP (via ESPN), Johnson was running the game when Chamberlain, then in his mid-40s, turned up. The younger Laker upset the veteran with foul calls — and soon had cause to regret it.
Chamberlain let nothing past him in the pickup game
In 2012, former UCLA coach Larry Brown told NBA TV the story of Magic Johnson's pickup game with Wilt Chamberlain and the clash of egos that played out with it. According to Brown, Johnson regularly organized and played in pickup games for students and former players. On the night that Chamberlain came to play, the teams worked out so that it was Chamberlain and four UCLA freshmen against Johnson, Bernard King, James Worthy, A. C. Green, and Byron Scott.
It doesn't seem the most even distribution of experience, but Brown's telling didn't paint a picture of a one-sided game. Things came down to game point, with Johnson taking the shot and Chamberlain on defense. The retired Laker blocked the shot, but Johnson called "game" and said that Chamberlain was guilty of goaltending, an illegal interference with a ball on its way to the basket. Chamberlain immediately protested, claiming he'd blocked Johnson cleanly. When Johnson tried to move on to the next game, Chamberlain appealed to Brown, who agreed that he'd performed a clean block.
Johnson protested Brown's ruling, claiming he was biased because his students were on Chamberlain's team, but he agreed to a rematch to 12 points. Chamberlain vowed to block every shot that came to his basket, and according to Brown, he did. Per Foobas Sports, Chamberlain's team won the rematch, leaving Johnson to sulk off the court.
Johnson and Chamberlain were both competitive in pickup games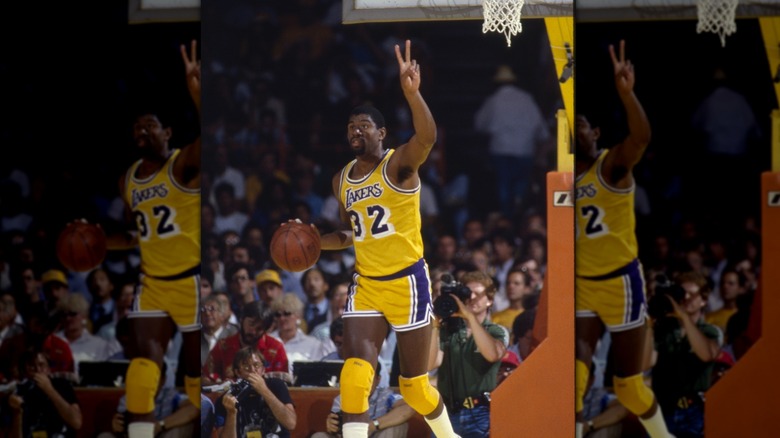 Bob Riha Jr/Getty Images
Magic Johnson wasn't the only person to walk away humbled from a pickup game with Wilt Chamberlain. According to NBA TV's Matt Winer, another veteran of the UCLA matches of the 1980s told him that Chamberlain was still a force on the court at 50, several years past his match with Johnson.
Johnson was the same way. Just like Chamberlain, he continued to mingle with fellow retirees and up-and-comers in pickup games after his retirement, and he played to win. In an appearance on "All The Smoke," former NBA player Paul Pierce shared an experience with some uncanny parallels to the famous Johnson-Chamberlain match. "The game is tied up, 6-6, we're going to seven," said Pierce. He was guarding Johnson, who missed his shot. But when Pierce and his team scored the winning point, Johnson insisted that it didn't count — that it was a foul. "I didn't even touch him!" Pierce told the podcast, bringing the host, himself, and his fellow guest to fits of laughter.
That fellow guest was Johnson himself, who explained his attitude thusly: "I always told [younger players] I'm gonna teach them one thing, and that's to understand that everything's not gonna go their way in the league. So the reason I called that foul was to make him stronger."