Who Is Murderer Taylor Schabusiness?
The following article contains disturbing descriptions of murder.
On September 26, 2023, Wisconsin resident Taylor Schabusiness was sentenced to life in prison with no chance of parole for the brutal murder and dismemberment of Shad Thyrion, the Associated Press reported. Sometime between February 22 and February 23, 2022, Schabusiness strangled, dismembered, and beheaded Thyrion, age 24, her former boyfriend. Afterward, Schabusiness deposited Thyrion's head at his mother's Green Bay, Wisconsin home. According to the Green Bay Press-Gazette, Schabusiness and Thyrion were under the influence of methamphetamine and other drugs when the murder happened. Because of Schabusiness' conduct with Thyrion's body after he died, she also faced third-degree sexual assault charges.
Schabusiness, then 24, was arrested on February 23, 2022, and pleaded not guilty by reason of mental disease or defect. After a short deliberation, a Wisconsin jury rejected her defense. Indicating the gruesome nature of the crimes, Brown County Circuit Court Judge Thomas Walsh said at Schabusiness' sentencing hearing (via the Green Bay Press-Gazette), "The offense in this case can't be overstated. In this case, you seem to run out of superlatives in describing what happened. This crime offends human decency, it offends human dignity, it offends the human community."
Criminal record and online search history
Prior to her 2022 arrest for Shad Thyrion's murder, Taylor Schabusiness was convicted for "fleeing, eluding, and obstructing a police officer" and sentenced to three months in jail with work-release privileges, possibly explaining why she was free from jail when Thyrion died, the Green Bay Press-Gazette reported. Around that same time, she allegedly removed a GPS-tracking ankle bracelet. According to the criminal complaint linked to the murder, Schabusiness told Green Bay Police Detective David Graf she didn't intend to kill Thyrion — the incident began as a sex game, and she said she "liked it" as Thyrion died. She said she lost consciousness at one point in the process. She also asked detectives if they knew what it was like to "love something so much that you kill it," the complaint states. 
Though she'd been diagnosed with mental health challenges in the past, in May 2022, Schabusiness was declared fit to stand trial, the Green Bay Press-Gazette reported. At the trial, prosecutors entered as evidence photos of serial killer Jeffrey Dahmer found on Schabusiness' phone as well as internet searches suggesting she admired the Milwaukee serial killer. This evidence supported the prosecution's assertion that Thyrion's murder was premeditated, The Independent reported. In February 2023, Schabusiness attacked her lawyer in the courtroom, who later asked to be removed from the case, per the Green Bay Press-Gazette. Meanwhile, she wore an apparent "spit hood" at her September 2023 sentencing hearing. Made from breathable fabric, law enforcement uses spit hoods to prevent someone in custody from spitting or biting, CNN reported in 2020.
The families speak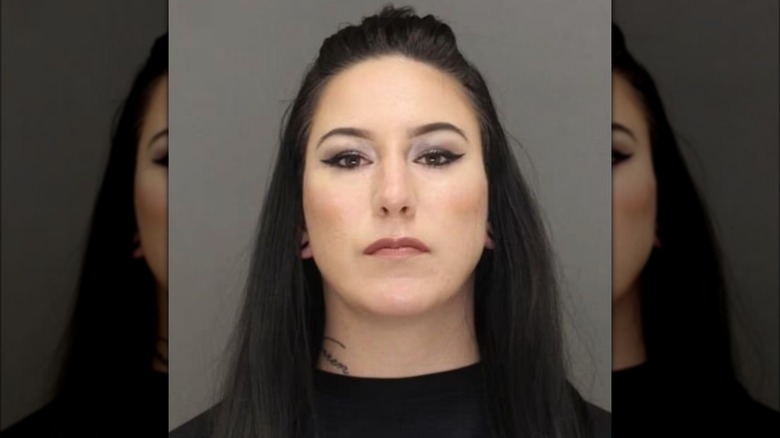 Brown County Jail
Taylor Schabusiness' family appeared in court at her sentencing hearing. Her father, Arturo Coronado, insisted his daughter wasn't a monster and her substance use issues turned her into a "zombie," per Law & Crime Network. In a video comment, Esther Coronado, Schabusiness' grandmother, added (per The Daily Beast), "I know that she committed a crime, and they want her to pay for it. But I believe she should have the opportunity to come back to society one time and be with her son."  Meanwhile, Michael Thyrion, Shad Thyrion's father, said in court (via the Green Bay Press-Gazette),, "Everybody makes bad choices and I think there's a lot of hope for you. I know you've got heart. I wish you no harm." However,  Shad's uncle, Kelly Thyrion, said in court, "I will pray that you meet the same fate as your idealistic Jeffrey Dahmer."
According to her April 2023 bail motion, Schabusiness was married to Warren Schabow when Thyrion was murdered. Schabow was in a federal detention center, the bail motion states. According to the document, the couple have a son named Mateo Coronado, who at the time lived in Texas with Schabow's grandparents. On February 22, 2023, Schabow wrote on Facebook, "Taylor Schabusiness might be locked up for a long time/forever, but that doesnt change the fact that shes my wife, im always gonna stand behind her no matter what ... if drugs were never given to her she would still be at home. but guess what, life has took a turn for everyone, now we all have to deal with the situation in our own way, which isnt good for anyone."
If you or anyone you know needs help with addiction issues, help is available. Visit the Substance Abuse and Mental Health Services Administration website or contact SAMHSA's National Helpline at 1-800-662-HELP (4357).
If you or anyone you know has been a victim of sexual assault, help is available. Visit the Rape, Abuse & Incest National Network website or contact RAINN's National Helpline at 1-800-656-HOPE (4673).