What The Final Year Of George Harrison's Life Was Really Like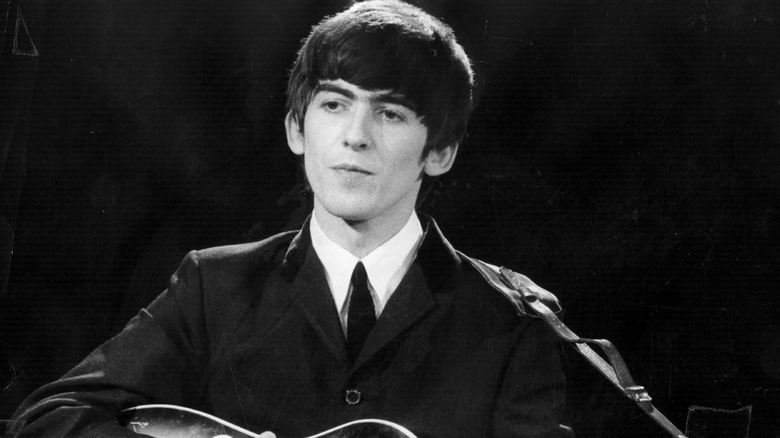 Fox Photos/Getty Images
Best known to fans as "The Quiet Beatle," George Harrison was never one whom you can accuse of being the least significant member of arguably the greatest rock band of all time. That's because for the most part, he let his instrument do the talking, playing lead guitar parts that perfectly fit the mood of the song, may it be another one of John Lennon and Paul McCartney's many compositions, one of the Beatles' many (mostly early-period) cover tunes, or one of the few songs where his name (or Ringo Starr's) appeared on the songwriting credits. He was also a key part of the band's evolution from radio-friendly pop-rock to psychedelic experimentation, as the sitar parts he brought to some of his compositions added a new dimension to the Fab Four's increasingly eclectic sound in the mid-'60s.
Sadly, Harrison was also the second Beatle to die, having passed away from cancer on November 29, 2001. The news may have come as a shock to some fans who may not have been fully aware of his medical issues, as little less than a year before his death, he was promoting a special anniversary edition of his first post-Beatles release and making cameo appearances on his friends' albums. Here's a closer look at the last year of George Harrison's extraordinary life.
Harrison ended 2000 with an in-depth interview with Billboard
Chris Walter/Getty Images
The year 2000 ended on quite a high note for George Harrison, who had been through quite a lot in the years prior. In 1997, he was found to have throat cancer, and while he successfully underwent treatment for the illness, he suffered injuries after a home invader stabbed him in the chest toward the end of 1999. Almost exactly a year later, he was speaking to Billboard's Timothy White, in good spirits and ready to discuss various topics, particularly the upcoming 30th-anniversary reissue of his 1970 triple album, "All Things Must Pass."
In addition to confirming that he was doing well and talking White through several tracks from the soon-to-be-reissued album, Harrison also offered some hints regarding his future plans in music. The former Beatle said that he was hoping to remaster the other albums in his catalog, as well as the songs he recorded as part of the late '80s supergroup the Traveling Wilburys. Additionally, he teased a potential timeline for his next solo release — his first since "Cloud Nine" in 1987. "I hate to predict things, but the next new album will possibly be by November of next year," Harrison said, later adding, "It's not going to be the end — it's going to be one of lots of records ... Then I'll go on holiday again."
The All Things Must Pass reissue: A remixed, stripped-down version of a classic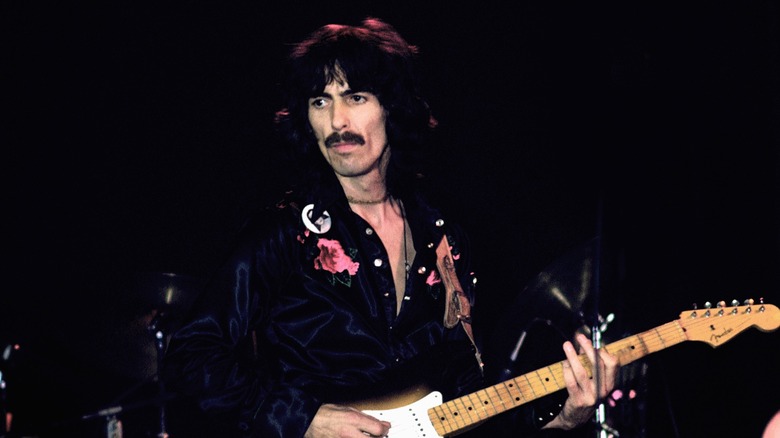 Robert Altman/Getty Images
He may have been a little late, considering the record originally arrived in the last week of November 1970. But George Harrison re-released "All Things Must Pass" on January 23, 2001, offering listeners a remixed take on the songs that made up the original triple album. The reissue also had five bonus tracks, including "Beware of Darkness," an acoustic-tinged dig at controversial former Beatles manager Allen Klein, and "I Live for You," a ballad that failed to make it onto the original "All Things Must Pass."
In the liner notes to the reissued "All Things Must Pass" (via Album Liner Notes), Harrison explained that he was motivated to strip down the songs he recorded some three decades prior because he ultimately grew uncomfortable with the bells and whistles producer Phil Spector added while working on the original triple album. "All these years later I would like to liberate some of the songs from the big production that seemed appropriate at the time, but now seem a bit over the top with the reverb in the wall of sound," Harrison wrote. "Still, it was an important album for me and a timely vehicle for all the songs I'd been writing during the last period with The Beatles."
He did session work for his fellow '60s and '70s rock stars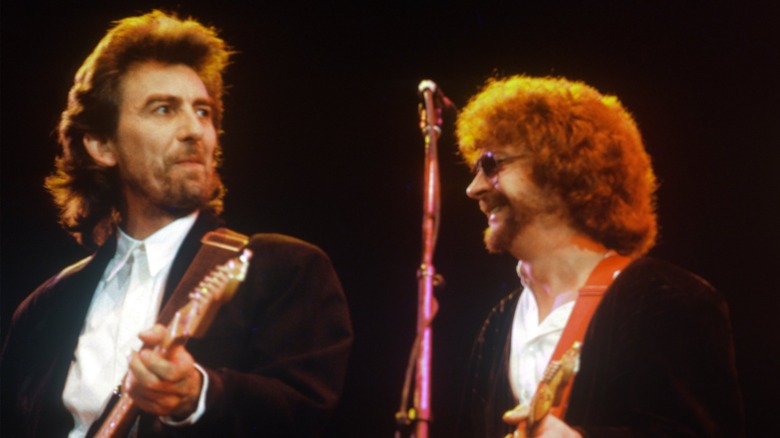 Fg/bauer-griffin/Getty Images
George Harrison wasn't just busy remixing his old solo recordings and working on new ones for his next album. He was also helping other classic rock icons by doing session work on their records. One example was the double-CD release "Double Bill," which was released by former Rolling Stones bassist Bill Wyman and his backing band, the Rhythm Kings, on April 23, 2001. Though it was quite noteworthy to see ex-members of the two biggest bands of the 1960s British Invasion working together, "Double Bill" also featured other reputable musicians such as former Procol Harum keyboardist Gary Brooker, veteran session guitarist Albert Lee, and '60s hitmaker Georgie Fame.
Harrison's guitar work was also heard in another album that saw a release in the first six months of 2001. He played slide guitar on Electric Light Orchestra's "Zoom," which came out on June 12, 2001. This was far from the only instance where Harrison collaborated with ELO frontman Jeff Lynne in one way or another; Lynne produced Harrison's 1987 album "Cloud Nine," and the two later teamed up with fellow legends Tom Petty, Roy Orbison, and Bob Dylan in the Traveling Wilburys. 
Harrison's lung cancer diagnosis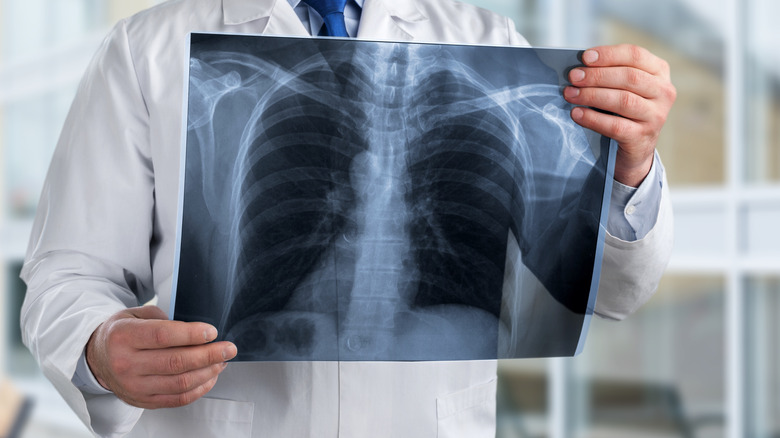 Billion Photos/Shutterstock
George Harrison was, by the looks of things, quite a busy man in the first few months of 2001. Sadly, the musician suffered a serious setback in the spring of that year when he underwent surgery at the Mayo Clinic for a cancerous lump that was found in one of his lungs.
The operation was successful, and Harrison's lawyer issued a statement in May confirming the former Beatles guitarist was in great shape.  "George Harrison recently underwent an operation on one of his lungs at the Mayo Clinic in the US," the lawyer stated, as quoted by The Independent. "The operation was successful and George has made an excellent recovery. He is in the best of spirits and on top form — ­the most relaxed and free [he's been] since the attack on him since 1999."
Harrison's lawyer also added a bit of levity to the situation, referencing the names of two of the musician's most beloved solo albums as they continued their statement. "Although All Things Must Pass Away, George has no plans right now and is still Living in the Material World, and wishes everyone all the very best, God bless, and not to worry," they continued.
He told fans he was 'feeling fine' after radiation treatment for a brain tumor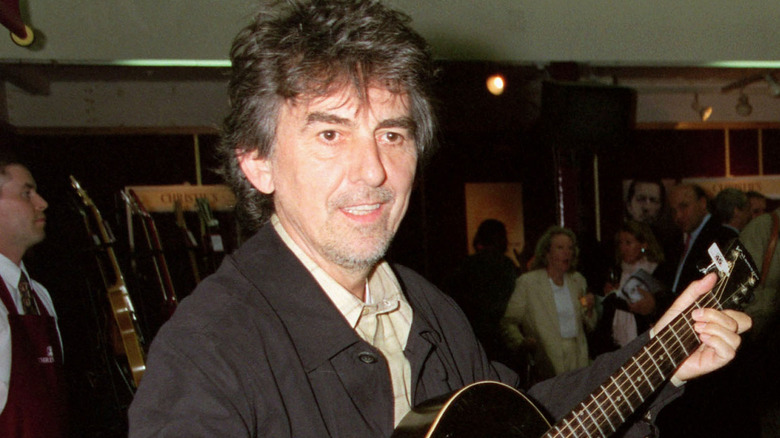 Dave Benett/Getty Images
The summer months of 2001 saw yet another concerning health update come in for George Harrison. As reported by the Chicago Tribune in July, Harrison was at the Oncology Institute of Southern Switzerland in Bellinzona in May and June, where he underwent radiation treatment for a tumor that had been spotted in his brain."Mr. George Harrison was referred to the hospital to undergo a course of radiotherapy. Harrison successfully completed this course more than a month ago and we foresee no need for further treatment here," read a statement issued by cancer specialist Dr. Franco Cavalli. The hospital's director, Luca Borner, cited patient confidentiality in explaining why he cannot issue his own statement on Harrison's health.
For his part, Harrison wanted to reassure fans and let them know in a statement (via ABC News) that he was still in good shape. "I am feeling fine, and I am really sorry for the unnecessary worry which has been caused by the reports appearing in today's press," the singer-guitarist said. "Please do not worry."
Harrison debunked rumors that he was close to death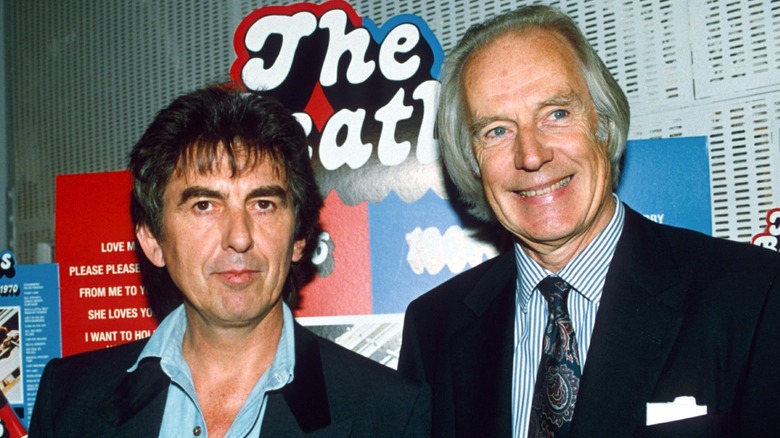 Brian Rasic/Getty Images
It wasn't long after the news of George Harrison's radiation treatments broke that the Daily Mail cited former Beatles producer George Martin, who supposedly told the publication that the singer-guitarist was close to death. During this interview, Martin was quoted as saying that Harrison "knows he is going to die soon and he's accepting it perfectly happily." The outlet also cited unnamed experts who spread nothing but doom and gloom, stating that cancerous brain tumors have a better chance of being fatal if they appear as secondary to lung cancer, and that regardless of whether or not the treatment is successful, most patients only have about five months to live.
However, the Daily Mail report was quickly debunked by Adam Sharp of George Martin Music, who appeared on "Good Morning America" on July 25, 2001 (via ABC News), and said that Martin didn't actually give that interview to the Daily Mail.
Harrison and his wife, Olivia, also issued their own statement to the press, dousing even more cold water on the ex-Beatles producer's purported claims. "The reports were unsubstantiated, untrue, insensitive, and uncalled for, especially as Mr. Harrison is active and feeling very well in spite of the health challenges he has had this year," the statement read.
He kept working on his final album despite his illness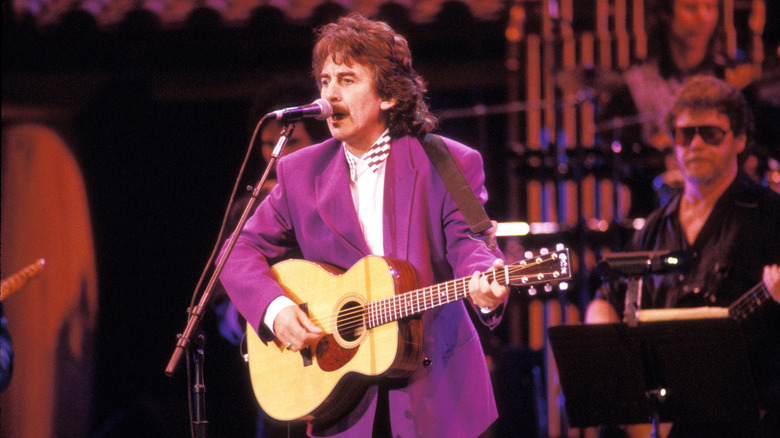 Kmazur/Getty Images
"Brainwashed," the same album that George Harrison was hyping up in his December 2000 Billboard interview, would turn out to be his last. But even as he dealt with his declining health, he did what he could to work on the songs that would appear on the record, which was posthumously released in November 2002 with the help of producer Jeff Lynne and Harrison's son, Dhani. All told, "Brainwashed" took almost 15 years to complete, with the first song for the album recorded way back in 1988.
"His life was in those final songs, the things he got up to each day, like riding down the River Thames," Lynne told Uncut in May 2020 (via Scribd). "Lots of very personal stuff. Some of them are really good." 
Jim Keltner, who played drums on "Brainwashed," recalled having an easy time playing over the vocal and guitar tracks Harrison recorded. He also shared his memories of the last time he and his wife saw Harrison. "He said, 'You'll never know what you've meant to me, Jim,' and gave me a big hug," Keltner said. "I said, 'Oh, you'll be around longer than me, man!' When we drove off, my wife said, 'You know he was saying goodbye to us, don't you?'"
Harrison's last single was a collaboration with Jools Holland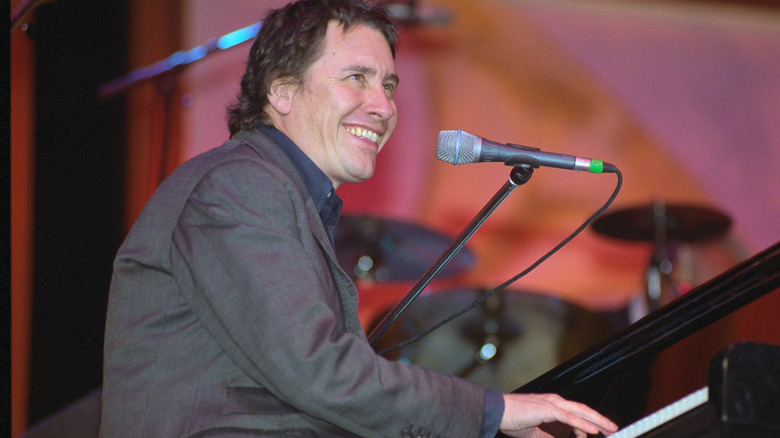 Rune Hellestad - Corbis/Getty Images
Just as he was doing what he could to work on new material for "Brainwashed" amid his health crisis, George Harrison continued lending a helping hand to his musical friends. "Horse to the Water" was the very last single he recorded, a collaboration with TV host and former Squeeze keyboardist Jools Holland (pictured above). The song was written by George and Dhani Harrison and recorded by Holland and the former Beatles axeman at the latter's home on October 1, 2001. A spokesperson for Holland described "Horse to the Water" to MTV as being influenced by John Lennon and Bob Dylan, though one could also argue after hearing the song that it feels right at home in Harrison's solo discography.
"Horse to the Water" got a U.K. single release and appeared on Holland's album "Small World Big Band," which was released later in October. The song, however, had a darkly humorous, yet chilling credit; instead of listing his Harrisongs publishing company, Harrison used the name "RIP Ltd., 2001," perhaps an acknowledgment of sorts that he knew the end might be near.
More radiation treatment in New York
Jazzirt/Getty Images
On November 9, 2001, ABC News reported that George Harrison would be receiving another round of radiation treatment for his brain tumor, this time at Staten Island University Hospital in New York. The procedure, known as fractionated radiation therapy, had been around for about four decades at that time and was designed in such a way that the radiation would only target the growth, thus avoiding healthy sections of brain tissue whenever possible. However, the outlet stressed that the treatment was likely too little, too late for Harrison, as his lung cancer was still spreading. The brain tumor was, in fact, one that had metastasized from his cancerous lung. 
While Harrison's physician, Dr. Gil Lederman, said that the procedure had a 90% success rate, Dr. Stephen Tatter, co-director of the Wake Forest University Gamma Knife Center, clarified that the figure didn't exactly mean the musician had a very good chance of surviving. "A lot of those things end up being a function of how long the person lives," he explained. "If you die before your brain tumor comes back that's considered success, but it's not really success, obviously. If you look at actuarially adjusted success rates they're significantly lower; about 60 percent after one year."
Another doctor, Robert Fenstermaker of the Roswell Park Cancer Institute in Buffalo, offered his own grim prognosis, telling ABC News that it's usually the main form of cancer that ends up killing the patient, as opposed to the metastatic brain tumor.
McCartney and Starr's final meeting with Harrison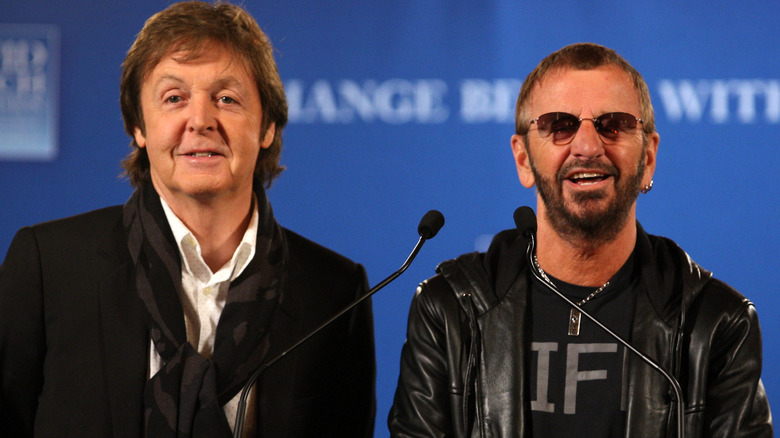 Bryan Bedder/Getty Images
As reported by the Daily Express, the three surviving Beatles got one last chance to catch up with each other on November 12, 2001, when Paul McCartney and Ringo Starr visited George Harrison at his hotel room in Manhattan. The publication described the three musical legends reminiscing about their older days and having a good time, and in an interview with the outlet, Harrison's doctor, Gil Lederman, shared his observations on the bittersweet Beatles mini-reunion that took place.
"There were some tears," Lederman admitted. "But there was more laughter than anything else." He went on to describe the meeting as spirited as opposed to depressing. "There were lots of laughs and lots of fun. They spent hours reminiscing ... George remained very much the man of dignity. At the end, after both Paul and Ringo had left, [George] was fine and calm. He was a very happy man. This meeting meant so much to him."
Lederman's account was corroborated by an unnamed friend of the surviving Beatles, who said that Harrison was indeed happy, though he likely expected the visit to mark the last time he would see his former bandmates.
Harrison left a legacy as one of his era's finest guitarists and an underrated songwriter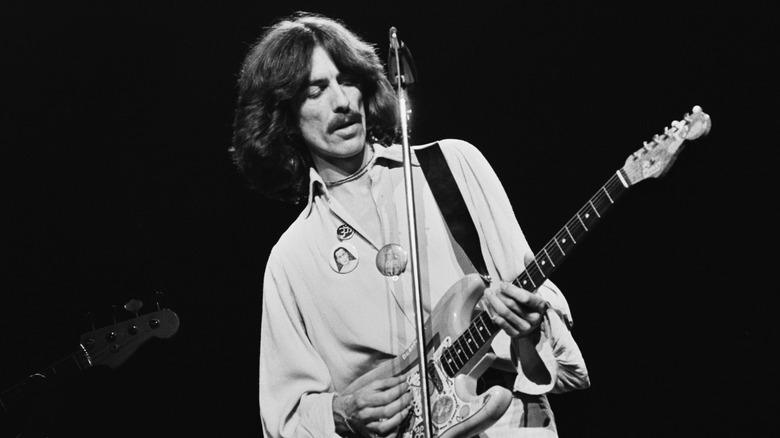 Steve Morley/Getty Images
On November 29, 2001, George Harrison, then only 58 years old, died in Los Angeles at a friend's home. He was survived by his wife, Olivia, his son, Dhani, and three siblings, and mourned by legions of fans who paid their respects to the late musician by turning up at various places that make up an important part of Beatles lore. Many musical friends and peers, including Paul McCartney, Ringo Starr, and Mick Jagger, also shared their tributes to Harrison in the hours that followed his passing.
While he wasn't anywhere as prominent as a lead singer and songwriter in the Beatles as the duo of John Lennon and Paul McCartney, Harrison wrote and sang some of the band's most recognizable tunes, including "Something" and "While My Guitar Gently Weeps." Then there was his solo career — plagiarism accusations on "My Sweet Lord" aside, Harrison remained a brilliant songwriter whose spirituality informed much of his work. His humanitarian efforts, particularly his 1971 benefit concert for refugees in Bangladesh, also deserve a lot of recognition even up to this day.
Perhaps one of the more poignant tributes to Harrison came from a much more contemporary artist, Smashing Pumpkins frontman Billy Corgan. "George was a good and humble man who believed in the power of love to overcome all adversity," he told MTV. "He lived his life without asking anything for himself, and his courage to quietly remind us that God created a world for peace and compassion has had a profound effect on all of our lives."