Why Kevin McCarthy's Removal As House Speaker Is So Historic (And What Does It Mean)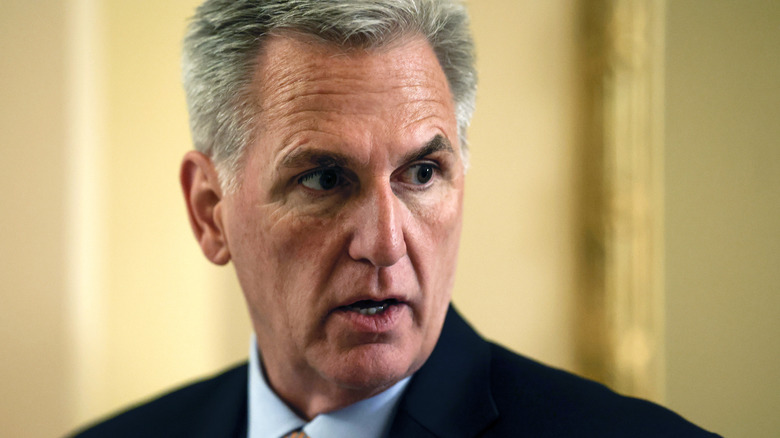 Anna Moneymaker/Getty Images
In a historic moment, the Speaker of the U.S. House of Representatives, Kevin McCarthy, was forced from his position in a 216 to 210 vote, ABC News reports. The first vote of its kind in American history, the motion to remove the Republican from California came just days after the House approved a federal budget under McCarthy's leadership with concessions to Democrats, according to The Associated Press. Florida Representative Matt Gaetz, and frequent far-Right critic of McCarthy, brought forth the resolution, reportedly displeased by McCarthy's willingness to reach across the aisle on spending cuts to allow the federal government to remain open. 
After the vote, CBS News reported that North Carolina Republican Patrick McHenry was named speaker pro tempore, picked from a list McCarthy provided in advance of the vote, per the rules of Congress. In uncharted waters, the House then went into recess to discuss each party's potential list of candidates for McCarthy's replacement and develop a timeline for a vote on his successor, according to NPR. To find the next Speaker, Republicans only require a simple majority to put forth a nominee. 
Other Republican names floated as the possible next Speaker of the House include Representatives Tom Emmer and Steve Scalise. Meanwhile, Maryland Democrat Jamie Raskin said Democrats might nominate House Minority Leader Hakeem Jeffries. With the Republicans in control of the House, however, a Jeffries win would require some Republicans to vote against their party.
The next Speaker of the House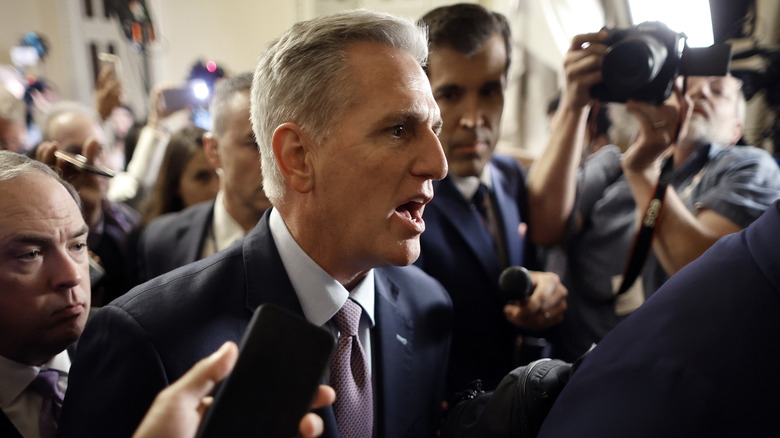 Chip Somodevilla/Getty Images
in January 2023, McCarthy barely won the Speaker position after 15 rounds of voting. Still a member of the House, McCarthy could in fact run again, but has, however, indicated he has no plans to do so. Florida Republican Matt Gaetz, who led the charge against McCarthy, also indicated he won't run. If McCarthy had decided to run again, Oklahoma Republican Kevin Hern said, "I'll continue to support Kevin McCarthy as long as he's running," The New York Times reported. Georgia Republican Representative Marjorie Taylor Greene, who voted against Gaetz's resolution said, "No one has the support in the conference like Kevin McCarthy does."
In the vote, eight Republicans switched sides to vote against McCarthy. Apart from Gaetz, the Republicans who voted to remove McCarthy were Arizona Representatives Andy Biggs and Eli Crane, Colorado's Ken Buck, Tennessee's Tim Burchett, Virginia's Bob Good, South Carolina's Nancy Mace, and Montana's Matt Rosendale. House Democrats all voted in support of Gaetz's resolution. On a House with no speaker, Catholic University Professor Matthew Green told CBS News, " ... [W]ithout somebody in charge, it's hard to see the House Republicans being able to bring much to the floor in the first place."