What Happened To Bob Marley's Ex-Girlfriend Esther Anderson?
It is easy today to think of the early life of Wailers' frontman Bob Marley as that of a legend waiting to happen. His songs are now so timeless and his image so iconic that for many music fans today it is almost as if he came into the world fully formed. But the fact is that the reggae great needed guidance and support from the people around him. One of those people was Esther Anderson.
Anderson is a multi-talented young woman from Jamaica who helped Marley connect with his Jamaican identity and find his voice. She worked for the famous label Island Records, to which Marley and the Wailers were signed, and later established herself as an actress — especially in Britain, where she lived for a period with the singer in the early 1970s. In 1973, she won the NAACP Image Award for best actress for her role in "A Warm December" alongside the legendary Sidney Poitier.
Anderson was also a keen photographer and continued to be so in later life, also making her name as a filmmaker.
[Featured image by Giangodoy via Wikimedia Commons | Cropped, scaled, and enhanced | CC BY-SA 3.0]
Sharing her time with Bob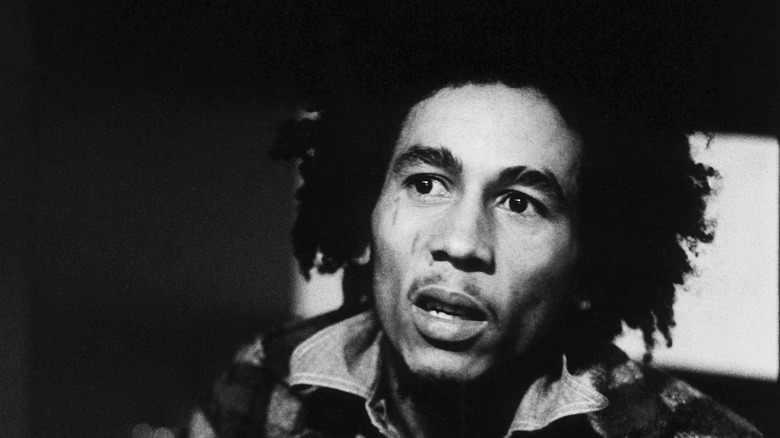 Michael Putland/Getty Images
Esther Anderson's name has become so closely linked to that of Bob Marley — with whom she had a relationship for only about two years — due to the guiding hand she had in his career and the intimate insights she offers into the reggae icon's formative years through her recollections and her art. Their relationship and the development of Marley's art was later revealed in the 2011 documentary "Bob Marley: The Making of a Legend," which featured original footage Anderson had shot during the early years of the Wailers (per Alt A Review).
One aspect of Anderson's life that has stayed in demand over the decades is her photography, particularly the pictures she took of Marley in those early days. In 2016, Anderson's long career as a photographer came to the fore thanks to the opening of a new London exhibition of her works: "Bob Marley: A Rebel Prophet." Regarding her pictures, Anderson said at the time (via Fad Magazine): "My work is not pandering to those who know Bob Marley as a music icon. My photographs reveal Marley beyond the bounds of a musician, as the messenger who could reach out to a global audience, a poet of past and future."
Her home was nearly repossessed
Despite having a successful career and a famous face in the community, Esther Anderson has faced troubles in recent years, not least when it comes to preserving the property that she shared with Bob Marley in the early 1970s. In March 2020, she appeared in several news reports from outlets including The Guardian, which revealed that her home in Cheyne Row, Chelsea, London — where she has lived since buying the property in 1968 — was due to be repossessed. According to Riddim Style Magazine, her eviction comes as a result of her failing to pay service costs on the property, but Anderson has countered that the charges are "inflated."
She set up a GoFundMe fundraising page to help her cover the costs, writing: "Every night for the past month I have gone to bed in tears, anxious, in a state of disbelief. It has been so upsetting and nerve-wracking... I can barely sleep and know I have to overcome this nightmare somehow." At the end of the month, Anderson published a message of thanks on the page, informing her friends and allies that the funds had helped to cover the costs, and that they had managed to save the property — but that she would continue to campaign to ensure others don't face the same fate in the future.