Katharine Hepburn And John Wayne's Political Feud Explained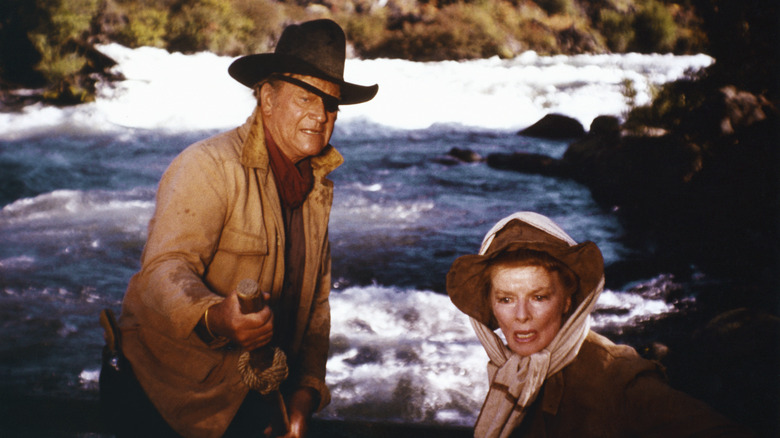 Sunset Boulevard/Getty Images
In the late 1940s and early 1950s, Hollywood was at war with itself during a time that would become known as the Red Scare. On one side, rabid anti-communists backed the U.S. House Un-American Activities Committee (HUAC) in its investigations into alleged Communists in America. Among these conservatives were Ronald Reagan and John Wayne. On the other side, left-leaning actors like Humphrey Bogart and Katharine Hepburn spoke out against what they saw as the overreaching of HUAC, especially in regard to their colleagues in the film world who would become known as the Hollywood Ten.
These 10 men — including the novelists and screenwriters Ring Lardner and Dalton Trumbo — were blacklisted by the industry's moguls and jailed by the U.S. government for contempt of Congress for refusing to answer questions regarding their political beliefs.
Political opposites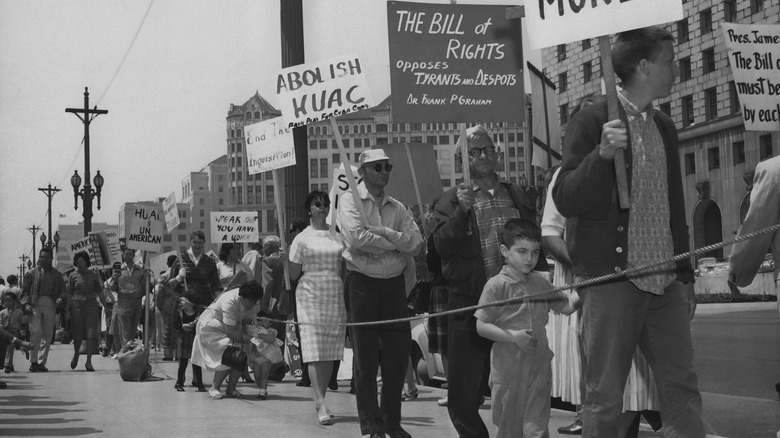 Camerique/Getty Images
By the late 1940s, John "Duke" Wayne was an outspoken conservative and anti-communist. He helped found the Motion Picture Alliance for the Preservation of American Ideals, which backed HUAC's activities and was pro-blacklisting. Katharine Hepburn was on the opposite end of the political spectrum and spoke out against HUAC. She even gave a speech in which she called its activities a witch hunt that was backed by Wayne's organization, saying she "wanted no part of their ideals," per "Kate: The Woman Who Was Hepburn." She also sent the federal parole board a letter in support of Ring Lardner, one of the Hollywood Ten.
Even so, in 1953 Wayne offered her a part in his next film "Hondo," a 3D Western. According to author Douglas Brode in "John Wayne's Way: Life Lessons from the Duke," the move disproves the long-held belief Wayne banned left-leaning actors from his films. Per The San Francisco Examiner, Hepburn initially expressed interest in the part, but she later backed out. Some sources — including "John Wayne: A Photographic Celebration" — believe Hepburn turned down the role because of her political differences with Wayne.
They avoided politics when working together
Screen Archives/Getty Images
Twenty years after Katharine Hepburn turned down "Hondo," she and John Wayne finally shared the screen in her first Western. When the news broke that the two would be working together on the 1975 film "Rooster Cogburn," many believed there would be "fireworks" on-set because of their very different politics, according to "John Wayne: American." It turned out that the two hit it off in this sequel to "True Grit." During the filming, the pair held hands, laughed a lot, and poked each other in the ribs, per the Calgary Herald.
The secret was to avoid politics altogether. "Coming from two different political camps, these rugged old-timers simply avoided controversial subjects, and chose to enjoy each other's company," writes A. Scott Berg in "Kate Remembered." The only indication there was any friction between the two came in a joking manner during an on-set birthday party for producer Hal Wallis in which they served a liberal amount of champagne. "I'm glad I didn't know you with two lungs," Hepburn told Wayne (via "Duke: The Life and Image of John Wayne"). "You really must have been a bastard. Losing a hip has mellowed me — but you!" Wayne had lost a lung to cancer, and Hepburn had just had a hip replacement.