John Stamos Is A Bigger Fan Of Elvis Than You Realize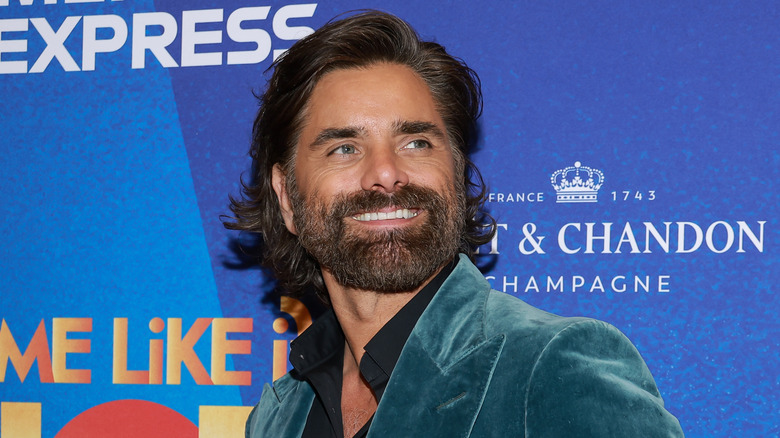 Jason Mendez/Getty Images
John Stamos's effortless charm was one of the most memorable aspects of the hit show "Full House," the ABC sitcom that ran from 1987 to 1995 and made its stars such as Stamos and Bob Saget household names. As Uncle Jesse Katsopolis, Stamos, who was in his early 20s when the show first aired, became something of a scene-stealer, much like Henry Winkler's Fonz character in "Happy Days."
One of the defining characteristics of Uncle Jesse is his love of Elvis Presley, a part of his personality that came through in the very first season and remained part of the character thereafter. In Season 4, Jesse is convinced that he and his fiancee Becky should be married in the Presley family homestead, Graceland. Even the name Jesse is reportedly a homage to a little-known tragedy that befell the beloved performer. Elvis actually had a twin brother, who, sadly, was stillborn. This brother — whom Elvis evoked throughout his life — was named Jesse. But the Elvis fandom wasn't fiction; Stamos himself is a huge Elvis fan, and his love of the King has shone through repeatedly over the years.
John Stamos' perfect Elvis impression
As anyone who has seen "Full House" knows, Uncle Jesse's Elvis Presley obsession often manifested itself in eccentric ways, including the character's attempts to secretly dress up as the King of Rock 'n' Roll. In a later season, Uncle Jesse performs an almost perfect Elvis impression on stage, suggesting that Stamos could have made it as a full-time impersonator if the comedy acting hadn't worked out.
The quality of Stamos' impressions belie the fact that the actor himself is also an Elvis fanatic, who first stirred his imagination in his early years. "I think the first time I saw him, the word 'supernova' came into my head," Stamos recalls, according to Billboard. "I was just immediately in awe. He had it all. Nobody's had it all. People have good voices, or they're good looking, or they're charismatic, or they're good people, but it's the combination."
Stamos' personal love for Elvis and his music meant he remained associated with the late star throughout his career. In 1994, the actor and musician hosted a high-profile tribute to Elvis featuring dozens of performers which took place at the Pyramid Theater in Elvis Presley's hometown of Memphis, Tennessee. In 2019, Stamos revealed that his affinity with his idol is so great that his toddler son Billy got the two of them confused in pictures, per Oprah Daily.
A familiar voice at Graceland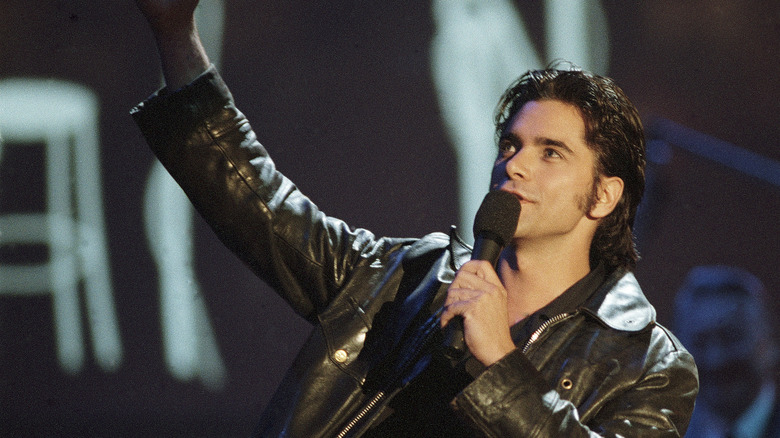 Rick Diamond/Getty Images
Many Americans will have fond memories of John Stamos' uncanny Elvis impersonations on "Full House," and Elvis devotees who make the pilgrimage to Graceland, the King's sprawling ranch in Memphis, Tennessee, will find reminders of John Stamos' real-life Elvis obsession there too.
In 2014 Stamos became the "voice of Graceland," narrating Elvis' story for visitors who opt to take iPad tours of the King's former home, which is now a museum to his life and legacy. Per Graceland's website in 2023, Stamos is still voicing the tour. In addition, Stamos has appeared in person at Graceland, most notably donning an Elvis get-up to turn on the festive lights for the holidays in front of a crowd of visitors, according to Billboard. 
Stamos is an avid collector of memorabilia and has used his links to Elvis' famous home to take possession of several pieces that would make any fan jealous, including a pair of Elvis' sunglasses and an impressive gold ring. "I visited Graceland and I didn't go home empty-handed, let's just say that," Stamos told "Live with Kelly and Mark" (via YouTube).