Where Is Pauly Shore Now?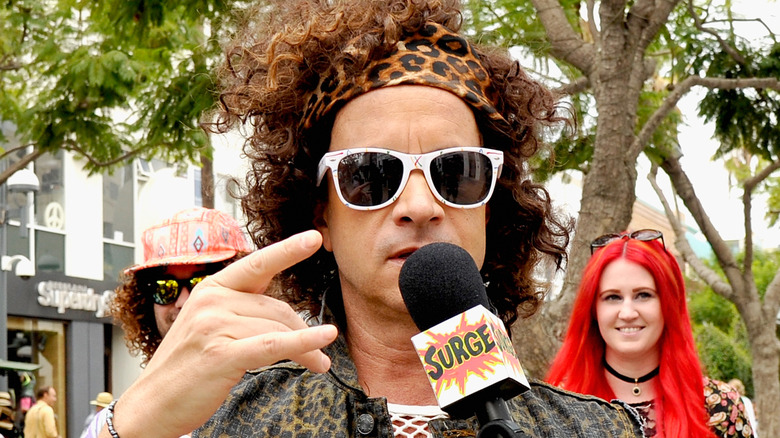 John Sciulli/Getty Images
Pauly Shore will probably be forever associated with the 1990s. He rocketed to fame in that decade as a stand-up comedian and MTV personality, embodying the persona of a squirrelly, wiggly, surfer-hippie he called "the Weasel." In 1990, Shore began hosting the weekday magazine show "Totally Pauly." Appealing to kids, teens, and adults with his slow-talking, self-assured schtick, Shore took his act (if not his catchphrase, "buuuuuuddddy") to the movies, and starred in a string of youth-oriented comedies that became cult classics. For most of the '90s, each year brought with it a new, silly Shore movie, like "Encino Man," "Son in Law," "In the Army Now," and "Jury Duty."
Never a major box office phenomenon or a critical favorite, Shore's star power faded a bit when the '90s — and everything that came with it culturally — moved on, but Shore kept trudging along as a comic, occasional actor, TV star, and Hollywood presence. Here's how Pauly Shore has kept himself entertaining over the last two decades or so.
Pauly Shore hosted his own podcast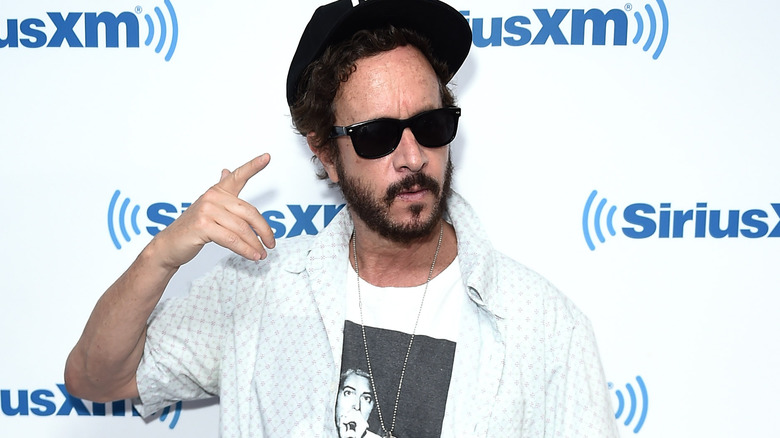 Steven Ferdman/Getty Images
In the mid-2010s, Pauly Shore joined the digital media explosion and embraced a contemporary, do-it-yourself aesthetic. In 2014, he launched his official website along with an associated podcast, "Pauly Shore's Interested." Shore set out to have probing conversations with other comedians and Los Angeles-based celebrities, and his first episode's guests included comic Rick Overton and actor Ed Begley Jr., and paid tribute to Shore's friend, the recently deceased Robin Williams. 
Shore recorded 19 episodes of "Pauly Shore's Interested" in 2014 and 2015 before abandoning the format — an interview with a guest, then another celebrity commenting on the first segment — in favor of a new podcast with a more straightforward format. The comedian recorded and released 27 episodes of "The Pauly Shore Podcast Show." Structured like a radio variety show with music, commentary on the news, and guests that ranged from comedian Nick Kroll to "Shark Tank" shark Daymond John to musician Ziggy Marley, "The Pauly Shore Podcast Show" wrapped up its run in the fall of 2015. In 2023, Shore returned to self-distributed content with a 10-episode YouTube series called "Hooray for Paulywood," a combination of scripted comedy and celebrity collaboration.
He fought a famed director in court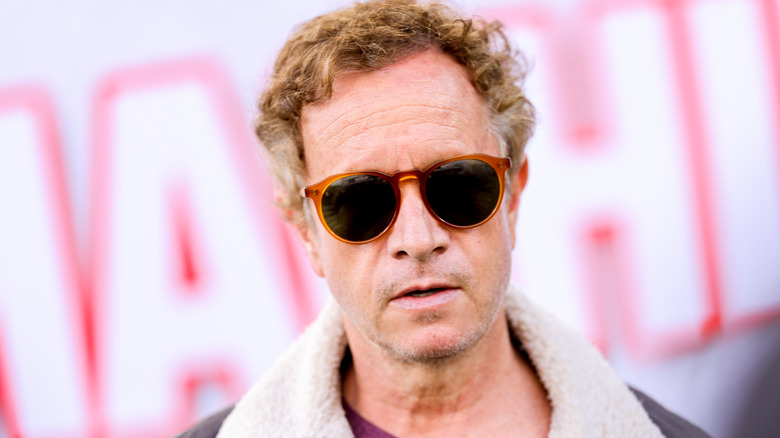 Matt Winkelmeyer/Getty Images
For a while in the mid-2000s, Pauly Shore spent a lot of his time and resources in law offices fighting a lawsuit filed by a neighbor. At the time, Shore lived on a hillside in Hollywood Hills, outside of Los Angeles, directly above "A Nightmare on Elm Street" director Wes Craven. In June 2007, Craven and his attorney filed a lawsuit against Shore in Los Angeles Superior Court, complaining that Shore had made so many improvements to his property that it fundamentally damaged the slope in between the homes and created substantial damage to Craven's property. Shore's construction of a pool and spa, along with extensive landscaping, Craven alleged, led to the redirection of groundwater, which flowed downward and then settled and upset the director's land.
As part of the legal proceedings, Shore had his land inspected, and that prompted him to file a countersuit against Craven. Shore alleged that the destruction of the slope was actually Craven's fault, and that it had hurt the comedian's property. Alleging nuisance and negligence, Shore claimed that the hillside was destroyed because Craven didn't keep up with supportive landscaping and failed to get rid of colonies of rodents inside the hill. At the request of Craven's lawyer, the judge dismissed the countersuit. The matter entered mediation in August 2008 and was settled days before a courtroom hearing. In the end, Shore was liable to cover some of the expense of fixing the hill.
He got into mockumentaries
Jeff Kravitz/Getty Images
With a long career as a touring comedian and fringe celebrity, Pauly Shore is arguably more famous in the 21st century for being himself than he is for any of his movie roles. As such, he made two fake documentaries in which he played a heightened version of himself and engaged in some mockery of himself and Hollywood culture. In 2003, Shore co-wrote and co-directed the jaded showbiz satire "Pauly Shore Is Dead." The mockumentary, which received medium-positive reviews, centered on a desperate Shore attempting to revive his stagnating career by staging his own death. Shore won the Audience Choice Award for Feature Film at the 2003 Slamdunk Film Festival, and the film secured a very limited theatrical release at one theater in September 2004, earning $11,000.
Five years later, Shore wrote, directed, and starred in "Adopted." Critiquing the era's trend of celebrities using the adoption of children from the developing world as a form of self-publicity, Shore played Pauly Shore, diminished Hollywood star and attention-seeking new parent of two children from Africa. Critics loathed "Adopted," and it didn't enjoy a significant theatrical release.
Pauly Shore made a serious documentary about comedy
After making two scripted, fake, comic documentaries, Pauly Shore took the skills he learned on "Adoption" and "Pauly Shore Is Dead" and used them on a work of actual nonfiction filmmaking about the life of a comic. Shore directed and appeared as the central subject in 2014's "Pauly Shore Stands Alone." A self-portrait of himself at a particular point in his life, and about the life of a comedian, the decidedly not-funny documentary depicts Shore's work as a touring comedian, playing small venues in the Midwest in the winter. The film additionally shows Shore transitioning his seriously ill and 80-something mother out of her home, and sharing some of her last years with her before her death in 2018. 
"The tour was booked, and I was going through a peculiar time. I was happy on the road as opposed to being home, which is difficult because of my mom's illness. I just hired a crew and shot it," Shore told Deadline. "The film was my way to express myself more comfortably." Showtime bought the rights to "Pauly Shore Stands Alone" and first broadcast the documentary in December 2014.
He wants to make Bio-Dome 2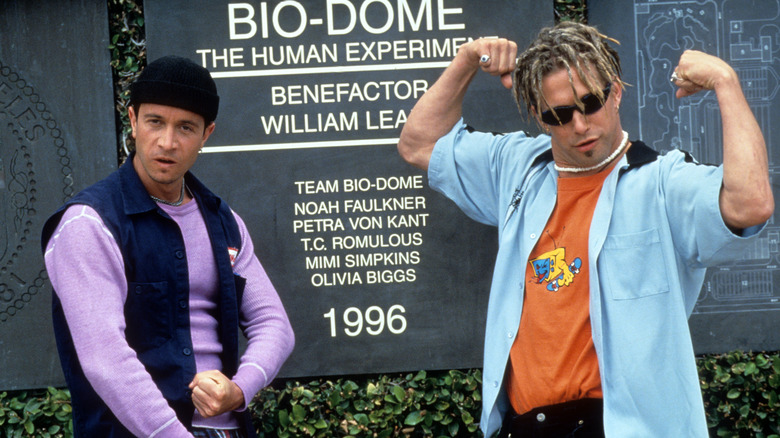 Mgm Studios/Getty Images
Pauly Shore hit his career stride in the 1990s, taking his spaced-out stoner-surfer California character to the big screen by starring in a string of movies that included "Encino Man," "Son in Law," "In the Army Now," and "Jury Duty." The last entry in this unofficial sub-genre: 1996's "Bio-Dome," in which Shore starred as Bud Macintosh, one of two slackers who wind up inside a desert-set environment simulation experiment (inspired by the real-life Biosphere 2).
"Bio-Dome" was a massive commercial and critical flop, earning $13 million and a 4% score on Rotten Tomatoes. It was one of the worst box office performers of Shore's '90s films, and one of his most critically savaged, too. Nevertheless, the stars of the film seem committed to making a sequel happen. "Pauly and I are ready, and I have the money now with my new company," co-star Stephen Baldwin told Variety in 2017. "Let 'Bio-Dome 2' live!"
In August 2021, Shore addressed the idea on the platform X, then known as Twitter. "I would definitely do the sequels to all my movies. I loved all my movies," Shore said in a video. "Stephen Baldwin texts me every day, going, 'let's do Bio-Dome 2.'" Shore pointed out that while he and Baldwin are enthusiastic, the decision on a "Bio-Dome" sequel isn't up to the actors, but rather the rights-holders, and he urged his followers to contact the studios to demonstrate interest in a reboot.
Pauly Shore took over the family business for a while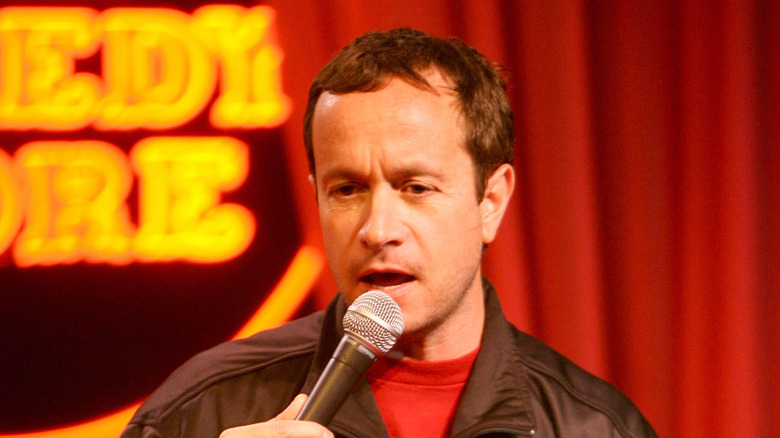 Michael Bezjian/Getty Images
Two comedians established the Comedy Store in Los Angeles in 1972: Rudy DeLuca and Sammy Shore, father of another comic, Pauly Shore. In 1974, Sammy Shore divorced Pauly's mother, Mitzi Shore, and transferred to her his ownership stake to reduce his alimony payments. Under Mitzi's management, the Comedy Store became one of the U.S.'s premiere stand-up rooms and would expand to multiple branches and provide a professional home to rising stars such as David Letterman, Jay Leno, and Jimmie Walker.
"It's like where I was born and raised," Pauly told NBC's "Today" of the Comedy Store in 2005. "[People] don't know that I grew up in this legendary place." As Mitzi got older and experienced advanced symptoms of a neurological disorder (she died in 2018), Pauly took on more responsibilities at the venue. He allowed cameras to track his progress for the 2005 TBS reality show "Minding the Store."
As Mitzi's health continued to decline, Pauly handled the talent-management end of the business while brother Peter Shore managed the club's finances. In 2009, Pauly requested financial records and tax returns from Peter, who responded by hiring an attorney and eliminating his brother from the Comedy Store's board of directors. Pauly fired a lawsuit in Los Angeles, asking a court to reinstate him on the board and order Peter to hand over the requested financial information. According to the LA Times, the brothers eventually settled out of court. 
He does a lot of voiceover work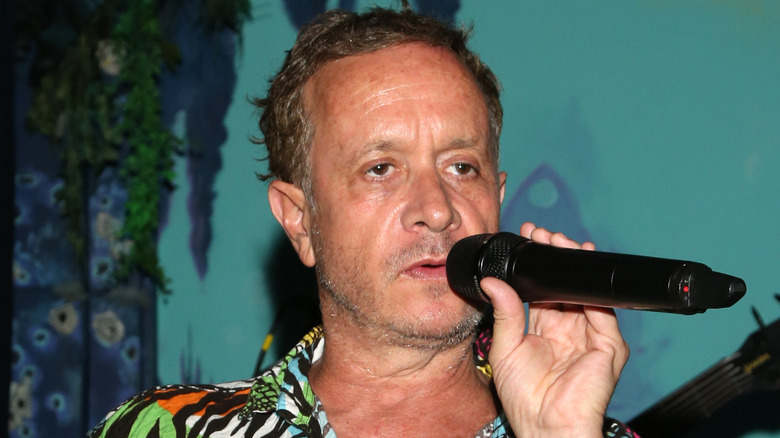 Gabe Ginsberg/Getty Images
Pauly Shore's most recognizable feature, and one that hasn't changed all that much over his decades in the spotlight, is his voice, a laid-back California surfer accent with a bit of vocal fry applied. Since his physical acting career has slowed down since the 1990s, Shore has taken his familiar voice to the world of animation, working often and consistently in English-dubbed versions of overseas productions. Shore led the cast of the 2017 South Korean animated movie "The Little Penguin Pororo's Dinosaur Island Adventure" and 2019's "Pororo 5: Treasure Island Adventure." In 2021, he starred in the Russian-made, fairy tale-like "My Sweet Monster" and played the title character in the Russian adaptation "Pinocchio: A True Story."
Stateside, Shore's voice could be heard in episodes of animated series for adult and juvenile audiences alike. He appeared in "The Midnight Gospel," "Star vs. the Forces of Evil," "Tales from the Trip," "Animals," and the Facebook Watch show "Liverspots and Astronots."
Pauly Shore went viral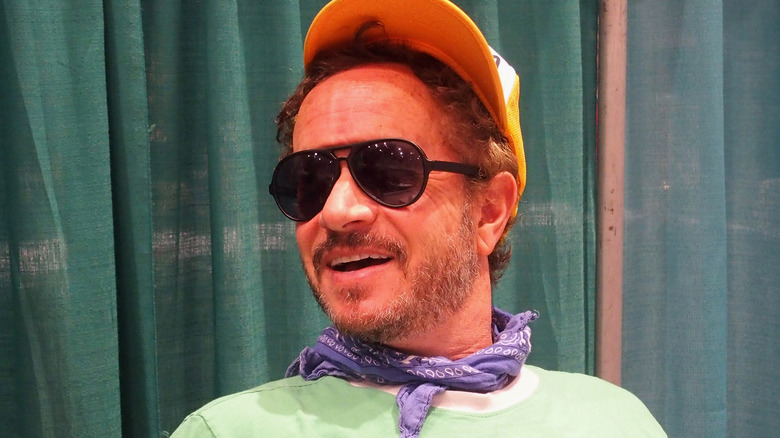 Bobby Bank/Getty Images
One of the modestly budgeted, overseas-produced animated projects in which Pauly Shore starred earned the comedian and actor more attention than he'd enjoyed in decades. "Pinocchio: A True Story" wasn't a box office hit or streaming success — it went viral in early 2022 because social media users couldn't get enough of the trailer, viewing it, sharing it ironically, and making their own lip-sync videos of it, because they thought the clip was so poorly produced, and Shore so woefully miscast.
Even Shore wondered if he, a man in his 50s, was the best choice to play a marionette who magically turns into a little boy, or, in the case of this adaptation of Carlo Collodi's 19th century book, a teenager. "I made my manager read the email two or three times," he told Rolling Stone. "And he was like, 'No, no, they want you." And so, it was the instantly recognizable and very grown-up voice of Shore all over the trailer for the straight-to-DVD and VOD "Pinocchio: A True Story." 
"I go into it with my heart and my soul and trying to have a good time," Shore said. "I didn't know it was going to go viral."
He lashed out on Oscar night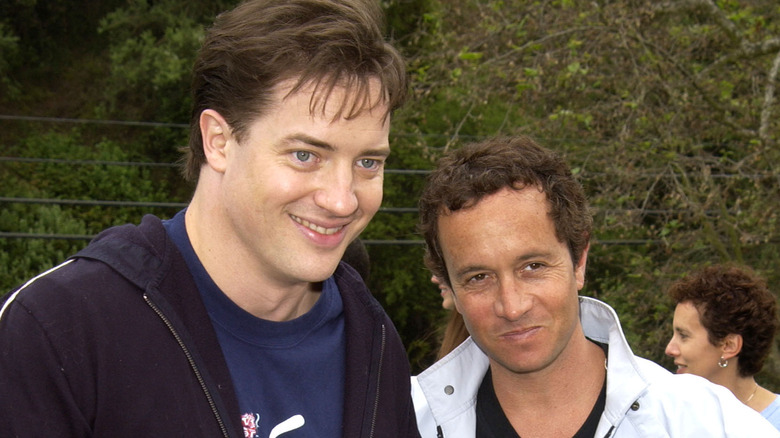 Steve Granitz/Getty Images
ABC late-night host Jimmy Kimmel hosted the 2023 Academy Awards for his network, and during the ceremony, he pointed out a piece of arcane Oscars trivia. That night, Ke Huy Quan and Brendan Fraser were nominated for Best Supporting Actor and Best Actor, for "Everything Everywhere All at Once" and "The Whale," respectively. (They'd ultimately both win their categories.) Both actors, more than 30 years earlier, had co-starred in the goofy, critically derided comedy "Encino Man," as did Pauly Shore. "What an incredible night this must be for the two of you," Kimmel said, referring to the nominated actors, "and what a very difficult night for Pauly Shore."
Shore didn't think the joke was very funny, and didn't understand why he was being mocked or why his career has endured a downward trajectory. "We love to hate people when they're on top. People wanted to smash me down and they did," Shore told Page Six. "I was always nice to everyone, always cool, I put my heart into all my films." He added, "Human beings have feelings," and "I do truly miss acting and I miss being on set."
Pauly Shore toured an autobiographical one-man show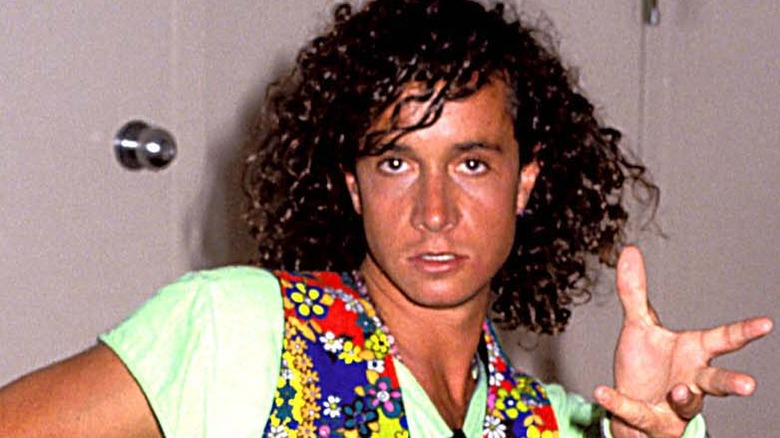 Jeff Kravitz/Getty Images
Pauly Shore didn't adhere to a traditional, setup-punchline-repeat style of stand-up comedy. His very first performance ended with some light breakdancing moves, and Shore's mother, Mitzi Shore, owner and operator of influential Los Angeles club the Comedy Store, told her son, "stick with the dancing." That became half of the title of the younger Shore's one-man scripted and spoken performance piece, "Stick with the Dancing: Stories from My Childhood." "My whole life I've had a microphone in my hand. I was pretty much born on the steps of the Store," he told Page Six of his one-man show, which consists of Shore alone on stage recalling personal and entertainment-industry memories from the '70s and '80s as well as his first taste of fame in the '90s.
To celebrate the impending 50th anniversary of the Comedy Store's 1972 opening, Shore took "Stick with the Dancing" on tour in 2020, but had to stop because of pandemic-related shutdowns on live entertainment venues. He picked up where he left off in 2022, staging a rewritten version of his show around Los Angeles before embarking on a national tour throughout 2023.
He's trying to make and star in a Richard Simmons movie
Paul Archuleta & C Flanigan/Getty
That mop of curly, sky-reaching hair, an elongated face, and an effervescent, entertaining spirit: Those are qualities shared by fitness guru and TV personality Richard Simmons and comedian and actor Pauly Shore. There's such a widely acknowledged, striking resemblance between the two cultural figures that it inspired Shore to launch a web series in which he combined his '90s-era "The Weasel" persona with a tribute to Simmons' workout videos he called "Sweatin' with the Wiez." That all helped encourage a social media groundswell urging Shore to portray Simmons in a possible life-story film. That, in turn, led Shore to try to get the movie happening.
"I've noticed all the reactions to me playing Richard Simmons in a new biopic. So I reached out to him. I heard he's living deep in Big Bear. We've been playing phone tag," Shore wrote on Facebook in September 2023. "I'm trying to make it happen for you guys. Be optimistic." A few days later, he reported that Simmons, via a representative, had declined the offer, citing a desire to protect his privacy. "You can always reach out to me if you change your mind," Shore wrote, addressing Simmons. "I'm just a phone call away."
Pauly Shore made some indie movies
It's been more than 25 years since Pauly Shore was the top-billed star of a moderately budgeted Hollywood studio comedy. But since the 1990s, the independent film scene has exploded, and numerous writers and directors of smaller, more modest films need actors to fill their casts. Accordingly, Shore has starred or taken on supporting roles in many indie and non-theatrical movies over the course of the last two decades.
In the 2007 dark comedy "The Junior Defenders," Shore was one of many stars of yesteryear (along with "The Breakfast Club" star Ally Sheedy and Justin Henry of "Kramer vs. Kramer") in a film about a disgruntled fan who kidnaps the stars of his favorite 1970s kiddie superhero TV series. Shore followed that by portraying a dad in the family fantasy "Opposite Day," and appearing in the stoner comedy "Stonerville." In 2012, Shore starred opposite country music star Tanya Tucker in the CMT original "Whiskey Business." He played a performative bartender on the run from the Mafia who hides out in a Southern small town and develops a revolutionary moonshine. Shore was the main draw in the straight-to-streaming 2020 comedy "Guest House" (pictured above) as a middle-aged squatter living in a young couple's outbuilding. In 2021, Shore played himself in the end-of-the-world movie "How It Ends."