Who Is Francis Bourgeois, The Internet's Charming Train Enthusiast?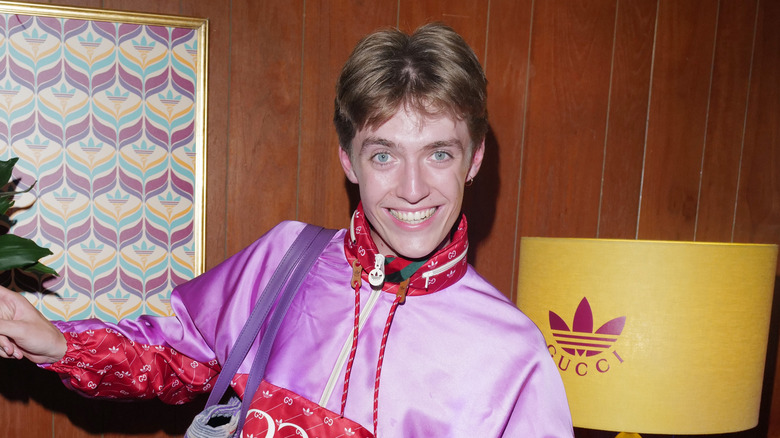 Darren Gerrish/Getty Images
If you've ever scrolled through TikTok, you've probably stumbled across at least one of Francis Bourgeois' videos. Known for his work as a trainspotter and his major enthusiasm for all rail networks in general, Bourgeois is also known for the debatably unflattering close-up angles at which he films himself watching trains go by using a camera attached to his head. However, the TikTok sensation has a lot more under his belt than you may think.
The first potentially surprising thing about Francis Bourgeois is that it isn't actually his real name — that happens to be Luke Magnus Nicolson. The trainspotter has been open about his decision to change his name, telling The Guardian that he was motivated by worry about what future employees might think. He chose "Bourgeois" after seeing some works by Louise Bourgeois at an exhibition in Somerset. In addition to trainspotting, Francis Bourgeois has done some modeling work. He shot footage (train related, of course) and photographs for a Gucci x North Face collaboration and was also featured in a Paul Smith campaign, both in early 2022.
He landed his own television show
Since he blew up, the Gen-Z star has had plenty of opportunities to show off his lovably goofy personality, including in the 2022 show "Trainspotting with Francis Bourgeois." The premise of the show revolved around Bourgeois meeting a different celebrity each episode and letting them know about the magic of trainspotting. Guests included comedian and actor Aisling Bea, Olympian diver Tom Daley, and singer Sam Ryder. It received relatively positive reviews, mostly for Bourgeois' charming obsession with trains rather than his ease of conversation or natural hosting skills.
Moreover, Bourgeois became an author in late 2022 with the publication of "The Trainspotter's Notebook." Bourgeois also consistently posts collaborations with different brands, including Train Sim and theme park Legoland, not to mention the constant invites to try out and review different trains. However, despite his success, Bourgeois has been subject to questions about his love of trains — and whether he's putting on an act for his videos.
The trainspotter didn't always look like he does now
Dave Benett/Getty Images
Francis Bourgeois was accused of faking his train-loving persona in late 2021 when photos emerged of him wearing distinctly un-Francis-like clothes and sporting a buzzcut, and the trainspotter addressed the rumors in an Instagram video from around the same time. During the video, he mentioned how he always had a love of trains but started to change his appearance to fit in more at school, hence why there are photos of him in "roadman clothes." However, during the COVID-19 lockdown, he began to lean into his true identity more, birthing Francis Bourgeois.
There's no doubt that his genuine joy about the railroad industry shines through in his videos. As of 2023, Bourgeois defines himself in his TikTok bio as a "railway enthusiast and mechanical engineer." Though he graduated from the University of Nottingham, he quit his job in 2021 to go after his dream of chasing trains full-time. Judging by the fact he still regularly posts videos of him doing exactly this, it's a career shift that definitely seems to have worked out for him.