The Perfumes Marilyn Monroe Reportedly Couldn't Get Enough Of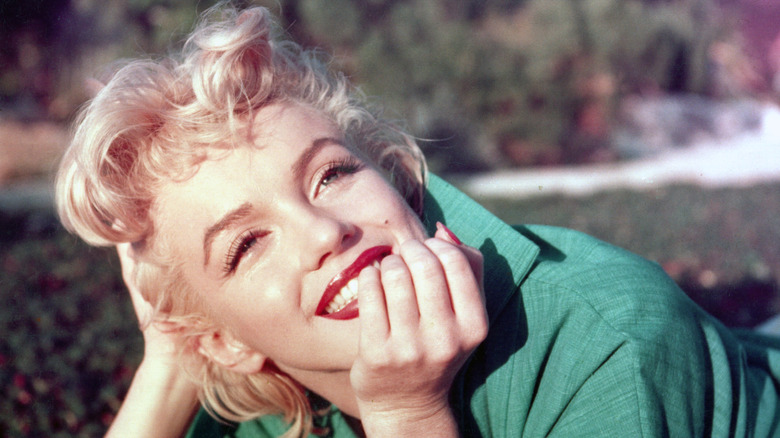 Baron/Getty Images
It can be argued that actress and model Marilyn Monroe is known as much for her choice of perfume as she is for her red lipstick and blonde hair, and one of the most iconic perfumes in history was among her picks. First associated with Monroe in the 1950s, Chanel No. 5 is still as enduringly popular as the actress herself. However, you may not know that alongside Chanel No. 5, Monroe also wore Rose Geranium by Floris London.
People often change the perfume they wear throughout their lives, but not Monroe — she seemed to stick to the same couple of fragrances. Judging by these two scents, it appears the actress had a penchant for intense floral perfumes that were both feminine and elegant. If you want to exude Monroe's timelessly sexy yet fresh energy, here's all you need to know about her two fragrances of choice and what they smell like.
Perfumes of choice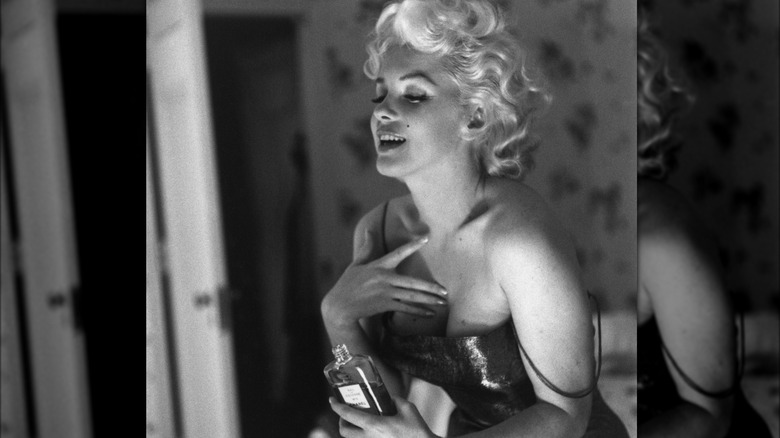 Michael Ochs Archives/Getty Images
Though it's technically a bath essence, Floris London's Rose Geranium certainly gives a fresh floral scent due to its intense formulation. It features top notes of rose, geranium, and lemon, heart notes of rose, violet, and palmarosa, and base notes of cedarwood, musk, and benzoin. Though Marilyn Monroe didn't speak about it the same way she did her iconic Chanel perfume, Floris London archives show that the actor put in an order for the bath essence in 1959 while she was staying at the Beverly Hills Hotel in California. 
As for Chanel No. 5, Monroe's history with both the Chanel brand and scent goes back a long time. In a 1952 interview with Life Magazine, the actor shared that she wore the fragrance to bed and nothing else (via The Guardian). She spoke to Marie Claire about her favorite scent once again in 1960, referencing her earlier words. "You know, they ask me questions. Just an example: 'What do you wear to bed? A pyjama top? The bottoms of the pyjamas? A nightgown?' So I said, 'Chanel No. 5' because it's the truth... And yet, I don't want to say 'nude'. But it's the truth!" she shared.
She is associated with Chanel to this day
Though Marilyn Monroe sadly passed away in 1962, her legacy with Chanel lives on. In 2012, the brand made her the face of Chanel No. 5, accompanying the announcement with a short film titled "Marilyn and No. 5" (above). Within the clip, Monroe can be heard saying the words from her famous interview with Marie Claire. Perhaps as an homage to the actor, the perfume still uses the exact same formula it did when Monroe wore it. While it's usual for perfumes to change the formula in some way over the years, No. 5 remains the same.
Described by Chanel as "the world's first abstract perfume," its signature scent uses aldehydes to create its complex aroma. It contains notes of jasmine, citrus, rose, and bourbon vanilla for some added sensuality. Though it was first released in the 1920s, the perfume is still extremely popular to this day, a popularity probably helped by Monroe's association with it. In fact, a bottle sells every 30 seconds around the world. The next time you want to channel your inner Marilyn, simply soak in Rose Geranium bath essence and spritz yourself with some Chanel No. 5.