Givenchy's Close Relationship With Audrey Hepburn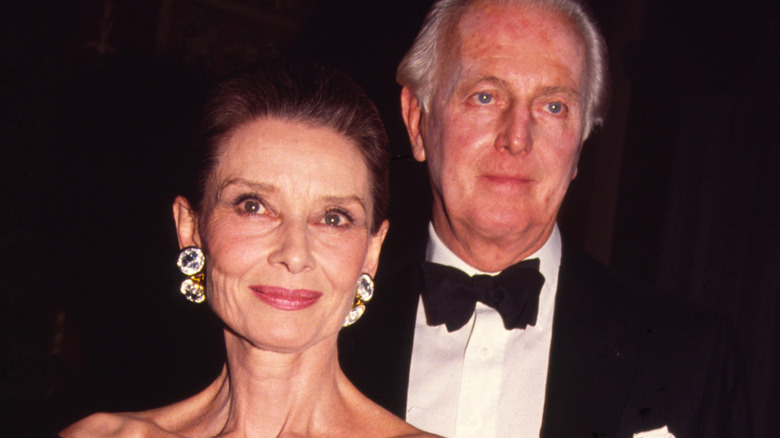 Rose Hartman/Getty Images
Audrey Hepburn is known for her timeless sophistication and elegance, and throughout her life she maintained a close relationship with Hubert de Givenchy, founder of the famous fashion house Givenchy. The designer often dressed Hepburn for her films, notably in the iconic black dress from "Breakfast at Tiffany's." According to Vogue, Hepburn once said of Givenchy, "His are the only clothes in which I am myself. He is far more than a couturier, he is a creator of personality."  
Neither Givenchy nor Hepburn were particularly famous when they met, but from the start they struck gold together. De Givenchy designed Hepburn multitudes of dresses over the years — as mentioned, her black "Breakfast at Tiffany's" dress but also her second wedding dress, and the dress she wore when she won the award for Best Actress at the 1954 Oscars. Certainly, Hepburn liked how she looked in Givenchy's designs. Per Grazia, after wearing his designs for the first time, the actor had a clause added to all of her contracts that Givenchy would always be involved in her on-screen wardrobe.
Givenchy created a perfume for Hepburn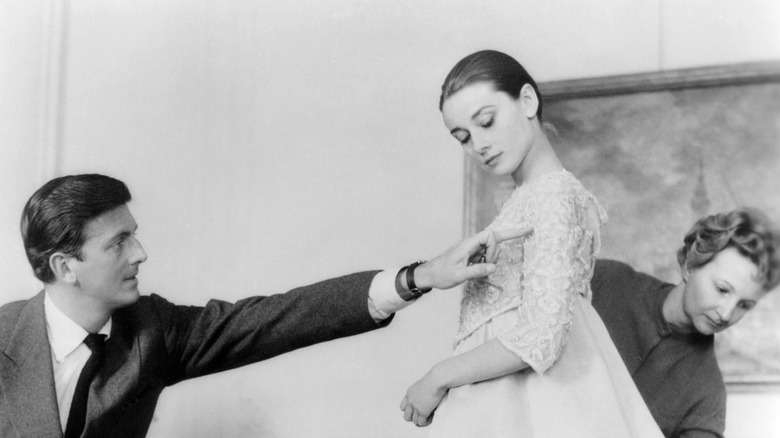 Sunset Boulevard/Getty Images
However, what you might not have known about Audrey Hepburn is that, alongside clothing, she had a perfume specially designed for her by Hubert de Givenchy himself. Hepburn's signature scent was first gifted to her in the late 1950s and was titled "L'Interdit," meaning "forbidden" in French. The original version included featured notes of rose, bergamot, iris, jasmine, violet, and sandalwood per Town & Country. 
Interestingly, when Givenchy asked Hepburn if he could sell the perfume commercially, Hepburn supposedly refused, presumably wanting to be the only one associated with her signature scent. She was the only person to wear the perfume for about a year until it became commercially available in 1957 with Hepburn as the face of the product. According to Vogue UK, the collaboration and release of the scent was the first instance of an actress being the representative for a perfume brand. 
The pair remained close until Audrey Hepburn's tragic death
Rose Hartman/Getty Images
Throughout her life, Audrey Hepburn would continue to wear Givenchy, even when she retired from the film industry. Nevertheless, her friendship with the designer went far beyond fashion. In 1992, when Hepburn was close to death and desperate to return to her home in Switzerland, her husband Robert Wolders told People that Hubert de Givenchy stepped in as one of the people to get her there. Due to Hepburn's fragility, she couldn't take a regular flight and instead took a private jet given by Givenchy and another friend in order to get back to Switzerland.
Touchingly, Wolders additionally recalled how Hepburn asked a friend to buy three winter coats during her last Christmas season, one of which was for Givenchy. The late star's husband, who passed away in 2018, recalled her sentiment behind the gifts. "She said, 'Please think of me when you wear them.' Later on, when we went to bed, she said, 'It was the most beautiful Christmas I ever had.'" 
Moreover, per The Guardian, Hepburn made de Givenchy the mediator of her will before her 1993 death. Clearly, the respect the two had for each other ran deep. Speaking of Hepburn 24 years after her passing, Givenchy said of his late friend and muse, "Audrey is still present in my mind because she was an exceptional lady."