Live Performances That Turned Rock Stars Into Legends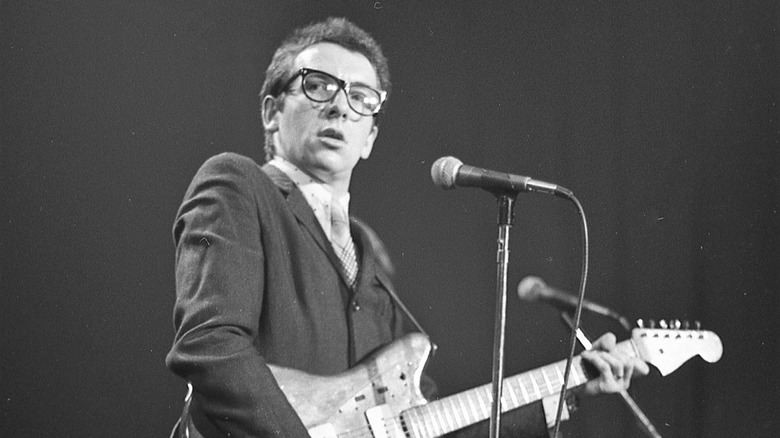 Linda D. Robbins/Getty Images
Any rock star worth their salt (or whatever other substance they happen to prefer) should be capable of delivering a totally kickass live show. Heck, more than a few have built their legends largely on the strength of their blistering performances; the Rolling Stones and Pearl Jam come to mind. Still others might not have secured a record deal at all if they hadn't started drawing big crowds with their live ass-kickery; Mötley Crüe and the Knack fall into this category. The bottom line is, if you wanna rock, it helps to be able to really bring it live — and it matters not if you're sick, tired, drunk, or all three. It takes a penchant for knocking crowds dead to elevate your status from "artist" to "rock star."
Sometimes, though, all it takes is just one extra-special performance to elevate your status yet further — from "rock star" to "absolute legend." These are the instances in which those present on the stage seem to be broadcasting from another planet, those present in the crowd will remember it for the rest of their lives, and even those who experience it secondhand — watching it on TV, maybe, or even just hearing about it — can feel the raw power of rock and roll. These are some of those performances — brief moments in music history when stars who already had the adulation of their fans took it to another level, and earned the respect of the gods.
Michael Jackson performs Billie Jean on Motown 25
Michael Jackson was no stranger to superstardom in the early '80s; as front-kid for the Jackson 5, he had scored no fewer than four No. 1 hits during the late '60s and early '70s, and a slew of additional singles by the band had reached the Top 40. He'd also enjoyed a successful solo career, with several Top 20 albums including 1979's No. 3 hit "Off the Wall." On May 16, 1983, his album "Thriller" was smack in the middle of its ridiculous, 37-week run at No. 1 on the Billboard chart — but it was Jackson's performance on the TV special "Motown 25: Yesterday, Today, Forever," a celebration of the iconic label's anniversary, that made him the biggest star in the world.
Speaking with Huff Post in 2018, the show's producer, Don Mischer, remembered that everyone participating — including Marvin Gaye and Diana Ross — was forbidden to perform any new material, as the show was obviously intended to be a retrospective. Jackson, though, was insistent on performing his single "Billie Jean" — and while Mischer balked at first, witnessing the superstar's rehearsal for the tune instantly changed his mind. Jackson broke out the moonwalk in public for the first time during the performance, and it soon became Jackson's signature; it could be argued that the gig was a major factor in propelling "Thriller" into the stratosphere as the biggest album of all time.
Queen upstages the entire lineup at LIve Aid
When you're on the bill with the likes of David Bowie, Elton John, the Who, and a reunited freaking Led Zeppelin, it goes without saying that it's tough to just outright steal the show — unless you are Queen, who did exactly that at the Live Aid benefit concert in 1985. The concert took place simultaneously at Kennedy Stadium in Philadelphia and Wembley Stadium in London, and it was at Wembley — with 72,000 screaming fans packing the place — that the band, and particularly lead vocalist Freddie Mercury, proceeded to make all those other iconic artists look like rank amateurs.
For the entirety of their 22-minute set, Mercury held that massive audience in the palm of his hand. They erupted into utter delirium when he began pounding out the opening piano strains of "Bohemian Rhapsody," clapped along in unison to the chorus of then-current hit single "Radio Gaga," and responded as if programmed — all of them — when Mercury led them in an impromptu sing-along. The band closed with — what else? — "We Will Rock You" and "We Are the Champions." They then gave way to Bowie, who had probably never felt less confident taking a stage in his life; John found his way backstage to jokingly call the band a bunch of bastards for stealing the show out from under everyone. Speaking about the experience to Rolling Stone, guitarist Brian May didn't mince words: "It was the greatest day of our lives," he said, and there were probably plenty in the crowd who felt the same way.
Madonna performs Like a Virgin at the VMAs
When MTV inaugurated its Video Music Awards in 1984, a whole lot of superstars were present, from Billy Idol to Herbie Hancock to Rod Stewart. But the act who stole the entire show was a relative newcomer: Madonna, who was preparing to drop her second album, "Like a Virgin." To be sure, hers was a star on the rise at the time; her signing was the crowning achievement of the late, great music mogul Seymour Stein, and her debut record peaked at No. 8 on the Billboard albums chart and eventually sold 5 million copies in the U.S. alone. When she took the stage at the VMAs, though, that rising star suddenly sprouted rocket engines.
Clad in a flowing wedding dress, Madonna appeared on risers above the stage to begin singing the title track to "Like a Virgin," but she didn't stay there for long; she descended to the stage midway through the tune, and by the time it was wrapping up, she was literally as low down on the stage as she could get, writhing about and performing the closing adlibs in a manner quite unlike a virgin. It was an incredibly gutsy performance, and one that Madonna has said her manager was incensed by, convinced that she had ruined her career. Not so much — the "Like a Virgin" LP spent three weeks at No. 1 on the album chart, and sold over 20 million copies.
Prince's While My Guitar Gently Weeps solo
In 2004, on the occasion of the late Beatle George Harrison's posthumous induction into the Rock Hall of Fame, a few of his buddies gathered onstage to play some of his songs. It was quite a show — Harrison wrote really good songs, and he had very talented buddies. During the set, the band — which featured Tom Petty, Jeff Lynne of Electric Light Orchestra, Steve Winwood, and Harrison's son Dhani, among others — broke out what may be Harrison's masterpiece, the Beatles classic "While My Guitar Gently Weeps." When it came time for the guitar solo at the end — performed by guest Eric Clapton on the original — Lynne's guitarist, Marc Mann, stepped up and played Clapton's solo, note for note. Then, something magical happened.
Waiting offstage was Prince, who had attended the rehearsal but not really done much. After waiting for Mann to finish up, he strolled onstage — and laid down what may very well be the greatest guitar solo ever performed, by anyone, ever. At the conclusion of the performance, Prince — this will sound made up, but it's totally not — just chucked his guitar up in the air, and it just sort of disappeared. Then he sauntered right back off the stage, and into rock immortality. In 2016, shortly after Prince's death, the show's producer, Joel Gallen, told The New York Times, "I still feel like people don't realize what an amazing guitar player he was. As a rock guitar player, he can go toe to toe with anybody."
Cheap Trick at Budokan, Japan
Prior to 1979, Illinois power pop outfit Cheap Trick was a band that had a decent-sized following and sold a pretty fair number of LPs — but they seemed to have issues with scoring a hit single, and their albums stalled out before getting into rarefied air. But in April 1978, a six-night stand in Japan would prove to be the unlikely launching pad that got the band over the hump in the United States. As it turned out, the boys had a pretty enthusiastic following in that country, and the decision was made to shoot the two performances at Tokyo's Budokan Stadium for Japanese television, and to record the sets for posterity. It was a pretty good decision.
The resulting LP, "Cheap Trick at Budokan," was at first intended only for release in Japan, but a seven-song sampler provided to radio DJs in North America quickly caught fire, and demand for the whole enchilada was soon too high to ignore. In February 1979, the LP was released stateside — and it promptly became their best-selling record, going triple-platinum and spawning the No. 7 single "I Want You to Want Me" (the studio version of which had appeared on their 1977 sophomore effort "In Color"). Their next LP, "Dream Police," released later that year, went platinum as well, and spun off another Top 40 single in the title track — thanks in large part to "At Budokan," which set a new standard for live rock records.
Guns N' Roses performs Welcome to the Jungle at the VMAs
At the 1988 VMAs, the band of the hour was supposed to be INXS; the Australian outfit had scored the most nominations, and at the end of the night, they indeed walked away with the most awards. Their performance at the ceremony, though, was a bit of a footnote. Not that there was anything wrong with it — if you can find anyone who even remembers what they played, they'll probably tell you they did just fine, all things considered. It's just that the band had the extreme misfortune of following Guns N' Roses that night, and Axl Rose and the boys simply came to burn the place down. 
The band's debut LP, "Appetite for Destruction," had been released the summer prior — but it was just beginning to snowball in popularity, thanks to MTV having recently seen fit to put the video for "Welcome to the Jungle" into heavy rotation. This is the song they played, and it was nothing short of a performance for the ages; Guns were at the absolute peak of their powers, the other performers that night couldn't even dream of matching their energy, and "Jungle" is, of course, a ripping good song. Guns won the Best New Artist award, but that was pretty much secondary; the real prize was the legion of new fans they had won over, and the skyrocketing sales of "Appetite for Destruction," which would go on to sell over 30 million copies.
Jimi Hendrix closes out Woodstock
The 1969 Woodstock festival is the mother of all music festivals for a reason; there had likely not been a greater volume of iconic talent assembled in one place before, and as the 1970 documentary film about the event will attest, there was no shortage of absolutely stellar performances. Over four days, the likes of Santana, Creedence Clearwater Revival, Janis Joplin, The Who, Jefferson Airplane, Joe Cocker, and Crosby, Stills, Nash, and Young graced the stage; as the sun rose on day four, the festival came to a close with sets by Paul Butterfield Blues Band, Sha Na Na — and Jimi Hendrix, who had assembled a new band just for the occasion.
Hendrix was simply on another planet for the performance, but if one must pick a moment that really sums up not only his set, but the festival as a whole, it would have to be his unrehearsed, impromptu, unaccompanied rendition of "The Star Spangled Banner," which mesmerized his band just as surely as it did the crowd; he segued seamlessly from the soaring finale of the national anthem into his iconic "Purple Haze," before closing out the set and the festival with "Hey Joe," a rock standard that Hendrix had made his own. It was an absolutely titanic performance, and its legend only grew when Hendrix passed away just over a year later.
Talking Heads and Jonathan Demme Stop Making Sense
According to Chris Frantz, drummer for the Talking Heads, "Stop Making Sense," probably the greatest concert film ever made, wasn't exactly meticulously planned. Speaking with Rolling Stone in 2014, Frantz said that while the band were preparing to tour behind their 1983 classic "Speaking in Tongues," they thought "that it would be good to document that particular tour." It just so happened that film director Jonathan Demme, director of "Melvin and Howard" (of which the band were fans), showed up to one of the early shows. "Jonathan said, 'We would like to make a movie of this,'" Frantz recalled, "And we thought, 'How nice.'"
How nice, indeed. With the four-piece augmented by an additional five members — including backup vocalists, percussionists, and legendary keyboard player Bernie Worrell — the Heads put together a set made for the big screen, and with an assist from Demme's then-girlfriend Sandy McLeod, they settled on the film's stage choreography and camera placement. Then, they basically drained their bank accounts in service of Demme's vision. "Yes, we got a loan from Warner Bros., but it was against our royalties," Frantz said. "We were basically putting our life savings into this movie, which we did and I'm glad we did, because not only did we get it back, but we have a great movie." Yes, they do. "Stop Making Sense" is still packing houses four decades later; it received an IMAX re-release in 2023, and it remains a superbly crafted document of an all-time great band at their peak.
Snoop Dogg takes his case to the VMAs
In 1994, Calvin Broadus, also known as Snoop Dogg, was the hottest rapper on the planet. Following his anchoring of superproducer Dr. Dre's first solo album, "The Chronic," his own debut album, "Doggystyle," had been one of 1993s biggest smashes, producing two Top 10 singles and shattering sales records for a solo debut. His performance at the 1994 VMAs should have been a celebration — but instead, it turned into something more. 
Immediately following the previous year's VMAs, Snoop — after serving as a presenter — had been arrested on a murder charge stemming from a fatal run-in with neighborhood gangsters; Snoop had been driving the vehicle from which a member of his entourage, McKinley "Malik" Lee, had fired the shot that killed Phillip "Little Smooth" Woldermariam. (Both Snoop and Lee claimed the shooting was in self-defense.) At the 1994 ceremony, Snoop, who was awaiting trial, was wheeled onstage in a wheelchair amid a full funeral scene with a casket, gospel choir, and "mourners," as he performed his song "Murder Was the Case," a timely choice if ever there was one. Midway through the second verse, he got to his feet, sending the crowd into a frenzy — but even that wasn't the most compelling part of the performance. At the very end of the tune, as the beat dropped out from under him, Snoop declared, "Murder was the case that they gave me, I'm innocent — I'm innocent." The audience went completely bonkers, and as it turned out, his jury agreed, acquitting him of the charge in February 1996.
Sinead O'Connor goes to war with the pope on Saturday Night Live
Anyone the slightest bit familiar with the work of Sinead O'Connor might have expected her to ruffle a few feathers with her performance on Saturday Night Live in 1992. What she did, though, was to directly challenge one of the most powerful institutions in the world, which was not exactly expected. During her second set, a stirring, acapella rendition of Bob Marley's "War," she held the camera in an unwavering gaze; throughout the performance, she grew visibly more tense, as if something big and powerful was struggling just below the surface, and it was. As the song closed, and as she sang the words "We have confidence in the victory of good over evil," she produced a picture of Pope John Paul II and ripped it once, twice, three times; she then tossed the fragments into the audience and shouted, "Fight the real enemy." End of performance.
The backlash was swift and intense, from conservative politicians, media outlets, and even O'Connor's fellow musicians — but time would vindicate her, as revelations of a long and horrifying history of child abuse by the Roman Catholic Church would begin to become public later in the decade and early in the next. The incident doubtless changed the trajectory of her career, but in a 2021 interview with The New York Times, O'Connor was defiant as ever. "I'm not sorry I did it," she said. "It was brilliant."
Nirvana mesmerizes on MTV Unplugged
In 2019, Rolling Stone journalist David Browne penned a retrospective on Nirvana's "MTV Unplugged" set, which he attended while covering the event for a different outlet. The primary mood among the attendees, he explained, was one of mystery — nobody knew exactly what to expect from an acoustic set from Nirvana, one of the loudest bands on the planet, and its frontman Kurt Cobain, the famously mercurial, reluctantly super-famous star who was known to be struggling with heroin addiction. What they got was a mesmerizing, beautifully constructed set — one that was notably light on the band's big hits, not to mention on songs from their third album "In Utero," just recently released. Instead, it was heavy on tunes that, with Cobain's acoustic guitar and world-weary voice, suddenly seemed made for the format.
Peppering the set with quietly self-deprecating asides, Cobain led the band through some of their less well-known songs, now classics: "On a Plain," "Something in the Way," "Pennyroyal Tea," "Polly." The set included covers from the likes of David Bowie ("The Man Who Sold the World") and Lead Belly ("Where Did You Sleep Last Night?"), but only one bona fide hit: "Come As You Are," which lent itself extremely well to a quieter interpretation. It was a masterful set, widely considered to be the best that MTV's series had to offer, and its legend only grew for an unfortunate reason: It was released on CD in November 1994, months after Cobain's death, debuting at No. 1 and remaining on the chart for 100 weeks.
Elvis Costello goes rogue on Saturday Night Live
Coming on the heels of his 1978 debut LP "My Aim Is True," British rocker Elvis Costello's appearance on Saturday Night Live that year was meant as an introduction to American audiences — and what an introduction it was. His first song, "Watching the Detectives," went off without a hitch; for his second, his record label had insisted that he play "Less Than Zero," an undeniably catchy tune that was also a condemnation of British politician and unabashed fascist Oswald Mosley. Costello saw no reason to play that song for an American crowd, and he had no trouble saying so — to the crowd themselves.
After playing the first few bars of "Less Than Zero," Costello waved his arms, told his band to stop, and uttered the immortal words, "I'm sorry, ladies and gentlemen, but there's no reason to do this song here." The band then launched into a ferocious rendition of "Radio, Radio," a lamentation on the extreme commercialization of radio, in what can only be described as the angriest performance ever to air on television; Costello was visibly seething throughout, practically snarling lyrics like, "I wanna bite the hand that feeds me, I wanna bite that hand so badly, I wanna make them wish they'd never seen me." At the song's conclusion, Costello and the band ditched their instruments and stalked off the stage — earning Costello a ban from the show for over a decade, and a permanent place in the hearts of rock and roll rebels the world over.
If you or anyone you know needs help with addiction issues or may be the victim of child abuse, contact the relevant resources below: