Why Donald Trump Is Getting Compared To John Gotti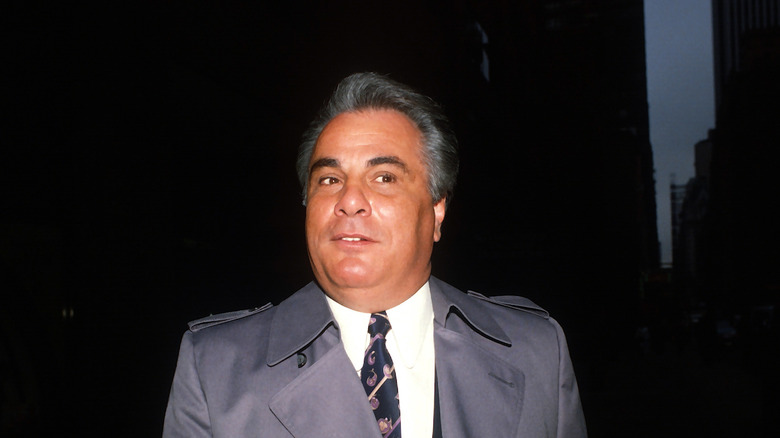 Yvonne Hemsey/Getty Images
He's well-represented on the American stage — the swaggering man from New York City. Stocky, suited, and sporting a distinctive coif, he reached prominence in middle age and still strives to project vitality. A braggadocious attitude, charm, and a certain savvy with the press helped win him supporters in his battles against the legal, political, and cultural forces that came against him. The man's outsized personality may turn him into a likable or comic character for some. But behind the bravado, evidence points to a venal, corrupt, ruthless man full of dark thoughts and darker deeds.
For many, the New Yorker who most exemplifies this description is former president Donald Trump. But that same description could apply to a number of prominent figures in the American mafia, such as "The Dapper Don" himself: John Gotti of the Gambino crime family. Gotti's ostentatious manner delighted tabloid writers and helped win him a following in working-class neighborhoods, not unlike Trump. But it was also a terrible way for a mob boss to conduct himself, and despite his second moniker — "Teflon Don" — Gotti's lack of caution helped to land him in prison.
Before his downfall, Gotti was a fierce gangster who tolerated no disloyalty, a trait Trump notoriously shares. Prosecutor Mark F. Pomerantz claimed in his book "People vs. Donald Trump" that Gotti was the only figure besides Trump so obsessed with loyalty and punishing those without it. He also found the two comparably adept at evading the repercussions of their crimes (per The New York Times).
He may have dealt with the mafia in the 1980s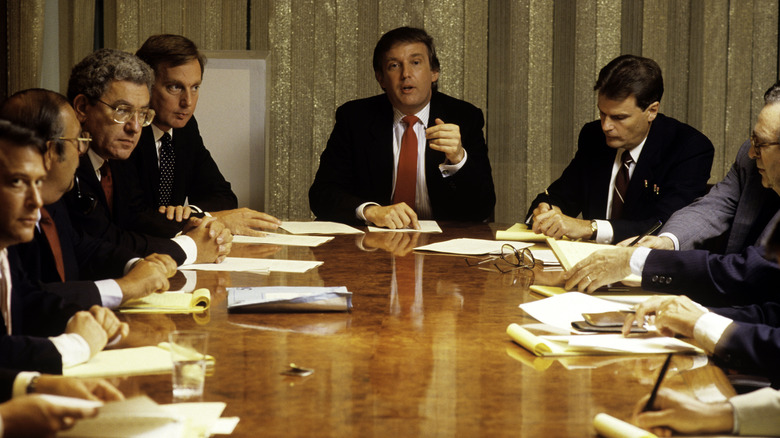 Joe Mcnally/Getty Images
Mark F. Pomerantz made his comparison between Donald Trump and John Gotti in the context of his efforts to demonstrate that the real estate mogul's business empire was built upon a criminal foundation. It was a comparison the former president didn't appreciate — he took to Truth Social to complain and had his lawyer dismiss the Gotti comments as a transparent effort to boost book sales (per Newsweek). But Pomerantz isn't the first to allege that Trump wasn't a clean businessman. And his connections to Gotti and the world of organized crime may have gone deeper than quirks of personality and leadership styles.
According to Politico, Trump's construction empire was very much in bed with the mafia during the 1980s, a time when organized crime had a firm hold over that sector of New York business. His dealings with the mob included the building of Trump Tower and Trump Plaza with firms controlled by Anthony "Fat Tony" Salerno and Paul Castellano, Gotti's predecessor as boss of the Gambino crime family. The FBI subpoenaed Trump over his connections to Gambino figures, and he later faced conspiracy charges over his dealings with a mob-controlled labor firm.
Trump has maintained ignorance of any mob or mob-connected figures from this time in his life. But besides court cases and hard evidence, there are reports that he personally associated with "Fat Tony" Salerno of the Genovese family through Roy Cohn, the infamous New York fixer. Among Cohn's clients at one time was John Gotti himself.
Trump has been charged under a law meant for the mob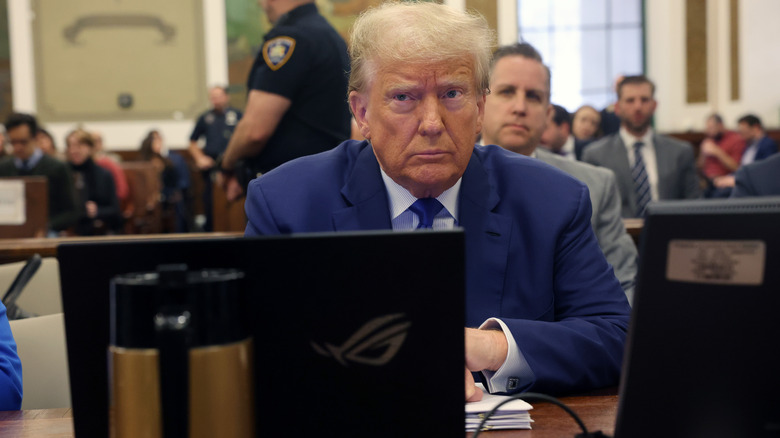 Spencer Platt/Getty Images
During his presidency, two of Donald Trump's then-associates, Paul Manafort and Michael Cohen, ran afoul of the law. While Cohen has since become a bitter enemy of Trump, even testifying against him in court, the former president heaped praise on Manafort for refusing to cut a deal with authorities to lessen any potential jail time. Jeffrey Goldberg of The Atlantic was struck by the then-president's embrace of the Mafia notion of omerta, a code of silence. He compared Trump to John Gotti's right-hand man, Salvatore "Sammy the Bull" Gravano, who famously betrayed his boss in court — but lamented the collapse of the Mafia's wall of noncooperation.
According to the Los Angeles Times, the collapse of omerta — and of the Mafia — over the 1980s and '90s was in large measure due to new laws, including the Racketeer-Influenced and Corrupt Organizations Act (RICO). RICO allows for the prosecution of groups of individuals as part of a criminal enterprise rather than as lone crooks, and it can bring harsh sentences. It was originally created as a tool against the mob, but it has since been applied to other organizations, and many states have their own RICO laws modeled after the federal statute.
The state of Georgia applied its RICO law against Trump in 2023. Per AP, the former president is alleged to have engaged in criminal racketeering to subvert the results of the 2020 election in the state. Under RICO, it's not necessary to prove that Trump personally committed a crime to that end — only that he was party to an organized effort to do so.