Priscilla Presley And Robert Kardashian's Short-Lived Romance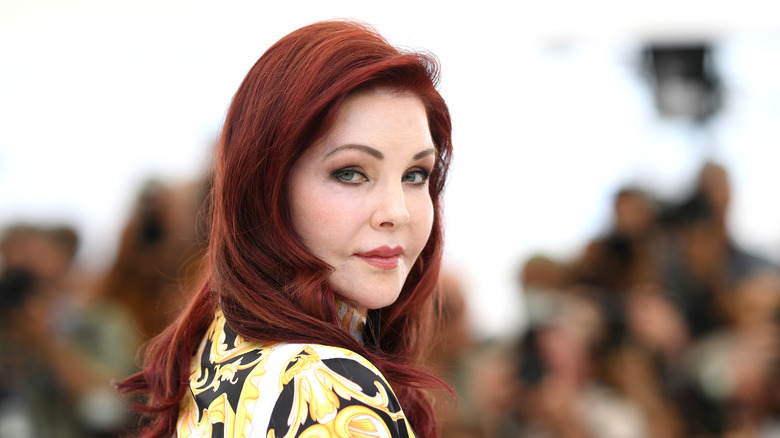 Pascal Le Segretain/Getty Images
Unless you live under a rock, chances are you have heard of Robert Kardashian, and the same goes for Priscilla Presley. You may know the two of them separately, but did you know they were actually together at one point in time? Yes, Elvis Presley's first wife and the father of Khloe, Kourtney, and Kim Kardashian (and Rob) were a thing from 1975 to 1976. Per The Standard, Presley and Kardashian, best known for being OJ Simpson's lawyer, were introduced by Kardashian's brother Tom, who was dating the ex-wife of Elvis' road manager at the time. 
Kardashian had recently split from Kris Jenner, though the two would later get back together. In her memoir, "Kris Jenner...and All Things Kardashian," Jenner admitted to being upset when Presley entered the scene. "She was gorgeous, of course, petite and perfect and beautiful and famous. I would see pictures of her and just die. Any woman would be thrilled to look like Priscilla Presley," she wrote. Jenner wasn't the only one who was unhappy about Presley's relationship with Kardashian.
Elvis did not approve of the relationship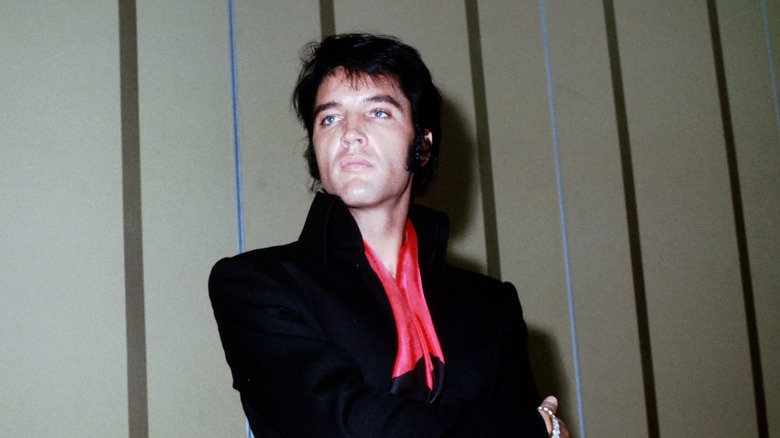 Michael Ochs Archives/Getty Images
Elvis Presley was also supposedly deeply unhappy with Priscilla's new relationship. According to The Standard, in Jerry Oppenheimer's book "The Kardashians: an American Drama," Robert Kardashian told a friend that Presley's ex would even call her when they were "in bed" together. Judging by his frequent phone calls, it's safe to say Elvis was jealous of Kardashian. Style reported he even seemingly implied to Presley that it would be better for her not to date again for Lisa Marie's (the child she shared with Elvis) sake.
Oppenheimer also revealed that Presley rejected Kardashian's proposal, stating, "Look, I'm not going to marry anyone until Elvis dies." Not wanting to get married could have been the reason why Presley and Kardashian went their separate ways, but another potential reason is that Kardashian had a distinct idea of what he wanted in a partner. As written by Oppenheimer, Kardashian's friend Joni Migdal shared that Kardashian persistently asked things of Presley that made her feel controlled. This was something she definitely did not want, having faced similar issues in her relationship with Elvis.
Robert Kardashian wanted more than Priscilla Presley was prepared to give
According to Joni Migdal (via "The Kardashians: An American Drama"), Robert Kardashian wished to turn Priscilla Presley into the "perfect Armenian housewife," a role Presley wasn't keen on fulfilling. Kardashian supposedly asked Presley to make him dinner and then made her upset by saying it wasn't right despite the effort she had put into the meal. Though the reason for why they eventually broke up has not been revealed, it's likely it was a mix of reasons.
It could have been that Kardashian was becoming annoyed with Elvis' constant interrupting of his time with Presley, or, as mentioned, perhaps Presley just didn't want to be the housewife Kardashian seemed keen to make her into. Either way, the relationship fizzled out and Kardashian would get back together with Kris Jenner (pictured), going on to marry her in 1978. Presley would go on to date her hairdresser Elie Ezerzer from 1976 to early 1978 (via Insider). However, as of 2023, Presley never remarried, though she did have a long-term relationship with producer Marco Garibaldi from 1984 to 2006.