Who Is Lyle Menendez's Wife, Rebecca?
Stephen Kim/Getty Images
Erik and Lyle Menendez went to prison for first-degree murder in 1996 after killing their parents with shotguns in 1989. Since then, the Menendez brothers have been painted as both sociopathic killers who went after their parents' money and as victims of childhood sexual abuse who had reached the end of their tethers. During their years of incarceration, they have gained a surprisingly large amount of supporters among those who believe that they are in a sense victims, and both brothers have found love while in prison and gotten married.
Lyle Menendez in particular has been married twice; He tied the knot with his second wife Rebecca Sneed Martinez in 2003 at California's Mule Creek State Prison (via NBC). In an interview, Lyle told People about the comfort and happiness his wife has brought him in prison despite their extremely limited contact over the course of 20 years. Menendez married Sneed after divorcing his first wife Anna Erikkson, an ex-playboy model who married him shortly after he was jailed. Little is known about his current wife but their marriage has endured for many years.
Love through letters
Rebecca Sneed and Lyle Menendez had a long acquaintance before they actually got married. In the interim, as mentioned, Menendez would get hitched to another woman Anna Eriksson. Menendez met both women the same way — starting out as prison penpals. According to NBC News, Sneed and Menendez knew each other for 10 years before they got married.
Menendez's first wife Eriksson found the prisoner sweet and charming in his letters and was willing to overlook his criminal history. After she visited Menendez in prison she very quickly agreed to tie the knot. The ceremony took place over speakerphone in prison in 1997 — and the pair used proxies to place rings on each other's fingers during the ceremony (via CNN).
While touching, the marriage ultimately did not last. Eriksson soon discovered that Menendez was cheating on her by writing to another woman. It is not known if the "other woman" was Sneed but either way, Eriksson and Menendez divorced in 2001.
Menendez's marriage with Sneed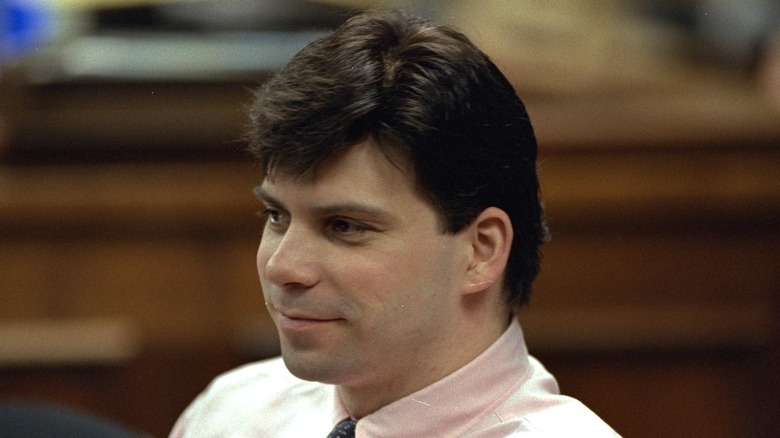 Stephen Kim/Getty Images
In 2003, Lyle Menendez finally married Rebecca Sneed at the Mule Creek State Prison. Their enduring marriage has been an unusual one — according to People magazine, their life together consists of daily phone calls and waiting room visits most weekends. Conjugal visits are not allowed.
Nonetheless, Menendez has insisted that their bond is strong. He told People, "Our interaction tends to be very free of distractions and we probably have more intimate conversations than most married spouses do, who are distracted by life's events." He went on to say that his wife brings him "peace and joy" in his difficult day-to-day existence and that he is grateful to his wife for putting up with their unusual relationship and the judgment of others.
Little is known about Sneed herself who has kept out of the public eye. Her Facebook page shows her as Rebecca Menendez and simply says she's a married attorney. According to Australia's News.com, when the pair first met she worked as a magazine editor, but she has since fittingly retrained as a defense attorney.