What Whitney Houston's Relationship With Robyn Crawford Was Like When She Died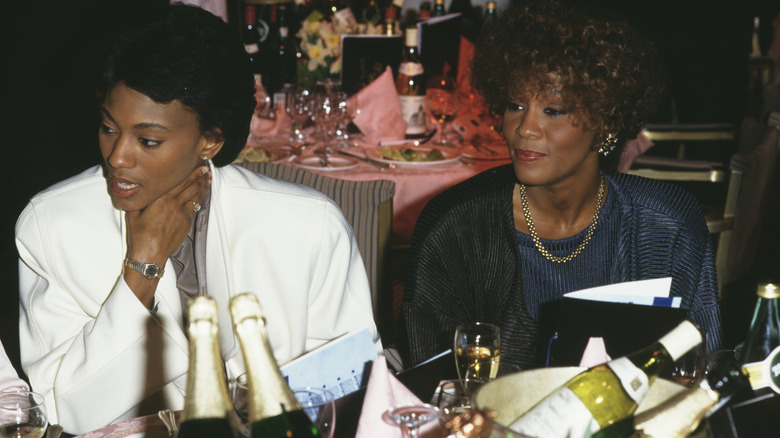 Dave Hogan/Getty Images
Whitney Houston's tragic death at age 48 shocked the world. Though her powerful voice and slew of hits threw her into the limelight, she was also known for her rocky life behind the scenes. One of the singer's longest relationships was with her former assistant Robyn Crawford. But despite being firm friends for 20 years, Houston and Crawford hadn't been close for over a decade at the time of the star's unexpected death (via Biography).
As told by Crawford in an interview with Essence, she and Houston met in 1980 while working at a summer camp in New Jersey. At the time, Houston was 16, and Crawford was 19. Per Crawford's memoir "A Song For You: My Life with Whitney Houston," their close friendship blossomed into a relationship. "It was during that first summer that we met, was the first time our lips touched. ... Not long after that, we spent the night together. And that evening was the night that we touched. And that just brought us closer together," Crawford wrote. However, it wasn't to last. Per People, Houston broke off the relationship after she got signed to a record label in 1982, fearing that the news would get out and ruin her career. 
Their relationship evolved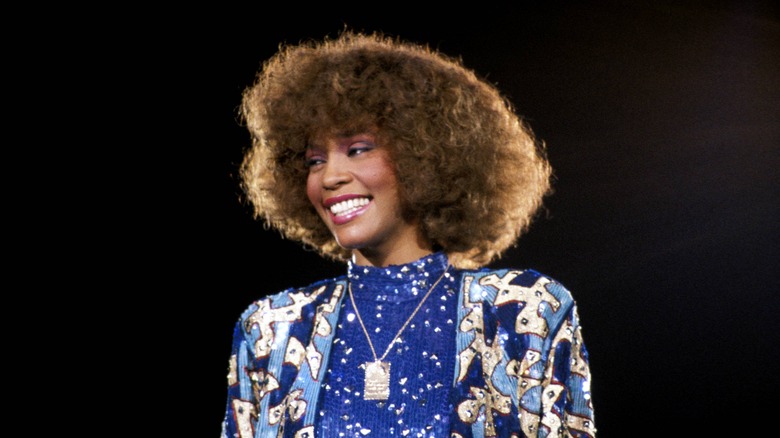 Suzie Gibbons/Getty Images
Nevertheless, Whitney Houston and Robyn Crawford remained close. Speaking to Craig Melvin for "Today," Crawford discussed how their relationship changed into a friendship. "I just felt that I wouldn't be losing much. I still loved her the same and she loved me and that was good enough," she shared. In an obituary Crawford penned for Houston, she delved deeper into the years following Houston's signing. "I was her assistant and then her executive assistant and then her creative director. I was her point person for the day-to-day. ...You knew she was going to take care of you," the author shared (via Esquire).
Over the years, rumors floated around that Crawford disliked Houston's husband, Bobby Brown, but Crawford told Essence that they weren't true. "When Whitney chose to partner with someone, I was honored to be the maid of honor at her wedding," she said. "I didn't know Bobby before the wedding. We never really got a chance to know each other. But what I will say is that she told me she loved him." Crawford also mentioned that she wished Brown could have been a better friend to Houston, though she did not expand on what she meant by this. 
The pair became distant in the 2000s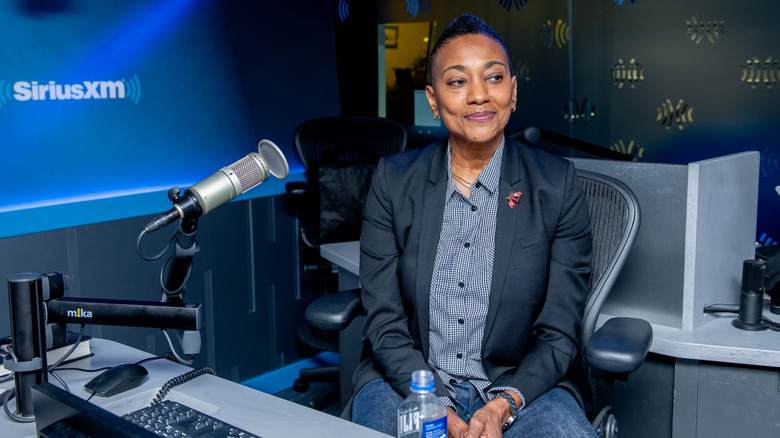 Roy Rochlin/Getty Images
In 2000, things came to a head. Robyn Crawford walked away from her roles both in Whitney Houston's team and as her friend. Per Essence, this was partly because Crawford felt she no longer had the capacity to be there for Houston in the same way she had been, and partly due to the fact that she wanted to establish a career separately from the star. Once she left, Crawford went on to rekindle with and eventually marry former flame Lisa Hintelmann. Although she and Houston did not have a huge falling out, it seems communication was scarce up until Houston's death in 2012.
As Crawford wrote in Houston's obituary, "She could not pick up the phone, and that meant it was too painful. ... She was a loyal friend, and she knew I was never going to be disloyal to her. I was never going to betray her. Now I can't believe that I'm never going to hug her or hear her laughter again. I loved her laughter, and that's what I miss most, that's what I miss already." 
Interestingly, Bobby Brown told Us Weekly in 2016 that he knew about Houston and Crawford's previous romantic relationship. He also stated that if Houston and Crawford had remained friends, the singer may not have died when she did. "I really feel that if Robyn was accepted into Whitney's life, Whitney would still be alive today," he said. "She didn't have close friends with her anymore."