Were Katharine Hepburn And Audrey Hepburn Related?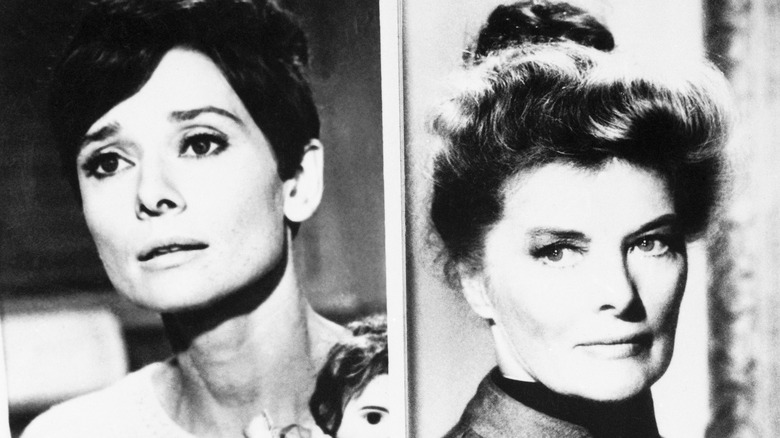 Bettmann/Getty Images
Dynasties are no rare feature in Hollywood. The Barrymores, the Carradines, the Coppolas, the Estevezes/Sheens — generations of certain families have gone into show business. But a shared surname between two actors doesn't always mean there's a relation. Michael Keaton and Diane Keaton aren't family. Nor are either of them technically Keatons — they both changed their last name for professional reasons, though "Keaton" was Diane's mother's maiden name according to her autobiography "Then Again." Michael told "Late Night With Stephen Colbert" that he went with "Keaton" because he had reached the "Ks" on a list and it was "close enough."
In the case of Katharine and Audrey Hepburn, two more unrelated Hollywood luminaries who happened to share a last name, the surname really did belong to one of them. Katharine shared her name with her mother, Katharine Houghton, who was married to Dr. Thomas Hepburn. The younger Katharine briefly took the stage name "Katharine Burns" early in her career, but she achieved fame and fortune under her own name.
For Audrey's part, she was born Audrey Kathleen Ruston. Her father, Joseph, an insurance executive, claimed descent from James Hepburn, 4th earl of Bothwell, and he eventually hyphenated his surname as Hepburn-Ruston for a more noble appearance. Audrey briefly became Edda Van Heemstra (her mother's maiden name) during World War II for fear of what an English name might mean in occupied Europe. After the war, though, she reverted to Audrey and took on her father's surname when she began acting.
They both had well-to-do backgrounds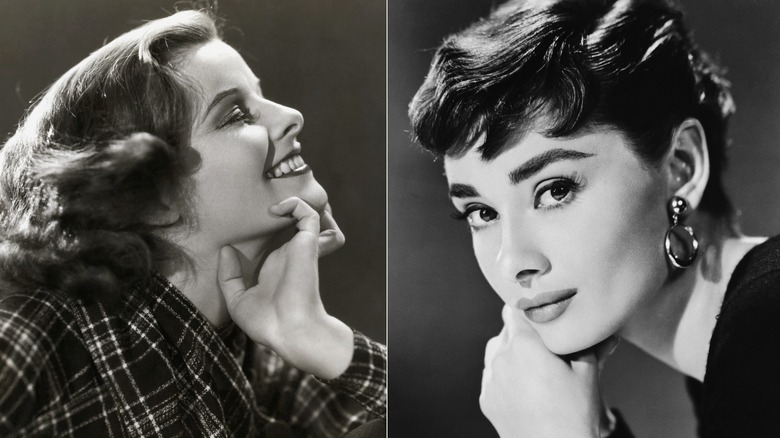 Bettmann/Getty & Bettmann/Getty Images
A last name isn't all that Katharine and Audrey Hepburn had in common. Both came from well-to-do backgrounds and found their way into acting as young adults. But the parallels can only be taken so far. For Katharine Hepburn, who was born May 12, 1907, her childhood home was in America — specifically Connecticut, where her parents were upstanding and socially progressive leaders of the local community. Katharine's was a charmed upbringing until her teenage years. After the death of her older brother, her demeanor went from exuberant to withdrawn, with a marked effect on her education. She found herself again through theater at Bryn Mawr College.
Audrey's father may or may not have been descended from James Hepburn, but her mother was a genuine European aristocrat, a Dutch baroness. Still, their wealth and titles did not give Audrey, born May 4, 1929, an idyllic upbringing — her parents were regularly at each other's throats. Unlike Katharine's parents, Audrey's were drawn to the far right and were both members of the British Union of Fascists. Audrey was shielded from home strife for a time when she was sent away to boarding school, where she fell in love with ballet. But her father left the family in 1935, and Audrey, her mother, and her half-brothers later found themselves trapped in the occupied Netherlands during World War II. Malnutrition during the war years damaged Audrey's early dance dreams, but she found her way into acting soon after the end of the conflict.
Their screen personas were distinct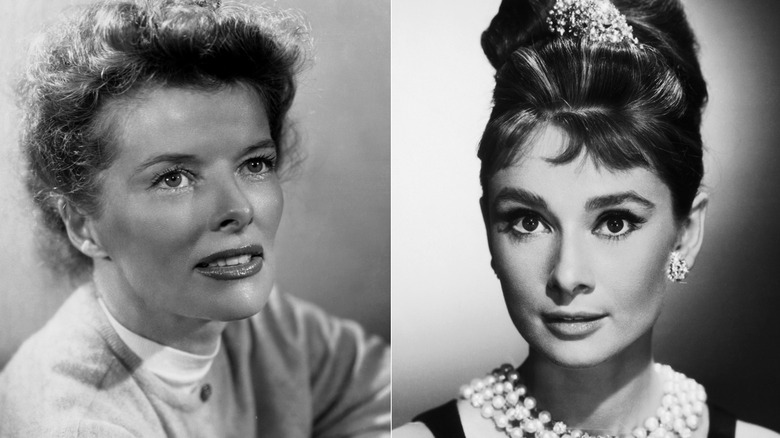 George Rinhart/Getty & Print Collector/Getty Images
Katharine and Audrey Hepburn were of different generations and never appeared together in a film. Katharine was more than 20 years Audrey's senior and an established Hollywood star by the 1930s, though she spent the latter half of that decade fighting a reputation for being "box office poison" until the success of "The Philadelphia Story" in 1940 (per Turner Classic Movies). Katharine was also a nearly lifelong performer, remaining active in film and television until 1994. Audrey didn't reach the United States until the 1950s. She broke into Hollywood films in a big way with "Roman Holiday" in 1953 and remained a major star through the next decade before entering semiretirement to focus on family and humanitarian work.
The two Hepburns also developed very different public personas, on-screen and off. Katharine was notoriously sharp, independent, and tomboyish, traits that sometimes got her into trouble with studios and her peers. In film, that was often reflected in her romantic comedies — where her independent characters butted heads with men — and in more dramatic work as haughty ladies. In contrast, Audrey's screen persona was largely set by characters who combined naiveté with aristocratic charm. That capacity for charm extended to her working and private life, though her love life was troubled.
For all their differences and the passage of time, both Hepburns remain significant figures in American culture. The American Film Institute placed Katharine and Audrey at No. 1 and No. 3 respectively in their list of greatest actresses for its "100 Years ...100 Stars" list.