This Was Reportedly James Dean's Final Meal Before He Tragically Died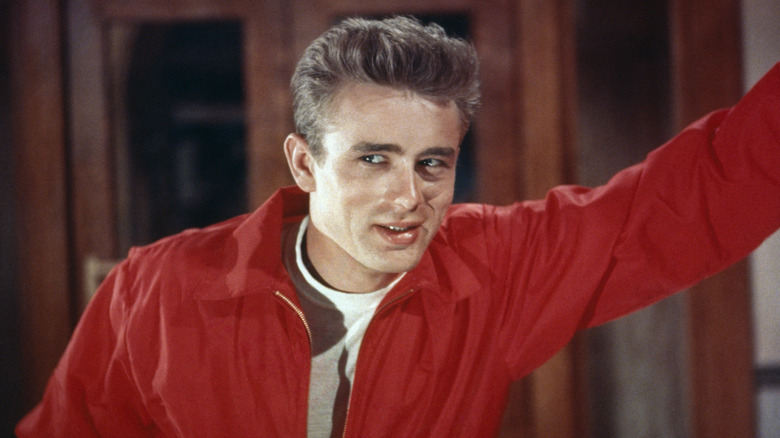 Sunset Boulevard/Getty Images
James Dean's career had only just begun when he lost his life in a horrendous traffic collision on U.S. Route 466 (today State Route 46) between Los Angeles and Salinas. He was just 24. The actor had taken starring roles in just three movies prior to his death, and his obituary in Time described him as the "most promising young cinemactor of 1955." But his untimely and tragic death on September 30, 1955, made him far more than that. In the wake of the news, Dean became immortalized, a doomed rebel who would live on forever as a youth culture icon, remembered today among the biggest stars of the Golden Age of Hollywood, with the two posthumous films — "Rebel Without a Cause" and "Giant — cementing his reputation.
But the truth is that acting was just one string to Dean's bow. Though he had made his name on Broadway before he made the leap into film, there was another major love in Dean's life: motor racing, which was starting to take over the young star's attention after he shot his last film. In fact, rather than embarking on acting engagements on his final day, Dean was heading to Salinas to join the Salinas Road Races, which he intended to complete to continue his progression as a professional driver. The last meal he ate on the way was reportedly a simple slice of apple pie, which he washed down with a glass of milk.
A last stop at Tip's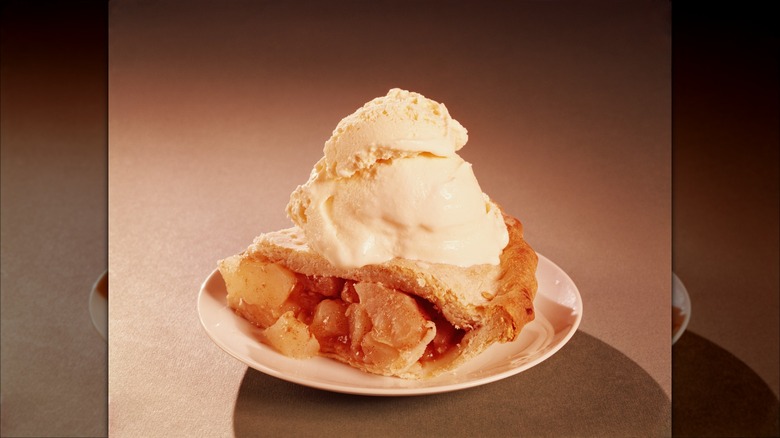 H. Armstrong Roberts/Getty Images
James Dean had a wide range of interests besides acting, and he was naturally ambitious. "I think my life will be devoted to art and dramatics," he wrote in a letter to his school principal while he was still a teenager (via jamesdean.com). "And there are so many different fields of art it would be hard to foul-up, and if I did, there are so many different things to do — farm, sports, science, geology, coaching, teaching music. I got it, and I know if I better myself that there will be no match. A fellow must have confidence. ... As one strives to make a goal in a game, there should be a goal in this crazy world for all of us. I hope I know where mine is, anyway. I'm after it." Dean added that he already owned a motorcycle, and his hobby was riding and repairing it. By his early 20s, he had progressed to racing cars and had done so professionally multiple times before his tragic accident.
Dean was driving his new Porche 550 Spyder — which he intended to enter into the Salinas Road Races — with his mechanic Rolf Wütherich in the passenger seat. Wütherich was giving the actor advice on how to handle the powerful sports vehicle while other members of their entourage followed some distance behind. The pair stopped at Tip's Coffee Shop in Castaic Junction, where Dean ordered the apple pie and glass of milk from the dazzled serving staff, who instantly recognized the up-and-coming young actor.
A contested slice
Bettmann/Getty Images
Few last meals are more evocative than James Dean's, nor as representative of the recipient's place in popular culture. It seems too scenic, too Hollywood, to be true: A slice of apple pie and a glass of milk eaten by an up-and-coming actor before hopping in his sports car and hitting the road. For many locals, Dean's stop at Tip's — which was a popular and well-known coffee shop in the area before finally closing down — is a big part of the legend of his final moments in the area. Some sources claim that the actor may have made another stop elsewhere before the crash, but experts are adamant that Tip's really was the place where Dean took his last bite.
Dean's tragic death came at a junction near Cholame when his Spyder collided with an oncoming Ford Sedan driven by a man called Donald Turnupseed. Both Turnupseed and Wutherich survived the crash, while Dean died in the ambulance on the way to the hospital, with the left side of the car where he was sitting taking the brunt of the impact. Today, the spot where his Spyder crashed is known as the James Dean Memorial Junction.