The Scent Elizabeth Taylor And Michael Jackson Famously Wore
Kmazur/Getty Images
Legendary actor Elizabeth Taylor and pop music icon Michael Jackson struck up a friendship in the 1980s that lasted until Jackson's untimely death in 2009. Despite their differences, the two grew close due to their shared experience of becoming famous at an early age, per The Hollywood Reporter. Another thing the close friends had in common was their signature scent. As reported by Town & Country, both Jackson and Taylor wore "Bal a Versailles" by Jean Desprez. Meaning "ball at Versailles," the name refers to the extravagant French estate built by Louis XIV in the 17th century. 
According to Town & Country, Taylor used the perfume while on the set of the 1963 film "Cleopatra." The perfume was only released in 1962, meaning Taylor was relatively quick to discover the unique scent and begin wearing it. The same article also states that Taylor gifted "Bal a Versailles" to Jackson, though the time when she did this is unknown. Clearly, Jackson was a fan of the scent, as he would go on to reach for the scent throughout his life. 
The potent perfume is full of attention-grabbing ingredients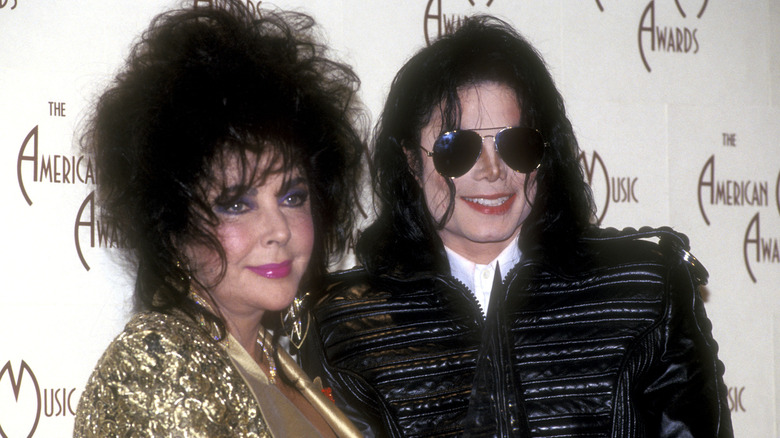 L. Cohen/Getty Images
As of 2023, "Bal a Versailles" has gone down in perfume history to be the only scent that has ever been produced by Jean Desprez. As reported by Fortnum & Mason, the perfume contains more than 300 of the most expensive natural ingredients found across the world. This level of grandeur perfectly suits Elizabeth Taylor, who always had a taste for the finer things in life. The exotic essences used to make "Bal a Versailles" result in an incredibly unique scent.
Of these essences, Parfumerie Nasreen explains the main top, heart, and base notes are what give it a sensual yet luxe edge. The top notes of "Bal a Versailles" include rosemary, orange blossom, neroli, bergamot, and Bulgarian rose. The middle notes are made up of but not limited to sandalwood, patchouli, orris root, vetier, lily of the valley, and ylang-ylang. Finally, the perfume has a base of amber, musk, vanilla, benzoin, resins, tolu balsam, civet, and cedar. All of these ingredients make for a powerful scent that demands attention when you enter a room, something both Michael Jackson and Taylor were used to.
Bal a Versailles unique ingredients make it truly one-of-a-kind, like Taylor and Jackson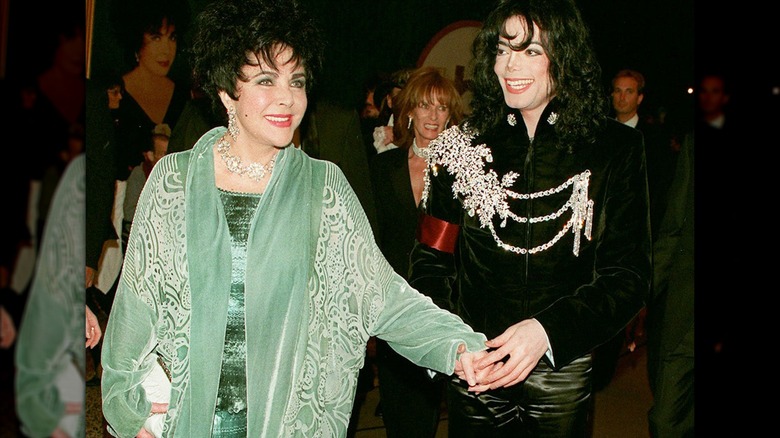 Frank Trapper/Getty Images
Much like its name, the scent of "Bal a Versailles" was intended to evoke times past. Per Fortnum & Mason, the perfume's intention is to make wearers feel like they are attending a sumptuous ball in the Hall of Mirrors at Versailles, hence the rare and expensive ingredients. Because of this, it was the perfect scent for Elizabeth Taylor to wear on the set of "Cleopatra." Taylor's portrayal of the Egyptian queen was extremely glamorous, and her perfume had to match.
In addition to "Bal a Versailles," Taylor wore many perfumes throughout her life. In fact, she can even be said to have pioneered the market of celebrities designing their own fragrances (per Town & Country). One of her fragrances, titled "White Diamonds," still sits amongst the best-selling celebrity perfumes decades since its release. As for her friendship with Michael Jackson, Taylor spoke fondly of him on several occasions. Following Jackson's death, she wrote on X (formerly Twitter), "My heart...my mind...are broken. I loved Michael with all my soul and I can't imagine life without him."