The True Story Behind David Bowie And Bob Dylan's Relationship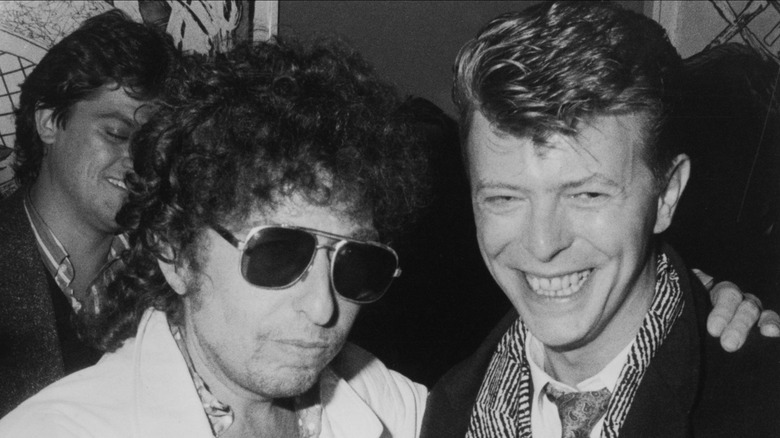 Vinnie Zuffante/Getty Images
Both music legends, Bob Dylan and David Bowie massively influenced the music scenes of the 1960s and 1970s with their unique sounds. However, despite both being huge in their respective music circles, the pair didn't immediately mesh when they first met. Speaking to Playboy in 1976, Bowie shared, "I saw Dylan in New York seven, eight months ago. We don't have a lot to talk about. We're not great friends. Actually, I think he hates me." 
Bowie went on to say that he thinks he frightened Dylan due to his state of mind at the time. "We had all gone to see someone, I can't remember who, and Dylan was there. I was in a very, sort of ... verbose frame of mind. And I just talked at him for hours and hours, and whether I amused him or scared him or repulsed him, I really don't know. I didn't wait for any answers. I just went on and on about everything. And then I said good night. He never phoned me." In spite of Bowie's interesting approach to the conversation, he didn't seem to think it was a wasted opportunity. In fact, he said he didn't feel Dylan was particularly interesting, sharing, "I'd just like to know what the young chap thought of me. I was quite convinced that what I had to say was important, which I seem to feel all the time."
David Bowie seemed to have mixed feelings about his fellow songwriter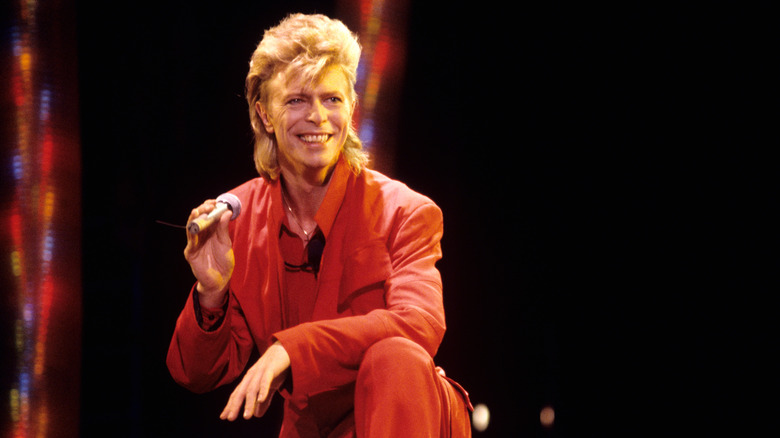 Ebet Roberts/Getty Images
Nevertheless, Bowie could be considered somewhat of a Bob Dylan fan judging by the fact he wrote a song called "Song for Bob Dylan" in 1971 (although, going by the lyrics, the intentions behind the song can also be read in a negative way). In an interview with Melody Maker in 1976 (via Bowie Golden Years), he described the song by saying: "There's even a song — Song For Bob Dylan — that laid out what I wanted to do in rock. It was at that period that I said, 'Okay (Dylan) if you don't want to do it, I will.' I saw that leadership void ... If there wasn't someone who was going to use rock 'n' roll, then I'd do it."
Bowie was a clear fan of some of Dylan's other music, too. He covered Dylan's song "Tryin' To Get To Heaven" in 1998, though the cover remained unreleased until 2021 when it became available to stream in commemoration of Bowie's birthday (via Pitchfork). He also covered another Dylan song titled "Maggie's Farm" during his 1989 "Tin Machine" tour.
The 2 musicians working together never came to be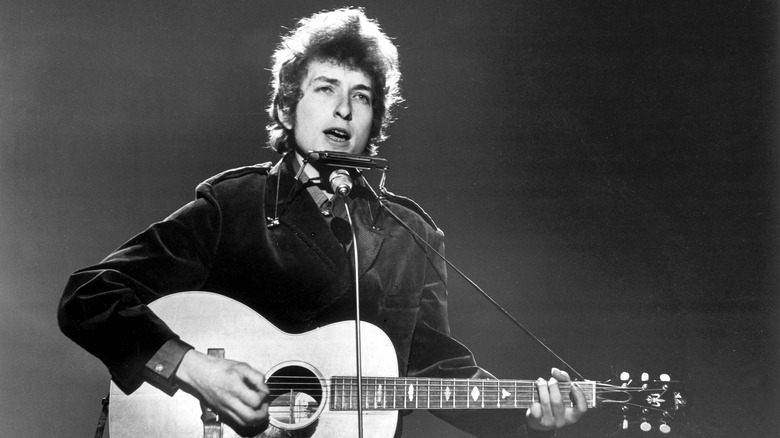 Val Wilmer/Getty Images
Bob Dylan didn't seem to be a huge fan of some of David Bowie's music, which is perhaps why he never called Bowie back when they met. Per Far Out, Dylan supposedly didn't like Bowie's 1975 album "Young Americans." However, Dylan did collab with Bowie's guitarist Mick Ronson to create "Rolling Thunder," also in 1975, so it seems unlikely he held any major grudge. Plus, although Dylan hasn't said much about Bowie, the pair must have been on speaking terms due to Bowie confirming that a duet was once in the works. 
In a 2004 interview with BBC Radio 6, Bowie revealed, "I wrote a lot of things with Dylan. Actually, not many people know that. Me and Dylan, we were going to do a duet thing at one time. We got it in our heads that we could do it a duet, like Art & Garfunkel thing, but in the next morning, I didn't hear another word from him." 
As Dylan didn't call Bowie back after their first meeting, either, it appears he has something of a repeat history when it comes to not getting in touch with people. Either way, despite the lack of response from Dylan, it can be assumed he at least liked Bowie enough to hang out with him and make music from time to time.