Dark Secrets Of '80s Sitcom Stars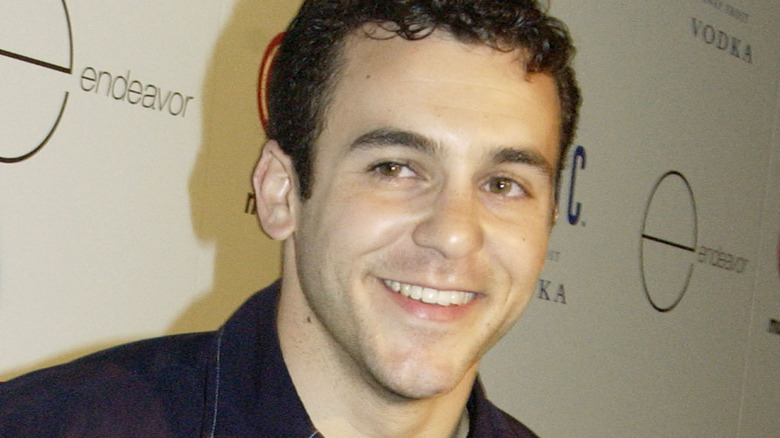 Chris Weeks/Getty Images
By and large, television sitcoms of the 1980s were almost exclusively aired on broadcast TV networks, accessible to all and usually sweet, warm, and suitable for viewers of all ages. But offscreen, the people who starred in those shows were definitely not the characters they played on the small screen for a half hour at a time on a weekly basis. Like most everyone else who has ever existed, 1980s sitcom actors had a secret or two — and a lot of those are dark, disturbing, and troubling secrets. TV stars' personal lives and histories just didn't run parallel to the syrupy, surface-level, and simplistic existence of their characters.
Whether it's exposed in an interview or a memoir, or emerged because of an arrest or as an allegation in a lawsuit, a lot of seedy stuff is buried deep in the biography of some otherwise bright and sunny stars.
Lori Loughlin of Full House did prison time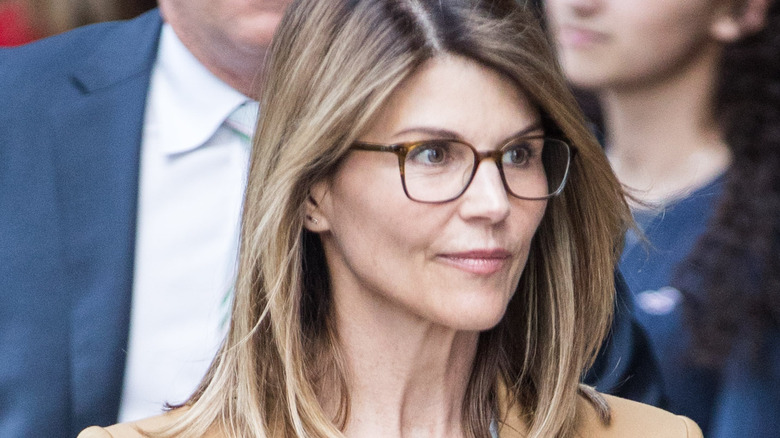 Bloomberg/Getty Images
A late but ultimately permanent addition to the show, Lori Loughlin joined "Full House" in 1988 as Becky Donaldson, girlfriend and then wife of "Uncle" Jesse Katsopolis, thus forever becoming "Aunt" Becky, both for the remainder of the series and in fans' eyes. But to the federal government, Loughlin was just one part of a massive criminal conspiracy.
In 2019, the FBI arrested 50 individuals as part of an investigation and sting called "Operation Varsity Blues." The agency alleged that many well-off and famous parents paid William Rick Singer to juice their children's odds of acceptance at prestigious universities. Among his reported tactics: paying proxies to take entrance exams, paying off test proctors, and giving cash to collegiate coaches to say that the celebrity kids were athletes, when they were not, in order to fast-track their applications. Singer pleaded guilty to racketeering, money laundering, conspiracy to defraud the United States, and obstruction of justice charges.
Loughlin (and her husband, clothing designer Mossimo Giannulli) was accused of paying about $500,000 in bribe money to get their two daughters admitted to USC, in part by falsifying their status as elite crew team members. Both Loughlin and Giannulli entered not-guilty pleas on various counts of mail and wire fraud. Their daughters were subsequently removed from the student rolls at USC, and Loughlin was convicted, receiving a sentence of two months in prison, 100 hours of community service, and a $150,000 fine.
Tracey Gold struggled with anorexia during Growing Pains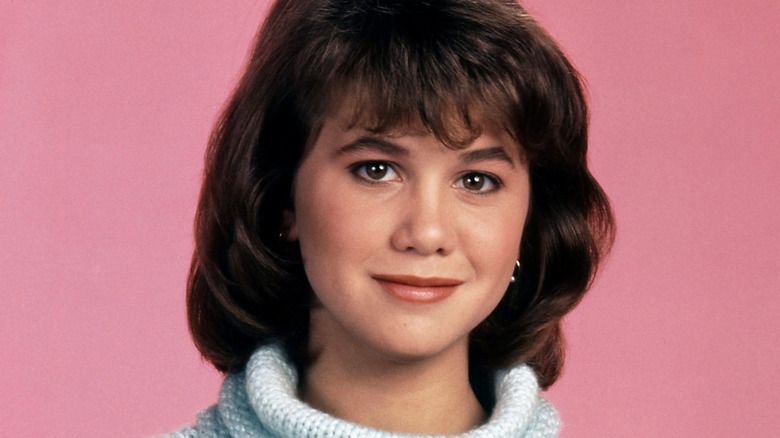 Michael Ochs Archives/Getty Images
In 1981, 12-year-old actor Tracey Gold was diagnosed with the self-starvation-characterized eating disorder anorexia nervosa and received four months of therapy. Four years later, she was cast on the family sitcom "Growing Pains" as teenager Carol Seaver, a character often teased and called overweight by her older brother. Gold loathed the insensitive running gag, and by 1988, her anorexia had returned. At first instituting a restrictive 500-calorie daily diet to go from 133 to 113 pounds, Gold's weight dropped to 79 pounds by 1992. "I just saw her wasting away and she was getting foggy and she couldn't remember lines, and I just was afraid that it was much further than any of us imagined," "Growing Pains" cast member Joanna Kerns told "E! True Hollywood Story" (via the Orlando Sentinel).
Gold sought professional medical treatment for her disease during production of the final season of "Growing Pains" in 1992, and she was absent for multiple episodes, returning for the series finale. The final scene of the show involved the Seaver family eating pizza, which proved challenging for Gold. "I couldn't eat pizza, you know. So I fake eat. I very badly fake eat it," Gold told OWN's "Where Are They Now."
A Small Wonder star experienced poverty and homelessness
Running for four seasons in the 1980s in syndication, "Small Wonder" offered a high-concept, science-fiction twist on the standard family sitcom. Roboticist Ted Lawson built a realistic-looking child robot, Vicki, and raised her like a daughter, alongside his scheming, troublemaking son, Jamie. Jerry Supiran played Jamie Lawson for the entire 1985-1989 run of "Small Wonder," and thereafter retired from acting at the age of 16. And then his life fell into disarray due to some financial mishaps.
Supiran's earnings from "Small Wonder" and other acting gigs had been placed into a trust, which was quickly wiped out. "When I was 19, I dated a [sex worker] and she took what was left of my trust fund — then one of my advisers stole a half-million dollars from me," Supiran said in a 2012 interview with The National Enquirer (via PageSix). The former child star became a server, working at various restaurants for more than a decade, until that proved untenable in 2010. "I was laid off from a restaurant in Henderson, Nevada, due to the economy. I haven't been able to find a job since." Supiran moved to a town in California to be close to his brother. "And while he helps me with hot meals and a shower, he doesn't have the room for me to stay there," the ex-actor said. For a period of time, Supiran resided in a shelter or slept beneath a bridge.
Lauren Tewes' cocaine addiction got her fired from The Love Boat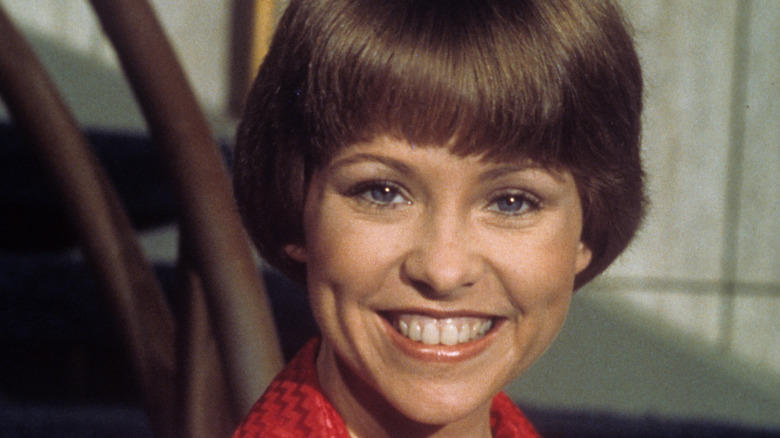 Michael Ochs Archives/Getty Images
Lauren Tewes had very little on-screen experience when she landed the major role of cruise director Julie McCoy on "The Love Boat." During her seven years as a cast member of the hit comedy, Tewes developed an addiction to cocaine. "I was on drugs. I didn't sleep. I slept at work," Tewes told TV Guide (via UPI) in 1985. "I behaved poorly at work, and that is where I made my fatal mistake." That interview came less than a year after Tewes didn't get a contract renewal and was summarily fired from "The Love Boat," although media outlets had previously reported that Tewes was let go after asking for an exorbitant pay raise. "Lauren really got stung by the dark side of Hollywood," producer Aaron Spelling said in his memoir "A Prime-Time Life." "Her marriage fell apart, and she told TV Guide she had become addicted to cocaine."
"Producers now, it's a normal thing if you have a drug or an alcohol or a sex addiction, that your producers say, 'well, here, let's give you a couple of months off and get you straightened out.' Well, we didn't work for those people," Tewes told OWN's "Where Are They Now?" While Tewes would eventually attain sobriety and return for "Love Boat" guest spots and reunions, she couldn't get work for a while. "I was blacklisted. Years later people say, 'We couldn't hire you then. The word was out on you,'" Tewes told Entertainment Weekly. "I was punished."
Full House star Jodie Sweetin had a meth addiction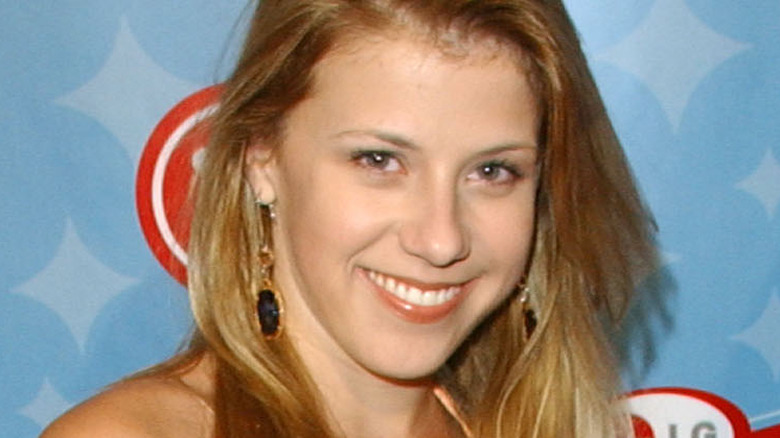 Albert L. Ortega/Getty Images
When "Full House" ended its seven-year run in 1995, Jodie Sweetin, who'd played middle Tanner child Stephanie for the entirety of the series, was 13 years old. Desiring a life outside of the spotlight, Sweetin acted sporadically, attended high school, and then college, and by the time she was 20 she'd married a police officer. "It is kind of hard to figure out who you are when you've lost your job at age 13, when that was basically how you identified yourself," Sweetin told "Good Morning America" in 2006.
In short order, Sweetin turned to substances. In 1996, she had to be carried out of costar Candace Cameron's wedding. "I probably had two bottles of wine, and I was only 14," Sweetin told US Weekly. "But that set the pattern of the kind of drinking I would do." Sweetin discovered ecstasy while in high school, moved on to cocaine in college, and in her early 20s, methamphetamine, to which she became addicted. She attended the premiere of "Full House" twins Mary-Kate and Ashley Olsen's 2004 film "New York Minute" under the influence and ingested meth in the bathroom.
Despite telling media outlets in the mid-2000s that she'd gotten sober, Sweetin continued to use drugs. She joined Alcoholics Anonymous in 2008 after realizing she'd hit a new low when she drove while intoxicated with her young daughter in the vehicle.
Fred Savage's behavior got The Wonder Years canceled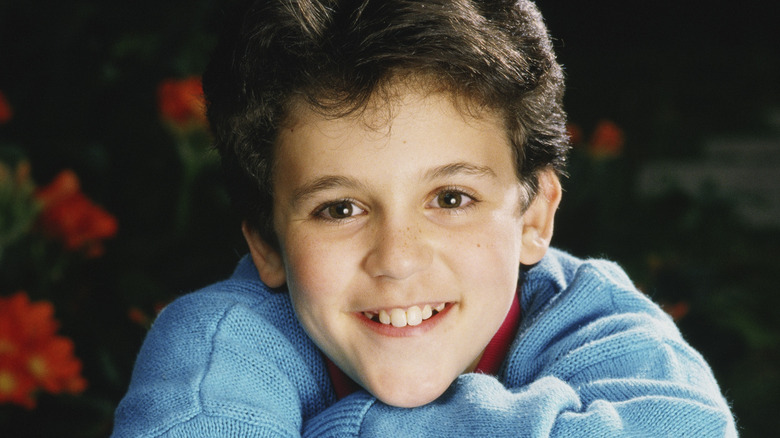 George Rose/Getty Images
The wistfully nostalgic "The Wonder Years" looked back on life in the turbulent 1960s through the eyes of regular kid Kevin Arnold, as played by young actor Fred Savage. The hit series wrapped up a five-year run in 1993, around the time that a crew member filed a lawsuit alleging the then-teenage star of inappropriate behavior and sexual harassment. Monique Long alleged that Savage tried to touch her without consent, repeatedly asked her out, and begged her to be intimate with him. Long also reported that she sought help from Savage's TV dad, Dan Lauria, who allegedly told the 32-year-old costumer to just give in to the 16-year-old Savage's advances.
"The Wonder Years" cast member Alley Mills believes that the show was canceled because of Long's lawsuit. "They wanted to avoid a scandal or something, but it made them look guilty," Mills told Yahoo! Entertainment. That also wasn't the only time Savage was accused of backstage impropriety. Youngjoo Hwang, a costumer on Savage's 2015-2016 sitcom "The Grinder," filed suit, alleging that the actor built an "extremely hostile work environment" via "aggressive behavior, intimidation, and constant use of profanities toward female employees" (via Deadline). Hwang additionally reported that Savage once hit her three times on the arm. When ABC remade "The Wonder Years" in the 2020s, Savage joined as an executive producer and episode director. In 2022, he was fired, following an internal investigation over alleged misconduct.
Bill Cosby of The Cosby Show was accused and convicted of assault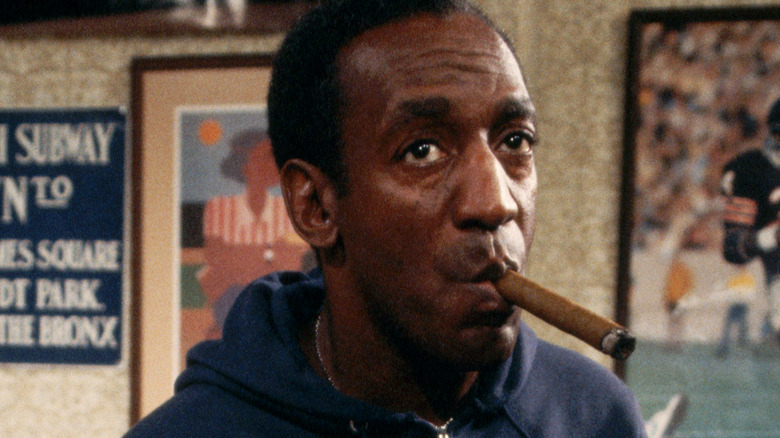 Cheryl Chenet/Getty Images
Already a beloved comedian and TV star (via "I Spy" and "Fat Albert"), Bill Cosby earned the nickname "America's Dad" following the launch of "The Cosby Show" in 1984. By Season 2, "The Cosby Show," which warmly depicted the daily lives of the well-off Huxtable family of New York City, was the No. 1 show on TV, regularly attracting more than 30 million viewers. It would run for eight years and remain one of TV's most-watched shows.
Andrea Constand, an employee of Cosby's old college, Temple University, filed a criminal complaint against the comedian, alleging that in 2004 he gave her drugs to encourage incapacitation and then sexually assaulted her. A lack of evidence prevented the case from moving forward, but Constand successfully sued Cosby in a civil case and was awarded $3.4 million. Prosecutors revisited the case in 2015, and in 2018, a court found Cosby guilty on three charges of aggravated indecent assault, ordering a 10-year prison sentence. The actor was released from prison in 2021 after a technicality resulted in an overturned conviction, but since the Constand case developed, a total of 60 women came forward to accuse Cosby of various acts of sexual misconduct, assault, and rape, many dating to the 1960s.
Mackenzie Phillips of One Day at a Time had a serious drug addiction and an untoward relationship with her father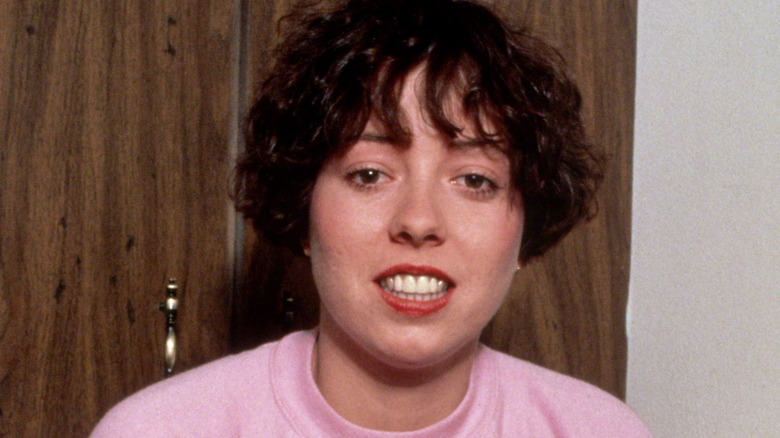 Images Press/Getty Images
"One Day at a Time" made Mackenzie Phillips famous, but then she was already fairly well-known, as her father was John Phillips, a member of the popular '60s folk-rock band the Mamas and the Papas. "I come from a long line of undiagnosed mental illness, rampant addiction, and alcoholism," Mackenzie told "Oprah: Where Are They Now?" (via HuffPost) in 2016. She recalled her father showing her how to make a marijuana joint at age 10, and she tried cocaine for the first time at age 11. When she was 17, Phillips got arrested for disorderly conduct while under the influence — an incident that got the actor fired from "One Day at a Time" for a while.
Her father, who she said also taught her how to use cocaine intravenously, sexually assaulted her on the eve of her wedding in 1979, when she was 19. "I woke up that night from a blackout to find myself having sex with my own father," Mackenzie wrote in "High on Arrival." Plying her with drugs, the elder Phillips convinced his daughter that their relationship, which went on for 10 years, was consensual. "I never let him touch me again," she wrote (according to the Seattle Times), after she aborted an unwanted pregnancy and wasn't sure of the paternity.
Kelsey Grammar of Cheers was arrested for drunk driving and drug issues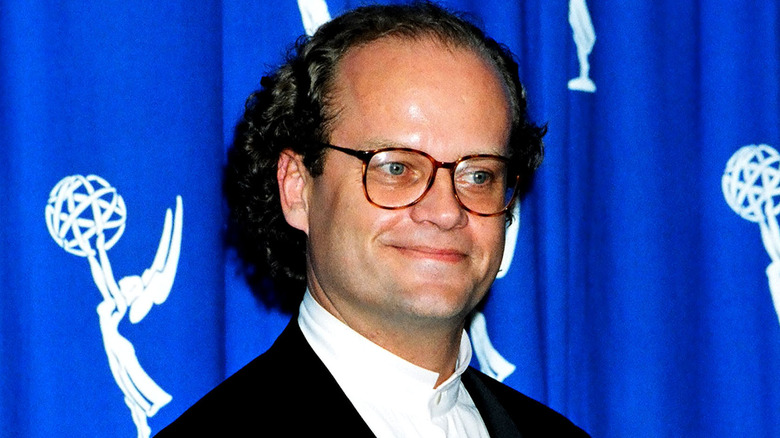 Jeff Kravitz/Getty Images
Before starring in the spinoff "Frasier," Kelsey Grammer joined "Cheers" in 1984, portraying fussy psychiatrist Dr. Frasier Crane. Offscreen, Grammer coped with alcohol and drug abuse as well as related problems involving the law and property damage. In 1987, the actor was arrested on a drunk driving charge, and after he entered a plea of no-contest, he agreed to enroll in and finish an alcohol rehabilitation program. He didn't do it, and after a California judge issued an arrest warrant in 1990, Grammer was sentenced to 30 days in jail and 10 days of highway trash pickup. The same day in 1990 that he faced a court for the drunk driving charge, Grammar stood before another judge to receive punishment for not finishing a drug rehabilitation program following an arrest for possession of cocaine. In August 1990, that case earned Grammar 90 days of house arrest.
Grammer got sober but reportedly relapsed in 1996, spotted at a bar ordering drinks while visibly intoxicated. Two days after that sighting, Grammer crashed his Dodge Viper (a gift from "Cheers" and "Frasier" network NBC) in Agoura Hills, California. Arrested on suspicion of drunk driving, Grammar checked into the Betty Ford Center for rehabilitation immediately upon his release.
Rick Schroder of Silver Spoons had multiple domestic violence arrests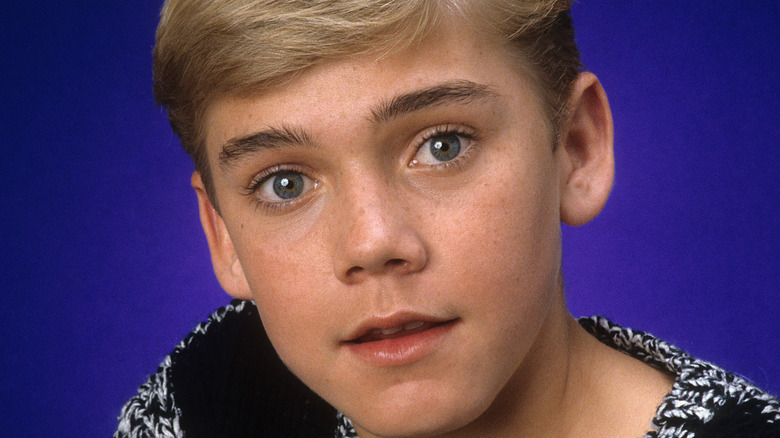 Michael Ochs Archives/Getty Images
The 1980 Golden Globe winner for New Star of the Year in a Motion Picture was 9-year-old Ricky Schroder. He subsequently became one of the most prominent child (and teenage) TV stars of the decade, portraying good-hearted rich kid Ricky Stratton on "Silver Spoons" from 1982 to 1987. Schroder successfully managed the transition to adult roles, notably costarring in the acclaimed 1989 miniseries "Lonesome Dove" and playing Det. Danny Sorenson on "NYPD Blue" from 1998 to 2001.
In 2019, Schroder made headlines for two similar and closely timed criminal incidents. On April 2, 2019, Los Angeles County Sheriff's deputies were summoned to a home in the Topanga Canyon section of Los Angeles. Noticing signs of a fight, Schroder was arrested but then released after posting bond. Less than one month later, deputies answered another call at the same house. A woman in the residence told a 911 dispatcher that Schroder had delivered a punch to her face, and he was once more arrested, booked on suspicion of domestic violence. He posted the $50,000 bail and went home. The district attorney dropped charges in that case, citing that it was hard to prove abuse because of unreliable testimony from the alleged victim.
Max Wright of ALF filmed himself doing drugs and other things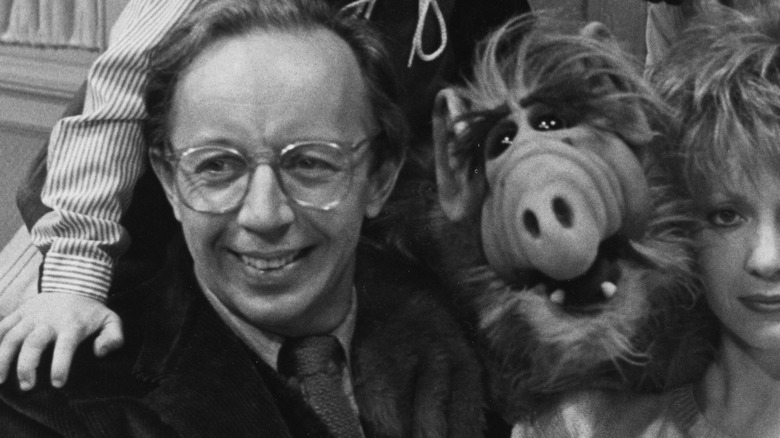 Michael Ochs Archives/Getty Images
Max Wright starred on two sitcoms in the 1980s. The first: the short-lived but heavily Emmy-nominated "Buffalo Bill." The second: the extremely popular "ALF," in which Wright played Willie Tanner, the sputtering, put-upon victim of a cool, joking extraterrestrial who secretly lived in his house. As its title character was portrayed partially by a sophisticated puppet, "ALF" was a technically difficult show to produce, and shoots could drag on for hours, frustrating and tiring the human actors. Wright reportedly reached a breaking point one day and attempted to fight the ALF puppet while screaming in its face. "It was hard work and very grim," Wright told People in 2000. "I was hugely eager to have it over with."
In 1995, Wright received a lymphoma diagnosis and entered into chemotherapy and radiation treatments. After appearing on three Norm Macdonald TV shows in the 2000s, Wright mostly left show business and experienced a lot of personal problems. He was arrested on drunk driving charges in 2000 and 2003. In between, the National Enquirer posted screenshots from a homemade video showing Wright smoking crack cocaine and engaging in sexual acts with two men. According to the magazine, Wright routinely solicited unhoused men for the purposes of sexual gratification. Estranged from his wife (who died in 2017), Wright died in 2019.