Every Time Someone On SNL Had To Apologize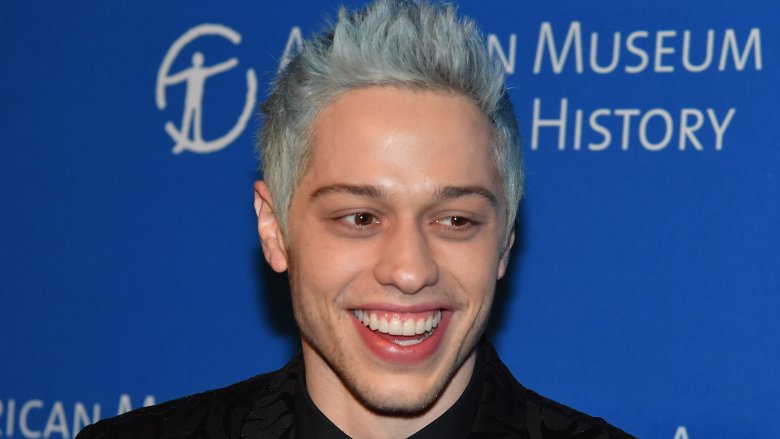 Getty Images
Saturday Night Live is a cultural institution and a stalwart of late-night television. Most every Saturday at 11:30 p.m. since 1975, Lorne Michaels' comedy show has presented jokes, sketches, ad parodies, a fake newscast, and musical guests to millions. By Monday morning, everyone who watched has a hot take to share with their friends, and they usually revolve around the most notable, standout, and incendiary sketches. For while SNL is entertainment, it strikes to be a hub of all kinds of satire, as its writers and cast aim to speak truth to power and point out the maddening absurdities of Hollywood, politics, and daily life.
It's in those bold steps that SNL can get itself into trouble. Once in a while, a writer, cast member, or guest will reach too far and step over the satire line and into offensive or mean territory. As it's a show broadcast by a major network owned by a huge corporation, SNL has usually been quick with the mea culpa.
He's Chevy Chase, and he's mean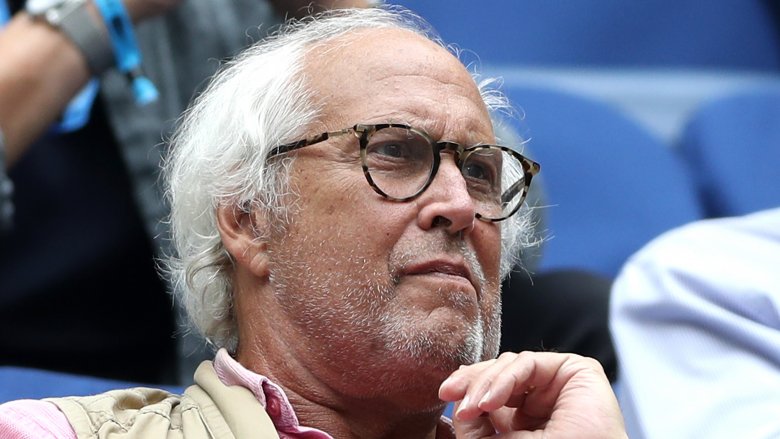 Getty Images
Chevy Chase is one of the all-time SNL greats, the breakout star of the show's first season, after which he left for a movie career. He's returned to SNL every so often to host, including one early in the 1985-86 season. "We were all so excited because to us, Chevy was like a god," cast member Terry Sweeney recalled in James Andrew Miller and Tom Shales' SNL oral history Live from New York. "And when he got there, he was a monster."
Sweeney says Chase was mean to everyone — he cruelly quipped to cast member Robert Downey Jr. that the actor's father "used to be a successful director" and that his career had died and "he sure went to hell." Chase saved his most appalling remarks for Sweeney, the show's first openly gay cast member. "I've got an idea for a sketch for you," Sweeney recalled Chase saying to him. "How about we say you have AIDS and we weigh you every week?" Show higher-ups were so angry and embarrassed by Chase's behavior that they made him reach out to Sweeney. "So then he ended up having to apologize and actually coming to my office. He was really furious that he had to apologize to me."
That Rocket-launched F-bomb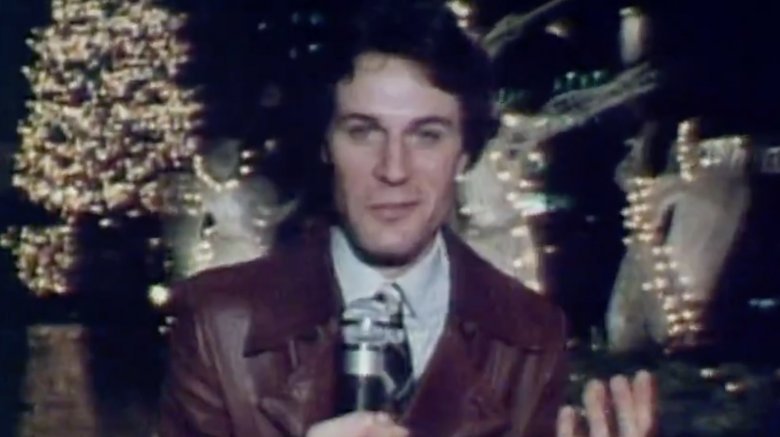 Charles Rocket's face is recognizable to anyone who consumed comedy films in the '80s and '90s — he often played put-out, evil yuppies in classics like Earth Girls Are Easy and Dumb and Dumber. He didn't have as big a career as other SNL graduates, and that might be because his most famous moment from the show is among the most controversial in the sketch comedy series' long history.
On February 21, 1981, SNL parodied the "Who Shot J.R." cliffhanger from Dallas that had gripped Americans the previous year. As Dallas star Charlene Tilton was the host that night, it played out with an unidentified assailant attempting to shoot and kill Rocket. He "survived" and at the end of the show, when the cast gathered to say goodnight to the audience, Rocket sat in a wheelchair, and Tilton asked him what it felt like to get shot. "Aw, man. It's the first time I've ever been shot in my life," Rocket said. "I'd like to know who the f*** did it." That F-bomb wasn't scripted, of course, as dropping one can bring a network some scrutiny and fines from the FCC. SNL fired Rocket not long after, and NBC apologized on behalf of the comedian.
Immediate regrets, love Kristen Stewart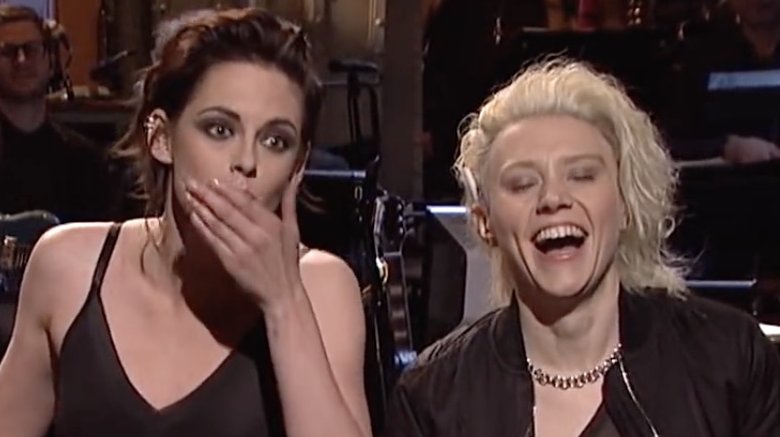 What a difference 36 years makes. Actress Kristen Stewart hosted SNL in February 2017, and while wrapping up her monologue, she was overcome with joy and excitement, and remarked that appearing on SNL was "the coolest [bad word that starts with an "f"] thing ever." She (and a roaring studio audience plus cast member Kate McKinnon) immediately realized what she'd done, and she apologized.
"I felt so bad about it," Stewart told USA Today. "I just came offstage apologizing profusely and being like, 'I'm so sorry, that's not something I thought was going to happen.'" But it was apparently no big deal. "And they were really nice about it. They were like, 'We still have an entire show to do, don't think about it.'" Stewart says SNL boss Lorne Michaels didn't even say a word about the F-bombing. Besides, the brief, incendiary language was edited out of the broadcast when it aired on the West Coast.
Ashlee Simpson gave lip service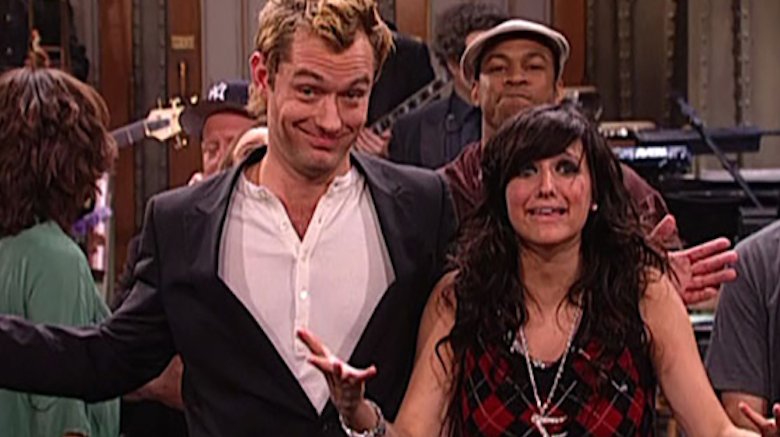 Conceived and first broadcast in the mid-'70s, SNL was a hip, youthful take on the TV variety show format popular at the time, exemplified by corny nonsense like Donny & Marie. SNL is TV's last variety show, and the last variety element of it is the musical guest. Pop sensation Ashlee Simpson booked an October 2004 SNL episode, hitting the stage to perform her hit "Pieces of Me." She returned to the spotlight for her customary second appearance, and the band started to play a different song ... while Simpson started to sing "Pieces of Me" again. Was she singing the wrong song? No, she wasn't singing at all. Evidently, she'd lip-synced to a pre-recorded backing track for "Pieces of Me," and had intended to use one for her second song, until someone played the "Pieces" track again. The band kept playing live while a frantic Simpson vamped, doing some weird dance moves before leaving the stage and the show abruptly throwing to commercial.
At the end of the episode host Jude Law more or less apologized to viewers: "What can I say? Live TV!" Then Simpson tried to explain what happened. "I feel so bad, my band started playing the wrong song and I didn't know what to do, so I thought I'd do a hoedown," she said. "I'm sorry!" She later owned up to lip-syncing, saying she used a backing track in the first place because an acid reflux incident made actually singing virtually impossible. Oh ... okay?
Times have changed, and Bill Hader realizes that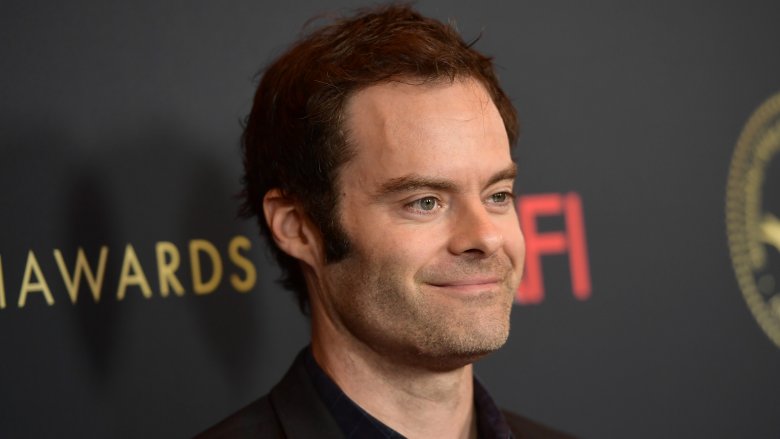 Getty Images
For decades — well, up to about maybe three years ago — comedians could and would mine cheap and easy laughs about "gender-bending." We're in more woke times now, and looking back, jokes, sketches, and movies about people transitioning from one gender to another are embarrassingly transphobic. Advocacy organizations like GLAAD have called it out for a long time, like in 2011 when SNL aired a faux ad for a product called "Estro-Maxx." It's an estrogen supplement "that works for your schedule," and the sketch derives its humor from showing male cast members like Bobby Moynihan sporting breasts and facial hair at the same time, and Bill Hader as "a pre-op transexual in his third month of hormone treatment" checking out his budding bosoms in a mirror. GLAAD joined up with the Transgender Legal Defense Fund and the Human Rights Campaign to start a petition to "tell NBC it is unacceptable to dehumanize transgender people by turning their lives into a punchline."
Three years later, in an interview with PrideSource, Hader said he regretted making the sketch. "The show takes responsibility for it," Hader said. "I don't think anyone wrote it to hurt anybody's feelings, but once [the protests] happened, it was like, 'Oh yeah. Point taken. Sorry.'"
Please laugh at Bill Murray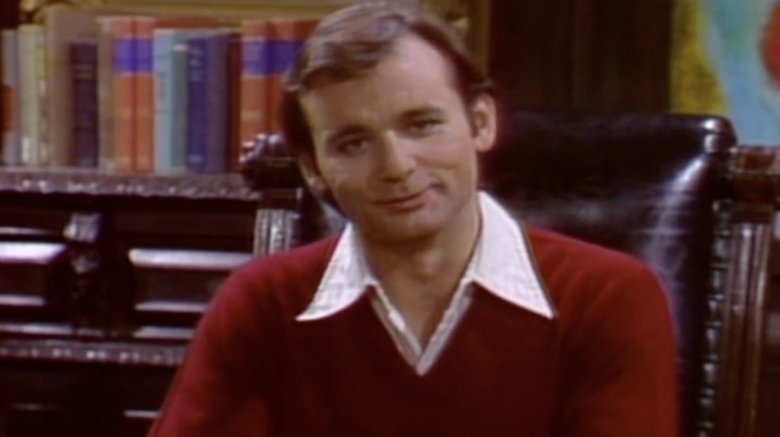 Whether he's stalking a gopher in Caddyshack, stalking ghosts in Ghostbusters, or randomly showing up at strangers' parties, everyone can agree that Bill Murray is hilarious. He wasn't always America's cool older brother. According to Variety, so many people apparently didn't like Murray (or didn't think he was a worthy replacement for Chevy Chase) that it warranted an at least partially facetious apology/appeal on Murray's sixth episode of SNL in 1977. Seated behind a desk (bearing a nameplate to remind viewers who he is), Murray ("Billy, but around here, everybody just calls me 'The New Guy'") confesses, "I don't think I'm making it on the show. I'm a funny guy but I haven't been so funny on the show." He goes on to explain that he's just not funny "at the right time," and that he's even losing his chops in his personal life, telling a story about how castmate Dan Aykroyd took home a lady from a party that Murray had "wanted to impress."
Murray then pulls on heartstrings, telling viewers that his father died when he was a teenager, and that his widowed mother raised him and his eight siblings. "If you could see it in your heart to laugh whenever I say something..." Murray begins his closing argument. If the last 40 years of his career are any indication, the apology worked.
Pete Davidson patched things up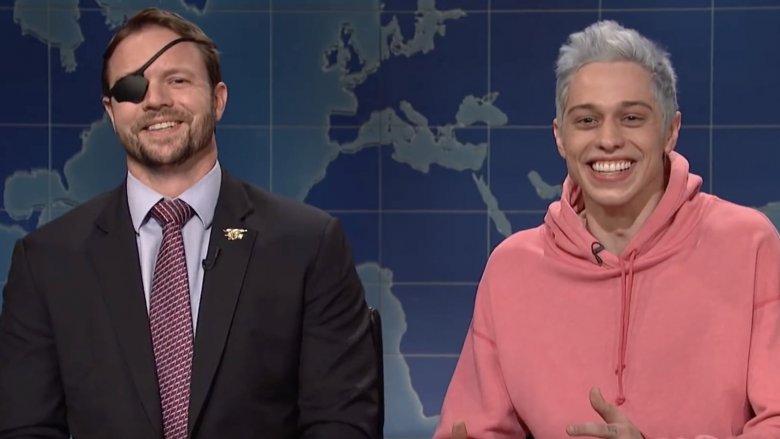 Pete Davidson is a stand-up, and SNL finds ways to incorporate that into the show, such as giving him a few minutes to riff during "Weekend Update." On the November 3, 2018, episode, Davidson displayed photos of people running for various offices and made fun of them, including Texas hopeful Dan Crenshaw. Davidson focused on the politician's eyepatch. "You may be surprised to hear he's a congressional candidate from Texas, and not a hit man in a porno movie," Davidson joked. "I'm sorry, I know he lost his eye in war or whatever."
Well ... indeed he did. Crenshaw is a former Navy SEAL, and he lost his eye in an IED explosion in Afghanistan. The National Republican Congressional Committee asked for an apology, and SNL star Kenan Thompson said on NBC's Today that his castmate's joke "missed the mark." On the next episode of SNL, Davidson owned it. He appeared on "Weekend Update" alongside Crenshaw. "In what I'm sure was a huge shock for people who know me, I made a poor choice last week," Davidson said. "I mean this from the bottom of my heart. It was a poor choice of words. The man is a war hero, and he deserves all the respect in the world." Crenshaw accepted Davidson's apology, and then ribbed the comedian right back: His phone rang, and his ringtone was "Breathin'," a song by Ariana Grande, Davidson's former fiancée from whom he had recently very publicly split.
Mike Myers felt fine about this sketch ... NOT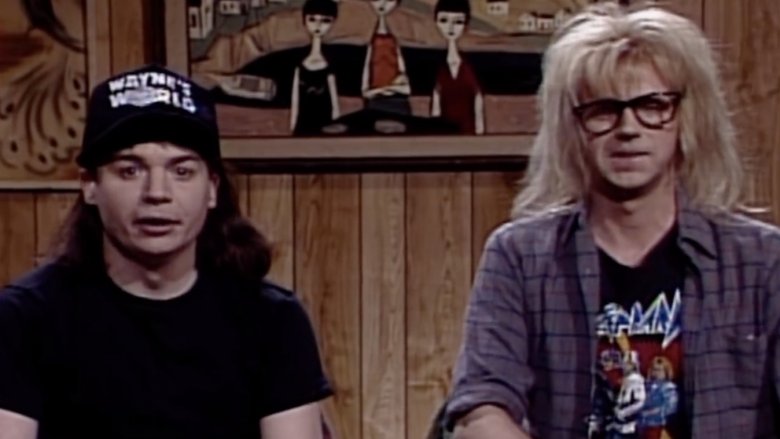 In SNL's extremely popular "Wayne's World" sketches, Mike Myers and Dana Carvey portrayed Wayne Campbell and Garth Algar, a couple of metalheads who host a cable access show where they waxed poetic on all kinds of topics, particularly current events and celebrity "babes" who made them say "schwing!"
In the guise of a "Top 10 List" of things to look for in the upcoming Clinton administration, number two was "first daughter" Chelsea Clinton. "While it's true that adolescence has been thus far unkind," Myers said, referring to Chelsea's pubescent appearance, "We think she's gonna be a future fox." At the time, the presidential offspring was just 12 years old, so it's both cruel and creepy to have discussed her looks, let alone mock them.
Clinton's mother — you know, the first lady — was livid. "It's mean and nasty to pick on Chelsea's appearance," Hillary Clinton said at the time (according to the Weekly Standard). "I think it's sad that people don't have anything better to do than be mean to a child." Myers apologized in the form of a letter to the first lady. "I felt awful. It was not my intention to make fun a of a 12-year-old, but to say, 'We think you're a future fox,'" Myers told Macleans. "That it got misinterpreted sickened me to my stomach."
Tina Fey was left with cake on her face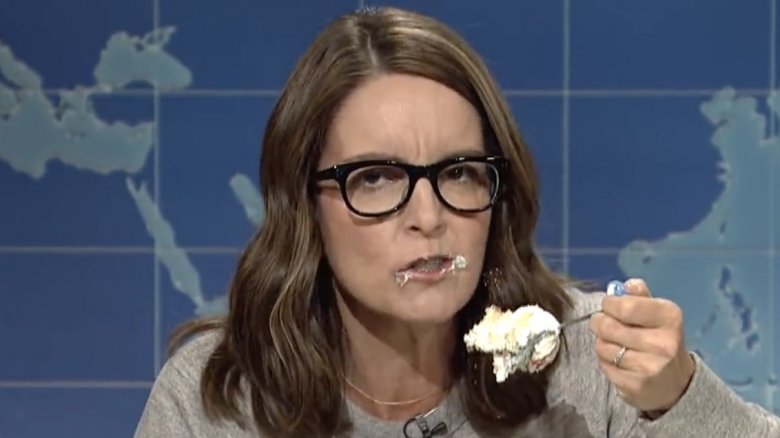 In the summer of 2017, NBC ran a series of SNL-branded "Weekend Update" specials. Just after an alt-right rally in Charlottesville, Virginia, culminated in the vehicular murder of counter-protester Heather Heyer, SNL alum Tina Fey came on to the show to issue a darkly comic editorial. Fey jokingly called on viewers to not protest upcoming alt-right events but to redirect their anxiety and frustration. "Instead of participating in the screaming matches and potential violence, find a local business you support. Maybe, a Jewish-run bakery or an-African-American run bakery," Fey said. And do what there? Buy an American flag cake and "just eat it." Fey then stuffed herself with cake as she continued her bit, wrapping it up by asking "all good, sane Americans to treat these rallies this weekend like the opening of a thoughtful movie with two female leads: Don't show up."
Fey endured some backlash for what many construed as a flippant response to a serious issue. Fey later addressed the controversy on David Letterman's Netflix talk show, My Next Guest Needs No Introduction. "I felt like a gymnast who did like a very solid routine and broke her ankle on the landing," Fey said. "Because it's literally within the last, I think, two or three sentences of the piece that I chunked it. And I screwed up, and the implication was that I was telling people to give up and not be active and to not fight. That was not my intention, obviously."
When the show saw fit to bring on the governor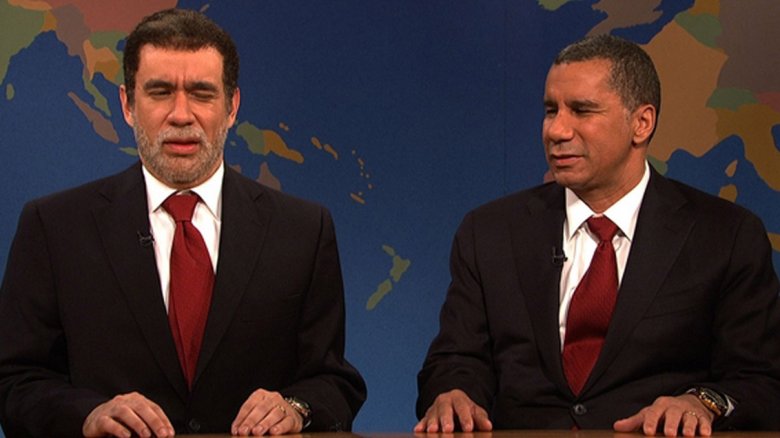 Once in a while, public figures so closely resemble members of the SNL family that the show can't help but mock them. In addition to Tina Fey and her political lookalike Sarah Palin, SNL star Fred Armisen and former New York Governor David Paterson could be twins. The show ran with it, bringing on Armisen as Paterson for a series of "Weekend Update" appearances from 2008 to 2010. After chatting for a few minutes, the fake newscast would resume ... which "Paterson" would then interrupt by wandering back into the shot or walking in front of the camera. The joke here is that the real Paterson is blind and can't see where he's going. Haha?
In September 2010, Paterson appeared on "Weekend Update" to tell the show he didn't like how he'd been treated. "While I have a good sense of humor, jokes that degrade people just for their disabilities are sophomoric and stupid," the governor said. Guest host/show veteran Amy Poehler then apologized on behalf of SNL. "Governor, we are really sorry. I think I speak for everyone here that we'll be more respectful of the blind."
It's like a real-life episode of Curb Your Enthusiasm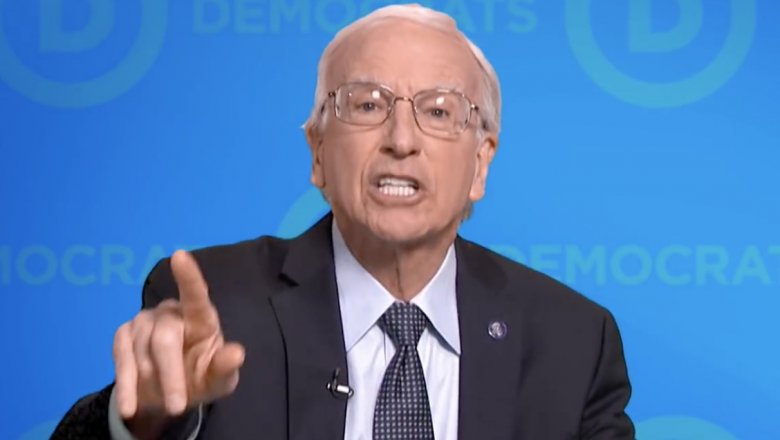 Curb Your Enthusiasm star Larry David hosted Saturday Night Live in 2017. After telling some jokes in his monologue about Jewish people (among whom David counts himself), he segued into that oh-so-hilarious topic of World War II concentration camps. David wondered if he'd been a young man in Poland during the Holocaust "and was sent to a concentration camp, would I still be checking out women in the camp?" He then discussed how "there are no good opening lines in a concentration camp." The CEO of the Anti-Defamation League, a Jewish advocacy organization, promptly tweeted his opinion of David's jokes: "He managed to be offensive, insensitive & unfunny all at the same time. Quite a fear."
On the very next episode of SNL, David popped up in a faux commercial for the Democratic National Committee. David reprised his recurring role as Senator Bernie Sanders, who angrily argued that the Dems need to fight politically insensitive comedy. Among them, "these comics out there who think it's okay to make jokes about concentration camps. That guy should rot in hell."
When SNL upset a major world religion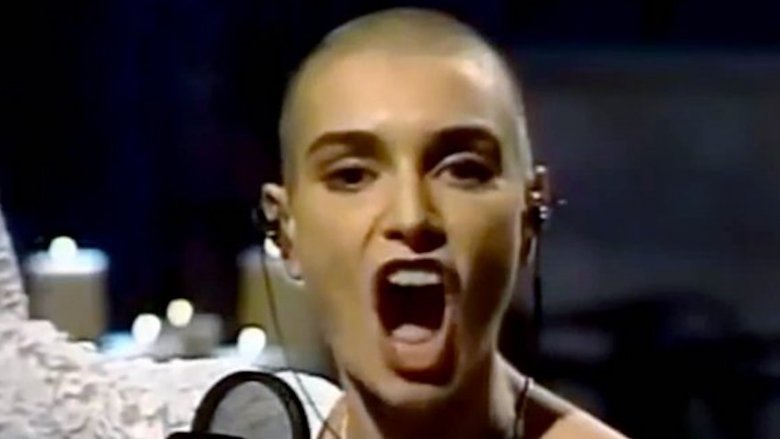 In October 1992, popular singer-songwriter Sinead O'Connor performed as a musical guest on SNL and delivered a powerful a cappella rendition of Bob Marley's protest song "War." As O'Connor sang the final lines of the song — "as we are confident in the victory of good over evil" — she held up a photograph of Pope John Paul II ... and tore it into a bunch of little pieces. "Fight the real enemy!" O'Connor then implored the studio audience, which was stunned into silence.
The woman once best known for "Nothing Compares 2 U" thus became instantly best known for this because it upset a lot of people. "Millions of Catholics in California are incensed at this blatant defamation of the leader of the Catholic Church," the California Chapter of the Catholic League for Religious and Civil Rights said in a statement. Students at the University of Notre Dame, a Catholic school, threatened to stage a protest during a football game scheduled for broadcast on NBC, the same network that airs SNL.
NBC went into damage control. "It goes without saying that NBC does not condone what Ms. O'Connor did," NBC vice president Curtis Block told the Associated Press. "We would never authorize something like that," he continued, adding that SNL executive producer Lorne Michaels "likewise was offended and surprised."