The Untold Truth Of Enya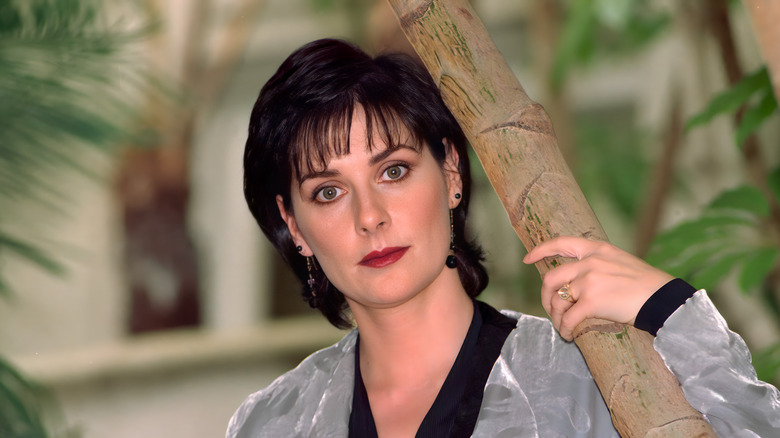 Bob Riha Jr/Getty Images
Does Enya make music, or does Enya weave evocative, imaginative, soul-stirring, mind-opening soundscapes? However one can classify the artist — she's a singer, a musician, a guide to the ethereal world of richly produced New Age ideas combined with traditional Irish sounds — one can't deny that her work has resonated with millions. With memorable hits such as "Only Time" and "Orinoco Flow (Sail Away)," Enya is one of the best-selling artists of all time, and certainly one of the most popular non-rock, country, or R&B musicians. Despite this success, she has unleashed just a handful of mysterious and haunting albums since the 1980s, carefully crafting a perpetual soundtrack for relaxation, meditation, and millions of chill-out sessions.
Her compositions and performances are so next-level, as spiritual and inscrutable as they are inviting, that the world wants to know about Enya's whole deal. Who is she, really? Where is she from? What does she do when she isn't composing and singing fairy-tale-like music? She's a private person, but an interesting one, and an uncompromising and singular artist all the way. Here's about all there is to know about Enya.
Enya left a big band and found even more success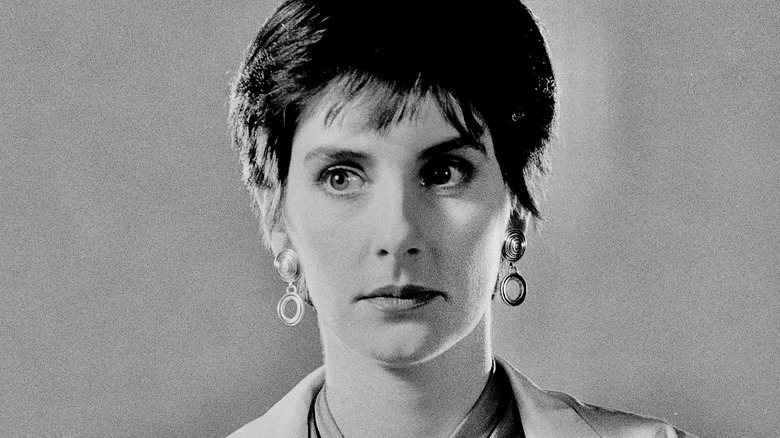 Steve Rapport/Getty Images
Before Enya came along, one of the few acts to perform in the specific milieu of traditional Celtic pop-meets-New Age music was Clannad, an Irish family band whose name literally means "family" in Gaelic. Clannad released five albums between 1973 and 1980, the latter being the same year that Eithne Bhraonain — who would later be known as Enya — joined her immediate family in the group. It was also around that time when Clannad started to sell a lot of records around Europe — particularly the U.K.
But by 1982, when Clannad scored a top-five chart hit with its theme song for the British TV show "Harry's Game," Enya had already left the group. Clannad's manager, Nicky Ryan, had persuaded her to join the band, and in 1982, Ryan dropped Clannad as a client. "We had a fall-out, it was one guy who was going too far with the drink," Ryan told The Quietus. "I said, 'it's either him or me,' and they said, 'it's you, you're out, because he's a brother.'" During the confrontation, the rest of Clannad made Enya decide where her loyalties lay. She opted to depart with Ryan, along with his wife and collaborator, lyricist Roma Ryan.
Enya is a person but also a band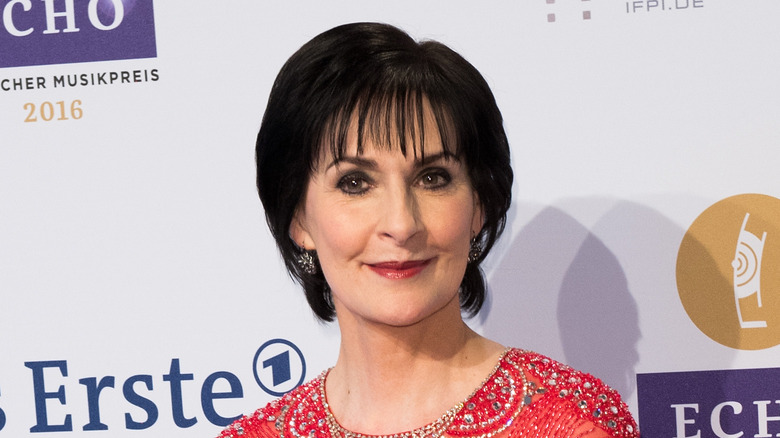 Matthias Nareyek/Getty Images
The names of some musical artists refer to individuals, others to a band, and a few still to both. In the latter category are acts like Alice Cooper, Marilyn Manson, and Enya, with a moniker that represents both a group and its front person. The face of the Enya operation and its most visible and active contributor is the vocalist born Eithne Ni Bhraonain, from Gweedore, County Donegal, Ireland, who performs under the stage name of Enya.
However, Enya is also the name for a tight-knit trio of musicians that have worked together since the 1980s, to create the albums bearing the Enya name. The singer Enya composes the melodies for all of the songs created, while Roma Ryan writes the lyrics, and her husband, Nicky Ryan, records, produces, and mixes the recordings. The trio has never worked with anyone else under the Enya umbrella, and since 1982, all have contributed to the management of every element of the singer Enya's career.
As Enya is really a collective and not one person, Bhraonain and the Ryans have all shared in certain successes. For example, the Oscar nomination for the Enya song "May It Be," that appeared in the 2001 film "The Lord of the Rings," went to all three musicians, not just the singer known as Enya.
Enya's first albums were low-key soundtracks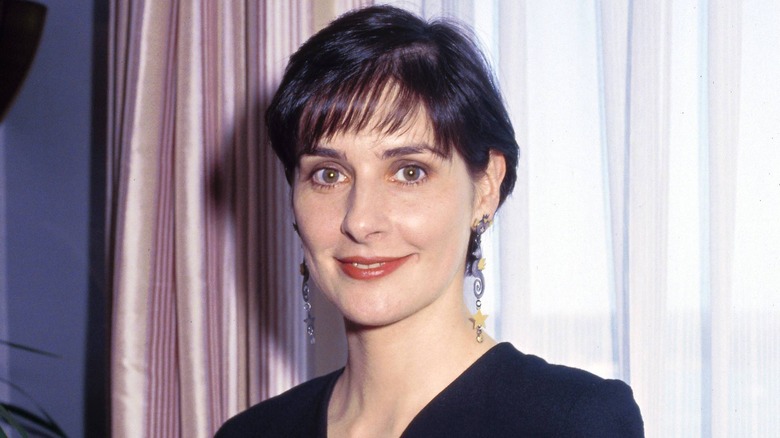 Bob King/Getty Images
After breaking away from Clannad to create a new act with Nicky Ryan and Roma Ryan, Enya moved into the married couple's house in Artane, a suburb of Dublin, Ireland. Nicky Ryan put together an in-home studio and Enya began to compose and record vocal-free instrument pieces, featuring herself playing the cello, saxophone, and piano. "It was Roma who said to me, 'this is very visual,'" Enya told The Quietus of her collaborator's reaction to her first project. "Nicky had this idea for years and years of using the voice as an instrument, not just layering string parts." Roma encouraged Enya to sing, too, and create a distinctive element of the Enya sound.
With the idea in mind that the collection of songs they recorded together had a visual feel, they sent a demo tape to movie producer David Putnam, who placed two tracks credited to Enya on the soundtrack of the 1985 film "The Frog Prince." Putnam's advocacy for the group led to another soundtrack gig. The Enya trio scored all six episodes of the BBC documentary miniseries "The Celts." Six works created for that show wound up on Enya's first standalone, self-titled album.
She's a master of Enya-nomics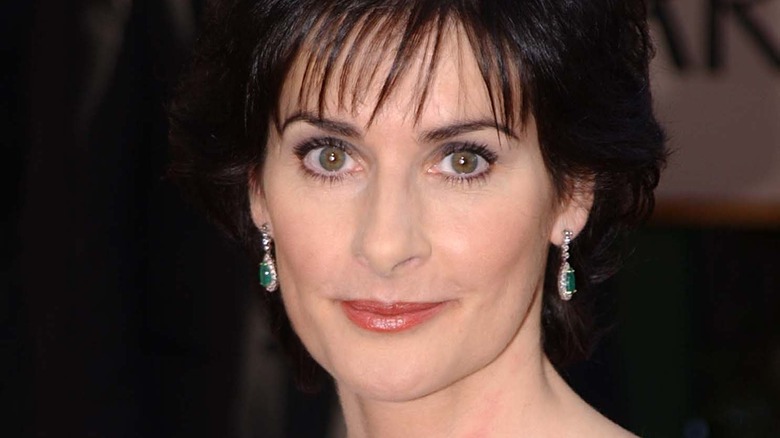 Jeff Kravitz/Getty Images
By almost any metric, Enya is among the most successful musicians of all time. More than 80 million Enya albums have been purchased globally since the mid-1980s, and the singer's net worth sits in excess of $135 million. But Enya racked up those stats with an approach to promotion and publicity that differs from that of almost every other top-selling musician, one that seems almost counter-intuitive. She doesn't release many singles; only two on which she's the lead performer have reached the top 30 of the American pop chart, and airplay on mainstream radio is virtually non-existent. 
Enya has also never staged a concert tour, she rarely even performs live at all, and has never allowed for the manufacture or sale of official merchandise bearing her name and image. "I always felt fame and success were two different things," Enya told Express. "It felt to me I don't really need to flaunt it, to sell the music."
And Enya only sells that music when she feels like making it. She asked that Warner Music UK write into her first recording contract a stipulation that she only needed to release an album every three years. Later in her career, Enya would go nearly a decade without recording a new LP. Economists coined a term to describe the Enya machine, in which the music virtually sells itself: "Enya-nomics." The singer was asked to lecture on the topic at Harvard Business School, but she turned down the offer.
How 'Orinoco Flow' sailed into joke territory and back again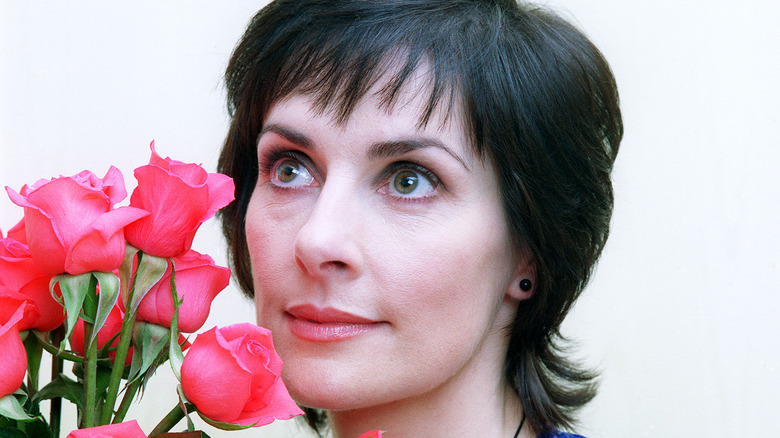 Todd Plitt/Getty Images
When "Orinoco Flow (Sail Away)" hit the radio in 1988, nothing else sounded like the lilting, mystical combination of reverberating vocals and synthesized orchestral sounds. "Orinoco Flow" was a major hit, topping the pop chart in the U.K. and reaching the top 30 of the Billboard Hot 100.
But "Orinoco Flow" might have been a little too different. Over the decades, "Orinoco Flow" turned into a joke. It was frequently used on soundtracks when the scene needed music to mock, or to ironically underscore scenes that looked the opposite of what "Orinoco Flow" sounded like. For example, two older people were presented as out-of-touch nerds when dancing to the tune on "Cougar Town," and it popped up in "Brooklyn Nine-Nine" for a scene when a triumphant detective wanted to look like a tough guy.
The use of "Orinoco Flow" in the 2018 adolescent drama "Eighth Grade" may have brought the song a new appreciation. Writer-director Bo Burnham struck on the idea of using Enya for a scene where its main character finds her brain coming alive as she checks social media. "I listened to 'Orinoco Flow' and was like, this song is so weird. This song is so much cooler and stranger than I remember it being, and it's also very deep," Burnham told HuffPost. Burnham secured the rights by writing an earnest and personal letter directly to Enya.
Enya is a hip-hop legend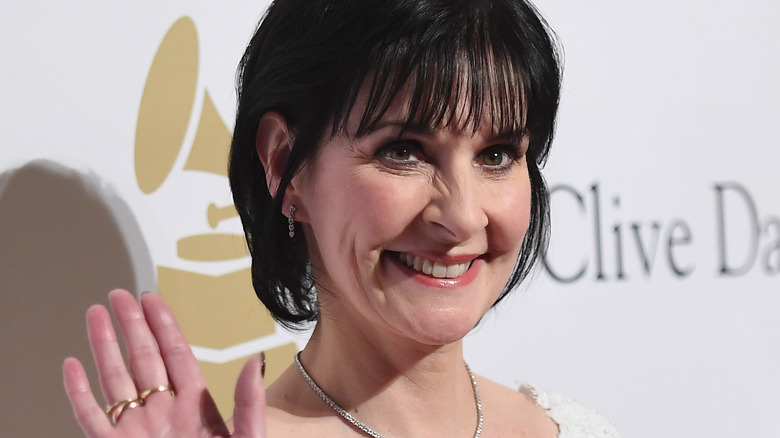 Kevork Djansezian/Getty Images
One of the first songs Enya ever released was a track called "Boadicea," which appeared on her debut, self-titled album in the mid-1980s. Characterized by reverb-heavy vocals and sharp synthesizer stabs, the song has endured over the decades and is one of Enya's most listened-to works because of frequent repurposing. It's been sampled in more than 50 hip-hop songs, from Lab-Tek's "Weird Science" in 1993, to RAF Camora's "Intro" in 2023. In between, the Enya composition was featured prominently in some big rap hits.
Diddy sampled "Boadicea" for "I Don't Wanna Know," his no. 2 hit collaboration with Mario Winans, and he gave Enya a "featuring" credit. When the Fugees used "Boadicea" in its 1996 hit "Ready or Not," the group failed to acknowledge Enya in any way or get prior permission. "With the Fugees, we were actually on the verge of suing them because of the copyright infringement, because they just didn't approach us," Enya told Forbes.
Enya refused to get on board 'Titanic'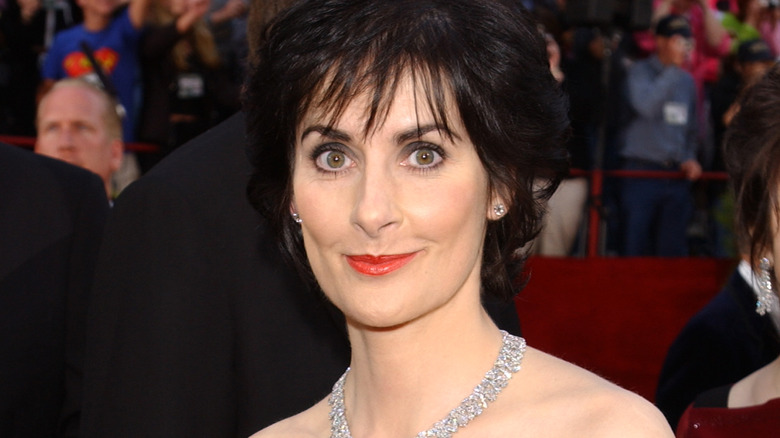 Frank Micelotta Archive/Getty Images
The Titanic luxury cruise liner was constructed in Belfast, now part of the U.K. constituent country Northern Ireland, and its last European stop before it set sail for its ill-fated April 1912 voyage to Newfoundland was Queenstown, Ireland. There's a lot of Irish history in the story of Titanic, and when director James Cameron was making the 1997 blockbuster film "Titanic," he wanted that to be felt throughout the score. He asked Irish singer Enya to compose the music for the movie. "I was sent a script and they were actually working with some of my music as they were filming," Enya told Forbes. "But what happened was when we were talking about the end song, it was to be a collaboration and that's something that I've actually never done." 
Because Cameron wanted Enya, a performer of great success and renown, to just write and not sing the movie's theme song, she turned down the offer. Cameron instead turned to James Horner, who won Academy Awards for Original Dramatic Score and for Original Song (for "My Heart Will Go On," as interpreted by Celine Dion).
She's not afraid to take a break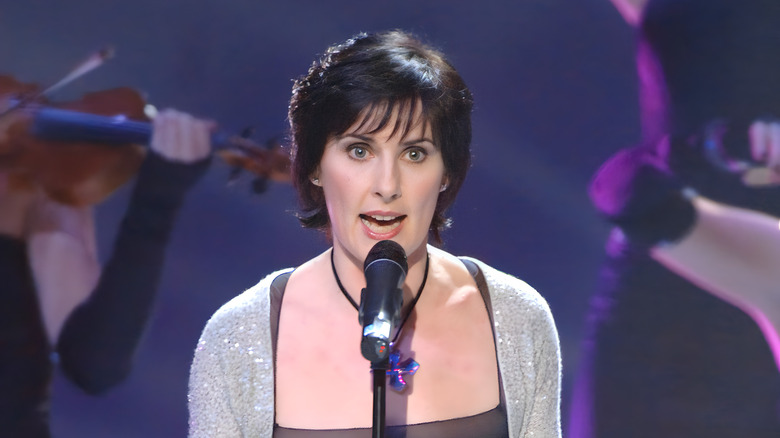 Avalon/Getty Images
Due in part to her reluctance to follow the entertainment industry standard and aggressively promote her music far and wide, Enya has earned a reputation as an enigmatic, solitary figure, or something less than a team player. "I'm portrayed like a recluse because I don't do any interviews," Enya told Express, thus striking down that perception, "but that's because I want the focus to remain on the music." Another way that the mystery surrounding the musician builds is due to her not releasing albums at a regular, consistent, or prolific rate. "She's not a recluse," Enya said of herself to the Irish Independent. "She's working."
After the 1988 release of her breakthrough hit LP "Watermark," Enya waited three years to debut "Shepherd Moons," and followed that four years later with "The Memory of Trees." Her next two albums, "A Day Without Rain" and "Amarantine," each arrived after a five-year break, while "Dark Sky Island" is the singer's last studio LP to date, and it hit stores way back in 2015. Moya Brennan claims her sister, Enya, is at work on new material — as of 2019. "She's grand — busy doing stuff," Brennan told the Irish Independent.
An Enya song became a post-9/11 grief anthem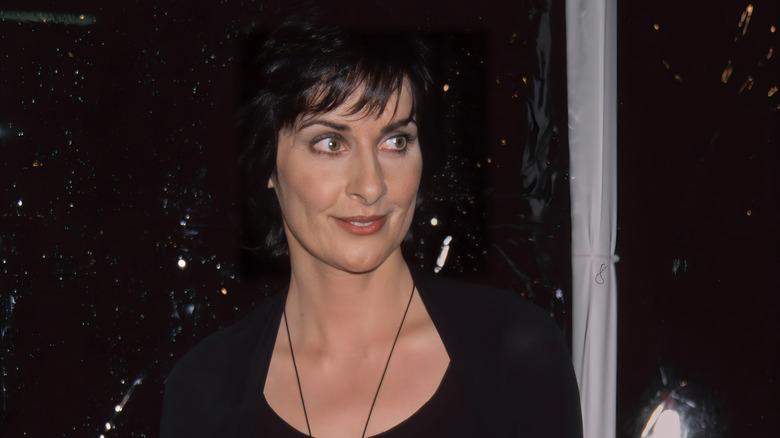 Vinnie Zuffante/Getty Images
In November 2000, Enya ended a three-year musical hiatus with the U.K. release of the single "Only Time," a cut from the album "A Day Without Rain." Nearly a year later, it would become Enya's first (and to date, only) top-10 hit in the United States. That's all because it organically became a cultural touchstone as a nexus point of grief. 
Initially written as a song about the end of a romantic relationship, "Only Time" became the soundtrack for CNN's coverage of the Sept. 11, 2001 terrorist attacks on New York City. While montages of destruction, devastation, and tragedy filled the screen, the Enya song played in the background. "And when I saw the footage it was absolutely so moving," Enya told "The Late Late Show." "Only Time" jumped off of CNN and into the collective consciousness, as listeners used it to help process their grief over the national tragedy.
Enya asked her record label to commercially release "Only Time" as a single in the U.S., strictly as an act of charity. It became the most-played radio song of 2001, and the substantial proceeds from the song were donated to the Uniformed Firefighters Association's Widows' and Children's Fund.
She lives in a literal fortress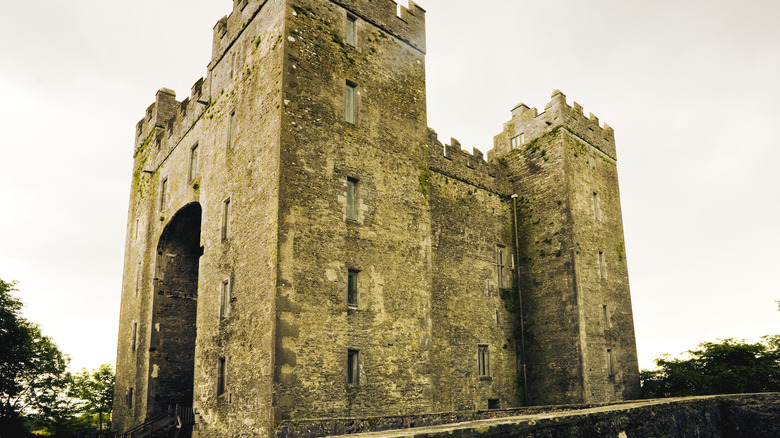 Alantobey/Getty Images
By 1997, Enya was a little more than a decade into her career as an established solo artist, and she'd already sold in excess of 20 million copies of her albums. She used a small portion of her quickly amassed fortune to invest in real estate. That year, Enya purchased Ayesha Castle for 2.5 million pounds (the equivalent of $3.1 million). 
Originally called Victoria Castle, the towering edifice was built by a County Dublin local in 1840, in honor of Queen Victoria, who had been crowned two years earlier. "It was placed on the hill, and he was hoping to entice Queen Victoria to come visit," Enya told BuzzFeed. "But she never came." The singer renamed the castle Manderley, after the grand, imposing, and gothic home in Daphne du Maurier's 1938 novel "Rebecca." Enya's neighbors include Bono of U2.
The inside of the residential castle has since been renovated, and it houses six bedrooms, a couple of standalone apartments, a courtyard, and a purpose-built secure area. Enya has endured more than one violent encounter with stalkers. In 1997, a troubled Enya fan was ordered to leave a pub owned by the singer's parents, before harming himself. In 2005, another stalker defeated the multiple defenses and securities offered by a Victorian-era castle and made it inside Manderley. He used ropes to restrain a member of Enya's staff and escaped before authorities came. Enya spent the two-hour ordeal inside her panic room.
She's alone on purpose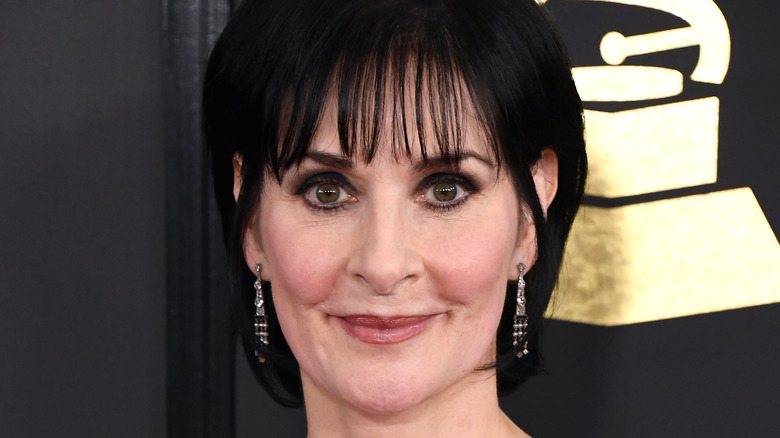 Jon Kopaloff/Getty Images
Enya's romantic life has forever remained a mystery. She doesn't discuss such relationships in interviews, and she's never been half of a high-profile public couple. It's likely that the singer hasn't even seriously pursued a romance in many years, simply because it doesn't align with her goals, interests, or lifestyle. 
"Falling madly in love and getting married would be the most horrific thing that could happen," Enya told The Irish Times in 2015. The reason is simple enough: partners get in the way of Enya making her art. "Even though the person will understand that at the beginning, there is something like jealousy toward the music after a while. It's difficult," Enya explained to the Belfast Telegraph.
"I wouldn't change anything I've done over the past few years. That I'm not married and don't have children has been my choice. I don't feel I've missed out in any way," Enya elaborated to The Guardian, going on to describe how at school marriage was a common topic among the girls, but for her, it was far less important than her ambitions for success.
Enya is a namesake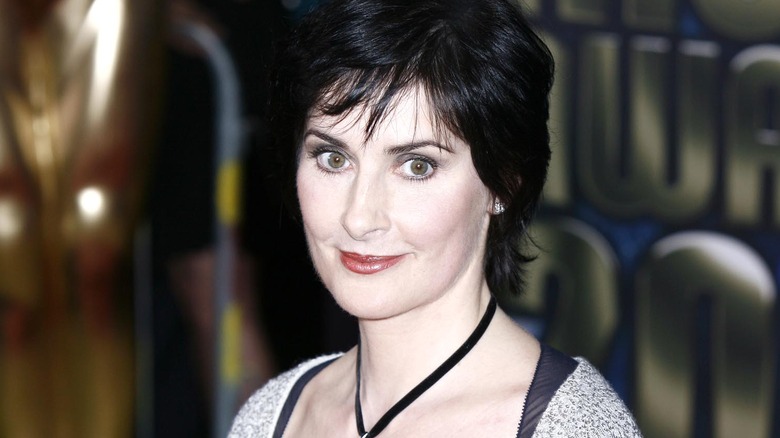 Avalon/Getty Images
Enya's brand of ethereal music may evoke thoughts or feelings of being among nature. Some of her most popular recordings actively encourage that idea, with titles like "The Memory of Trees," "A Day Without Rain," "Orinoco Flow," and "Caribbean Blue." That alignment with the natural and scientific world, coupled with the musician's international and enduring popularity, has led to multiple discoveries being named in honor of Enya.
In 1978, astronomers identified a previously undiscovered minor planet in our solar system, initially given the classification number 6433, orbiting the sun as close as 173.6 million miles away: In 1997, astronomer G.V. Williams renamed it (6433) Enya. Twenty years later, researchers from Oregon State University found a never-before-seen, black-and-yellow-striped fish in the Orinoco River in western South America. As a nod to Enya, performer of the hit song "Orinoco Flow," the scientists named the species Leporinus enyae, which translates to "beautiful little fish."