Early Roles Of Marvel Stars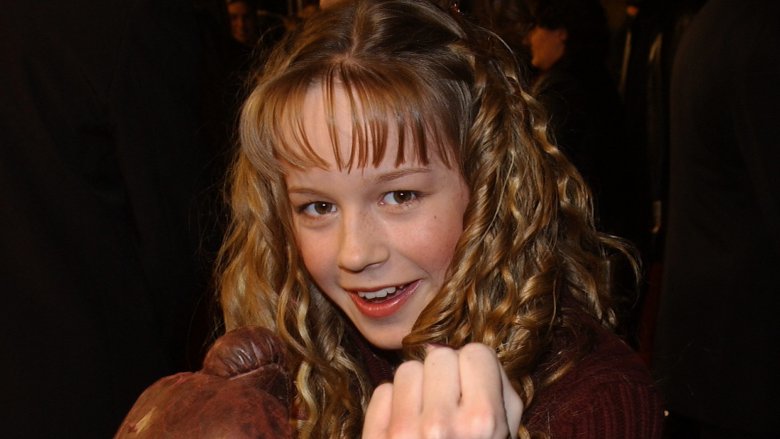 Getty Images
The stars of the Marvel Cinematic Universe are probably the closest thing our generation will see to golden age Hollywood royalty. Instantly recognizable and synonymous with the modern pop culture deities they portray, these winners of the show business lottery are probably as famous in our world as the superheroes they portray are in theirs.
The thing is, even Tony Stark probably has that guy he went to middle school with who points at the screen every time Iron Man is on TV and tells everyone at the bar about the time he watched the financier of the Avengers spill La Croix on his pants in front of the whole cafeteria. Everyone has old stories about the person they used to be, a lot of them are embarrassing, and someone usually remembers. In the case of Marvel's movie stars, the internet is that guy. And ever since we started transferring VHS to YouTube, nobody's been safe. Here are the early roles of the MCU's biggest stars. Even the ones they wish you'd forget.
Iron Man was an SNL cast member for the show's worst season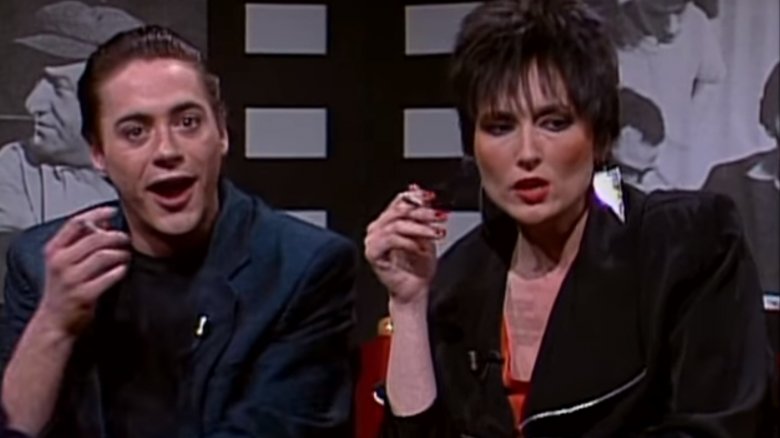 More than 20 years before he was Iron Man, and a decade before his long and iconic run as Hollywood's most arrestable star, Robert Downey Jr. was one of the most aptly named inheritors of the Not Ready For Primetime Players label.
It was the 1985-86 season of Saturday Night Live. Producer Lorne Michaels had returned after a year away working on his new show, The New Show. In an attempt to shake things up and maybe reassert control over his old domain, Michaels brought in an entirely new cast of lead actors, many of whom were better established than the crop of fresh Second City alums he's become known for cultivating.
There was Joan Cusack, The Breakfast Club's Anthony Michael Hall, and Randy Quaid, who, still decades removed from going full nutter-butters, had at this point already been nominated for an Academy Award. And yeah, a fresh faced, 20-year-old Robert Downey Jr. was in there. It was a powerhouse lineup.
It was also critically maligned and swiftly brushed under the rug. The jokes fell flat, and audiences stopped watching. The whole thing was so poorly received that Madonna opened the next season by announcing that the previous year had all been "a horrible, horrible dream."
Captain Marvel cooked roadkill on Jay Leno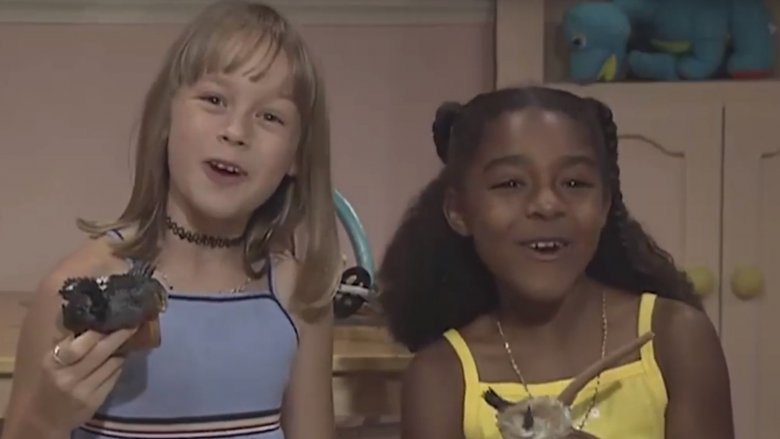 She's powerful. She's iconic. She's the MCU's new interstellar tank. Captain Marvel is Marvel's long-awaited tentpole female character, providing a big-screen role model for the films' countless young female fans across the globe. It's seriously, truly inspirational. Also, one time, when she was a kid, she cooked roadkill on TV.
Brie Larson first entered the public consciousness in a big way in 2015 when her role in the drama Room won her an Academy Award for Best Actress. After that, more popcorn-accessible movies like Kong: Skull Island and Captain Marvel made her a household name. But Larson has been performing for decades in various capacities, even releasing a teen pop album in 2005 called "Finally Out of P.E." which sold a remarkable 4,000 copies.
Go a little further back and you'll see her in the 2004 comedy 13 Going On 30 as one of the clique-y tween bullies. Go even further back and find her screen debut: a sketch on The Tonight Show in which she played a kid in an ad for the "Roadkill Easy Bake Oven," a kid-sized kitchen apparatus that ... do we really have to explain the joke? It's fun to watch a young Carol Danvers massacre a dead possum, and even more fun watching her talk about it 20 years later.
Thor was a regrettable King Arthur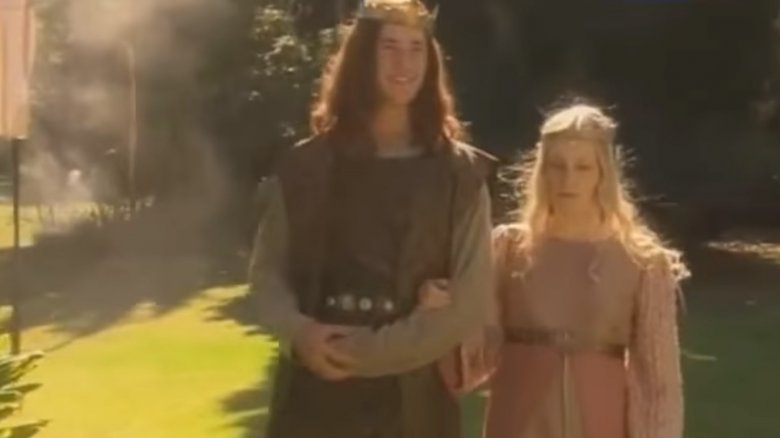 It turns out that onscreen portrayals of magical superpowered royalty are kind of a hit-and-miss proposition. But we're getting ahead of ourselves.
In the days before he became the face of Marvel's God of Thunder, Chris Hemsworth wasn't all that well known in the United States. He'd had a little screen time in 2009's Star Trek as James Kirk's ill-fated pop, but his early starring roles in Hollywood ran into trouble. Lead parts in Cabin in the Woods and Red Dawn were put on hold, with both movies being shelved until after Hemsworth had become a familiar face. So where was he first noticed? The answer is pretty goofy.
We could focus on the nearly 200 episodes of the astonishingly long-lived Australian soap opera Home and Away, or his bit parts in other television series from the Land Down Under. Instead, let us turn our eyes to Guinevere Jones, a supernatural teen drama about the reincarnation of the Arthurian Guinevere, her neverending magical fight for the forces of good, and the struggles of life in high school. For two beautiful episodes, Hemsworth portrayed King Arthur in what sure looked like a Robin Hood fan film shot on a handheld camera at a local-level renaissance fair.
Hawkeye tried to arrest Catwoman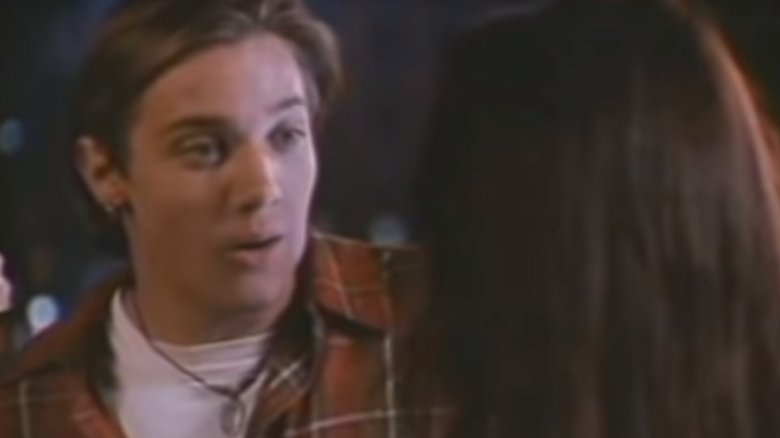 Jeremy Renner took the honest route to becoming a superhero: He started college studying criminology. An elective theater class got him into acting, and from there, things, well, definitely took a while.
Renner's first onscreen role was in 1995's National Lampoon's Senior Trip, a movie with the tagline "Four Score And Seven Beers Ago" and the critical reception to match. The next 15 years were a mishmash of TV guest spots until he played Jeffrey Dahmer in 2002 and started catching people's attention. He especially caught the eye of Kathryn Bigelow, who would later direct him in his Academy Award-nominated part in The Hurt Locker.
It's that chunk of in-between years that's fascinating. Renner was doing fine despite not being a movie star — he's run a remarkably successful home renovation company on the side since 2001. But he also took an astonishing number of acting gigs that might surprise you. Seven years prior to his first stint trying to shoot a Norse god with a bow and arrow in 2011's Thor, he was trying to take down Catwoman, doing the voice work for some of the cops in the video game adaptation of the Halle Berry movie.
Nick Fury facilitated a ghost teaching kids to read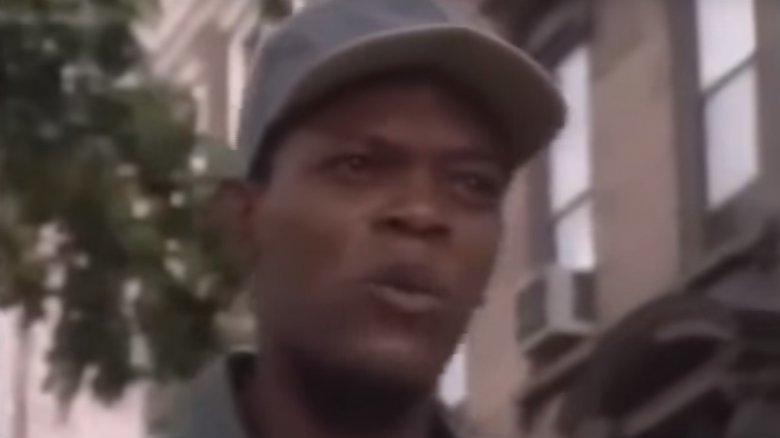 Samuel L. Jackson: from Jules Winnfield to Mace Windu to the Capital One guy, there's nothing the guy touches that doesn't turn iconic, and with over 180 IMDb credits, he's probably acted more times than you've been to a movie theater.
Jackson has a long and storied history and is frankly one of the most fascinating people working in movies today. Before the fame and the success, he was heavily involved in the civil rights movement, even ushering the funeral of Martin Luther King Jr. and being arrested and expelled from college after taking the board of trustees hostage during a protest. Once he was unbanned from higher education, Jackson returned to school, where he'd originally intended to study marine biology, but he got into acting and helped start a theater company instead.
And all of this, as astonishing as it is, can't hold a candle to the fact that he also played the dad of one of the main characters for PBS's '90s kids show Ghost Writer, the chronicles of a mute but literate ghost who helped kids solve crimes through the power of reading. Presumably, he never taught the children to read what was on his wallet.
Black Widow is James Bond's daughter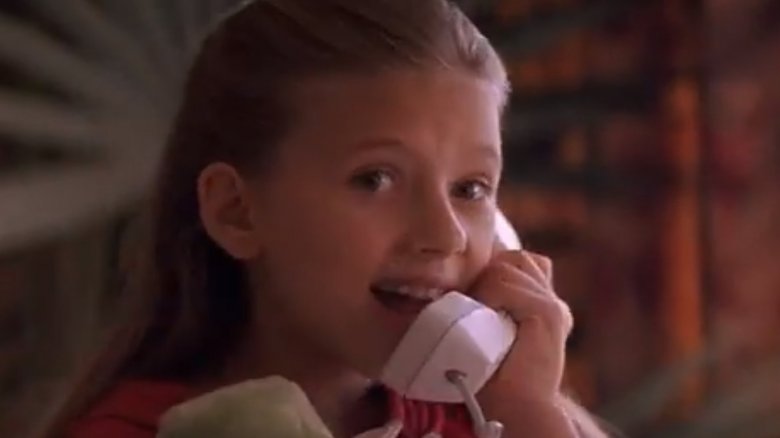 Scarlett Johansson has become the kind of success that sort of blends into the landscape like a skyscraper — so enormous and overwhelming that it's hard to remember a time when she wasn't there.
The cultural goliath that is ScarJo got started early. She studied acting as a child at the Professional Children's School, a private academy focused on educating aspiring young performers. When she was 9, Johansson scored her first movie role. She played the daughter of John Ritter in Rob Reiner's North, a movie that's now almost entirely remembered for being just the worst, scoring a zero star rating from Roger Ebert, who was generous enough to give Battlefield Earth half a star if that tells you anything.
Clearly, none of this deterred Johansson, and she kept plowing through child acting roles like a champ. Parts in Home Alone 3 and The Horse Whisperer eventually transitioned into critically acclaimed movies like Lost in Translation and Girl With A Pearl Earring, and 15 years later she was the highest paid actress in Hollywood.
It is worth pointing out, though, that at one point, she played Sean Connery's late-in-life kid in the 1995 thriller Just Cause. The point is, being the daughter of sometimes-James Bond means she came by the whole "action espionage" thing honestly, and gives us a better origin story to Black Widow than a prequel ever could.
Bruce Banner was the creepiest part of a movie about a killer dentist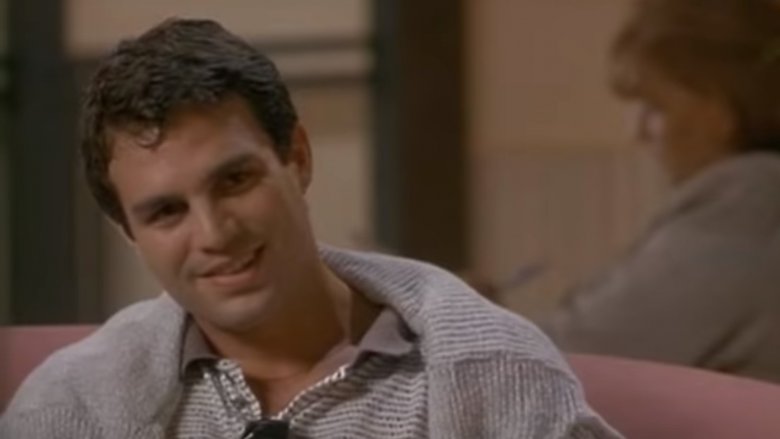 Quick, what's scarier? Being charged at by a psychotic dentist or an enraged Incredible Hulk? Trick question, the answer is "the Incredible Hulk in a movie about a psychotic dentist."
Mark Ruffalo's career has been difficult to follow. He got starring roles in wide releases like Zodiac and 13 Going On 30 following indie hits like Eternal Sunshine of the Spotless Mind, but things never really seemed to gel. It wasn't until 2012's The Avengers and his subsequent run as the only man in 30 years to play the Hulk more than one time that he became a household name. Why did it take so long?
We're speculating here, but maybe it was because he put in a performance in the 1996 horror film The Dentist that was so creepy it could scare the worms out of a bad ham. It was early days for Ruffalo, and the role wasn't much more than a cameo. That said, it stands out as being profoundly uncomfortable. Ever wanted to watch Bruce Banner tell a 13-year-old that she should model for him? Yeah, it's that kind of uncomfortable.
Captain America probably wishes he'd stayed frozen through the '90s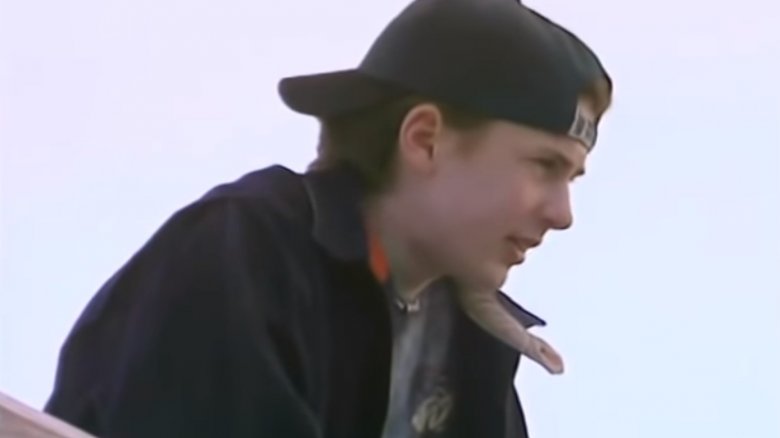 Chris Evans is a pedigreed comic book actor by now. Before he was brought into the MCU, he had been in the film adaptations of Scott Pilgrim vs. the World, 2010's The Losers based on the Vertigo Comics series of the same name and, lest we forget, played the snowboarding, wisecracking, on-flaming Johnny Storm in the just-this-side-of-Batman-And-Robin pair of Fantastic Four movies from 2005 and 2007.
But none of these parts exhibited Evans' bravery quite like his first appearance in an environmental educational video from 1997. It's not his character's interest in maintaining a healthy ecosystem that displays his innate heroism, nor is it his clear passion for stemming the pollution of the local river. It's the way that he, with no regard for his own safety, jumps on the metaphorical grenade known as "shamelessly rocking a heavy mallrat aesthetic."
It couldn't have been easy for Captain America, being frozen in ice for 70 years. Still, there are harder things to live through, like being immortalized in stunner '90s fashion on VHS.
Star Lord was in a low-budget horror movie's lower-budget parody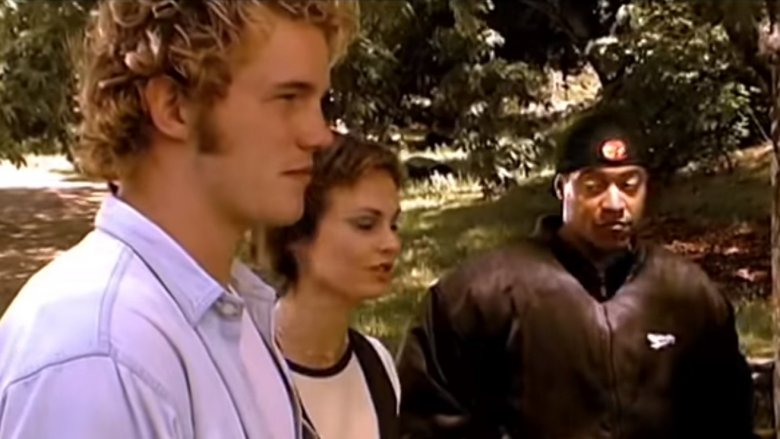 Before he did millennial schlubs a favor they'll never be able to pay back by playing Andy on Parks and Recreation and making it acceptable for their local April Ludgates to fall in love with them, Chris Pratt was the poster boy for The Struggle. We all know that he wound up with a pretty happy ending: He's starred in two Guardians of the Galaxy movies, the Jurassic World franchise, and at least two parts of the borderline operatic Lego Movie saga. That said, 20 years ago, he was living a life more akin to Andy Dwyer's stint in the Pawnee Pit.
Pratt was, by his own accounts, homeless and sleeping in a van as a 19-year-old. He worked odd jobs, including taking off his clothes for money (unsuccessful). Pratt ended up working as a waiter at a Bubba Gump Shrimp in Hawaii. One day, he found himself in the middle of one of those unlikely, star-is-born moments where he was serving actress Rae Dawn Chong, who was getting set to make her directorial debut. The shrimp must've been pretty excellent because she cast Pratt in the movie, Cursed Part 3, an ultra-low-budget parody of The Blair Witch Project's found-footage style.
Rocket Raccoon and Ant-Man's Wet Hot American Summer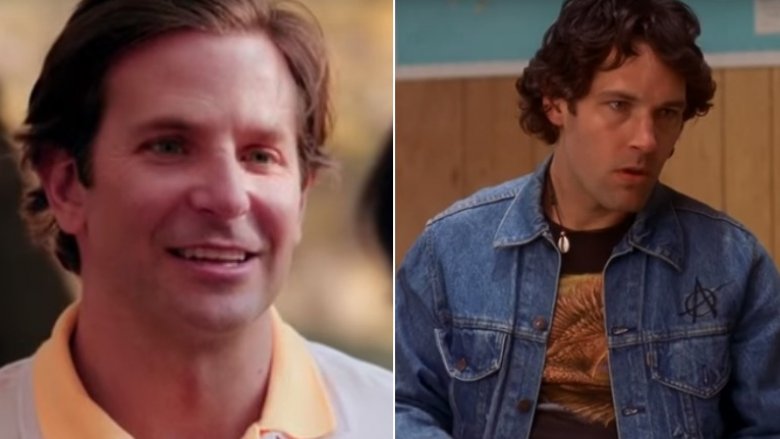 Rocket and Ant-Man are sort of opposite sides of the same coin. They're two of the MCU's most adorable characters. One is basically a living stuffed animal. The other is a raccoon.
Rocket is voiced by Bradley Cooper, most recently noted for sitting inside of Lady Gaga's personal-space bubble at the Oscars. He's been a Hollywood staple since the late 2000s when The Hangover franchise put him in the spotlight. Paul Rudd, of course, is Ant-Man, and has been on America's radar since he introduced us to Sex Panther cologne in 2004's Anchorman: The Legend of Ron Burgundy. And if you blinked, you might have missed the first time the two of them teamed up.
Fans of cult classics already know that Rudd and Cooper appeared together in 2001's Wet Hot American Summer, an indie movie from David Wain, an alum of The State behind beloved comedies like Role Models and They Came Together. The film was a human zoo of comedic talent that hadn't quite been recognized at the time, with Amy Poehler, Elizabeth Banks, and H. Jon Benjamin all involved pre-meteoric success. Check it out to see Rudd throwing history's greatest tantrum over having to pick up his cafeteria tray and a still-baby-faced Bradley Cooper in his first movie role getting way closer to Michael Ian Black than he ever did to Lady Gaga. Bonus: Both actors returned for the Netflix prequel series 14 years later.
Nebula did some problematic sketch comedy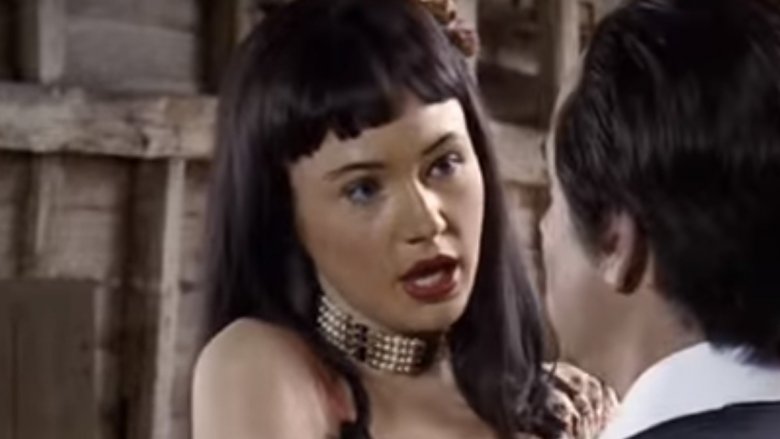 Nebula, the long-suffering adopted daughter of Thanos, is played by acclaimed Scottish actress Karen Gillan. If you're a fan of sci-fi, you already know her as the also long-suffering companion to Matt Smith's Doctor Who. If wacky reboots of movies about accursed board games are more your wheelhouse, you'll remember her from Jumanji: Welcome to the Jungle. But if you really want to dig deep, you can find her in some British sketch comedy. Before space fantasy and big-screen adventures got a hold of her, she starred on a program called The Kevin Bishop Show, and it's ... uncomfortable.
No comedy is evergreen, but this isn't the edgy sort of madcap romp that inspires future dialogue like, say, Blazing Saddles. This is more straight-up, not safe for work (arguably not even safe for the internet) racism. It's squirm worthy.
Since then, Gillan's career has clearly leapt forward. Jumanji and the Marvel Cinematic Universe have made her an international success, and she even wrote, directed, and starred in her own movie, The Party's Just Beginning, which came out in 2018 and was, by all accounts, exceedingly dark.
The Punisher was a featured extra on How I Met Your Mother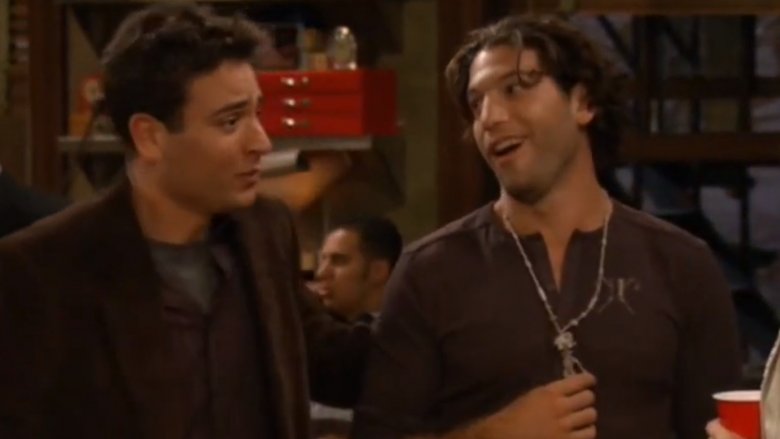 If you've seen Avengers: Endgame, you know there are some things that even the Infinity Gauntlet can't bring back. For better or worse, one of those things seems to be the Netflix branch of the Marvel Cinematic Universe. Sadly, it's unlikely that we'll be seeing folks like Jon Bernthal's Punisher again, but at least we can look back on their early catalogue of work and imagine the Frank Castle/Barney Stinson team-up that could've been.
Living comfortably between the categories of "blink and you'll miss it" and "impossible to unsee" is one of Bernthal's first acting gigs. He hadn't yet bashed a single zombie on The Walking Dead. He hadn't even cut his hair. But keep an eye open during the Season 1 episode of How I Met Your Mother titled "The Purple Giraffe" and you'll see a decidedly non-militant Frank Castle delivering one line with a definite air of stoner comedy about him.