Here's How MC Hammer Lost All His Money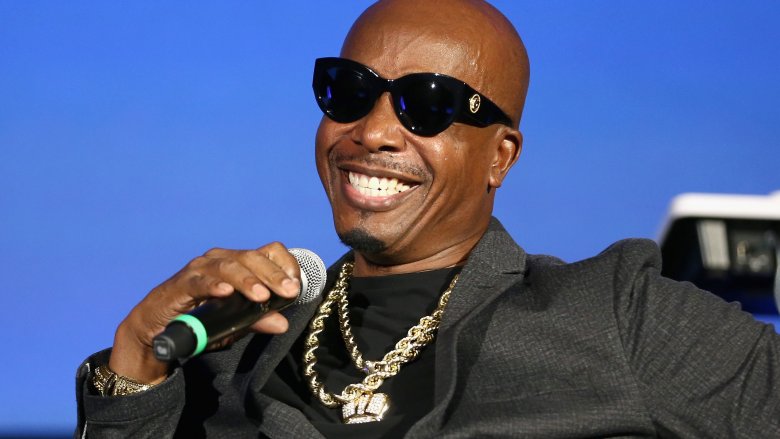 Rich Polk/Getty Images
Rappers who've gone from riches to rags are a dime a dozen because dozens of them do a poor job of saving their pennies. The same can be said about numerous rock stars and celebrity athletes. Perhaps there's just something about having exorbitant amounts of money that drives people to do foolish things. And since a fool and their money are soon parted, it's likely inevitable that some big spender's bank account will shrivel like a raisin in the sun from time to time. Even so, there was a time when it seemed like the sun would never set on MC Hammer's fortune.
During the early 1990s Hammer seemed untouchable. After ripping off Rick James' 1981 smash hit "Super Freak" to create the 1990 megahit "U Can't Touch This," the man born Stanley Burrel would find himself rolling in more dough than a pizza parlor. By 1991 he boasted an estimated net worth of $33 million, per Oprah.com. But a life of excess and costly scandals would bring it all crashing down, and not even Hammer's trademark parachute pants would be able to soften the fall.
Time reports that Hammer employed 200 people, costing him a whopping $500,000 a month. Sometimes that number jumped to $1 million a month. He blew another $30 million on a mansion. Despite seeming almost determined to hand his money away, Mr. "U Can't Touch This" apparently wouldn't touch a tax return. Per SFGate, the IRS nailed Hammer to the wall for $758,113 in unpaid taxes between 1993 and 1994. He owed the state of California another $550,197.
Hammer also owed $50,000 to NFL legend Deion Sanders, $163,963 to a former employee who was allegedly raped by members of Hammer's entourage, and mountains of money to creditors and lawyers. By 1996, the glory days of his breakthrough album Please Hammer, Don't Hurt 'Em were over, and Hammer's bank account was hurting all over. He owed a reported $13 million and filed for bankruptcy.