The Real Meaning Of Old Town Road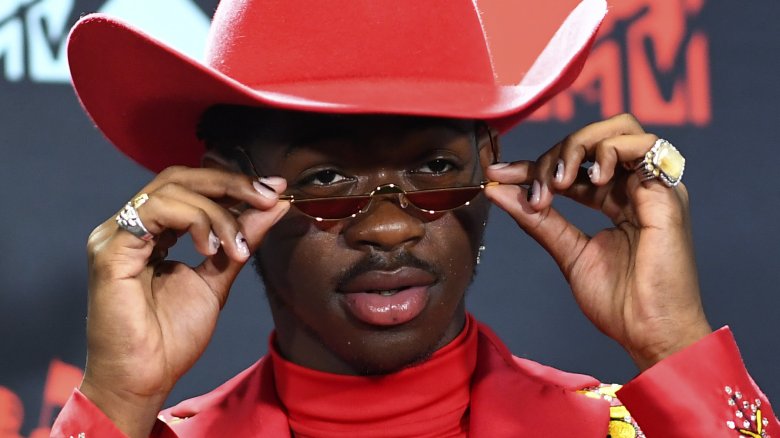 Johannes Eisele/Getty Images
Nostradamus himself could never have predicted the strange order of events that transpired in 2019 leading to the explosive success of country-trap hit "Old Town Road" and its then 20-year-old mastermind, Montero Lamar Hill, better known as Lil Nas X. What appeared to be a trite number with all the cultural import of Lil Yachty's "Minnesota" ended up rewriting pop music and cultural history, setting myriad records — including the all-important tally of consecutive weeks at Number 1 on the Billboard Top 100, lasting 19 weeks before being dethroned by Billie Eilish. 
Yet the apparent simplicity of the lyrics belies a deeper meaning. According to Time, Hill wrote the song while staying at his sister's house after dropping out of college, a move that his parents weren't too pumped about, as you might expect. "'Old Town Road' came after a period of feeling like I was out of options," he told Time. "I was living with my sister. She was pretty much fed up with me being there. That's where the chorus lyric came from. It was me saying, 'I want to leave everything behind...'"
Until then, the life Lil Nas X was so desperate to leave was focused more on lauding other celebrities than manifesting his own, according to The Oprah Magazine. At the time, he ran multiple Twitter accounts. One was "NasMaraj," a portmanteau of his favorite rappers — Nasir "Nas" Jones and Onika Tanya Maraj (a.k.a. Nicki Minaj). The account's now suspended, but focused mostly on hypothetical "scenario threads" about surviving school shootings. Go figure. He also ran "FactsAboutNM" (NM meaning Nicki Minaj), and "ViewsFromNas," which combined to help the young man find his voice. In a way, they were his first "horses in the back." As Lil Nas X explained to Genius: "It's basically, 'I got this. I have these little things right here, and I'm getting them ready to go.'"
Despite having caught the ire of most of his immediate family, Lil Nas X refused to deviate from his creative mission, spurred onward with newfound, stallion-like confidence. In his words, the verse "Ridin' on a horse, ha/ You can whip your Porsche/ I been in the valley/ You ain't been up off that porch, now" is an acknowledgement that others in the industry started out with more resources, but the trials he faced would forge his road to success. 
At the time of Old Town Road's recording, Lil Nas X's desire to pursue an entertainment career over college had led to a "practically nonexistent" relationship with his mother, adding to an already "extremely stressful" situation of facing post-dropout career prospects. The line "can't nobody tell me nothing" is a jab at his parents, who doubted his chances and wanted him to return to school. Elaborating on this remark to The New York Times, Lil Nas X described feeling like "a loner cowboy," desperate to saddle up his horse to the proverbial Old Town Road and run away. To Lil Nas, the Old Town Road represents the path to success. In the first verse, he pack ups, ready to begin his journey.
The second verse is his envisioned success, with a few tongue-in-cheek references to a more "Hollywood" lifestyle. He sips lean beneath an imagined Gucci cowboy hat while ghost riding his gleaming John Deere tractor. His nights are filled with unabashed infidelity, a blur of bull riding and boobies, an image he conjured after watching Dallas Buyers Club, according to Genius. 
From there, Billy Ray Cyrus takes the glitzy imagery further, dropping dollars on guitars, diamonds, and Fendi sportsbras. "Baby's got a habit," but now, he can support it. Nas tells Genius that this verse represents the realization that he's made it, with Cyrus providing the lyrical affirmation. He's at a point where his success is "limitless." With no more stress, there's nothing left to do but kick back like the Marlboro Man and keep on riding in his brand new Maserati sports car.
Deeper meaning and all, one could argue that these lyrics aren't exactly Sufi poetry. However, the meaning that comes with an openly gay young black male crossing over from rap into country with the most successful song of all time is as poetic as it gets. Yeehaw!