The Real Reason Motley Crue Broke Their Promise To Fans To Never Tour Again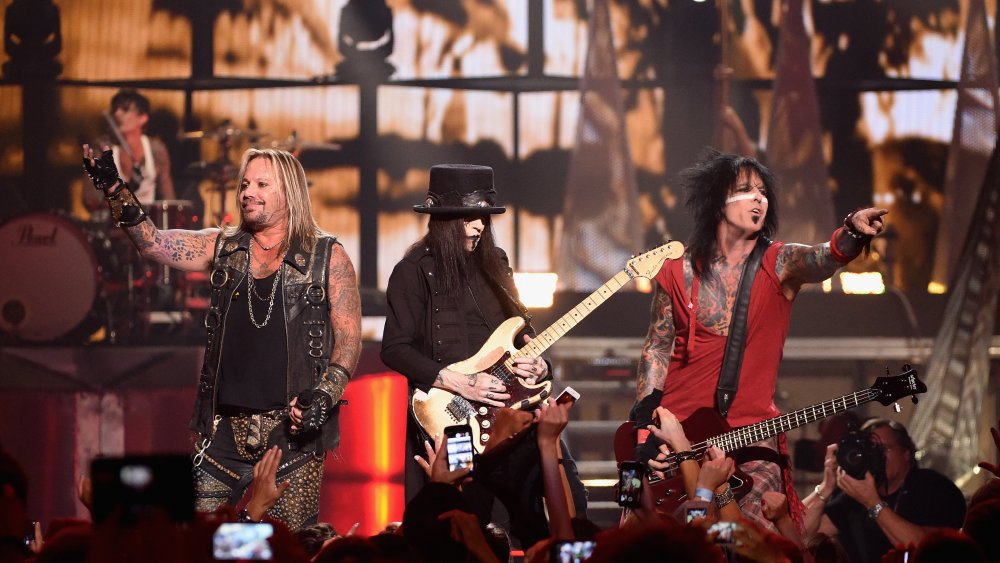 Ethan Miller/Getty Images
Motley Crue is full of surprises — like the time they signed off on a country music tribute album with acts like Rascal Flatts, or the fact that they somehow managed to sell over 100 million records according to Loudwire, a number rivaled only by the amount of eight-balls that have passed into their nostrils over the years.
So it might not come as a surprise that the Crue is surprising fans once more by breaking their promise to never tour again — a promise they made in 2015, per Rolling Stone. Considering how long most people go cold turkey from an addiction, the fact they abstained from rocking for so long is pretty surprising in itself. So what gives?
Motley Crue promises to never tour again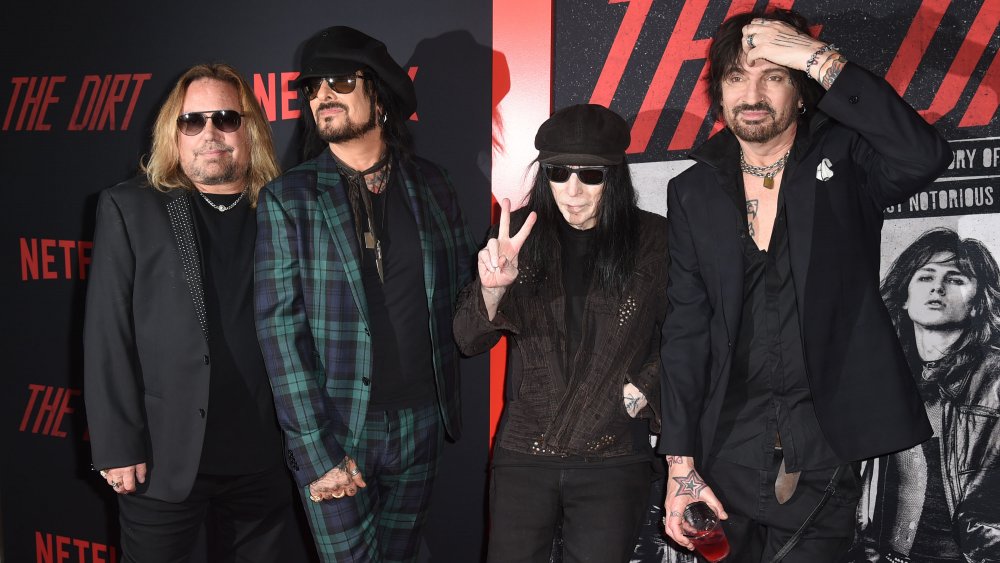 Kevin Winter/Getty Images
It all started on January 28, 2014, when the band held a press conference to announce plans for what would end up being a worldwide, 158-show tour and then signed a "cessation of touring agreement" to go into effect at the end of the tour in 2015. In true rock 'n roll spirit, they kept on playing all the way up to New Years Eve, when they held their last show at the Staples Center in Los Angeles. 
"We always had a vision of going out with a big [effing] bang and not playing county fairs and clubs with one or two original band members," drummer Tommy Lee said in a statement. "Our job here is done." Or was it?
Motley Crue legally agrees to never tour again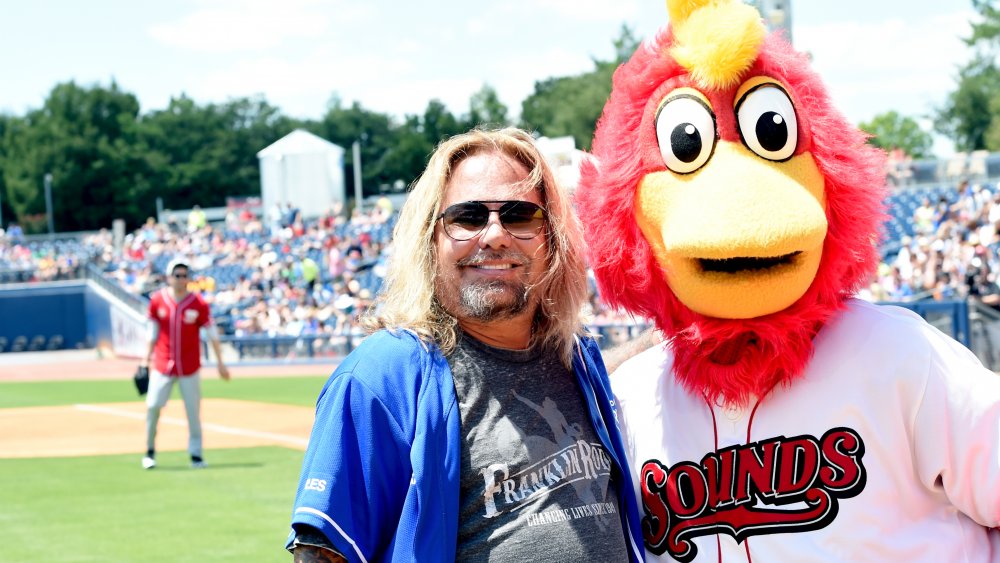 Rick Diamond/Getty Images
By 2018, Crue frontman Vince Neil announced on Twitter the band would be releasing new music, stating "We signed a contract not to tour anymore. We never broke up or said we would never make music again. Hope this clears it up." Once more, there was no doubt. Or was there?
In 2019, the songs were released as part of a soundtrack to the Netflix biopic The Dirt, based on a book about the band, and by November, rumors of a Motley Crue reunion tour began to circulate.
Whether or not the whole "we're never touring again" announcement was a ploy was questionable. For one, Rolling Stone reported that the band had never actually produced the "cessation of touring agreement", despite numerous requests to reveal it. Also, there was apparently a "loophole" written into the contract. According to bass guitarist Nikki Sixx: "The only loophole is if all four band members agreed to do it, we could override our own contract. But we know that will never happen. There are people in this band who will refuse to ever do it again, and you're talking to one of them. There is no amount of money that would ever make me do it again because I have such pride in how we're ending it."
Are you sure Nikki?
"The way we've set it up – including this conversation right now – we'd have so much egg on our face. We have so much pride that that alone would stop it," said Sixx.
Motley Crue lied! Cue the Crue!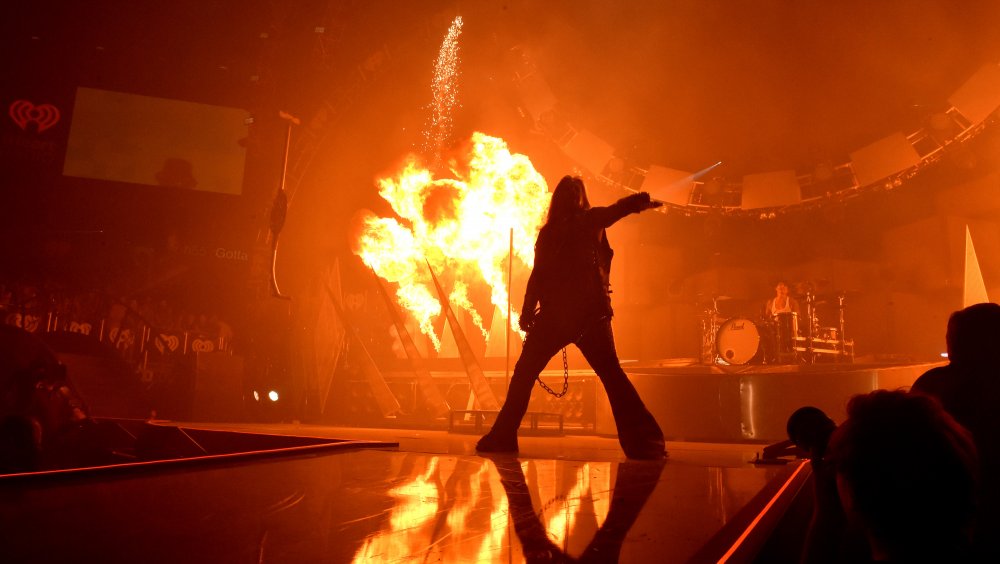 Kevin Winter/Getty Images
Cue the egg, because Motley Crue has just announced a 2020 tour with fellow hair-metal gods Def Leppard and Poison, promising to bring in the appropriate amount of money to keep the Crue on the road. And in fitting fashion, they announced it by blowing up the previously unseen agreement in a video narrated by Machine Gun Kelly, who played Tommy Lee in The Dirt. The video shows the super-official document peacefully sitting on a desk as Kelly narrates, saying "Destruction has never been an issue for Motley Crue." Cue the explosion, and any hope of ever knowing whether it was for real, or just a really good publicity stunt.
According to Louder, they stand to make as much as $150 million from the tour, which should be more than enough to afford egg-removal equipment, assuming the shockwave from their explosive announcement didn't take care of it.
Sure, it's a bit hypocritical, but rockers are gonna rock, and they're not the first to pull this stunt. Per Rolling Stone, the Crue "will join a long list of acts that continue to tour after farewell tours including Kiss, the Who, Black Sabbath, Phil Collins, Ozzy Osbourne, Tina Turner, Cher and LCD Soundsystem."
And besides, it's not like the fans didn't want it. The band was partially spurred on by a Change.org petition seeking 15,000 signatures titled "Bring Motley Crue Back!", which hit its goal in less than a week. They even briefly shared it themselves before hastily taking it down — probably because they remembered they'd told everyone they'd never tour again. 
Love it or hate it, Motley Crue has outlasted almost all other bands of its era. 2021 would mark the band's 40th year of melting faces and brain cells. If you're a glass half empty kind of person, that might make you feel old, but if you're more of an optimist, or just a Motley Crue fan, the promise of a fourth decade for the rockers might just kickstart your heart as if Dr. Feelgood himself were operating on you.